There are nine individual riders and 60 team riders from 15 teams jumping in this round, which acts as the first round of the team competiton and the second qualifier for the individual final.
We'll be commenting on each ride, updating as they go. Rides go from 9 a.m. to 12:30 p.m. EST. Don't miss a minute of the action!
Want to know when the U.S. riders go and more about scoring and how the competiton works? Click on our What You Need To Know article.
IMPORTANT LINKS: The order of go / live streaming / live results / Meet The U.S. Show Jumping Team / Read what happened on Aug. 14 in "First Individual Qualifying Round Wakes Up The Olympic Field / All COTH's Olympic show jumping coverage
12:37 p.m. That's it for the first round of team competition! Round 2 is tomorrow at 9:00 a.m. EST. Check back later at COTH.com for a full report on today's competition!
A total of eight teams move on to the next round. Here are how things stand, with four teams (including Team USA) sitting on perfect scores: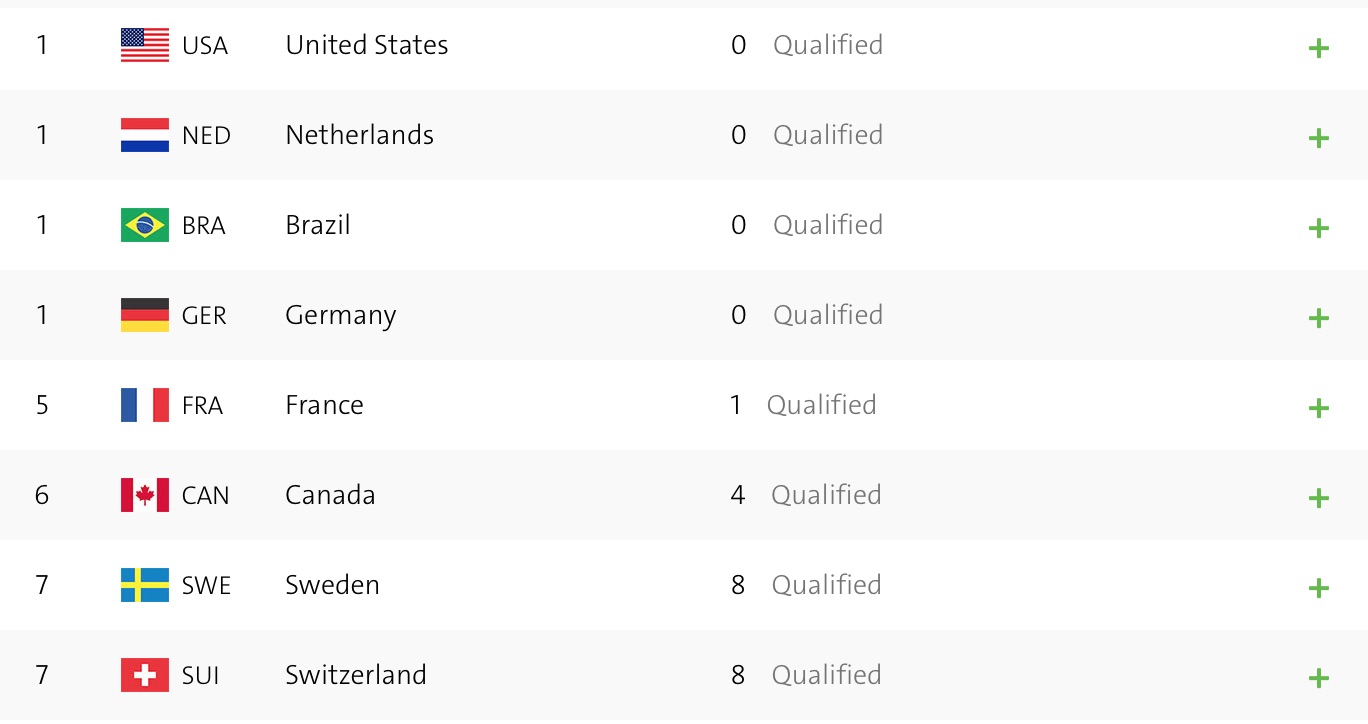 12:32 p.m. The final rider is Germany's Ludger Beerbaum and Casello. Again, Beerbaum doesn't have to compete for his team today, but he is doing so to continue as an individual. He has a rail at fence 10 and finishes on 4 faults.
12:30 p.m. The penultimate rider is Pedro Veniss for Brazil. Veniss's score must count due to his teammates disqualification. He's riding Quabri de L'isle, who jumped cleanly in the opening individual qualifier on Sunday. So far, the pressure is not getting to him. They get through the triple and the water, and they come to the final line without fault. They are clear! That is what you call, "clutch!"
12:27 p.m. Penelope Leprevost rides next for France on Flora de Mariposa. Leprevost had a really unlucky fall on Sunday after Flora de Mariposa tripped on course, so she is only competing for team medals. Today is going much better! They come to the final line, and what redemption. They are clear! It's a shame we won't see more of them in the individual final.
12:24 p.m. With four riders left to compete today, Steve Guerdat enters the ring with Nino des Buissonnets for Switzerland. They are your reigning individual Olympic gold medalists from London. Nino gives a great effort to get through the triple combination after getting in a touch underpaced. But they struggle down the open water line: They have a foot in the water and the following vertical down. They'll finish on 8 faults.
12:22 p.m. Canada's Eric Lamaze is in with Fine Lady 5. Lamaze, of course, is the individual gold medalist from 2008. This duo is jumping quite well. Fine Lady was a winning machine at both the Winter Equestrian Festival (Fla.) and Spruce Meadows (Alberta) this year. They squeak past the open water line, and they come down to the final line without fault. And they are clear! That puts Team Canada on a total score of 4 for the day.
12:20 p.m. Jur Vrieling rides Zirocco Blue to anchor The Netherlands. And we have another stop at the triple! And a second! Dutch's anchor is eliminated! That's quite a shocker. Thankfully, that will not affect his team's perfect score. Theirs will be dropped.
12:17 p.m. Time now for Qatar's anchor, Bassem Hassan Mohammed. He's riding the 14-year-old Dejavu. This pair also faults at the water to finish on 4.
12:15 p.m. Here's Rolf-Goran Bengtsson and Unita for Sweden. They have a foot in the water, but after having four rails down on Sunday, Bengtsson has to be happy with just that one penalty. He finishes with 4 faults.
12:13 p.m. Next up is Sergio Moya Alvarez to anchor Spain with Carlo 273, and they perform as anchors should. They give Spain their first clear round of the day! That puts the team on a total of 12.
There has also been another disqualification. Brazil's Stephan de Freitas Barcha has been DQ'd due to overuse of spurs.
12:09 p.m. Here's Beezie! She's anchoring the United States yet again in Olympic competition. She's already a two-time team gold medalist, and she was an individual bronze medalist in 2008. She's on the popular Cortes C today. She doesn't have to jump for the team, but she has to jump to continue on in individual compettion. They unfortuntely have a rail at the third fence, and an aggressive ride to the water cannot prevent another penalty there. They finish on an uncharacteristic 8 faults. Team USA remains on 0, but that score puts Madden's individual hopes in jeopardy.
12:07 p.m. John Whitaker takes the reins aboard Ornellaia for Great Britain. The mare spooks at the triple combination and refuses. He gets her over the second time around, but she's clearly giving him a difficult ride today. They finish on 23 after having the final two rails down and time faults. They will be their country's drop score.
12:02 p.m. Germany now sends out Daniel Deusser and First Class. This is a long, lanky horse with a big jump. He's not the quickest across the ground, but he makes it within the time by less than a second! He is the third clear rider for Germany today. Like the United States, Germany is guaranteed to finish on 0 today.
12:00 p.m. In the ring now for Brazil is Alvaro Doda de Miranda and Cornetto K. They jumped a great clear round on Sunday. You could hear a pin drop out there as he's going around. He is clear! And the volume in the stadium skyrockets!
11:57 a.m. Roger Yves Bost is next up for France, and the popular "Bosty" is riding the 10-year-old Selle Francais mare Sydney une Prince. Bosty gives a great ride to get his mare back to the gate after the open water. He takes his time to the vertical at 11 and has some anxious moments down the last line, but the jumps stay up. However, he finishes just outside the time for 1 time fault.
11:55 a.m. Martin Fuchs gives Switzerland a MAJOR boost with a clear round aboard Clooney. A great round!
11:52 a.m. In the ring now is Canadian Amy Millar, riding Heros. Amy is the daughter of 10-time Olympian Ian "Captain Canada" Millar, who is in Rio to cheer on his daughter. Amy actually offered Heros to Ian so he could compete after his horse was injured, but he wanted his daughter to get her own Olympic moment. They put in a solid round but have fence 11 down for a 4-fault total. A very credible Olympic debut. I have a feeling this won't be Amy's last Olympic Games.
11:51 a.m. Harrie Smolders and Emerald are on a roll. After jumping clear on Sunday, they jump clear again! That was a very stylish ride.
11:47 a.m. Here's Ali Yousef Al Rumaihi and Gunder for Qatar. It's been a while since we've seen a time fault, but this pair cannot quite get within the time allowed. They keep all the jumps in—it's a nice ride—but they add 1 to their team's total.
We also have an update on Ukraine's Cassio Rivetti. His elimiation was due to excessive use of spurs. This is the third disqualification of its kind after two riders were disqualified Sunday for excessive use of spurs or whip.
11:44 a.m. Henrik von Eckermann and Yajamila finish with 4 faults, as the triple combination slips them up.
11:42 a.m. Eduardo Alvarez Anzar and Rokfeller de Pleville are unfortunately elimated after two refusals for Spain.
11:39 a.m. Oh my. Here's HH Azur. My feelings about Azur have been well publicized; this is one amazing mare that I have been truly blessed to spend some time with. This is without question my rooting interest here in Rio.
"Annie" is jumping Ah-may-zing! They had an unfortunate rail on Sunday in a tricky double, but they make it through the bogey combination here with ease. The water is no problem—nothing is a problem, actually. They canter down the last line with polish. They are CLEAR! Team USA stays perfect through three riders! They are guaranteed to finish on 0!
11:37 a.m. Here's Michael Whitaker and Cassionato for . The stallion balks at the triple, and Whitaker gives an outstanding ride to get him through it, although he loses his whip in the process. He likely would have needed it at the water, because Cassionate picks up a penalty there. They finish on 5 after picking up an additional time fault.
11:34 a.m. Meredith Michaels-Beerbaum received a call on Sunday morning: Do you have your white breeches? Michaels-Beerbaum came to Rio as the traveling reserve for Germany, but she was thrown into the competition at the last minute after Marcus Ehning and Cornado NRW withdrew. What an opportunity for her and the fantastic Fibonacci; they definitely deserve to be here. They're in, and they get through the first major obstacle on course, the triple combination. Then they successfully navigate the water. They come to the last line, and they are over easily! They barely skim within the time, but that doesn't matter: They are clear. Talk about making lemonade with your lemons!
11:20 a.m. It's time for another drag break, and my, how things have changed. We've now had 12 clear rounds over this course. Here's how things stand after 46 riders:

We also have an update on Scott Keach, who took a fall off of Fedor at the water earlier. Horse and rider exited the ring without injury and are doing fine. Keach said the incident was definitely a surprise, as Fedor hasn't had issues with the water in quite some time.
11:16 a.m. The crowd is getting excited again: It must be time for another member of Team Brazil. Here's Stephan de Freitas Barcha and Landpeter do Feroleto. The gelding makes a phenomenal effort to get through the triple, but then the luck begins to go the other way. They have two jumping penalties in a row—at the blue oxer and the open water. They have to settle for 8 faults.
11:14 a.m. Kevin Staut is next for France aboard Reveur du Hurttebise. Staut rides a big gallop to the water and then comes back so well to the vertical. What adjustability! The chestnut gives an outstanding kick back with his hind end to get over the wall, and they come to the final double. They are clear, too!
11:11 a.m. Surely Romain Duguet has made a wish, as his round begins at 11:11 (maybe that's just an American thing). He rides Quorida de Treho for Switzerland. This horse pats the ground before every fence and gives a great effort. They get a rub in the final combination, but the jump stays up, and they are clear! (I bet his wish came true!)
11:09 a.m. Tiffany Foster is in for Canada now with Triple XXX, a former mount of Ben Maher's, whom he rode to a team gold in London. This is an awesome horse, but it's taken Foster a little bit of time to get to know him. They look good now and come to the final line without fault. They have a brick down on the wall but clear the final two fences without issue to finish on 4.
11:06 a.m. Maikel van der Vleuten rides into the ring with Verdi. They were team silver medalists in London for the Dutch. They simply float around the course. Verdi gives a uphoric buck as he lands off the final fence, acknowleding his skillful performance. They are clear!
11:03 a.m. Sheikh Ali Al Thani will next represent Qatar on First Devision. This is Al Thani's Olympic debut, but he's been consistnelty at the top of the Global Champions Tour standings for a few years now. He has an early unforatunte rail; nothing else comes down. They'll stay just within the time to finish with 4.
11:01 a.m. Peder Fredricson and All In are next for Sweden. We've been seeing some great efforts over the triple bar, and this horse is no exception. What a jump! This horse does not want to touch anything, and he's not going to. They give Sweden their first clear round!
10:59 a.m. Spain returns with Manuel Fernandez Saro and U Watch. They come to the last line without penalty but have a brick down on the wall at fence 12. 4 faults.
10:55 a.m. Lucy Davis and Barron are in the ring! They looked great on Sunday and just had the final rail down on course; they'll look to get that rail back today. They get in a little tight to the triple but jump through it well. Barron really looks on form. It's a close call at the water, but they cleear it without fault. They come to the last line: over, over, over. They're CLEAR. Two-for-two for Team USA!
10:53 a.m. Ben Maher is 2nd up for Great Britain with Tic Tac, whom he just started riding over the winter after many of his top mounts got injured or were sold. The pair has really come on throughout the course of the summer and looks strong to start the round, but they have the oxer before the open water down. They'll finish with just that one rail for a score of 4.
10:50 a.m. Christian Ahlmann wraps up the first rotation of this 11-nation group with Taloubet Z for Germany. Wow, Taloubet is jumping great, continuing on form from his clear round on Sunday. They cut the final turn to save time and produce a textbook clear round. That was really pretty.
10:47 a.m. It's time for the home team! Eduardo Menezes is jumping for Brazil with Quintol. The crowd cheers as he makes it through the triple combination. They come down to the final line, and the crowd quiets. They get a good rub at the last fence, but it stays up! He's clear, and the stadium positively erupts! Rio really gets behind its riders!
10:44 a.m. France's leadoff rider is Phillippe Rozier Rahotep de Toscane, an 11-year-old Selle Francais stallion. The grey does not get across the water, and that will be his only mistake for a 4-fault total.
10:42 a.m. The Swiss are up next, as Janika Sprunger is in the ring on Bonne Chance CW. This is Sprunger's first Olympics. She gives a strong ride to the water but has the liverpool oxer down. The last fence on course comes down, too, which is coincidentally also a liverpool.
10:40 a.m. First up for Canada is Yann Candele and First Choice 15. Looks like the riders are figuring this course out. This pair goes clean as well!
10:37 a.m. Jeroen Dubbeldam and Zenith are up for The Netherlands. What a strong leadoff rider for the Dutch; this is the reigning World Equestrian Games individual gold medalist! They get through the first half of the course without any problems. The second half goes the same way! That was an incredibly smooth clear round.
10:34 a.m. Next up is Qatar's Hamad Al Attiyah and Appagino 2. This is an 11-team rotation this time around, so we won't see these nations' second riders for a little while. This pair picks up the pace down the last line and has a rail at the in of the double, and a time fault is added. It's a total of 5.
10:31 a.m. Here are the first Swedish team representatives, Malin Baryard-Johnsson and Cue Channa. The mare absolutely launches over the water. They have fence 11 down and finish with 4.
10:29 a.m. It's Spain's turn: Here's Pilar Lucrecia Cordon and Gribouille du Lys. They have a strong ride until the last combination. Cordon legs the mare through the last double, and they have the final two rails down. An 8-fault toal.
10:25 a.m. Here it goes: Kent Farrington and Voyeur are in the ring for Team USA! Deep breaths. Farrington was the only U.S. rider to jump clear on Sunday and will try to duplicate that performance. Kent has his game face on. He clucks to "Froggy," and they make it through the first tricky combination. Phew, they are throught the water, too. They come to the last line, and they're clear! What an accurate, superb ride to kick off things for Team USA!
10:23 a.m. One of my favorite horses is in the ring: It's Big Star with Nick Skelton of Great Britain to kick off this next group of nations. This pair won a team gold medal in London. Then Big Star battled injuries and was out for months before returning just a few months ago. He looks like he hasn't missed a beat! Unfortunately, they barely touch the tape at the water and finish with 4. On replay, that was agonizingly close.
10:20 a.m. Here's the last rider for Australia: This pair has a rail in the first combination—the middle oxer—one additional rail and a time fault. It'll be a 9-fault total, which leaves Team Australia on 14 faults.
10:16 a.m. Jose Maria Larocca leads us off after the drag break. He is the final rider for Argentina; he's on the 12-year-old Westphalian stallion Cornet du Lys. This rider has got some bloodlines: His uncle, the late Carlos Delia Larocca, was a 5-time Olympian (1956-1972)! They have a rail at an early oxer and a foot in the water to finish with 8.
10:04 a.m. What a whirlwind! After 23 riders, we're now on a short break until 10:16. To recap, there have only been two clear rounds (and only one from a team rider) and another five riders with one time fault. Also, it appears that Cassio Rivetti of Ukraine has been disqualified. We will update you on why shortly. In the meantime, here are the current standings: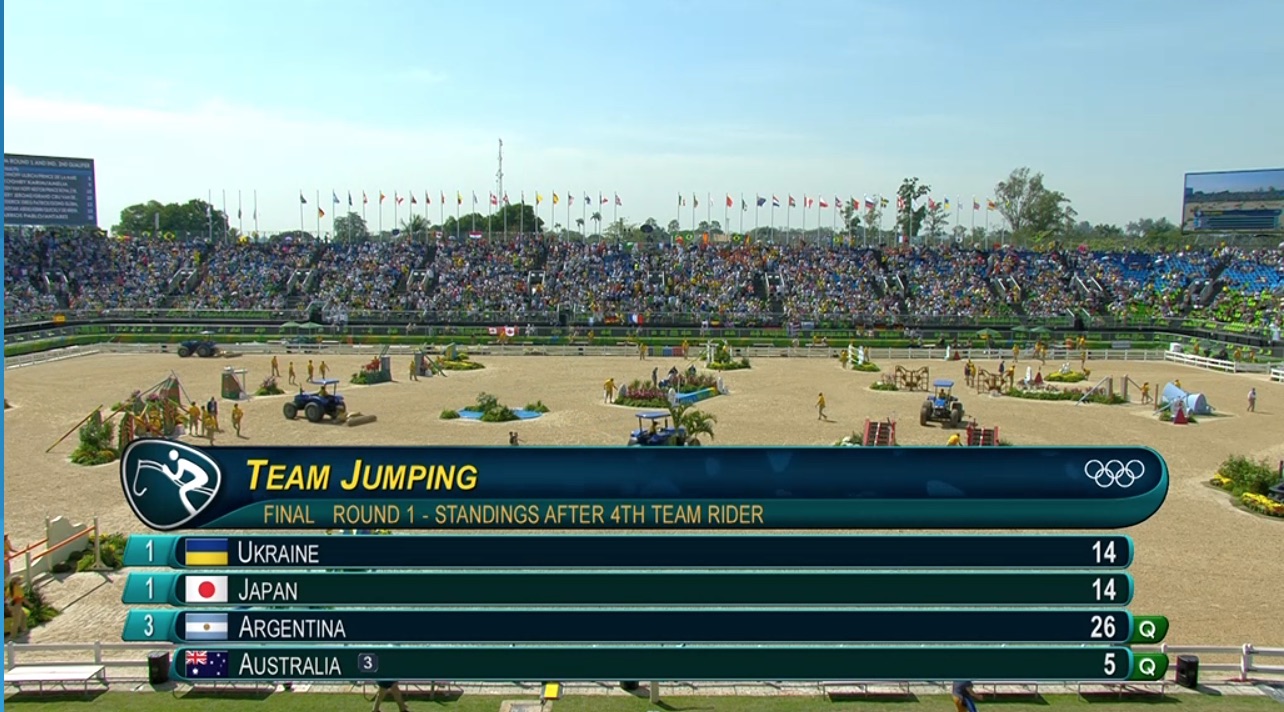 10:02 a.m. Taizo Sugitani and Imothep have an early rail. Then they leave much too soon over the water and cannot clear it. They also have the next liverpool oxer down. Their total will be 12.
9:58 a.m. Rene Tebbel starts the 4th rotation of this group for Ukraine; he rides Zipper. They jumped clear on Sunday, and they keep the jumps up again, but—my word—there's a time fault. Another 1-faulter here.
9:55 a.m. Edwina Tops-Alexander is in the ring now to try to bring up Australia's team score. She's riding Lintea Tequila—they had a great win Stateside when they won the Global Champions Tour of Miami Beach (Fla.) in April. Edwina had two top mares to choose from for Rio, and she ended up taking this one over Caretina de Joter—after she had some help from her Facebook fans. They land right in the middle of the water and then add a time fault—it almost seems like a given at this point!—to finish with 5.
9:53 a.m. Matias Albarracin and Cannavaro 9 now represent Argentina. They get a great jump at the triple bar and take the water with ease. Wow, that was a super round—but another time fault! They'll have to finish with that one pesky point. That's a shame; maybe Cannavaro might have just spent a little too much time in the air.
9:51 a.m. Reiko Takeda and Bardolino are next for Japan. They get some tight distances, but the horse gets up off of springs and keeps the jumps up! They have no jumping faults, but they do pick up 1 on the clock.
9:48 a.m. Now for the third rotation, which starts with Ferenc Szentirmai and Chadino. They break the tape at the water and have the plank down as well, plus a time fault for 9 faults.
9:45 a.m. Scott Keach and Fedor are next. Keach has a pretty remarkable story. He's returning to the Olympics after a 28-year hiatus—he last rode in Seoul in 1988 as an eventer! The pair has two rails early. Then Fedor stops at the water, and Keach comes off! Fedor's bridle completely falls off the gelding's head, as the ring crew has to fetch him and secure him with a halter. Keach is noticeably upset; he will not move on in indiviudal competition, and he will undoubtedly be his team's drop score. An unfortunate result; that pair is much better than that, but they will surely return to fight another day.
9:43 a.m. Bruno Passaro and Chicago Z are next for Argentina. They have the second fence and third fences down. Passaro goes to the stick to get through the first combination as Chicago Z gets a bit sticky, but the pair gets through it without fault. They have to sacrifice the next fence though and have another rail. Down goes another vertical, as do the final two fences. It's an unfortunate 24 faults for this pair; they'll have to wait for another day.
9:40 a.m. Daisuke Fukushima and Cornet 36 are riding very acurately, but it's obvious they are behind the pace. They keep all the jumps up but finish with a time fault. Still, that score will greatly help his team.
9:37 a.m. Ukraine is back for a second go-rounnd, this time with Ulrich Kirchhoff and Prince de la Mare. This starts the second rotation of these first four teams. This horse has some scope! There's a scary moment at the water as misses the distance and adds in an extra stride. They pick up 4 there, but the horse actually makes a pretty spectacular effort. That will prove to be their only error, and they finish on that score.
9:34 a.m. Matt Williams is next with Valinski S for Australia. Williams is no stranger to the Olympics; he's been in this position on two other occasions. The experience shows: He jumps clear! It's just our second clear—and first for a team rider—today. Diniz made this course look easy to start the day, but it has proved far from it.
9:31 a.m. Ramiro Quintano is next; he rides Appy Cara for Argentina, but he's actually based in Wellington, Fla. This is his first Olympics. He's having a good ride early on! They jump a beautiful round to keep all the jumps up, but they have one agonizing time fault!
9:29 a.m. Now, it's Japan's turn. Toshiki Masui rides Taloubetdarco K Z. They too fault at that first combination. Despite an aggressive ride, the pair also has a foot in the water. The final fence—a liverpool in another combination—also comes down. This duo was quick to finish well within the time, but they sacrifice the jumps in the process, finishing with 12 faults.
9:26 a.m. Team action starts now with Ukraine's Cassio Rivetti and Fine Fleur du Marais. Rivetti had a rough go of it on Sunday and will not advance at Rio as an individual, so he's just competing for team medals. He has a much better result today—only a foot in the water. 4 faults. The crowd gets behind him; he's got to be pretty happy with that!
9:23 a.m. Here's the last individual pair: Karim Elzoghby and Amelia of Egypt. The middle element of the first triple comes down yet again. Then Amelia doesn't get across the oxer before the water and has that down, too. And look, another time fault. A total of 9.
9:21 a.m. Here's Jerome Guery of Belgium. He's riding the 10-year-old Dutch Warmblood gelding Grand Cru Van de Roz. This pair jumped a great clear round on Sunday, but they finish with 10 faults—8 jumping, 2 time. This time is T-I-G-H-T!
9:18 a.m. Nestor Nielsen van Hoff and Prince Royal Z de la Luz jump a great round until they have the final two fences down. They'll also add one on the clock to finish with 9.
9:15 a.m. Abldelkebir Ouaddar and Quickly de Kreisker add some strides and have three rails, plus a time fault for 13 faults.
9:13 a.m. Alonso Valdez Prado and Chief of Peru have an early rail at the second fence, an unassuming vertical. They just barely touched it! They also have a rail in the first combination, which is proving to be tight and tricky. Then they have the liverpool down. Chief gets very strong down the last line and has the last rail, too. Faults abound, unfortunately. They finish with 16. Most likely, that will be the last round we see from them here.
9:11 a.m. Here's Pablo Barrios of Venezuela with Antares. They have a rail at the middle element of the first combination—that's going to be a bogey line I think. They also have a brick at the wall and a third jumping penalty as well. They stay within the time, so they'll finish with 12.
9:08 a.m. Greg Boderick, the lone Irish rider in Rio, is in the ring with Going Global. He had a great summer to be receive Ireland's one individual spot. Unfortunately, he has a foot in the water. He gets a rub through the final combination, but the rail stays up. He'll get a time fault as well! That will be something to keep an eye on as the competition continues. You have to move through here!
9:05 a.m. Rene Lopez of Con Dios III are next from Colombia. They'll be hoping to start an early streak of clears. They have two rails down in the first combination. Then a third rail comes down, and they finish with 12, plus 1 on the clock. Lopez will have a long way to wait to see if that score will allow him to move on in individual competition.
9:00 a.m. Diniz and "Fitty" are in the ring! Diniz is one of the most exuberant riders on the International circuit—she really loves her horses! She produced her own video series detailing her journey to Rio (You can read all about her story here.).
They're clear! They give a great effort as pathfinders to keep all the fences up, and it's a big track.
8:54 a.m. Good morning from Deodoro Stadium for the first round of team show jumping competition in Rio! Things will get started at 9:00 a.m., and the first rider we'll see will be Luciana Diniz of Portugal riding the 12-year-old mare Fit For Fun. Diniz is competing as an individual; we'll see the first team rider at 10th in the order. The order of go today was determined by scores from Sunday's first individual qualifier; teams start fresh with 0 scores, while faults carry over for individual qualifying. Follow along!