Luciana Diniz's mother told her, "Life starts at 40." At 41, Diniz met Fit For Fun 13.
And now Diniz, 45, and the dynamic chestnut mare "Fitti" head to Rio having earned one of 15 quota spots allotted by the FEI to compete at the Olympics as an individual as the top performer of the South Western Europe qualifying group,.
"We say we should ride with a smile, and she is a horse that allows you to ride with a smile," Diniz said of the 12-year-old Hanoverian (For Pleasure—Fetzi, Fabriano). Diniz is well known for her exuberant joy in her horses' performances, as she pats them profusely and grins widely no matter what her result.
Diniz bases out of Wachtberg, Germany, but she rides for Portugal, the nationality of her grandfather. She grew up in Sao Paulo, Brazil, making the upcoming Games a homecoming of sorts.
She spent the past two years with Olympic qualification as her main focus, racking up wins in the 2015 CSI***** Grand Prix of Basel (Switzerland), the 2015 CSI***** Global Champions Tour Grand Prix of Doha (Qatar), the Grand Prix at the HH the Emir of Qatar Sword International Show Jumping Festival in Doha (Qatar) in February, and, most recently, the Longines Grand Prix of Rotterdam (the Netherlands) on June 26.
Diniz was the leading rider on the GCT circuit last year, and she and Fitti were ranked as the world's second-best horse and rider combination.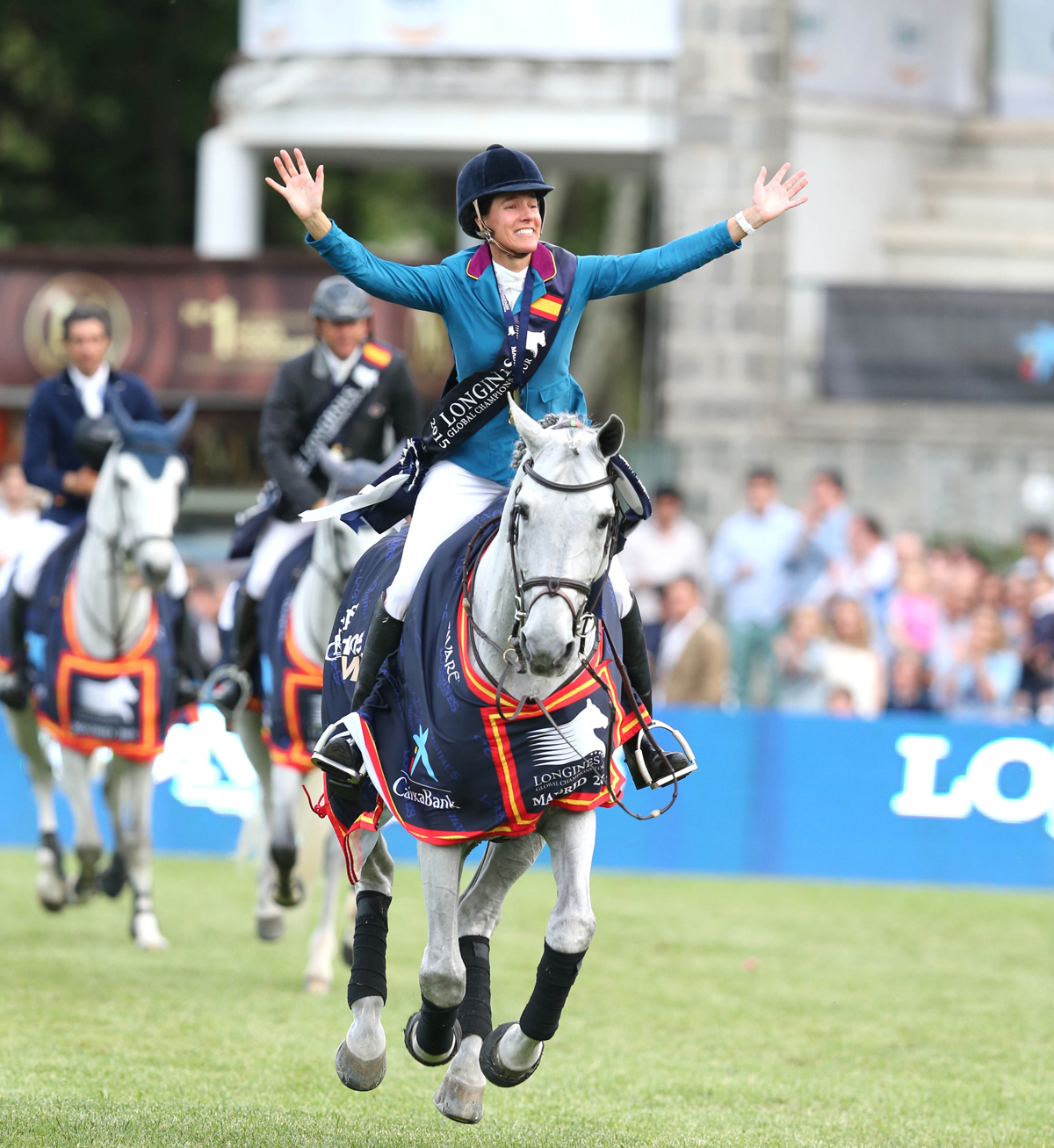 Luciana Diniz on Winningmood after their win in the Longines GCT of Madrid in 2015. Photo by Stefano Grasso/GCT
"I really wanted to go to Rio," Diniz said. "I have both countries behind me, Portugal and Brazil. It's a special place, because Rio is where I would always show when I was young. When I was a junior, I won so many championships there, so it's a special place for me.
"But I must say, these 15 months were tiring for me and the horses," she continued. "When we stopped in March after we got the qualification, I literally took a two-month break. Fitty had a two-month break, and I had a break and didn't show for a while. We all needed to get fresh again, in all aspects—physically and spiritually, mind and body. I think the system has to be changed, and I hope they do change in the future, but we qualified, and that was our goal, so the first part of our preparations was very successful."
Diniz comes from a family of equestrians, but she deviated from her parents in her discipline of choice. Her father and brothers Andre and Fabio are well-known polo players, while her mother Lica is an eight-time Brazilian national dressage champion. Luciana began as a dressage rider in her youth, but she picked up show jumping when she was 11. It only took a year before she was the children's jumping champion in her home nation.
When she was 18, Luciana moved to Belgium to train with legendary Brazilian show jumper Nelson Pessoa, and from there, she worked under Olympic gold medalist Alwin Schockemöhle before going out on her own. She made her Olympic Games debut in 2004 in Athens and finished 17th individually in 2012 in London with the Oldenburg stallion Lennox.
"We need dreams in life to motivate us, and I have a lot of dreams," she said. "I can say I'm a dreamer. Since I've been young, I've always had this dream to get a medal in the Olympics, to participate and really do my best in one Olympics. For sure, my dream is to go to Rio now and really have a good result and do my best in that final, because I have no team. It's a real big dream I have, a big goal."
"A Family Horse"
Lennox remains in Luciana's string, and after having much of last year off, the bay Oldenburg stallion is set to return at the Longines Global Champions Tour of Paris (France) before contesting Aachen (Germany) in mid-July. Luciana will prepare the 15-year-old as if he will be competing at Rio, but at the moment, he will be Fitty's back up.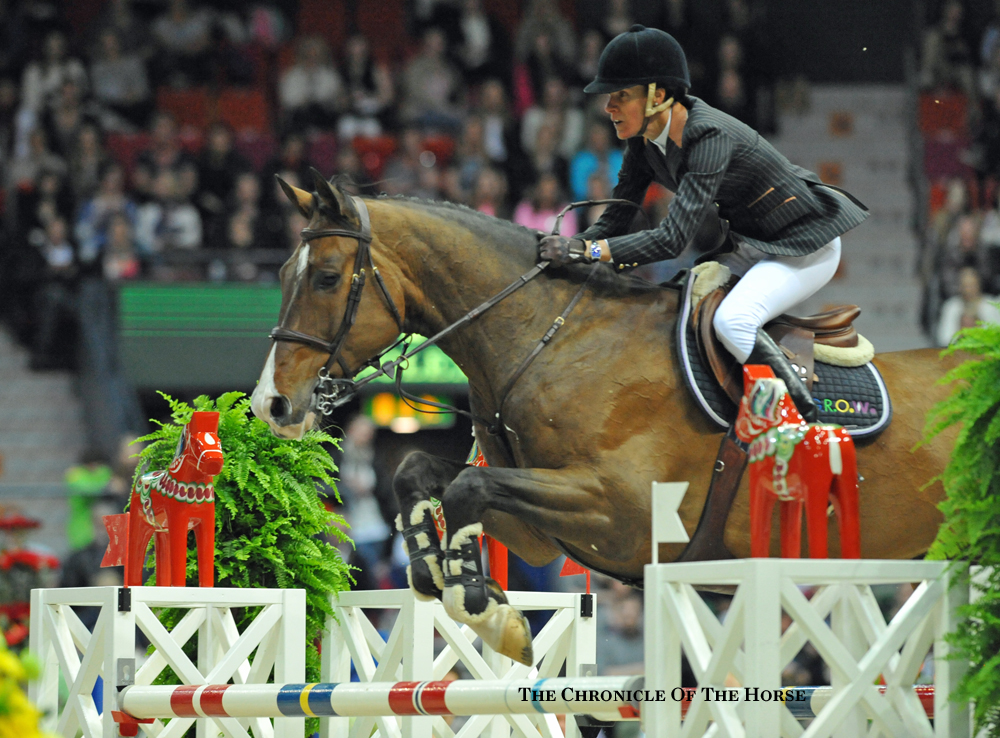 Luciana Diniz and Lennox competing in the 2013 FEI World Cup Final, where they placed eighth overall. Photo by Mollie Bailey
"Every horse has his priority right now of work, and we hope to get the best time of them while we are there," Luciana said. "In getting to the Olympics, I just planned to keep making good preparations [with the hope that] the best will come out. Every horse has its goals for that, and we'll see, but Fitty is for sure in front of all the others."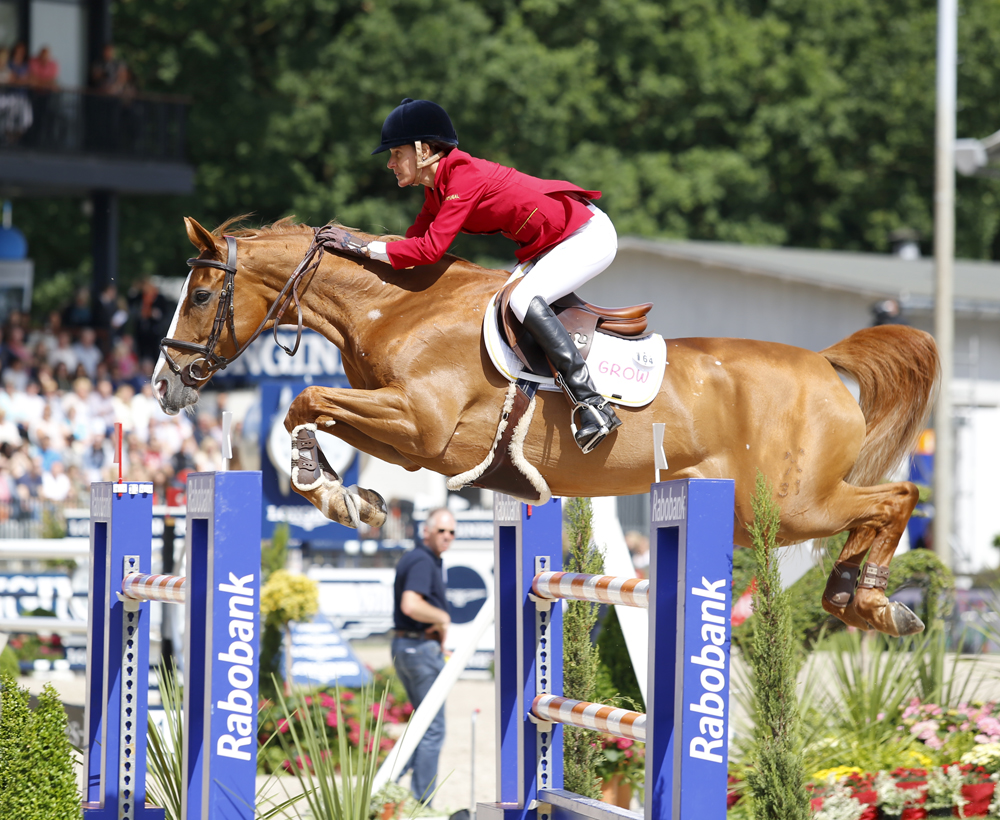 Luciana Diniz and Fit For Fun on the way to the top of the Longines Grand Prix of Rotterdam. Photo by Tiffany van Halle
Quick, agile and scopey, Fitty, despite getting a late start to her show jumping career, has emerged as one of the top horses on the international circuit. Luciana acquired the mare in 2012 and co-owns her with Ralf Jünger, who purchased her as a young horse but bred her twice before putting her in serious training. The mare foaled two colts; Camargo is now an 8-year-old approved breeding stallion, and Champ is one year younger.
"She's really a family horse," said Luciana. "Wherever we are, the whole family is watching from all sides—my family and [Jünger's] family. She grew up with [Jünger] as a young [horse], and she has two sons, and they ride them. It's all about love."
Fitty made her FEI debut as an 8-year-old, and within a year she was jumping 1.60-meter tracks. Just as impressive as her effortless, spring-like jump is her apparent lightness. She goes in very little tack, sporting a simple snaffle and no martingale.
"[When I first started riding her,] she was already for sure an amazing, light horse and very elastic to ride," Luciana said. "She had those things since she was young. But you never know until they really have to do the big jumps how they're going to handle that. I think she gradually grew; that's the way I see that. She got the trust, she got the confidence, and now she just does it so easily.
"Life should be simple, just like that," she added. "Sometimes we want to complicate everything, but everything should be like that."
No one could make a daunting inside turn in the jump-off at Rotterdam look as simple as Fitty. The mare performed a spin worthy of a barrel racer to slice inside the open water back on the third-to-last fence, sealing her victory.
The turn looked like it had been carefully planned out, but Luciana said she didn't decide to even attempt it until she approached the in-gate.
"The whole weekend [in Rotterdam] was planned as my preparation for the Olympics," Luciana explained. "I rode in the small class on the first day, and then I did one round on Saturday and did not do the jump-off. I decided if I was clear [in the Grand Prix of Rotterdam], I would go in the jump-off.
"Just before I went in for the jump-off, I was unsure whether I would go around the water or turn before it," she continued. "[Jünger] came to me before and said it was very difficult [to turn inside]. He said, 'It's better if you go around and you just keep galloping.'
"Then, I was coming to the [in-gate], and Laura Kraut was there. I asked her, and she said, 'No, you have to go inside.' So, she gave me that little tip to go inside, because I was planning to go outside. I had to thank her afterward, because she was the one who pushed me to go inside, because I was not planning to win the class. I was just planning for my [Rio] preparations."
Upping Her Profile
Fluent in five different languages, Luciana is also an avid boxer and archer. After the Olympics, she plans to publish a book, and she is also rebranding her G.R.O.W. foundation, an "informal education philosophy," into "Butterfly," which will focus on helping emotionally distraught individuals through equine therapy. The rider has also become vocal on social media in an effort to better reach her fans and fans of her sport.
"I must say, I never did much social media before," she said. "I've done Facebook for a month now. I didn't have it before. My children [twin boys Paulo and Pedro] started my Instagram for me last year, and I just started posting to it a little bit this year. It's so nice, because people have always wanted something, and it's a way of sort of giving. I decided to go get a little bit out of this low profile and just start giving what I can through my love of the horses and inspire people with our charisma."
In April, she launched her own YouTube video series, "Hoofprints," which gives viewers a behind-the-scenes look at her Olympic preparations. Luciana produces the series herself and calls it her "homemade marmalade." You can see all her videos on her YouTube channel.
"I know that so many people want to know, and it's so hard in our sport; people don't want to share much," she said. "I love to share; that's just me as a person. It was a beautiful story, just to share about my horses, the way I work differently with each of them."
Her followers have rewarded her for her accessibility. In May, Luciana used Facebook to crowd-source advice on how to treat a severe case of hives that developed on her Dutch Warmblood stallion Winningmood.
"Winny Boy," a veteran of the 2010 and 2011 FEI World Cup Finals and three European Championships, won the CSI***** GCT Grand Prix at both Madrid (Spain) and Vienna (Austria) last year before going to the sidelines this summer with his mysterious ailment. More than 300 fans responded to Luciana's query with suggestions, and the post was shared more than 500 times.
"It was really helpful," Luciana said. "One of the treatments we are doing with him came from someone who saw [the post] on Facebook and called us. They sent him some natural products that we are still using, so that was for sure a very great help.
"I think we are on the [right track] now, and with the help of many people, I must say," she added. "Honestly, I was really hoping it would be Winningmood [that would go to Rio], because it would be his last chance to go. But he's already given us so much, and he's just saying he needs a little bit of time, and he's letting the others go. He's telling us, 'Just be patient. I will be back.'"
For now, Fitty is carrying the load in the final weeks before Rio.
"Now, I would say we are two-thirds through our preparations, and a very unexpected win in Rotterdam was very welcome," Luciana said. "It showed that we are doing well with our preparations, and now it's the last 40 days. She has one more show [at GCT Paris], and then we'll see what she wants to do.
"It's a very, very special Games for me," she added. "It's different than it would be [at any other place]. Being in Rio, in Brazil, it's special. Every time I think about it, I get butterflies in my stomach, and it's a good feeling."