Rio de Janeiro—Aug. 14
A tough course on the first day of individual competition of Olympic Show Jumping helped separate the field and caused some unexpected problems for experienced pairs.
Click here for more on today's course and to hear how the U.S. team fared.
We checked in with several Olympic show jumpers about the ups and downs of Day 1.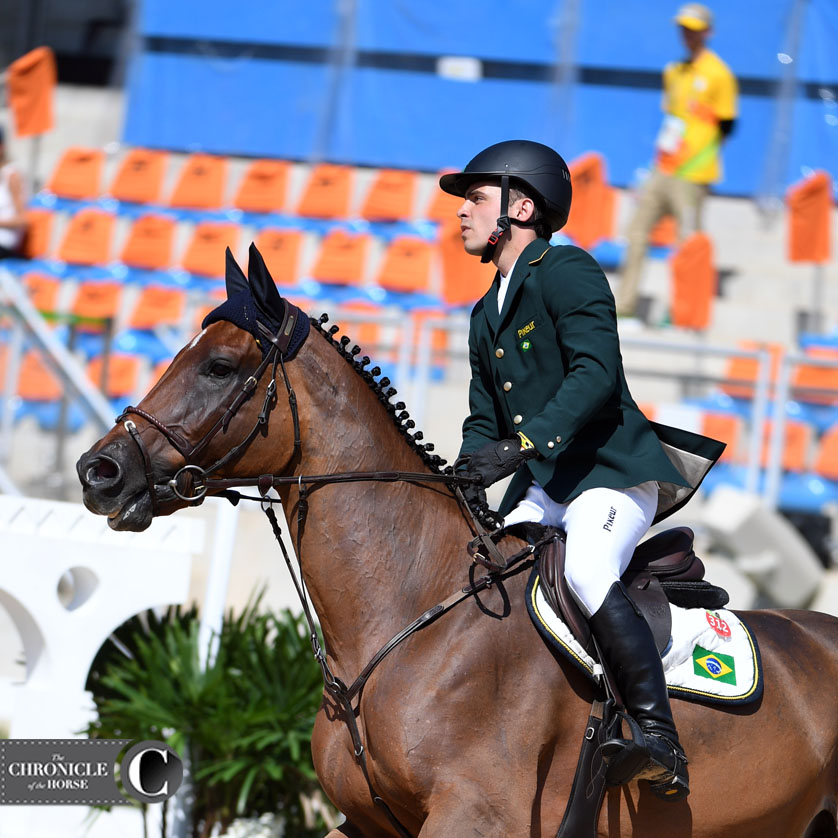 Stephen de Freitas Barcha and Landpeter do Feroleto. Photo by Lindsay Berreth.
•Rio de Janeiro native Stephan de Freitas Barcha jumped a clear round in front of his hometown audience aboard Landpeter do Feroleto. It's one of three clears for Team Brazil.
Barcha has worked for the venerable Nelson Pessoa in Belgium for the last three years.
Five years ago Landpeter survived a life-threatening accident when the driver of a trailer he was on fell asleep at the wheel.
"He crashed the truck that had 10 horses inside," said Barcha. "Landpeter has a scar on his neck from that crash. They say if it had taken the vets 10 minutes longer to arrive it would have been over. He's a fighter, and it's a pleasure to me to ride a horse like him. When he enters the ring he becomes a completely different horse than he is at the barn."
•Pénélope Leprevost has had a rough go of it since arriving in Rio. First her horse Flora de Mariposa suffered colic symptoms the night after the jog, and she slept on the floor of the clinic with her longtime partner. Today she took a tumble when Flora de Mariposa tripped on landing from a jump early on course.
"She didn't jump the warm-up yesterday, but she was feeling great yesterday and this morning," she said. "She felt great when we were warming up and at the beginning of the course. I don't really know what happened; we were just really unlucky I think. I do get to jump again with the team. I'm OK."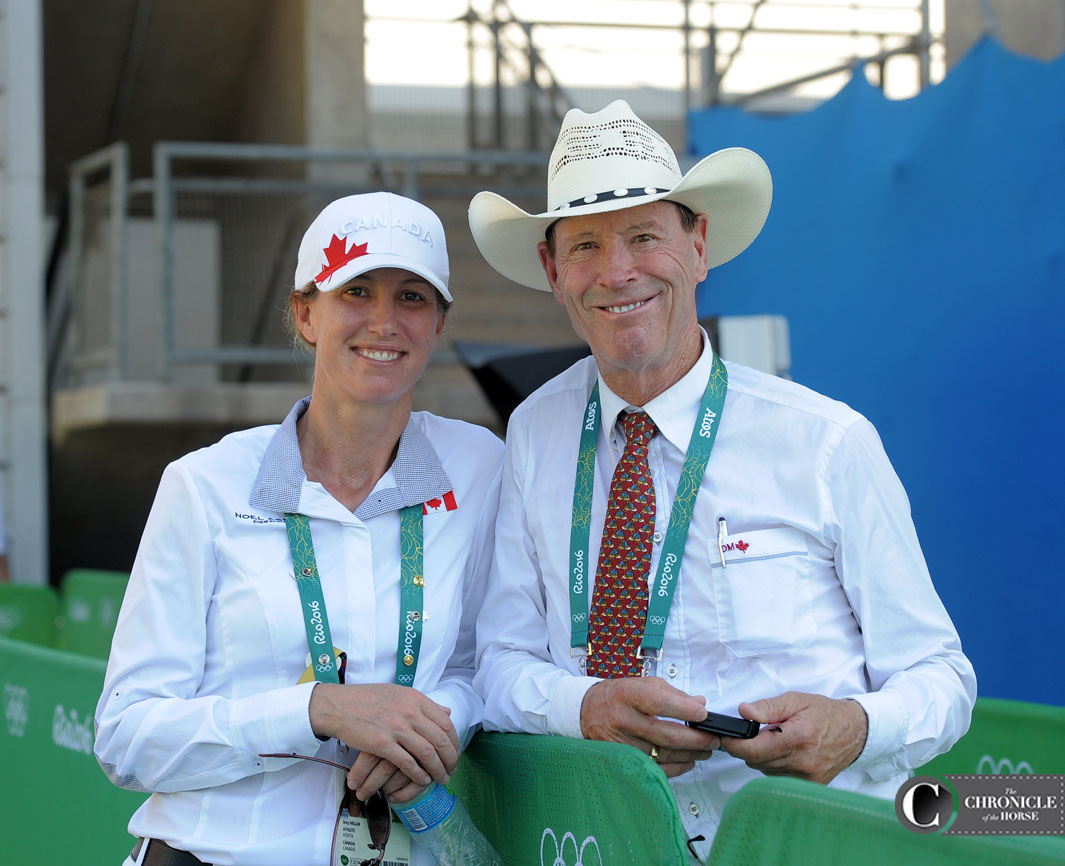 Amy Millar and Ian Millar. Photo by Mollie Bailey.
•Only one person was more excited than Canadian Amy Millar to ride a clear round in Rio: her father, 10-time Olympian Ian Millar. Ian, who's not riding this year, was riding every fence from the kiss-and-cry booth along with his daughter, and admitted it's much easier to ride than watch his daughter compete. She was thrilled to jump clean in her first round at her first Olympics.
"There is no better position to be in," she said. "I wanted to be able to go into the Nations Cup with confidence. I put myself in the best position to do that that I've possibly done. My phone before today has been blowing up. I actually am taking that with me too: All these people want me to well. All of that positive energy has got to do something. I think they helped me get across the jumps today."
•Edwina Tops-Alexander and Lintea Tequila put in a fault-free round for Australia. Tops-Alexander had the luxury of choosing between two top horses to be her mount for this year's Olympics, and she put it to her Facebook fans to help decide which sassy mare to bring. Her fans voted overwhelmingly in Tequila's favor.
"She's really, really sure of herself," said Tops-Alexander. "She lets you know how she feels. She'll turn around and bite you, turn around and lick you or kick you. She has a lot of spunk about her. She's a funny mare because when I first got her in the beginning I didn't realize she was like that. She was in a small stable with straw up to her knees. She looked a little bit down, I felt a little bit sorry for her.
"I never expected her to be the kind of horse she is when I tried her. One time I was walking her at home and she gave me a bite on the shoulder and that sort of woke me up. But I have a lot of trust in her, and she trusts me a lot. It's a matter of keeping her cool. She knows that I let her do so much that she's got to also let me have the control at the some time."
•German Chef d'Equipe Otto Becker weighed in on the last-minute decision to substitute in Meredith Michaels-Beerbaum and Fibonacci 17 for Marus Ehning and Cornado NRW.
Becker said that Cornado NRW was a bit off in his left front after yesterday's warm-up, but they haven't been able to pinpoint the problem.
"We know that horse very well, and the horse wasn't the same," he said. "So we were worried. We knew it was a difficult procedure to change and we had to make a decision by the next morning at 8 a.m. so we prepared everything to change, but planned to check the horse in the morning again.
"We looked today in the morning again, and it was the same as yesterday afternoon," said Becker. "The risk was too big to compete him over four or five rounds. We had to make what was for Marcus a very hard decision to replace him with Meredith. Meredith is super, they are all great high class riders to compete on a very high level."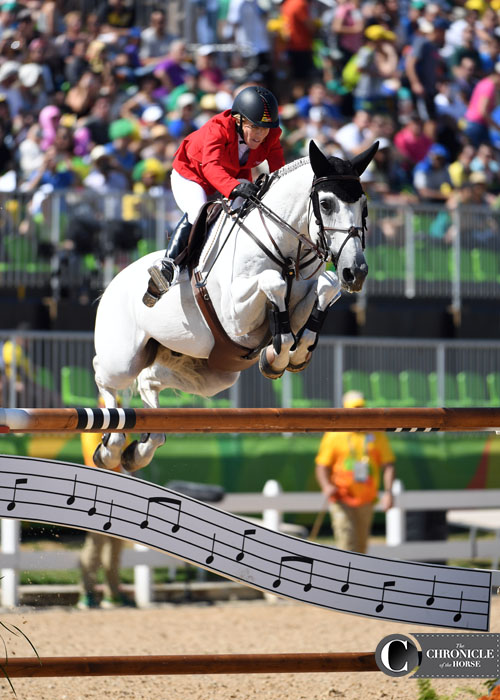 Meredith Michaels-Beerbaum and Fibonacci. Photo by Lindsay Berreth.
•Michaels-Beerbaum got a phone call on her way to the stadium asking if she'd brought her white breeches. First in the ring for the Germans, she and groom Anu Harilla had to rush to prepare the horse—who as luck would have it is gray—for his turn in the ring. It all paid off with a clear round.
"I thank my lucky stars I'm here today and competing with a fabulous horse that I have," she said.
"This is a really special horse," she said. "I really felt like we were coming together this year and that's why I was really aiming for these Olympics. He's an incredible talent, which I think everybody can see. He has a jump that's just amazing—he goes so high and has so much power. But mentally he's a sensitive horse and he takes a lot of work and time. He needs a group around him that he knows."
Fibonacci earned his nickname of "Nacho" from Michaels-Beerbaum's 6-year-old daughter Brianne Victoria.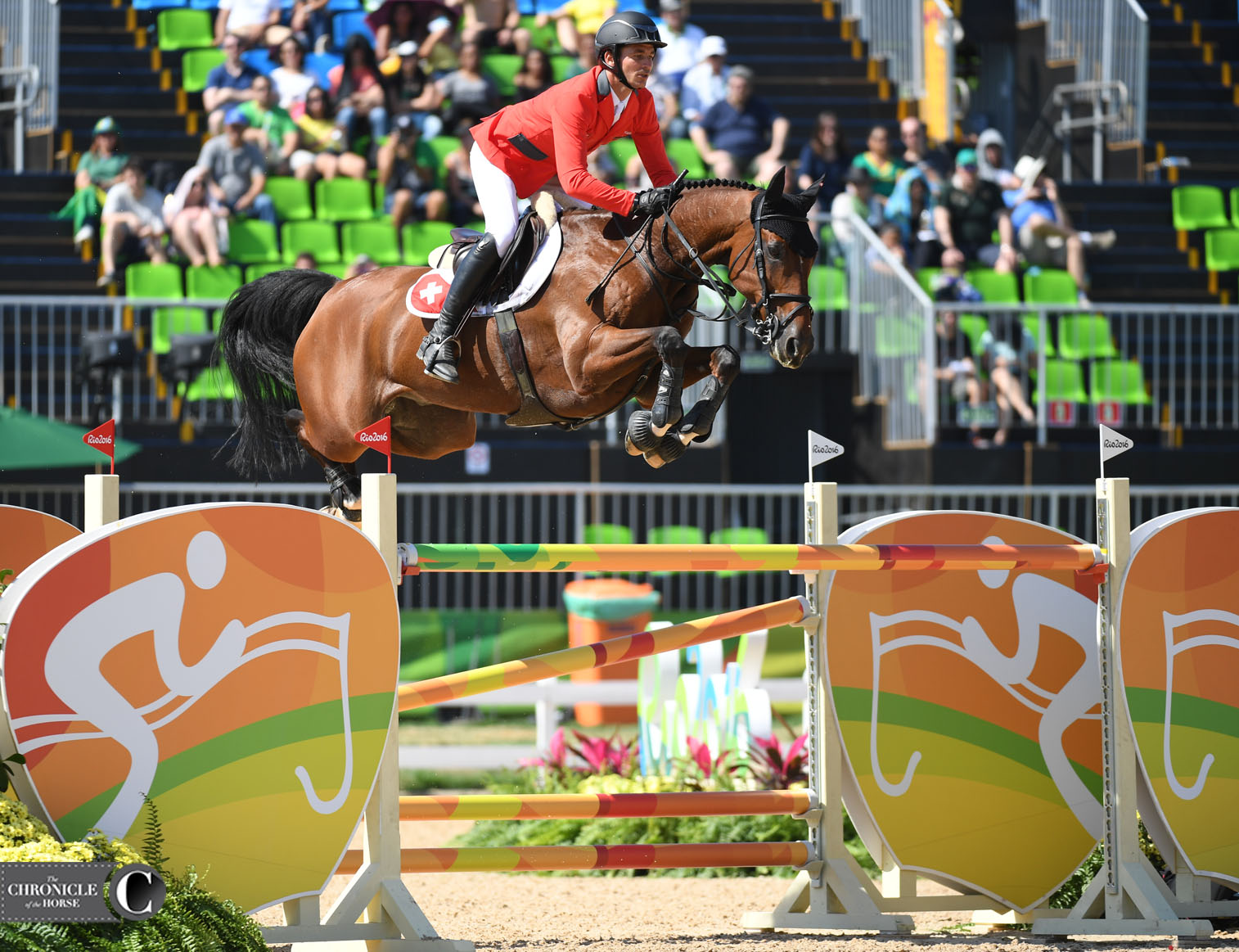 Steve Guerdat and Nino des Buissonnets. Photo by Lindsay Berreth.
•Reigning Olympic champion Steve Guerdat wasn't concerned when Nino des Buissonnets was held at the horse inspection held on Aug. 12. The horse jumped clean today.
"He moves absolutely normal under saddle, and has a funny way of moving in hand," said Guerdat. "We've had him since he was 7 years old and he's always been this way. The vet who knows him knows that it's never the problem; that's just his way of going. But every time I get to a place where the vets don't know him, like here in South America, there's a problem. OK they prefer to check, which is what we ask them, and we can't complain about that. They're doing their job. It's nothing painful to him. I know there's nothing wrong with the horse it's just his way of moving. I don't like it because it brings a little more stress, but that's just how my horse is."
Mollie Bailey and Lindsay Berreth are on the ground in Rio de Janeiro for the Chronicle and will be reporting with all the news, fantastic photos and behind-the-scenes details, all posted on www.coth.com. Your go-to page for all things Olympic is http://www.chronofhorse.com/2016-Olympics.
We'll have live blogs of competition sessions, Twitter updates, blogs, photo galleries, stories about each day's competition and so much more. Don't miss a thing—we'll have everything you need to know. Also make sure to follow along on the Chronicle's social media outlets: Facebook, Twitter, Instagram and Snapchat (@chronofhorse).