On a cool January morning in 2006, assistant trainer Peter Brette led me down the shed row of Michael Matz's barn at Palm Meadows Training Center (Fla.) and introduced me to every horse.
There were stakes-caliber mares, reliable allowance horses and unraced, unproven colts and fillies full of endless promise.
And then there was Barbaro—well, before he was the Barbaro we know and remember today.
Brette escorted me up to the stall of a large, imposing bay colt. He had an unusually strong shoulder for any racehorse, let alone a recently turned 3-year-old. The colt turned and calmly walked over from the back of his stall, thoughtfully stuck his head over the stall gate and looked straight into my eyes. A shiver went up my spine.
I had already heard about Barbaro. The big bay had yet to run a race on the dirt (being a son of the great turf sire Dynaformer, he started his career on grass), but he had won his first three races, including the Tropical Park Derby at the local Calder Racecourse in Miami Gardens, convincingly. Matz planned to see if his talented colt could be a potential Kentucky Derby candidate by testing him on dirt in the upcoming Holy Bull Stakes at Gulfstream Park.
Brette handed me a peppermint—green spearmint flavor, the colt's favorite—and Barbaro lipped it up gently before eagerly bobbing his head for more. As I obliged, I felt something I had never felt before. There was just something about this horse.
That day, Barbaro convinced me that he was going to win the Kentucky Derby—four months in advance, without ever having raced on a dirt surface, not once. It was so far off and so improbable, but I had never been so confident in a horse race in my entire life. I would know—I was a professional handicapper for two years (yes, really!).
Barbaro, of course, would win the Derby, and I never experienced that strong of a feeling around a horse again.
That is, until I walked down McLain Ward's center aisle barn in Wellington and met HH Azur.
I visited Ward's farm to write "Behind the Stall Door" stories on HH Azur and her stablemate HH Carlos Z, but, as she has done thus far in her career, Azur, affectionately known as "Annie," stole the show. When the mare was led out of her stall, I felt up close her sheer presence, and I was awestruck.
She was perfectly conformed with a perfect disposition: very tall and while elegant, not dainty, and most definitely not mare-ish. As she walked down the barn aisle, she paused to inquisitively and kindly visit with her famous next-door neighbor Rothchild before professionally walking on without the faintest hint of a squeal or the slightest tilt back of a pinned ear.
It was that attitude that really captivated me. Top show jumpers, like top racehorses, are typically hot-blooded, but Annie was as cool as a cucumber. She walked with long, lanky strides, conveying a sense of "I know who I am and I know that I'm great, but I don't need to overly assert myself."
The mare's calm demeanor was truly put on display when HH Carlos Z was led out with her for some photos. Carlos, winner of the $500,000 Rolex Grand Prix (Fla.), danced at the end of his lead shank, doing everything he could to avoid standing still for a photograph (until he was bribed with mints, of course…thank you Sean!), but Azur stood quietly, a long slack in her lead as she stood, perfectly still and perfectly square, and stared into my camera.

Annie powerfully stares into my camera lens.
Photo by Catie Staszak
I snapped. She tilted her head to adjust her pose. I snapped again. This repeated several more times. I couldn't help but laugh. I was working with a professional, here. No horse had ever made my job easier.
I, of course, knew Annie's record. In less than a year, the mare had gone from jumping 1.35-meter classes to winning the $400,000 Queen Elizabeth II Cup at Spruce Meadows (Alberta) and, most recently, both the $132,000 Longines FEI World Cup Toronto and $75,000 Big Ben Challenge at the Royal Winter Fair (Toronto). She was receiving rave reviews, and Ward had already said he was pointing her toward the observation events for the 2016 Olympic Games in Rio de Janeiro, Brazil. I didn't need to watch her jump again to know she was more than capable of achieving that goal.
I followed Annie back to the barn, and once put away the mare rejoined me at the front of her stall. She calmly stared right at me with her large, kind eyes, and I got lost in them. The hairs on my arms nearly stood up. I stroked her forehead and took in the moment. She just had this quality to her, and I had this visceral realization that I was in the presence of something truly and uniquely special. It was a "Don't forget this" kind of moment.
Some horses just have "it," but why is it that all the meaning behind those two letters is so hard to put into words? There are so many intangibles involved, but there's an undeniable feeling. When I think about it, I reel. I feel grateful to have experienced that feeling twice, to have been in the presence of two horses that project such a truly magical aura.
Annie is unaffected by the noise, the expectations and the hope that surrounds her. I think what it is, is a unique level of intelligence and presence of mind. It's like she just knows she was placed on this earth to jump—and in the process of that jumping, to captivate an audience and write a story for herself worthy of being told again in 10 years. To me, it is similar to the demeanor American Pharoah exhibited en route to winning the Triple Crown last year. And what a story that was.
So, will Annie's story include a winning performance at the 2016 Rio Olympic Games?
I don't know for sure, but I'm feeling unusually confident.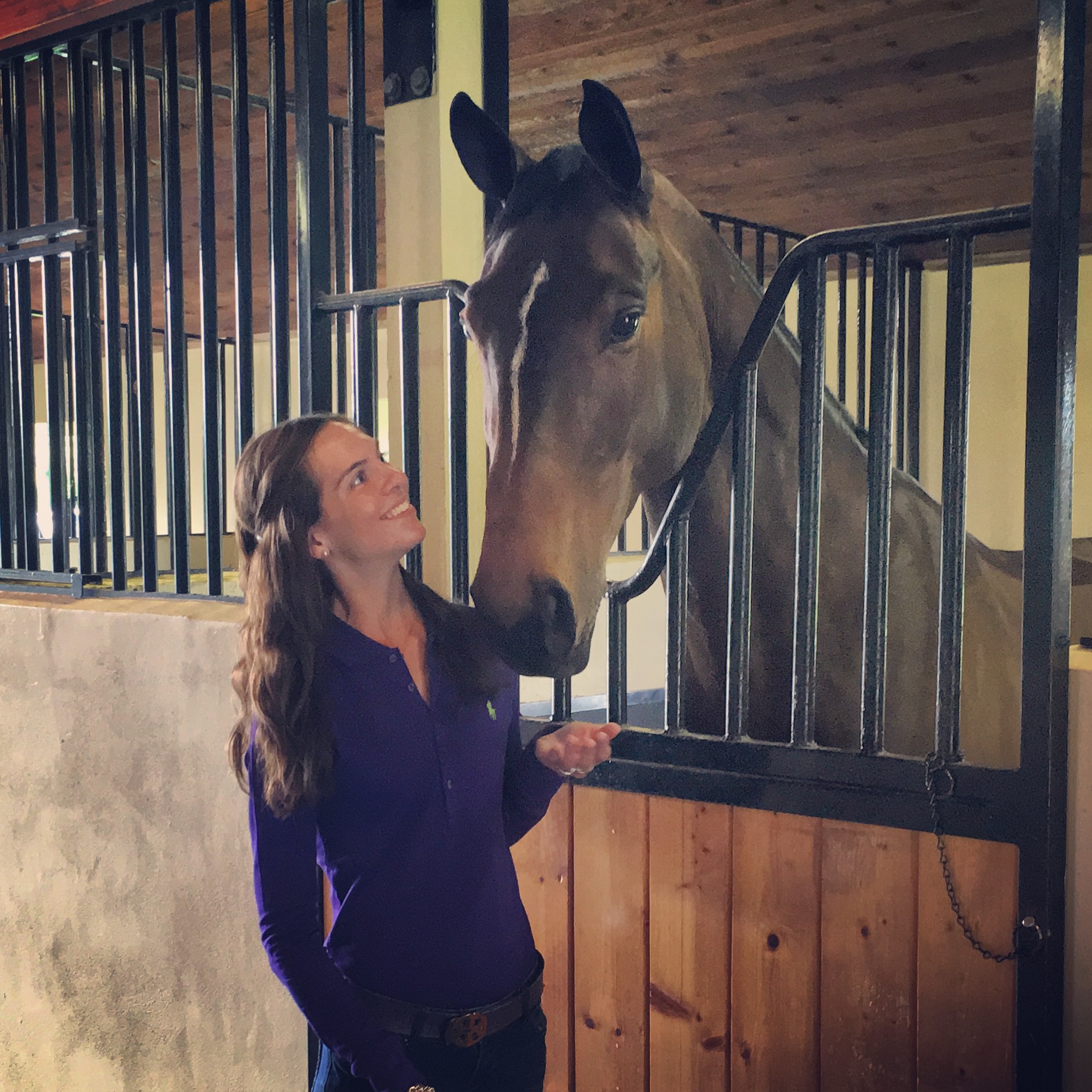 Sharing a Moment with "Annie."
Photo by Sean Kissane