This year's show jumping team just happens to be an exact repeat of riders from the 2014 Alltech FEI World Equestrian Games that earned bronze in France two years ago.
McLain Ward and Beezie Madden are the two rock-solid pillars for the U.S. team, having both served on the last three Olympic teams and having two team gold medals to show for it. (Madden's also got an individual bronze from 2008.) Kent Farrington has jumped in World Cup Finals and at the WEG, but this is his first Olympic team. And the young Lucy Davis has the WEG under her belt but is a relative newcomer to the international championship level of the sport compared to her teammates.
They have all spoken, however, of what good camaraderie they had two years ago in Normandy, and they've all had excellent preparation seasons leading up to Rio. In fact, in the Chronicle's Olympic Preview Issue (the Aug. 1 & 8 issue), Irish show jumper and prognosticator Cian O'Connor pointed the finger at the U.S. team for gold. "On paper, I don't see anyone beating the U.S. team," he stated.
HH Azur: b. m., 10 years, Belgian-bred Belgian Sport Horse (Thunder van de Zuuthoeve—Sion van de Zuutohoeve, Sir Lui), bred by Nathalie Beaufort, owned by Double H Farm and Francois Mathy.Barn Name: Annie  Go Behind The Stall Door with HH Azur

McLain Ward: age 40, Brewster, N.Y.

McLain Ward has been on the hunt for an international championship medal for many years now, though he has two team golds to his record with the legendary mare Sapphire. He got this close last year, placing fourth individually with Rothchild at the WEG.

But even Ward knows that the pressure is on, as HH Azur is a horse even he describes as a freak of nature. The mare burst onto the scene last fall and Ward has polished her raw athletic talent with the veneer of experience by meticulously planning her schedule.

"I think the reality is, without being too harsh—as someone said to me earlier this year—this is my moment to win the Olympics. If I don't pull it off this time, it's probably not going to come around like this again. I realize that," he told the Chronicle in his Road To The Olympics series.

Did You Know?

• Ward rewarded himself for a big win this summer with a top-of-the-line zero-turn lawnmower. He's often said that if he weren't a rider, he'd be a farmer, because he enjoys farm maintenance.

• Annie is a big fan of eating pizza.

• Annie shows in a plain noseband and a simple slow-twist full-cheek snaffle.

• Ward's biggest fan will be his 1-year-old daughter Lilly.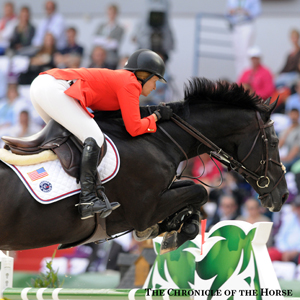 Cortes 'C': b. g., 14 years, Belgian-bred Belgian Warmblood (Randel Z—Orchidee van de Tombeele, Darco), bred by Bart Clement, owned by Abigail Wexner.Barn name: Tiny  Go Behind The Stall Door With Cortes 'C'

Beezie Madden: Age 52, Cazenovia, N.Y.

He was named the Best Horse at the 2014 WEG, as he jumped clean rounds with all four individual finalists. Cortes has proven himself to be the pinnacle of reliability for Madden. Madden showed "Tiny" very sparingly this year to save his best for Rio. He's only jumped at five shows this year so far.

Madden herself is a three-time Olympic and World Games veteran, and is known for being the epitome of chill when riding as the team anchor in a clinch situation.

Did You Know?

• Out of the 22 rounds Tiny has jumped in this year, he's jumped clean in 13 of them and never had more than 8 faults.

• Cortes has the unique habit of crossing his front legs over every job. No one's quite sure why, but it certainly doesn't affect his results!

• Accompanying Cortes to Rio is groom Clark Shipley, who has worked for Madden and her husband John for more than 20 years.

• Cortes was originally bought by Wexner with the 2012 Olympic Games in mind, but a bout with severe ulcers that spring had prevented the big black horse from qualifying.

• Madden has won two of the biggest grand prix classes in the world—the Rolex Grand Prix of Aachen (Germany) in 2007 with Authentic and the $1 Million CN International at Spruce Meadows (Alberta) in 2005 aboard Judgement ISF.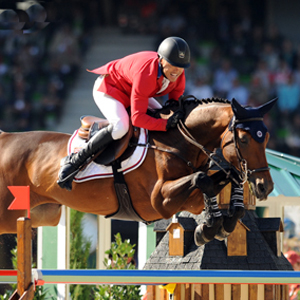 Voyeur: b. g., 14 years, Dutch-bred Dutch Warmblood (Tolano van't Riethof—Lorna, Goodwill), bred by G.C.J. van Kooten, owned by Amalya Investments.Barn name: Froggy  Go Behind The Stall Door With Voyeur

Kent Farrington: Age 35, Wellington, Fla.

Kent Farrington's first international team appearance was at the 2014 WEG, but he's been a fierce contender on the U.S. grand prix circuit for many years. He's known for his gritty determination to get the job done, his fearless speed riding, and his penchant for horses on the small and feisty side.

And Voyeur definitely fits the "small and feisty" bill, as he's a fireball on course. Over the years, Farrington has learned how to harness and channel "Froggy's" enthusiasm, which has turned him into a consistent clear-round jumper. Farrington is also a careful planner of horses' careers and dedicated to preparing a horse to perform his best, so Froggy should arrive in Rio ready to focus and jump.

Did You Know?

• Farrington tried his hand at pony racing as a kid.

• Farrington's first grand prix horse was his junior jumper, City Boy, who was an off-the-track Thoroughbred that helped Farrington earn North American Young Rider Championships gold in 1998.

• After winning the 1998 Pessoa/AHSA Medal Finals, Farrington worked in the barns of top professionals Tim Grubb and Leslie Howard before striking out on his own in 2001.

• Voyeur has a trademark "dance" move he does when he's excited.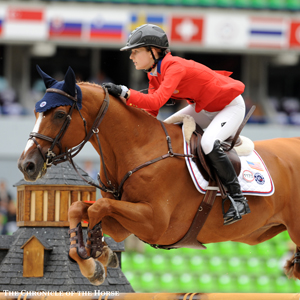 Barron: ch. g., 12 years, Belgian-bred Belgian Sport Horse (For Pleasure—Vita van het Riethof, Nabab de Reve), bred by Marc Devos, owned by Old Oak Farm.Barn name: Barron  Go Behind The Stall Door With Barron

Lucy Davis: Age 23, Los Angeles, Calif.

There are those who think Davis is mounted on one of the best horses in the world. And while she took a brief hiatus from training with Markus Beerbaum and Meredith Michaels-Beerbaum last year—riding for a time with Eric van der Vleuten—she's now back training with the German couple who helping catapult her to the top of the sport at such a young age. The 2014 WEG was Davis' first major international championship, and the minute it ended she started planning for Rio.

Davis showed Barron sparingly this year, jumping at 10 shows. But she made her appearances at selection events for the U.S. team count, jumping clean rounds in Nations Cups at St. Gallen (Switzerland) and La Baule (France) as well as at the Mercedes Benz Nations Cup of Aachen.

Did You Know?

• Davis graduated from Stanford University (Calif.) in 2015 with a degree in engineering with a specialty in architectural design. She frequently uses her European showing travels to check out some famous strutures.

• Barron is named after Davis' grandfather, Robert Barron Frieze, who was a jockey's agent and helped nurture her love of horses.

• Davis played soccer competitively until she was 16 and had to choose to focus on a sport and chose riding.

• Davis was a much-decorated junior hunter rider a few years ago, taking Devon (Pa.) and indoor tricolors on the mare Harmony under the tutelage of Archie Cox.
Make sure to follow along with McLain, Beezie, Kent and Lucy as they tackle the Olympic Games in Rio. The Chronicle will be there with coverage at COTH's dedicated Olympic page and the COTH Olympic Show Jumping page.Also keep up with COTH's Facebook, Twitter and Instagram.

Check out the team in this video from USEF.


SHOW JUMPING

Aug. 14 – Show Jumping – first individual qualifier 10:00 a.m. – 1:45 p.m. (9:00 a.m. – 12:45 p.m. EST)
LIVE STEAM   On TV: NBC (1:00 p.m. – 1:45 p.m. EST)

Aug. 16 – Show Jumping – team round 1 10:00 a.m. – 1:30 p.m. (9:00 a.m. – 12:30 p.m. EST)
LIVE STREAM   On TV: NBC (12:30 p.m. – 1:00 p.m. EST)

Aug. 17 – Show Jumping – team round 2 (team medals) 10:00 a.m. – 11:45 a.m. (9:00 a.m. – 10:45 a.m. EST)
LIVE STREAM   On TV: NBC (11:00 a.m. – 11:30 a.m. EST)

Aug. 18 – Show Jumping – second horse inspection 4:00 p.m. – 4:30 p.m. (3:00 p.m. – 3:30 p.m. EST)

Aug. 19 – Show Jumping – individual round A & B (individual medals) 10:00 a.m. – 2:45 p.m. (9:00 a.m. – 1:45 p.m. EST)
LIVE STREAM   On TV: NBC (live broadast) (10:00 a.m. – 10: 40 a.m. & 3:45 p.m. – 4:30 p.m. EST)