Rio de Janeiro—Aug. 14
A tough course on the first day of individual competition of Olympic show jumping helped separate the field and caused some unexpected problems for experienced pairs.
Guilherme Jorge built the Table A course, set between 1.40- and 1.60-meters, though many riders commented that it was on the high side for a first Olympic round. The class was not run against the clock, and there was no jump-off.
The riders' scores in this round count toward qualifying for the individual final, and the top three scores of team riders determine the team's order of go in the first round of team competition to take place Aug. 16. However, today's scores do not carry over to the team competition.
Two countries, Brazil and Germany, finished on 0 faults, and four countries, Canada, France, the Netherlands and Switzerland tied on 4 faults apiece. The United States earned an 8-fault score, tied with three other countries for eighth place.
The bogey combination came late on course, at 11AB, an in-and-out set on a curve in a corner of the arena. Eric Lamaze, who jumped a clear round on Fine Lady 5, explained that the ring is crowned as well, and the combination headed uphill, "so it's measuring one height but riding another."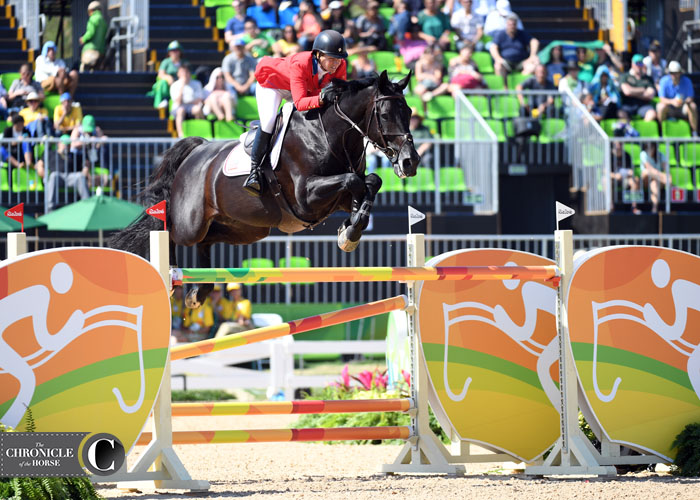 Beezie Madden and Cortes 'C'. Photo by Lindsay Berreth.
Many seasoned pros commented that it's one of the hardest first-round courses they've seen in an Olympic Games. Twenty-four riders logged clear rounds, and Ukraine's Cassio Rivetti (Fine Fleur du Marais) and France's Penelope Leprevost (Flora de Mariposa) fell, but all walked off the field.
Click here to read comments from some of the day's top riders.
Belgium's Nicola Philippaerts (Zilverstar T) was disqualified by the ground jury for excessive use of spurs. Philippaerts is riding as an individual and may not continue. The Netherlands' Jur Vrieling (Zirocco Blue) was disqualified by the ground jury for excessive use of the whip. Zirocco Blue stopped at 11A, his second stop on course. Vrieling hit the horse twice with his whip, drawing blood on the right flank.
The Fédération Equestre Internationale released a statement citing article 242.3.1 of the FEI Jumping Rules, the so called "blood rule."
Stephan Ellenbruch, president of the Rio 2016 Equestrian Olympic Ground Jury, said: "We can confirm that Jur Vrieling has been disqualified from today's individual jumping competition. The FEI's rules are very specific—if any blood is found on the flank of a horse, the athlete/horse combination is automatically disqualified from the competition. The veterinarians on site have examined the horse, Zirocco Blue, and will continue to monitor to ensure he is fit to compete on Tuesday, 16 August for the Jumping Team Round 1 qualifier event."
Vrieling is disqualified from the individual competition, but he may be allowed to compete in the team competition for the Netherlands.
Rob Ehrens, the Royal Dutch Equestrian Federation national coach said, "I've been a professional rider for 27 years, and I know the feeling when everything goes wrong. But this should not happen and will not happen again. While Jur and Zirocco Blue are chasing medals, this has to be handled professionally. We will use tomorrow to relax Zirocco Blue."
Vrieling chimed in as well, saying, "I was encouraging him, saying, 'Come on boy, don't do this again.' I should not have given him these extra pushes. It is stupid. This happened in the heat of the moment, and it will not happen again."
U.S. Performances
Pathfinders for the United States, Kent Farrington and Voyeur set the tone right with a clear round.
"It was a good start," he said. "I think we still have a long way to go toward winning some medals, but we're off on the right foot. That's always good for confidence, giving a good boost for the rest of the team."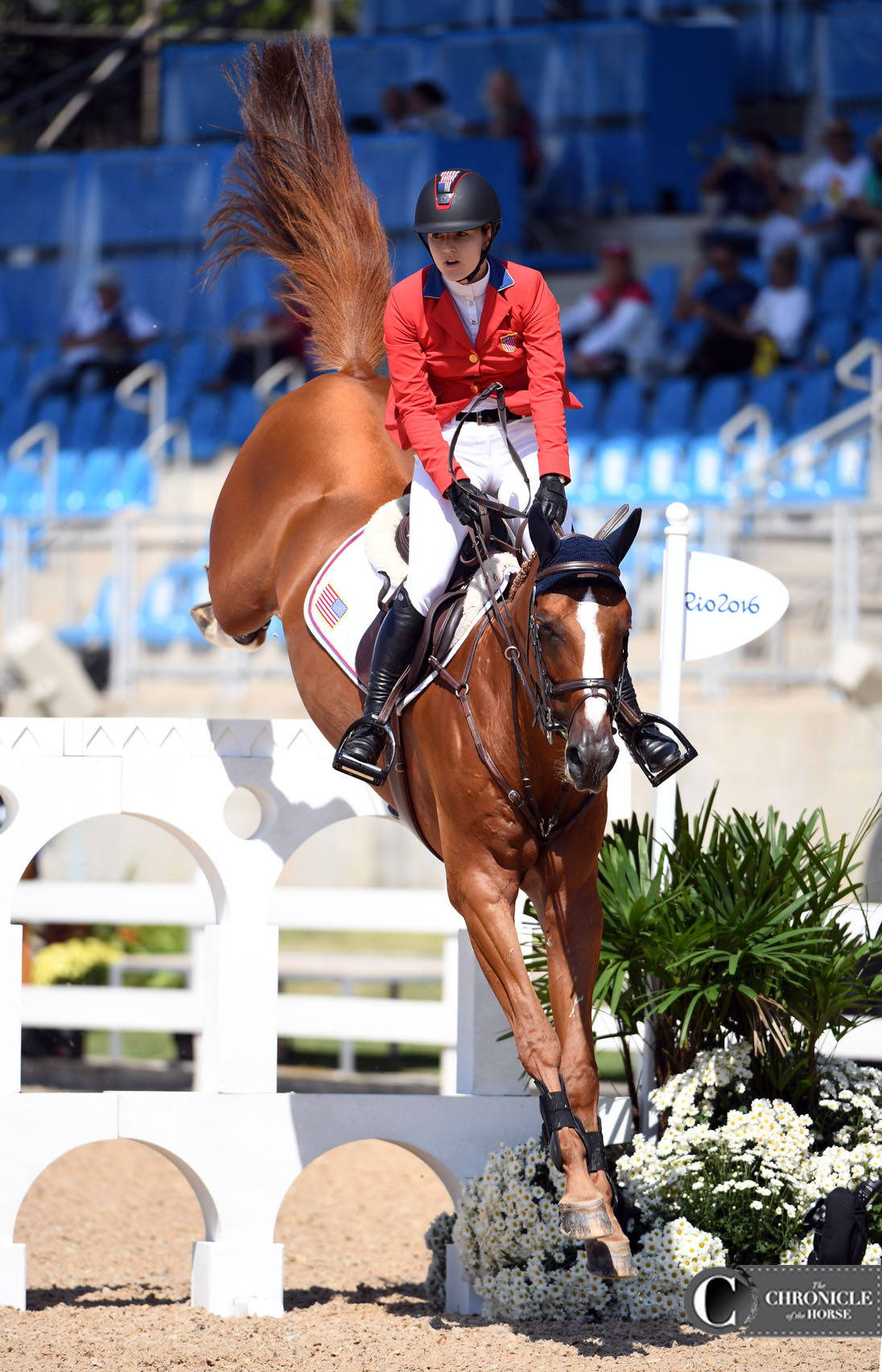 Lucy Davis and Barron. Photo by Lindsay Berreth.
The remaining three members of Team USA each logged 4 faults apiece.
Lucy Davis and Barron pulled a rail at the last fence but kept a positive outlook.
"My trainer Markus [Beerbaum] told me right before I went in, 'Don't forget to enjoy the moment,' and I think that was the perfect thing to say because I have worked really hard, and my horse has worked really hard, and everyone around us has worked really hard to get here," she said.
"In a perfect world, we wouldn't have liked to have had that rail at the end, but I think it will set us up really nicely for Tuesday and hopefully Wednesday," she continued.
This is Davis' second championship team. She also rode for the flag on the bronze-medal winning team at the Alltech FEI 2014 World Equestrian Games (France), as did the other three U.S. riders at the Olympic Games.
"In France, I was two years younger, with two years less experience, and it was my first championship," said the 23-year-old from Los Angeles. "The first day there went way worse than the first day here, so I like to think that I at least improved. It's great to have the same team because it's a really good group."
McLain Ward and HH Azur faulted at the in-and-out late on course. He said he purposely left her a bit fresh thanks to the heat—the mercury hit 90 degrees Farenheit—and the long championship week, and perhaps took that double for granted.
"It was a light rub, and she jumped beautifully," said Ward. "Now it's on to the next round.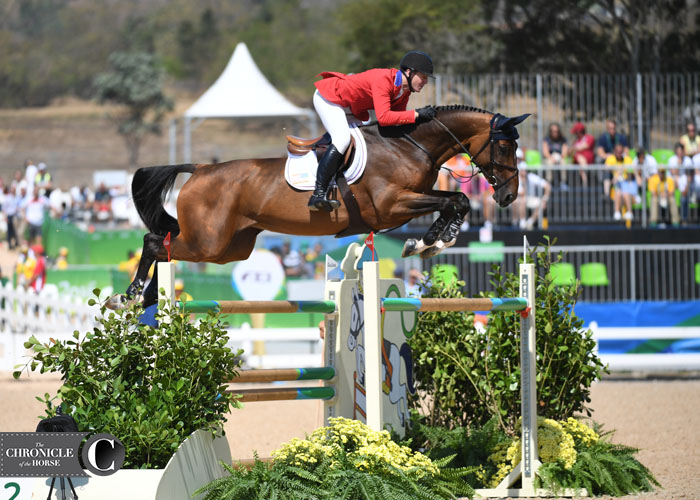 McLain Ward and HH Azur. Photo by Lindsay Berreth.
"This is definitely much bigger than [the first day in] London," he continued. "I felt that Hong Kong had a lot of spooky fences the first day, which always gives you a little bit of anxiety. But at that moment I had Sapphire late in her career, so she was brave. So it wasn't something to think about. This is the first championship with this mare; for sure I was a little nervous. But I think she performed great. She handled things. It was a bit of an unlucky rail, but sometimes a rail early is a blessing in the end."
Anchor rider Beezie Madden was happy with the performance of Cortes 'C', who ticked a block off the wall after the open water. Still she was thrilled that she had a much better first round than at London, where she was eliminated with Coral Reef Via Volo for two refusals.
"I had to ride the water a little strong because he was holding off a little," she said. "I think I took for granted that he'd back up a little, and he did actually. On the replay he clipped it coming down. I think he stalled a little and clipped it coming down."
Madden said that "Tiny" has settled in well and jumped well in yesterday's warm-up.
"Today is important, but we're setting up a little for Tuesday and Wednesday," she continued. "On the whole I think all of us are really happy with the way everybody's horses rounds have had."
Tomorrow show jumpers enjoy a day off, while dressage riders compete in the freestyle for individual medals. The first day of team jumping competition kicks off on Aug. 16.
For more information about the show jumping competition click here.
Click here for full results.
Updatd at 6:37 p.m. local time after the FEI issued a press release.
Mollie Bailey and Lindsay Berreth are on the ground in Rio de Janeiro for the Chronicle and will be reporting with all the news, fantastic photos and behind-the-scenes details, all posted on www.coth.com. Your go-to page for all things Olympic is http://www.chronofhorse.com/2016-Olympics.
We'll have live blogs of competition sessions, Twitter updates, blogs, photo galleries, stories about each day's competition and so much more. Don't miss a thing—we'll have everything you need to know. Also make sure to follow along on the Chronicle's social media outlets: Facebook, Twitter, Instagram and Snapchat (@chronofhorse).