When: The first horse inspection, or jog, is on Wednesday, April 27. Two days of dressage competition follow on Thursday and Friday, April 28-29, with the first ride on both days at 8:30 a.m. and the last ride at 3:30 p.m. on Thursday and 3:38 p.m. on Friday. You can find all the dressage ride times here.
Cross-country day, Saturday, April 30, starts at 10 a.m., with riders going out of the start box every 4 minutes until 3:16 p.m., when the last rider of the day, Allison Springer on Arthur, goes. You can find all the cross-country start times here.
On Sunday, May 1, the action starts early with the horse inspection at 8:30 a.m. Then the riders show jump in reverse order of standing, starting at 1 p.m. By about 3 p.m. there should be a winner, with an awards ceremony to follow.
You can find a full schedule of the weekend, complete with the entertainment events, here.
Where you can watch: If you're within North America, you can watch the action on the USEFNetwork live feed; if you're outside North America, FEI TV is your spot for streaming. USEFNetwork streams are free; FEI TV requires a paid subscription.
How to follow along: The Chronicle is on site at the Kentucky Horse Park with three reporters to bring you everything you need to know. We'll have a ride-by-ride commentary every day at www.coth.com, so you don't have to miss a minute of the action.
We'll post stories and photos on www.coth.com, and you can follow along on Instagram, Twitter and Facebook.
Who's here: The German master Michael Jung has returned to the Kentucky Bluegrass with his 2015 Rolex Kentucky winner, Fischerrocana FST, and he'll be hard to beat again. New Zealand's Tim Price placed second last year on Wesko, but this year he's riding a younger horse, Bango. Price announced that Wesko is on vacation with a mild injury.

Michael Jung on Fischerrocana FST, the 2015 Rolex Kentucky winners. Photo by Sara Lieser
Other foreign contenders who flew in for the weekend include: Jonathan Paget of New Zealand on Clifton Signature, Panda Christie of Great Britain on Little Leo, Blyth Tait of New Zealand on Xanthus III, and Mark Todd of New Zealand on NZB Campino.
Phillip Dutton's in full force this weekend with three horses entered—Fernhill Fugitive, Fernhill Cubalawn and Mighty Nice. Boyd Martin also has three ready to go—Steady Eddie, Shamwari 4 and Blackfoot Mystery. Another busy rider will be Buck Davidson, who has Park Trader, Petite Flower and Copper Beech.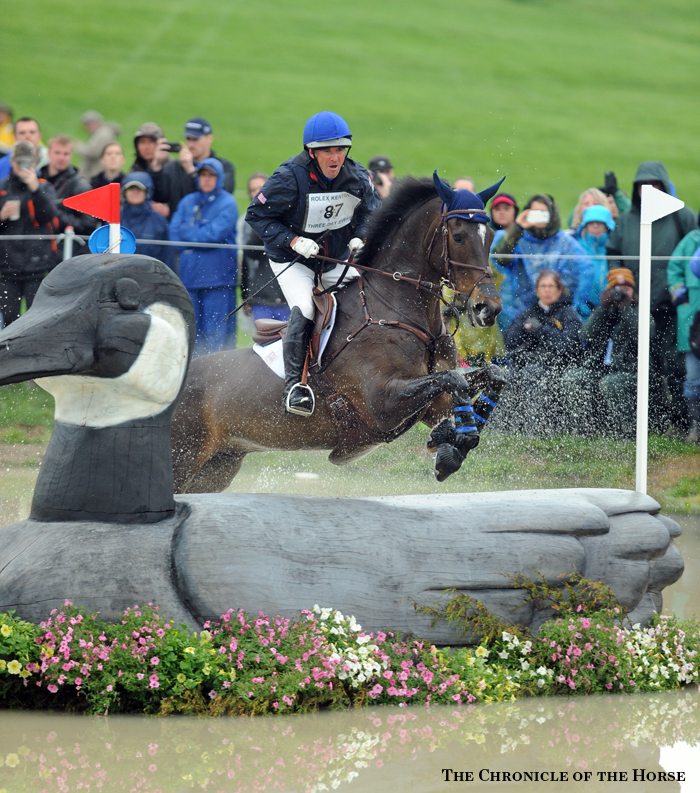 Phillip Dutton on Mighty Nice at the 2015 Rolex Kentucky CCI****. Photo by Sara Lieser
Other U.S. Equestrian Team championship veterans on the star-studded list include: Lynn Symansky on Donner, Marilyn Little on RF Demeter, Lauren Kieffer on Veronica and Landmark's Monte Carlo, Kim Severson on Fernhill Fearless, Tiana Coudray on Ringwood Magister, and Sinead Halpin on Manoir de Carneville.
You can find out which entries are off-the-track Thoroughbreds in Allie Conrad's COTH piece, Thoroughbreds Make Up One Third Of The Rolex Kentucky Entries.
Need someone to follow? Check out our One To Watch story about Mikki Kuchta, who ran her first Rolex Kentucky eight years ago in her 40s and was sure it was her last.
Or check out this cast of characters with interesting back stories—first-timers, marathon runners, mustang whisperers, and more: Finding Your Rolex Kentucky Favorite.
Get to know one of the quirkier characters in the field as we went Behind The Stall Door With: Doesn't Play Fair. He's a little horse with a big attitude who's ready for a big result!