I feel like I repeat myself a lot, but you guys. Thoroughbreds are awesome.
I just finished my yearly pillaging of the Fédération Equestre Internationale, T.I.P, Pedigree Query, Jockey Club, New Zealand Studbook, Australian Thoroughbred registry, the Online names book and Equibase online databases in order to figure out just how many Thoroughbreds we get to watch jumping around one of the greatest cross-country tracks in the world on the greatest weekend all year—the Rolex Kentucky Three-Day Event on April 28-May 1.
I've been a part of the Thoroughbred rehoming "movement" for coming up on 20 years (Wow I'm old!), and so many things have changed in that time, but you know what hasn't changed? Thoroughbreds running at four-star events.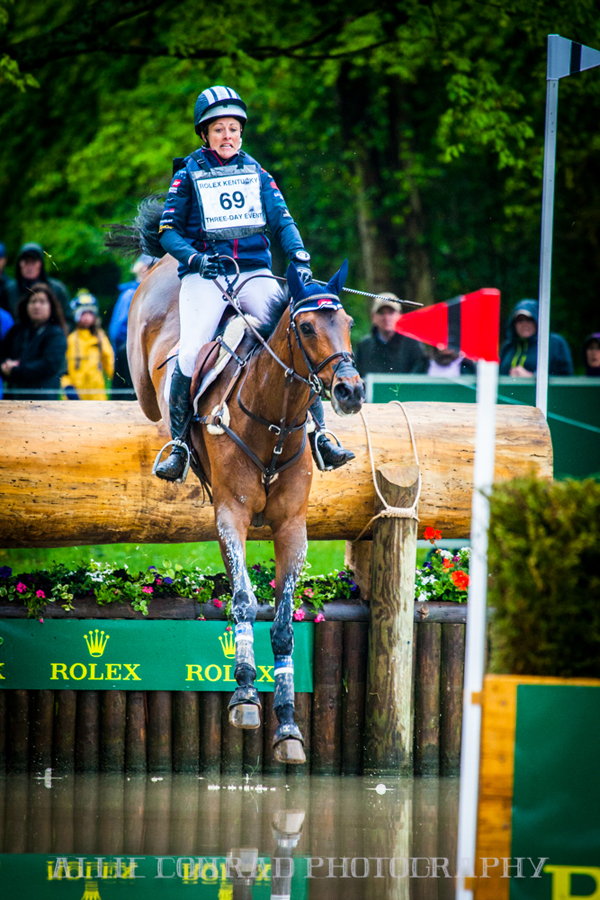 Not only have Lynn Symansky and OTTB Donner jumped around Rolex Kentucky twice, but they've also completed the Pau CCI**** and competed for the USA at the 2011 Pan American Games in Mexico and the 2014 Alltech FEI World Equestrian Games in France. Photo by Allie Conrad Photography.
When the long format went away, I remember hearing about how Thoroughbreds wouldn't have a place in eventing anymore, but my thought was that there is always a place for a budget-priced athletic horse with talent and promise.
It does seem like that is the case, because the total number of Thoroughbreds (including those who are unregistered and/or unraced) entered at Rolex Kentucky is 30 as of right now. Thirty. THIRTY! Out of 90 entrants, one-third are 100 percent Thoroughbred.
If I were to dig further, I would bet that a whole lot of those who aren't full Thoroughbred are out of Thoroughbred mares, and I can just about guarantee that not one horse in the trot-up is without some significant Thoroughbred blood.
I was having a chat with Denny Emerson about whether or not the classic stamp of a Thoroughbred was available to American buyers any longer. You know the type—tall, big withers, good bone, quiet, trainable brain and SOUND who could compete on the world stage. I responded that I truly believed they were out there, but they were no longer a dime a dozen, and they were getting harder to find because more people were shopping for them.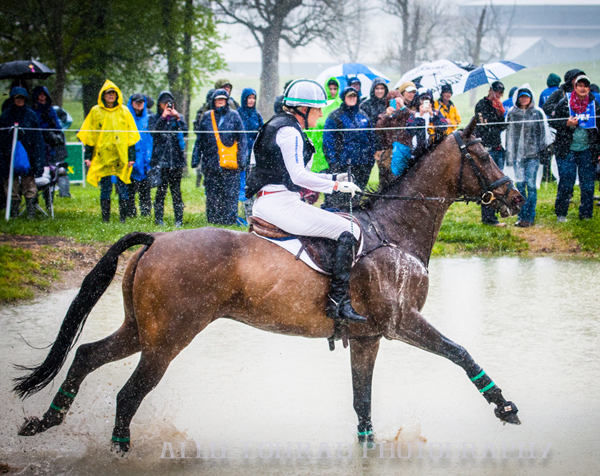 Fly Me Courageous had 10 starts at the track before he began his eventing career. He finished 19th at last year's Rolex Kentucky with Sara Kozumplik Murphy, and they are back again this year. Photo by Allie Conrad Photography.
More people on the backsides of racetracks across the country means that people are able to pick through for the nice(r) horses. Prior to the efforts of CANTER and many other groups, visiting the backside of the track was reserved for people who "knew a guy" (or gal) at the track. Lucky horse sellers and trainers would have a contact at the track who would let them see horses for sale when they were no longer competitive on the track.
Those with the contacts on the backside would cheaply buy the nice horse, and the unlucky lot they passed over would ship "down the road." There was a filtering system in place, but it resulted in the slaughter of thousands of horses that were not the perfect fit.
Now we're seeing far more horses sold from the racetrack into sport horse homes— an exponential number leaving the track for a second career. Unfortunately many of those aren't coming out of racing sound enough for an upper-level career (but might be fine for many other careers). Increased purses at lower-level tracks, year-round racing, advances in medications (both legal and illegal) mean that horses are running more often and in many cases beyond when they should retire. This in turn leaves a lot of horses who might be rehabilitated to have a lovely lower-level job, but they will not withstand the rigors of upper levels of sport.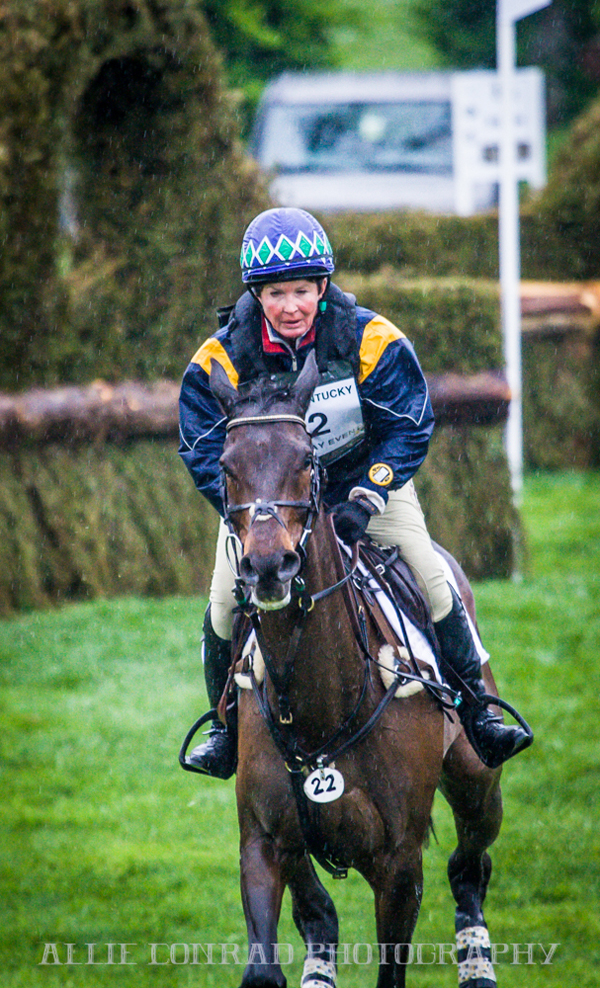 Tsunami returns for her fifth attempt at Rolex Kentucky with Sally Cousins in the irons. This mare raced as Tsu Tsu Ro and made more than $35,000 on the track. Photo by Allie Conrad Photography.
The problem with the classic stamp of Thoroughbred—that stunning image of form following function—is that they make awfully good race horses, too. How many of us have watched the Kentucky Derby and thought, "I think Hard Spun wants to event!" or "Quality Road could DEFINITELY get a piece of the hack!"
So finding that perfect specimen is a challenge, but it's not impossible, and looking at this list of Thoroughbreds entered in Rolex is proof positive of not only their existence, but their prepotency.
Going to the track with an educated eye, a budget for a thorough vetting, and understanding that the perfect specimen is no longer going to cost $700, and we might see you signed up to canter down centerline in front of some terrifying judges on America's sport horse.
The Thoroughbreds of the 2016 Rolex Kentucky CCI****
Status
Rider
Horse
Pedigree
Notes
OTTB
James Allison
Parker
Eastside Park (NJ), 2002 gelding, (Marquetry—Hello Mom, Caveat)
15 starts – 0 win – 0 place – 3 show, $8,145 earnings
OTTB
Laine Ashker
Anthony Patch
Alex's Castledream (NJ), 1999 gelding, (Castle Guard—Aimee Alexis, Right Mind)
10 starts – 0 win – 0 place – 0 show, $815 earnings
CANTER MA Listing!
OTTB
Lisa Barry
F.I.S. Prince Charming
Waitui Jo (NZ), 2003 gelding, (His Royal Highness—Mystic, Defensive Play)
2 starts – 0 win – 0 place – 0 show, $0 earnings
OTTB
Holly Payne Caravella
Santino

Santino (USA) 2003 gelding (Son's Corona—Equate, Raja Baba)
15 Starts, $5K in earnings

OTTB
Kyle Carter
Madison Park
Magic Retribution (WA), 1998 gelding, (Monaco Magic—Mistress of Mine, Band Practice)
11 starts – 1 win – 0 place – 0 show, $2,744 earnings
OTTB
Anna Collier
Gleaming Road
Pistol Pakin Pete (WA), 2003 gelding, ( Cahill Road—Aspiring Proof, Proof)
22 starts – 3 wins – 3 place – 3 show, $19,383 earnings
OTTB
Sarah Cousins
Tsunami
Tsu Tsu Ro (PA), 1999 mare, (Roanoke—Tsu Tsu Slew, Tsunami Slew)
24 starts – 3 wins – 2 place – 4 show, $35,170 earnings
OTTB
Holly Jacks
More Inspiration

More Inspiration (CAN) 2006 gelding (Inspired Prospect—Gentle Buck, Buckley Boy)
28 starts, 4 wins, $55k earnings

OTTB
Ashley Johnson
Tactical Maneuver

Shykees Thunder (USA) 2005 gelding (Thunder Gulch—Chelle Spendabuck, Dare And Go
12 starts, 0 wins, $4500 earnings

OTTB
Alexandra Knowles
The Dark Mark
Tattoo unreadable
OTTB
Alexandra Knowles
Sound Prospect
Sound Prospect (KY), 2002 gelding, (Eastern Echo—Miners Girl, Miner's Mark)
13 starts – 0 win – 2 place – 1 show, $2,546 earnings
OTTB
Sara Kozumplik Murphy
Fly Me Courageous
Truly Improper (TX), 2005 gelding, (Truluck—Proper Eight, Proper Reality)
10 starts – 0 win – 1 place – 0 show, $3,630 earnings
OTTB
Leah Lang-Gluscic
AP Prime
A. P. Prime (KY), 2005 gelding, (Aptitude—Czarina Kate, The Prime Minister)
31 starts – 2 wins – 4 place – 5 show, $20,175 earnings
CANTER trainer listing
OTTB
Boyd Martin
Blackfoot Mystery

Blackfoot Mystery (USA) 2004 gelding (Out Of Place—True Mystery, Proud Truth)
3 starts, $1200 earnings

OTTB
Rachel McDonough
Irish Rhythm
Daniel Alexander (ON), 1999 gelding, (Vice Chancellor—Dawnsari, Dawn Flight)
43 starts – 1 win – 3 place – 4 show, $25,923 earnings
OTTB
Katie Ruppel
Houdini
Rocky Times (WV), 2004 gelding, (Hot Rock—Nancy's Star, Big Sal)
5 starts – 0 win – 0 place – 1 show, $1,180 earnings
OTTB
Bunnie Sexton
Rise Against
Trabuco Kid (CA), 1999 gelding, (Far Out East—April Betty, Distant Land)
4 starts – 0 win – 0 place – 0 show, $0 earnings
OTTB
Lynn Symansky
Donner
Smart Gorky (NY), 2003 gelding, (Gorky Park—Smart Jane, Smarten)
6 starts – 0 win – 0 place – 0 show, $2,870 earnings
OTTB
Elisa Wallace
Simply Priceless
Kalinga Damo (AUS), 2001 gelding, (Waterford Road—Faux Franc, Twig Moss)
10 starts – 0 win – 0 show – 1 place, $711 earnings
OTTB
Ryan Wood
Frankie
Pass This (USA) 2004 gelding (Mr. Sinatra—Pass Or Punt, Once Wild)
unraced
Holly Payne Caravella
Never Outfoxed
Never Outfoxed (FL) 2006 gelding (Veronica's Sir—Caroverse, Opening Verse)
unraced
Angela Grzywinski
Novelle
Cupid's Tart (USA) 2002 mare (Frisk Me Now—Teetawk, Lil E. Tee)
unraced
Boyd Martin
Steady Eddie
2003 Australian-bred gelding (Jetball—Tudnela)
unraced
Daniela Mogul
Cecelia
2003 New Zealand-bred mare (Connecticut—Penny Stock)
unraced
Waylon Roberts
Kelecyn Cognac
2003 Australian-bred gelding
unregistered
Buck Davidson
Petite Flower
2002 U.S.-bred mare (Amber's Lust—Tears Of A Loss, Prince Rupert)
unregistered
Lillian Heard
FYI
2001 U.S.-bred gelding (Babamist—Guinevere's Gift
unknown
Avery Klunick
In It To Win It
2001 New Zealand-bred gelding
unknown
Caroline Martin
Quantum Solace
2005 Argentinean-bred gelding
unknown
Ryan Wood
McLovin
2004 U.S.-bred gelding (Dixieland Band—Too Sheik