The first time Mikki Kuchta rode around the Rolex Kentucky CCI**** cross-country course in 2008, she was 43, aboard her off-the-track Thoroughbred Oz, and she placed 25th. It was everything she'd dreamed about.
"It was a thrilling first Rolex, something I had wanted to do since I was a little kid," Kuchta said. "And then you go to school, and you get married, and you have kids, and you have a job, and you realize those things aren't going to happen. And then this horse fell in my lap, and there we were, going to Rolex in my 40s for the first time."
She says "first time" now, but eight years ago Kuchta really intended on that being her first and only trip to Rolex.
"That changed that weekend," said Kuchta, 51. "I have a Christmas party every year, and Michael Page, who's been my mentor in New York for 20 years, every year he'd say, 'What's your goal for this year?', and I'd go, 'Michael, I just want to do advanced before I die.'
"I kept bringing horses along, and they'd all top out at intermediate, or I'd top out at intermediate," Kuchta continued. "So every year, that was my goal: all I wanted to do was run advanced."
But if you give an eventer a taste of the top of the sport, she's not going to be satisfied with just one upper-level outing.
"Then of course you're running advanced, and going, 'Huh, you know, a three-star sounds good,' " Kuchta said with a chuckle. "Then he races around Fair Hill beautifully, and I'm like, 'Oh my gosh, we're qualified for Rolex, let's do Rolex.'
"It was, 'Let's just do it, cross it off the bucket list," Kuchta added. "As soon as we finished that weekend, I said, 'We're coming back, and we're doing better next year.' "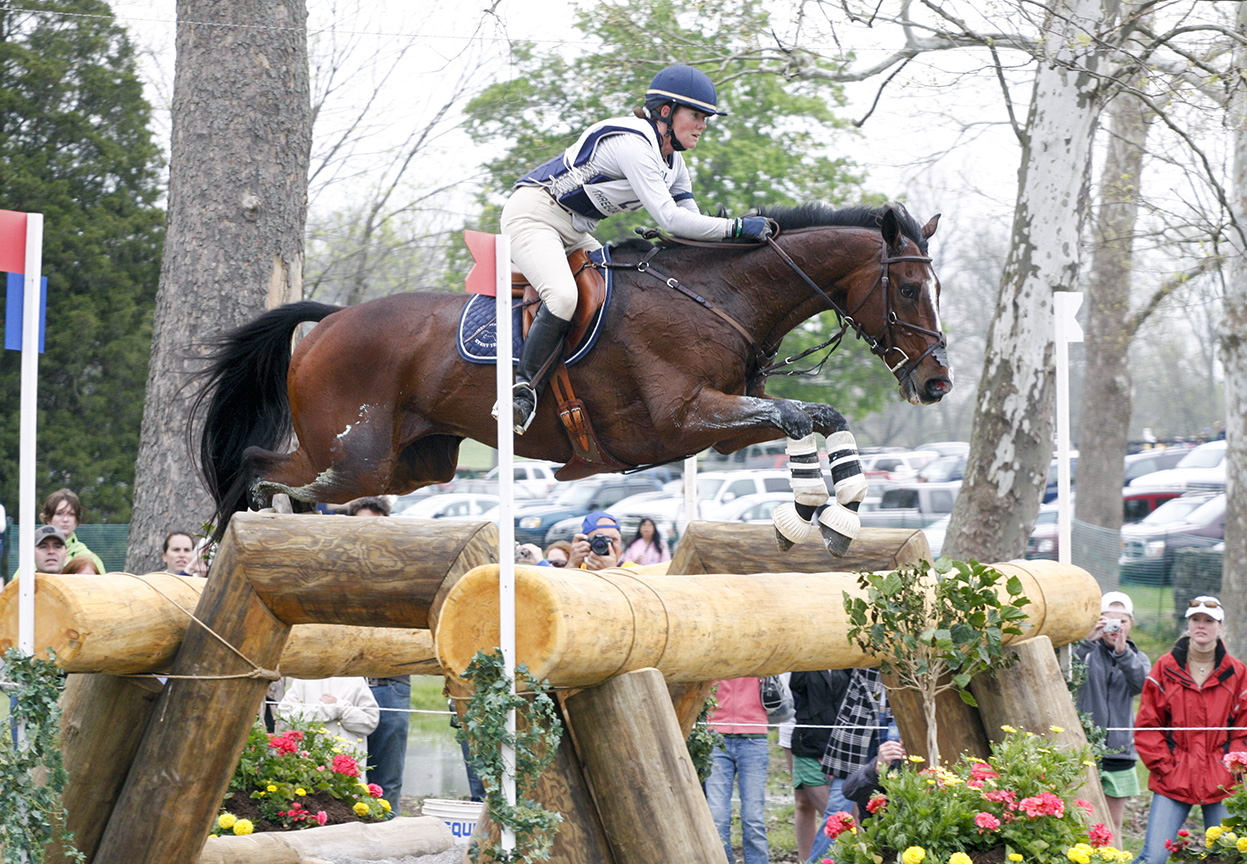 Mikki Kuchta and her off-track Thoroughbred Oz made it all the way to the four-star level. Photo by Josh Walker.
Kuchta didn't get a second chance to run Oz around the Kentucky Horse Park. In 2009, two weeks out from Rolex, Oz suffered a minor injury at The Fork CIC*** (N.C.), requiring three weeks off. Kuchta and Oz tried again the following year but struggled to get the necessary qualifications.
"He was difficult. He's still kind of wild and high strung," Kuchta said. Oz, now 20, is retired at Kuchta's farm, where she said he grazes and hangs out on the front lawn like the barn dog.
"Suddenly I'm thinking, 'Wow, you should go to Rolex when you're qualified to go to Rolex,' " Kuchta said. "Because there's a tiny window of time, and it's not like Europe. You miss that one window, and you've got to wait 12 months to do it again in the States."
Not to be deterred in her journey back to Rolex, Kuchta tried again in 2010, this time with the Australian-bred Thoroughbred gelding Balmoral Tim Tram. Kuchta found the horse through Phillip Dutton, who still helps her at shows, and she qualified him for Rolex at the 2010 Bromont CCI*** (Canada) with a 10th-placed finish. Then her luck turned.
"He tragically died in colic surgery in August," Kuchta said. "So once again, it was like, 'Wow, Rolex is not happening, and that's fine. I did it, but it's not happening again.' "
Then, in true fairytale fashion, a big white horse came galloping into Kuchta's life to save her Rolex dreams: the 11-year-old Selle Francais gelding Rubens d'Ysieux. He was previously ridden by her student Kim Small.
"This horse fell into my lap, and that's been my experience," Kuchta said. "Since Oz, I have not gone out looking for another horse to take me to this level, and I keep saying I'm done at that level. Then this horse comes along, and I just started to catch ride him a little bit. I thought, 'This is such a four-star horse. This is an amazing horse.' "
Kuchta took over the ride on the gelding (Balougran Z—Orenda d'Ysieux, Mr. Blue), got the horse syndicated, and now, at 51, she's ready to fulfill the promise she made to herself eight years ago.
"Here we go again," Kuchta said with a laugh.
The pair placed 25th at lesat year's Dutta Corp. Fair Hill International (Md.). But it hasn't been the smoothest sailing this season for Kuchta and "Rubens." A mild ankle twist at the end of January knocked the horse off the start list for two planned events, and Kuchta scratched him again at the Cloud 11-Gavilan North LLC Carolina International CIC*** (N.C.) after falling in the water with a different horse.
Then, when Kuchta finally did get a chance to stretch the gelding's legs out on an advanced track at The Fork (N.C.), the pair parted ways jumping into the water when Kuchta had a tack malfunction: Her reins split.
"After that first water, something was banging on my boot, and it was the buckle [of the reins], and I was like, 'Oh my gosh,' " Kuchta said. "And I look at the other rein, and meanwhile I jump a big ditch and wall. I'm trying to figure out what to do, because he's a super bred horse—both his sire and his grandsire were World Cup show jumping horses.
"So he's a really spectacular jumping horse, but with that comes this extreme athleticism with his hind end," Kuchta continued. "So I was very concerned about jumping into the next water without being able to slide my reins. I thought I'd lengthen them and hang on, and that didn't work."
Rubens pulled Kuchta right over his head and deposited her in the water. Neither was hurt, and Kuchta said she'd already jumped all the questions she was concerned about at that point in the course, so it didn't rattle her.
Mikki Kuchta's tack malfunction at The Fork. Photo by Lindsay Berreth.
"With how our preparation has been this winter, we'll certainly put in the best dressage test we can, but we're not intending to go flat out for speed [at Rolex]," she said. "We syndicated him with the goal of getting him to Rolex, so we've got some very happy owners who are very realistic about it. We just want to be smart and have the best go we can."
Kuchta is fairly certain this really will be her last time competing at the four-star level. Her daughter, Bridgette Kuchta, also rides and competes and is an assistant trainer at Aiken Bach Farm (North Salem, N.Y.). Mikki plans to continue competing at a lower level and help Bridget and the other Aiken Bach assistant trainer, Janelle Phaneuf, achieve their four-star dreams.
"They're both really talented riders, and they're patient. They've learned patience from me," Mikki said. "It didn't come when I was young, and they'll get frustrated, and I'm like, 'I can't believe you guys are complaining. I didn't go advanced until I was 40. Shut up!' "