On Cue has been on fire in 2021: The mare came into this spring's Land Rover Kentucky CCI5*-L in the shadow of Boyd Martin's two other, more experienced Olympic hopefuls and came out of the event as the highest-place mare and, with Martin, the Land Rover/USEF CCI5*-L national champions as the highest-placed U.S. pair. Her form there earned the mare, who is owned by Martin in partnership with Christine, Thomas and Tommie Turner, a nomination as Martin's direct reserve mount for the Tokyo Olympics. This summer, she again proved herself the best of the country's best when she carried Martin to another win in the 2021 USEA American Eventing Championships Adequan USEA Advanced Final.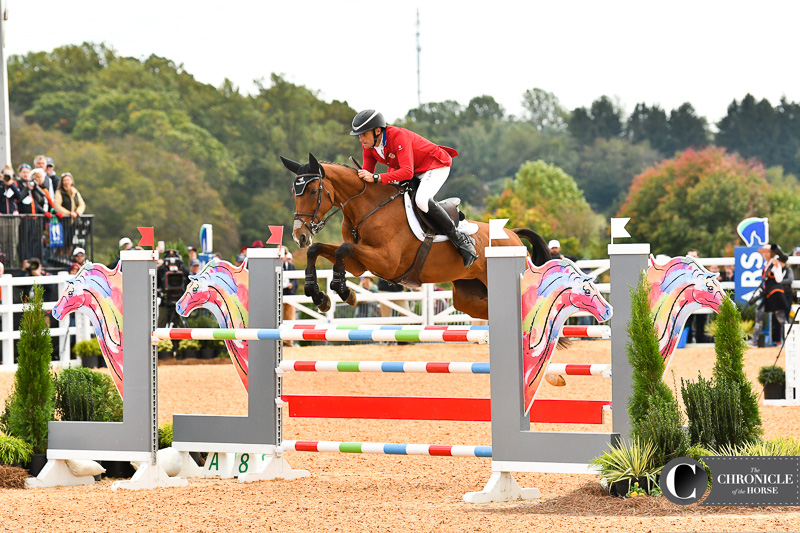 So people were expecting good things from her and Martin at the inaugural Maryland 5 Star at Fair Hill, held Oct. 14-17 in Elkton, and from the moment she set hoof in the dressage arena on Oct. 15, she did not disappoint. Their dressage test scored a 25.0—a two-point improvement over their Kentucky score—to put the pair in third place after the first phase. Those 25 were the only penalties they'd put on the board all weekend long; they finished the event as one of only two pairs in a field of 46 to end on their dressage score. (The other was Will Coleman and Tight Lines, who were fifth.) With a faultless show jumping round, they squeaked past Oliver Townend and his aptly-named two-time Kentucky winner Cooley Master Class by 0.1 points to take the victory on Sunday.
The win was Martin's first five-star win since topping the last long-format Australian International Three-Day Event (better known as Adelaide and then called a four-star) in 2003 with True Blue Toozac. He also became the first U.S. rider to win a five-star since Phillip Dutton and Connaught won the 2008 Rolex Kentucky Three-Day Event.
Watch their performances in all three phases on their way to securing the Maryland 5 Star win: