Lexington, Ky.—Sept. 3
Boyd Martin wasn't expecting to win tonight's $60,000 Adequan USEA Advanced Final at the U.S. Eventing Association American Eventing Championships.
He'd lost his dressage lead with Long Island T on Thursday after he fell off on cross-country, and was sitting fourth heading into tonight's show jumping with Christine Turner's On Cue behind some very good jumpers.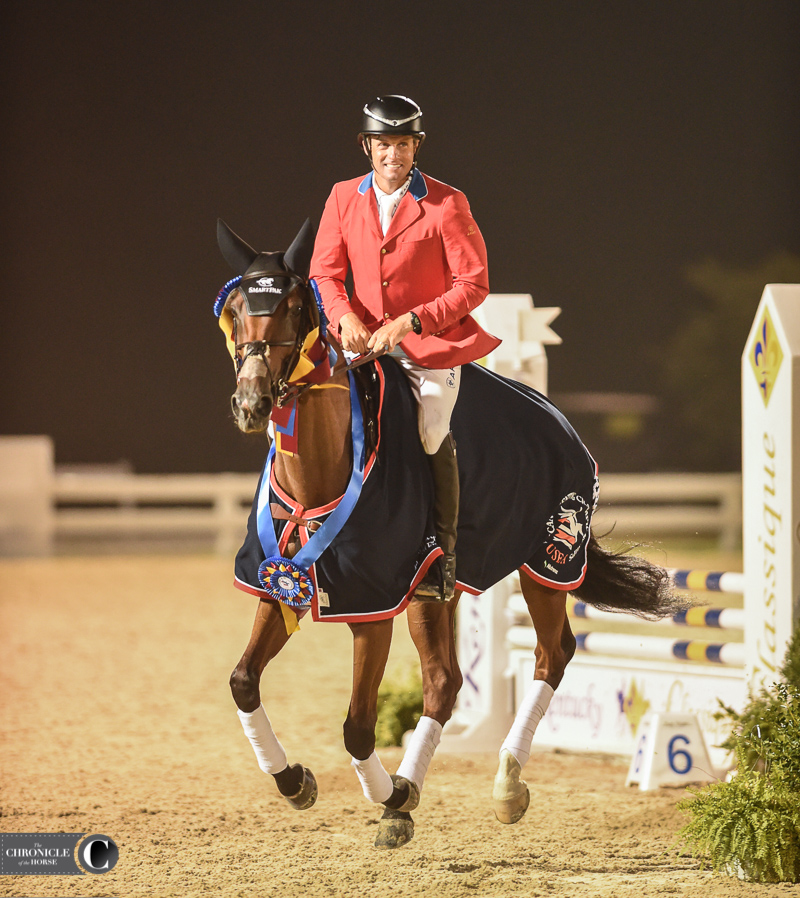 But as she did at her first Land Rover Kentucky CCI5*-L in April where she finished as the best U.S. horse in fourth, On Cue rose to the occasion and came home with the win.
Doug Payne finished as reserve champion on his own and Jessica Payne's U.S.-bred Quantum Leap, and Liz Halliday-Sharp and Cooley Quicksilver finished up in third. Cross-country leaders Fylicia Barr and Galloway Sunrise had two rails and some time to finish sixth. Riders found it difficult to make the time, and there were nine double-clear rounds of 36 to jump.
"To be honest, coming into the show jumping, I didn't think I was going to win it," said Martin. "There were a lot of good horses and riders ahead of me, but it's a high pressure event, the show jumping was tough, the time was hard to get, and I'm just thrilled with On Cue. She's just everything you dream of in a horse. She's a good mover, she's a galloper, she's sensitive, she's careful, she's brave, she's elegant, and I'm just blessed to have her. I think she'll have a great chance at the Maryland Five-Star. To come here to the AEC almost feels like Kentucky for us. It's an awesome venue, jumping under the lights with the crowds, and it's high pressure with [Payne] and [Sharp] jumping clear before me."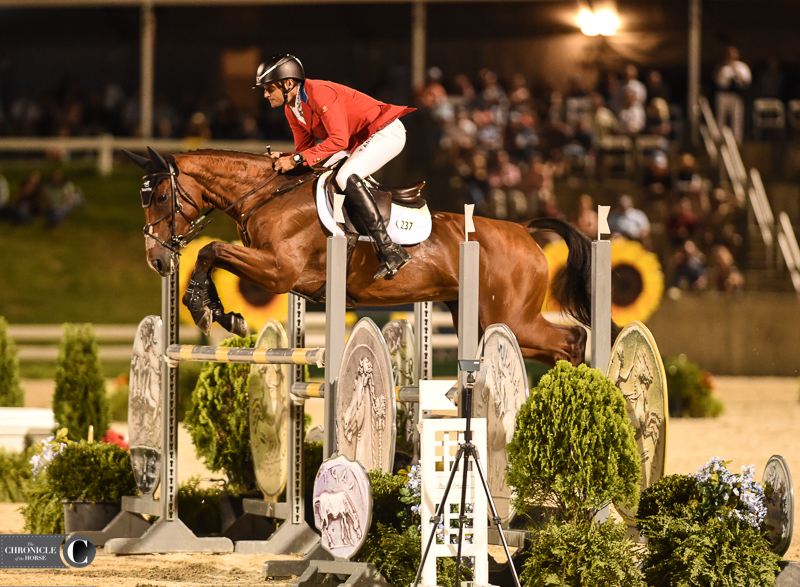 Payne's had Quantum Leap, a Zweibrucker gelding (Quite Capitol—Report To Sloopy, Corporate Report) since he bought him as a weanling from his breeder Elizabeth Callahan.
"He's a special horse," said Payne. "He's 10 this year, and this is the first time that on cross-country he stayed really grounded and quiet and I could take a good shot at the time. I think he's an incredible athlete, and for the future I'm beyond excited."
On Cue, a 15-year-old Anglo-European mare (Cabri D'Elle—On High, Primitive Rising), was Martin's reserve horse for the Tokyo Olympics and got to fly to Aachen, Germany, to do team training.
Martin credits team show jumping coach Peter Wylde with improving her in the final phase.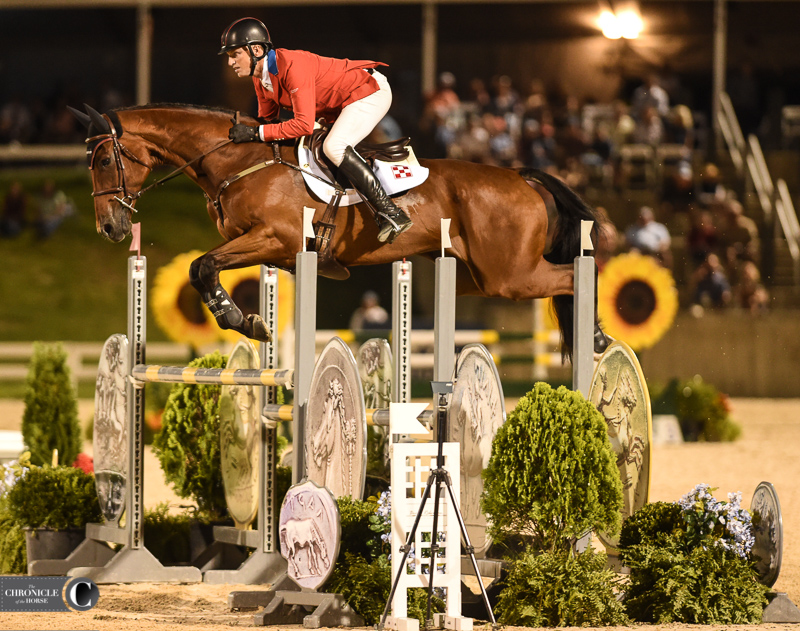 "She's been a little bit of a struggle in the show jumping, and to have that sort of intense jumping training leading up to Tokyo, and leading up to this event—he made the effort to fly down here and warm us up for the event, and I think it makes a difference, especially with Cue," he said.
Cue rocketed around Derek di Grazia's cross-country course yesterday.
"It seems to be my habit. I fall off the first horse, then limp back to the barn and hop on On Cue and go around like a rocket!" said Martin with a laugh. "It was a real bugger with Long Island T. He honestly gave me the round of my life. The third to last jump I got him to a horrible distance and just popped off him. It's heartbreaking because he'd never gone so well. That was a bit of a rough one, but On Cue's such a special cross-country horse that it didn't faze me. I was nearly over-confident that she'd jump around well. She's just all class."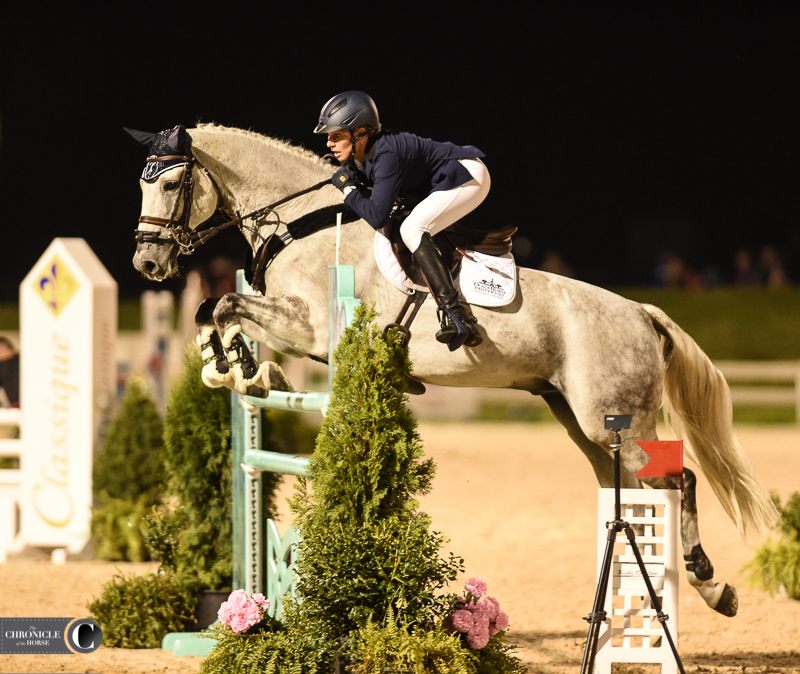 Martin couldn't quite point to what's changed this year with Cue. She'd started her eventing career with Sinead Halpin and Michael Pollard before she came to Martin's barn to be sold for Turner.
"I watched the horse earlier in her career with Michael Pollard and Sinead Halpin and always loved the horse and begged and pleaded with Chris to keep going with the horse," he said. "To be honest, she wasn't strong, and she'd lost a lot of fitness, so for the first couple of years we did pretty good, but it was a bit hit and miss. Something just clicked at the beginning of this year. I don't know if it was because she was stronger or we really gelled as a partnership, but she's been on fire this year. I wish I could tell you it's some magic supplement or a feed or a special bit or training. She's just come out this year, and she's feeling young and enthusiastic and training well. I don't run her a lot because she's an older horse, but when I do run her I try to make it count."
Lisa Niccolai and KC's Celtic Kharacter almost didn't make the trip to the AEC from Vermont when the gelding got a stone bruise. Then with Hurricane Ida bearing down, it seemed like a bad idea to make the 18-hour trip.
But by Tuesday before the competition, the hurricane had been downgraded, and the U.S.-bred 7-year-old Zweibrucker gelding (Kharacter C—Tessa) was sound.
"I think that was the right decision!" said Niccolai after she won the training amateur championship.
The gelding can be a bit spooky, and he was on edge as he came into the huge Rolex Stadium, but he put in a clear show jumping round.
"I didn't really want to fall off before going through the start flags!" said Niccolai. "He's a little bit young, and since I've had him since he was a 3-year-old he's always done that to me—the benefit of having him for a long time. I sort of expected that with the big atmosphere here. After that he was just impressed, and it was tough to keep him focused, but he did it."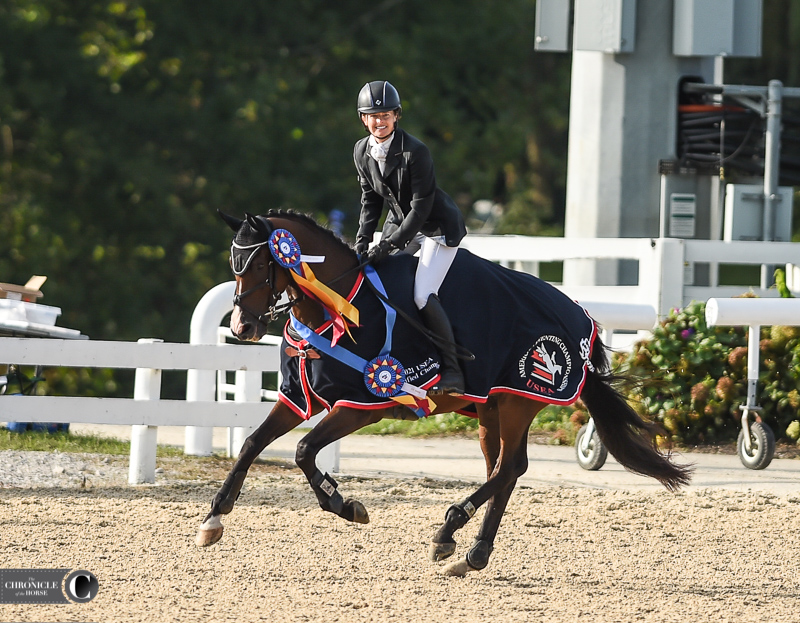 Professional Julie Wolfert led from start to finish in the inaugural open modified division with Namibia, a 5-year-old off-the-track Thoroughbred (Tizway—Kitty Tracks) gelding.
"He was very good on cross-country yesterday, and one out of 10 times in show jumping we go clear, and today was that one time!" she said. "We literally had every rail in warm up, so I was not going in very confident. He always puffs up because he's a little looky, but I feel like he was really listening to me, and he definitely had some wings out there."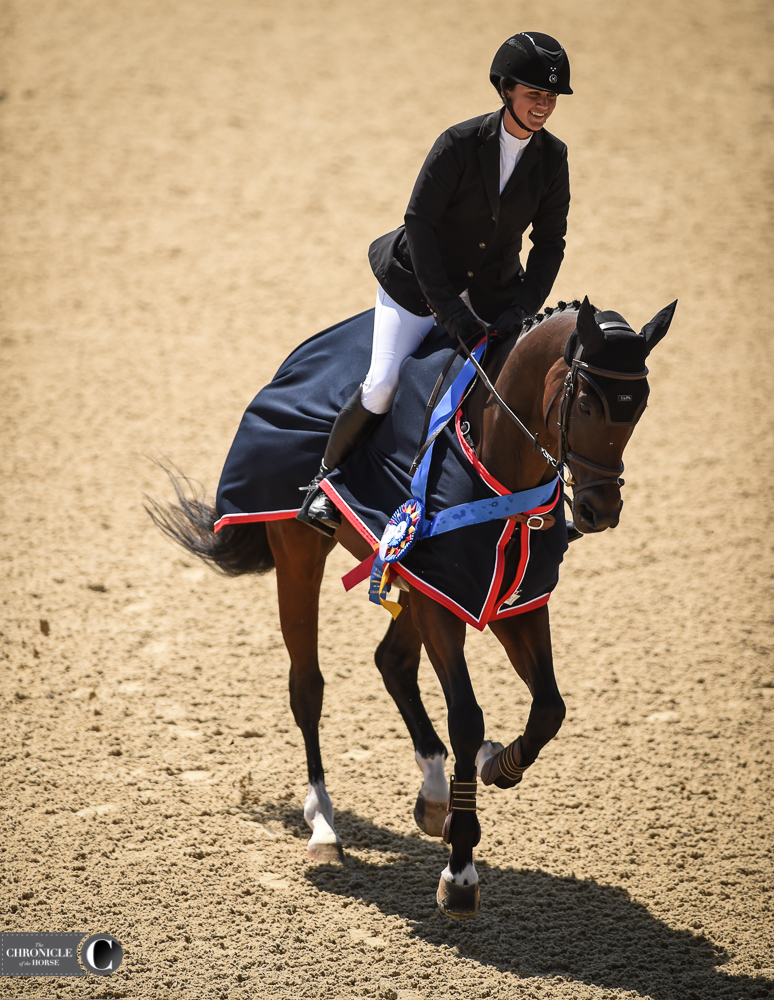 Texas-based professional Lauren Lambert rode Elizabeth Rader's 9-year-old Hanoverian-Thoroughbred gelding Biscotti (Benidetto—Hey Nurse) to the win in the training horse division.
Mike Huber found Biscotti at a jumper show and asked Lambert to base out of his facility earlier this year and help out Rader.
"I owe a lot of his training to her because she rides him during the week, and we do lessons. I'm on the ground giving her instruction," said Lambert. "She's great, and we work together. She doesn't have any desire to compete, so I get to take him to the shows."
The AEC has been a goal for Lambert and Rader since the beginning of the year, and they were happy to give the gelding some exposure in a bigger atmosphere. "Things have clicked in the last couple of months, and he's getting more confident. He was just brilliant this weekend," said Lambert.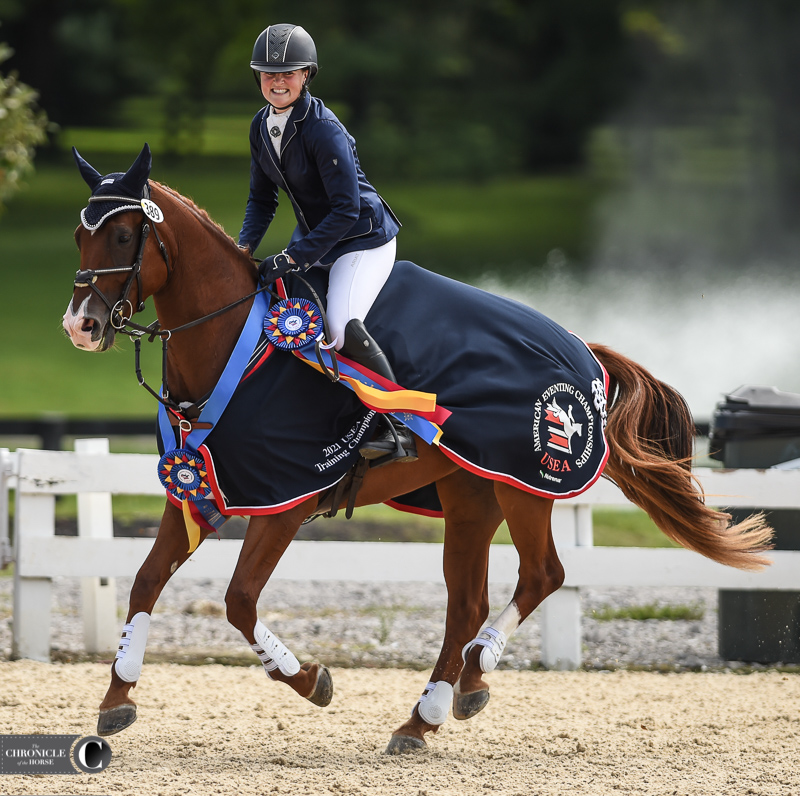 Katie Sisk and Long Legs Lenore climbed the leaderboard from third place after dressage in the training rider championship to win.
Sisk bred the 5-year-old Hanoverian-Thoroughbred mare (Rapture R—Demonet's Darling).
" 'Forrest Gump's' my favorite movie. I had all these great gelding names picked out, and then she was born a filly," she said. "There's two prostitutes in the movie called Long Legs Lenore and Cunning Carla, and it was an L year for KWPN! She's amazing. I've had so much help from Julie Wolfert, my trainer. This was her fourth training."
Sisk is an equine veterinarian specializing in rehab. She's based in Missouri.
"This is totally my hobby," she said. "I wake up at 5 in the morning before I go to appointments, so it's just amazing. So much hard work just paid off. She was there for me today, and she carried me through."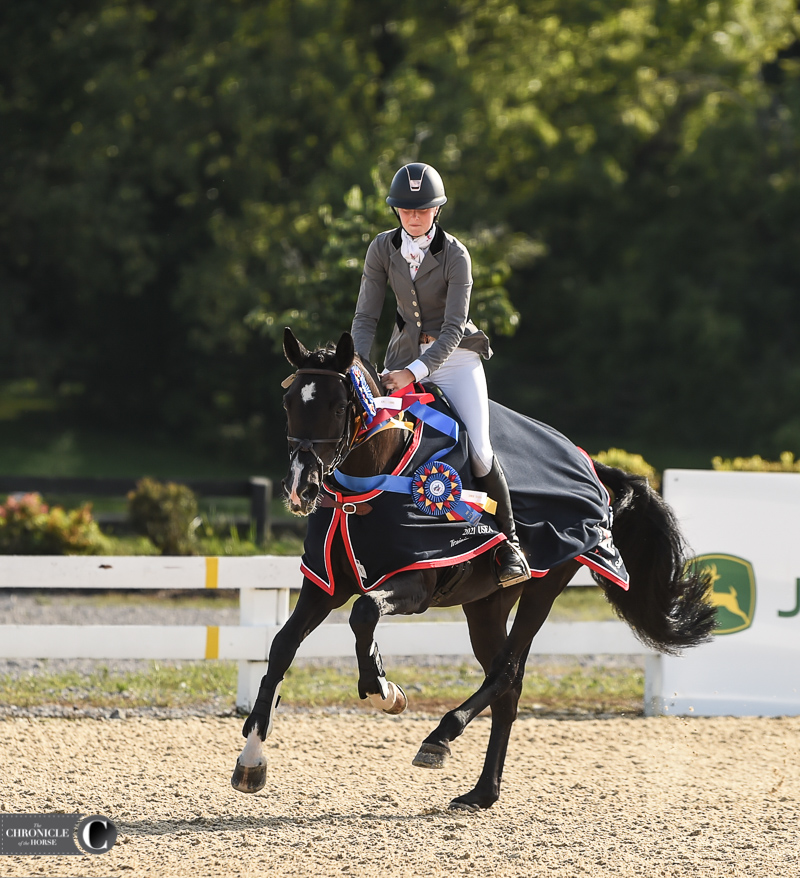 Shelby Murray topped the training junior championship on Laurel Ritter's Reverie GWF, a 9-year-old Oldenburg mare (Rostpon—Charteri). She made the three-day trek from California to the Kentucky Horse Park and competed on grass for the second time.
She's been riding the mare for about a year and half.
"Since I started riding her it's started to blossom, and we're progressing and getting better and better, and here we are. She's just amazing, and I couldn't ask for a better horse," she said.
Full results I Live Stream I COTH's Coverage I Schedule I Course Maps
2021 AEC - Friday
Lindsay Berreth / Sep 3, 2021 11:39 pm