Elkton, Md.—Oct. 15
Everyone knew that it would be tough to beat Oliver Townend and Cooley Master Class's dressage score of 21.1 from yesterday, and it proved to be an impossible feat on Day 2 of dressage at the Maryland 5 Star at Fair Hill. New Zealand's Tim Price came the closest with Xavier Faer on a score of 24.3 to sit second going into cross-country.
"His whole thing is where he's amazing for [cross-country], he struggles with the dressage job where he has to put his body together the whole time, repackage, step under, and if I don't quite get that mastered in time for something quite difficult like a change he just gets discombobulated, and that's what happened [in our test today,]" Price said. "It's improved. When he started at this level, I was lucky to get one of the four changes, and now we're getting three of the four, and the rest of the quality is up, so I'm pleased. Every horse has strengths and weaknesses, and you accept them and work on them."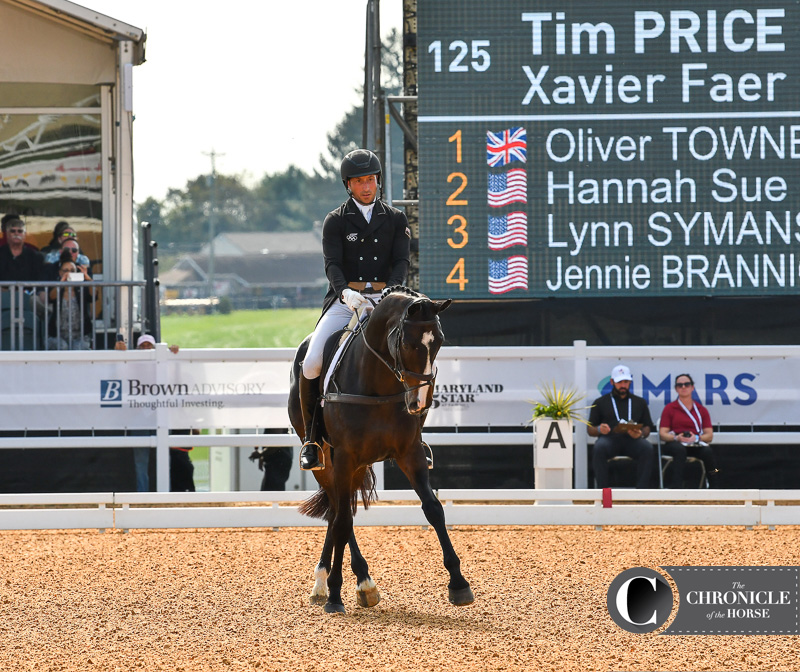 Price, who is based in England, has brought the 15-year-old British Sport Horse (Catherston Liberator—Faerie Dazzler, Catherston Dazzler) to the United States twice before for the spring Land Rover Kentucky CCI5*-L . They were second there this year and have not run an international-level event since. With Burghley (England) canceled for the second year, Price thought coming to Maryland was the best choice for "Hugo." His wife, Jonelle Price, also brought her veteran campaigner Classic Moet to compete.
"We're lucky enough to have an owner that's in full support of putting the horses on a plane instead of going down to France [for Pau CCI5*-L] which would probably be 20 percent the price," Tim said of Trisha Rickards, who owns both "Hugo" and Jonelle's Classic Moet. "She's a real horse lady, and she wants to do the suitable thing for the horses, and this was the event for them with no Burghley, and we'd heard and understood that this is a true cross-country test, and this is a proper old cross-country sort, so we'd like to think they're the right sort for this course and this competition."
The reigning Land Rover USEF CCI5*-L National Champion Boyd Martin and On Cue are once again in a good spot heading into cross-country. "Cue" improved her five-star dressage score by two points for a 25.0 to sit third. Martin knew it was a good test as soon as he halted, throwing up his hand victoriously after his salute.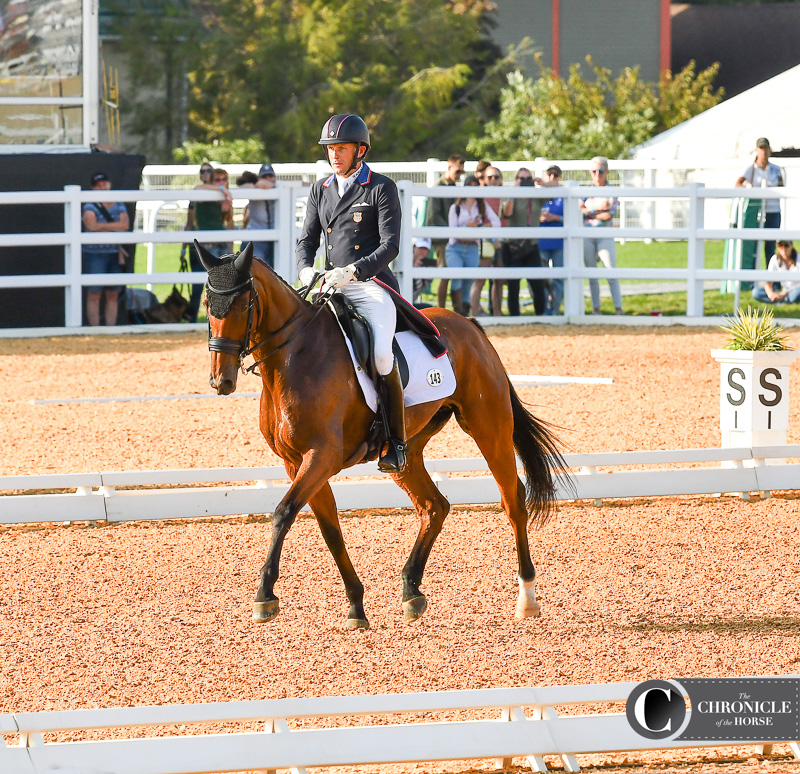 "A lot of preparation and practice and hard work goes into performing this dressage test," he said. "Even though it's only 7 minutes long, there's hundreds and thousands of hours of practice to get to that point. It's sort of like a round in show jumping: You sort of know when you've left all the rails up, and you've ridden your best and the horses performed well, so I was obviously thrilled with On Cue."
Martin has brought the 15-year-old Anglo European mare (Cabri D'Elle—On High, Primitive Rising) from the two-star level up, and she's proven to be a real competitor.
"She's just a fantastic horse; I love her," he said. 'She's flamboyant; she's a mover. She's really smart and tries hard. To go in the ring— and you stay up at night worrying that little things are going to go wrong—I was just really, really pleased with the way she performed out there. "
Martin couldn't be happier to be riding a horse like Cue on tomorrow's cross-country.
"I am riding a fighter," he said. "On Cue will have her ears pinned back and we will give it everything tomorrow."
Martin lives in Cochranville, Pennsylvania, a short 20-minute drive away from the Fair Hill venue, so he's enjoying sleeping in his own bed and unwinding with his sons.
As for how he'll get mentally in the game for tomorrow's cross-country?
"I'll be playing air hockey with my kids tonight instead of being nervous as hell," he said.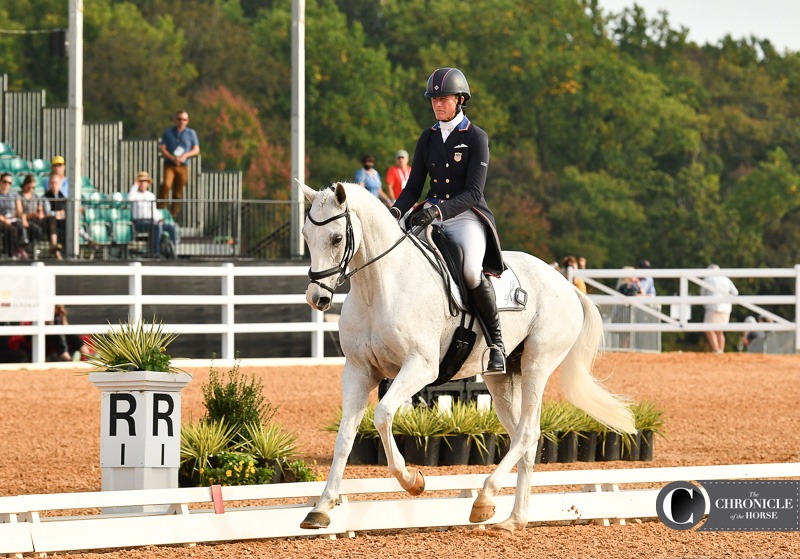 The USEF CCI3*-L Eventing National Championship is taking place at Fair Hill this week as well. Overnight leader Kurt Martin retained his lead with D.A. Lifetime on a 23.5.
Cross-country action begins tomorrow with the three-star at 9 a.m. until 12 p.m. The five-star will follow at 1 p.m. The competition will be livestreamed on USEF Network.
Want to know more about what the riders think of the course? Read: 'It's Bloody Hard': Breaking Down The Maryland 5 Star Cross-Country Course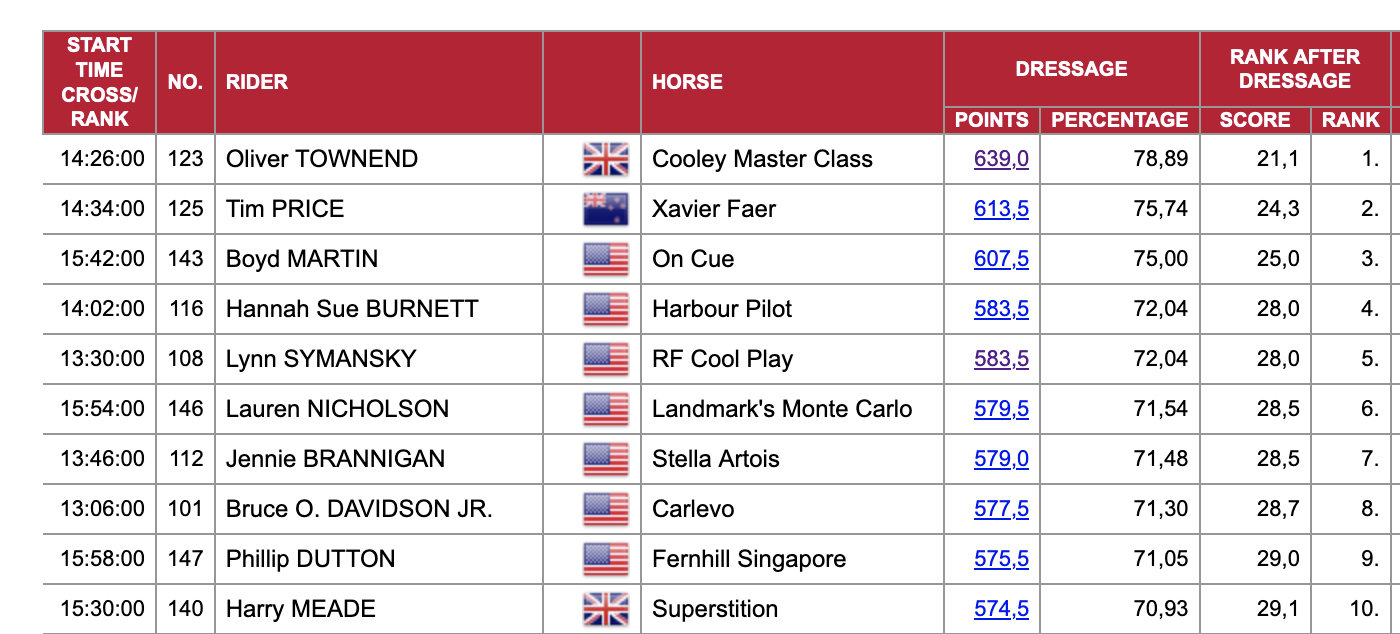 See full results here.
Want more from the Maryland 5 Star? Follow the Chronicle's online coverage here. You can get loads more news, analysis and photos in the Nov. 8 issue of The Chronicle of the Horse magazine. What are you missing if you don't subscribe?