Barron has become the go-to mount for one of the United States' top young riders. Lucy Davis first realized the extent of her 11-year-old Belgian Warmblood's ability to perform at the Rolex FEI World Cup Final (Sweden) in 2013, a few months after she bought him. Until then, she knew that Barron had ability, but there she realized just how much heart powered her chestnut gelding. From there, they started a meteoric rise to fame together.
In September 2013, Davis piloted Barron (For Pleasure–Vita van het Riethof, Nabab de Reve) to a win at the Lausanne grand prix on the Longines Global Champions Tour, making the then-20-year-old rider the youngest to win an LGCT grand prix event. Then, results in early 2014 qualified them for a spot on the U.S. team for the Alltech FEI World Equestrian Games (France) where they helped the team earn a bronze medal.
This April, Davis and Barron claimed ninth in the Longines FEI World Cup Final in Las Vegas. Davis has done all this while studying at Stanford University (Calif.); Barron lives at the famed Red Barn on the Stanford campus when he's not showing on the Winter Equestrian Festival (Fla.) circuit or in Europe.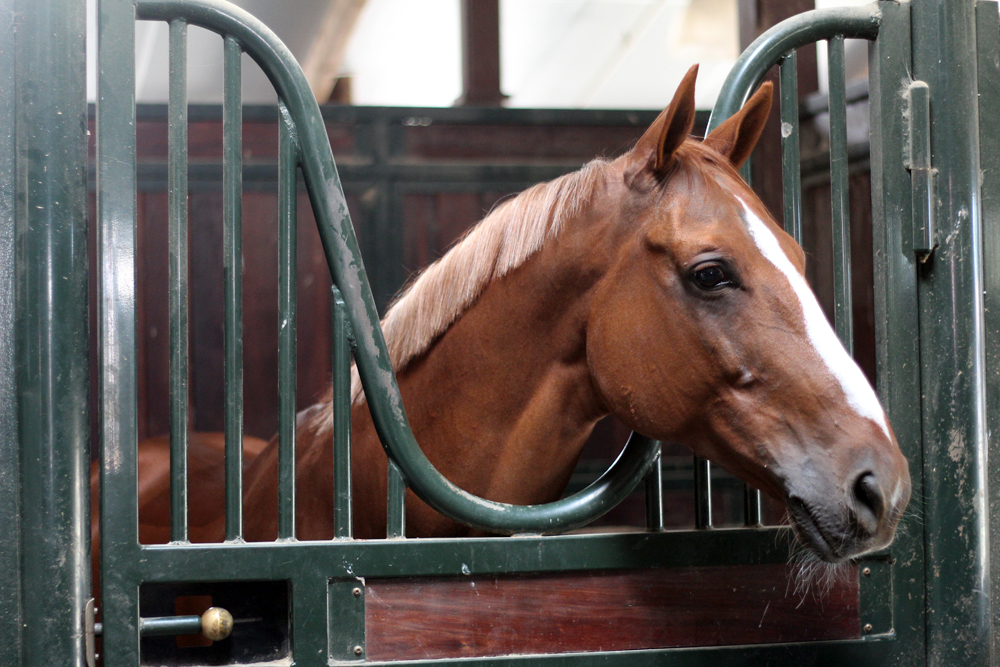 The pair earned a spot on the upcoming U.S. team for CHIO Rotterdam (the Netherlands) that begins in mid-June. Barron and his four stablemates will fly out at the end of May for Europe. Until then, it's vacation time at the Red Barn for Davis's string while she works toward completing her bachelor's degree in architectural design.
At home and on the road, Davis trusts the care of her horses to her groom Tasha Houghton. Originally hailing from the rodeo system in New Mexico, Houghton rode and worked for Connecticut hunter/jumper trainer Jennifer Rossire as a working student on the East Coast through middle and high school.
"I would go to shows with seven to nine horses by myself [when working for Rossire]," Houghton said. "It definitely taught me how to work."
Houghton landed with Davis two years ago, after separate stints with Christi Israel and Peter Wylde in Europe. When Davis's trainer Markus Beerbaum called her to Thedinghausen, Germany to groom for Davis, the partnership worked seamlessly and they haven't looked back.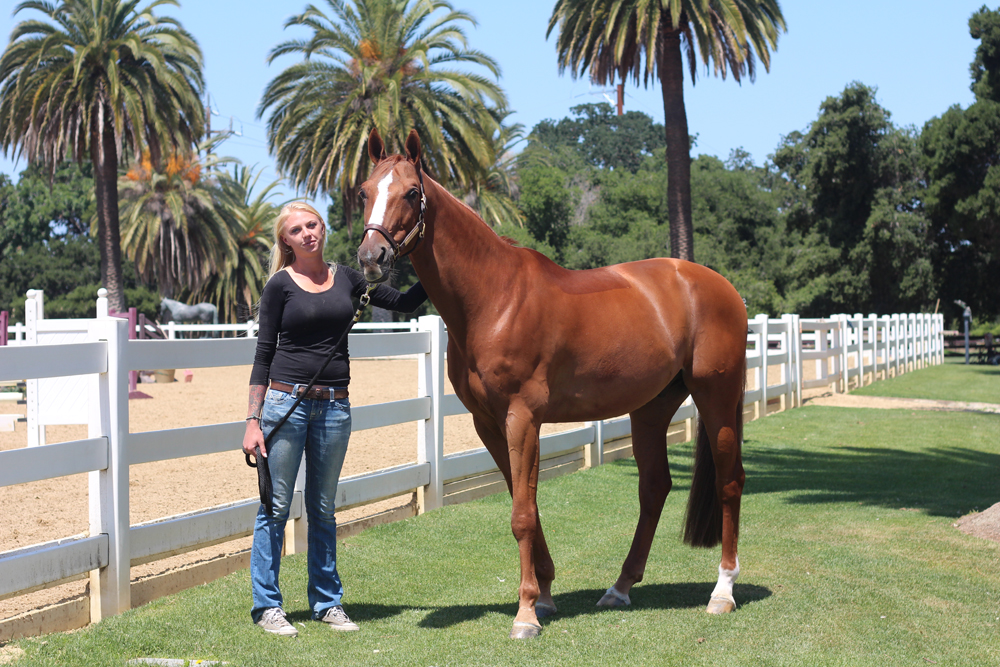 While Davis is finishing her degree at Stanford, Barron and Houghton are enjoying the California weather.
Here's a glimpse into Houghton's insights on the talented, quirky horse named after Davis's grandfather, Robert Barron Frieze, a prominent former race jockey agent:
Houghton met Barron before she worked for Davis.

"I actually knew him when Lucy first bought him, and she flew him out to Los Angeles to Gaby Salick's place because I was there with Christi. He's changed a lot since then," Houghton said. "His personality wasn't the same. He was head shy and spooky. He's still very quirky, but his personality has blossomed."

Barron is all business in competition, but has an unpredictable spook outside of the show ring.

"He's super quiet then all of a sudden he'll switch. Normally, fences and boards are his kryptonite—he just has to kick them."

Houghton wraps Barron every night because of his penchant for kicking. "He's a bit suicidal. He's very good at pulling his shoes inside of his stall, but he never does outside (of it)."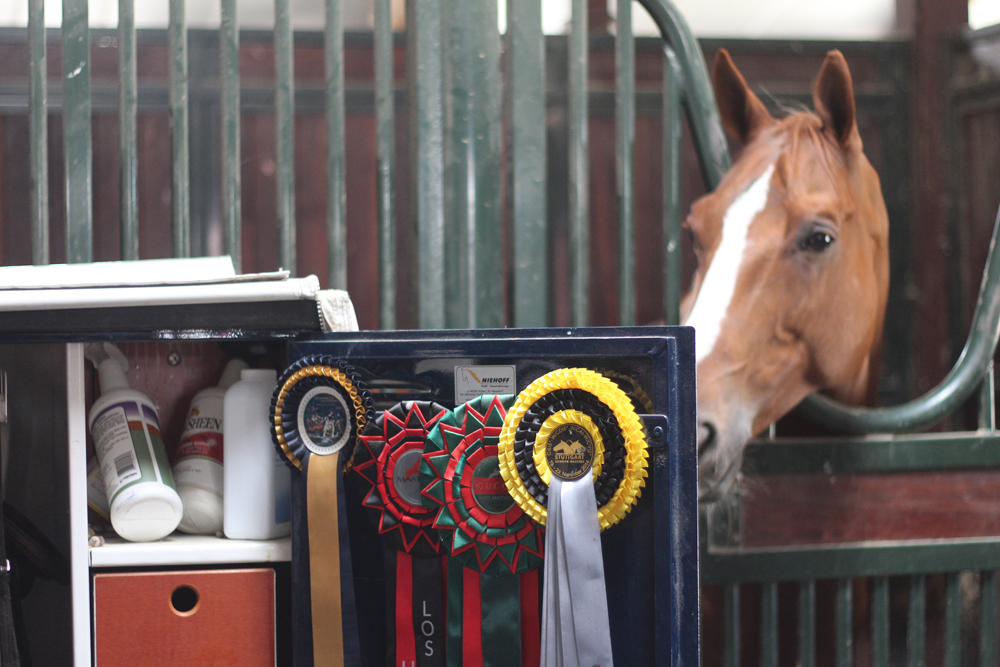 Houghton works out of a traveling tack trunk when caring for Barron.
Barron must always wear ear plugs. "Here (at Stanford Red Barn in close proximity to Stanford's golf course), the golfers kind of spook him a little bit. One second he's fine, the next second he's not."

"If you don't address his spooks, he'll leave it. If you address it, he can be very quick and naughty. All in all, he's a pleasure to ride. He's super."

He has a phantom ear twitch when he's really fresh, and it's only in his left ear. His one-year younger full brother and stable mate Curtis 72 has the exact same twitch.
"Energy is never our problem."
He likes bananas and sugar cubes, and he's always hungry.
He also does tricks like play with Houghton's hair or wiggle from scratching his hind end. But he was unwilling to show off in front of the camera.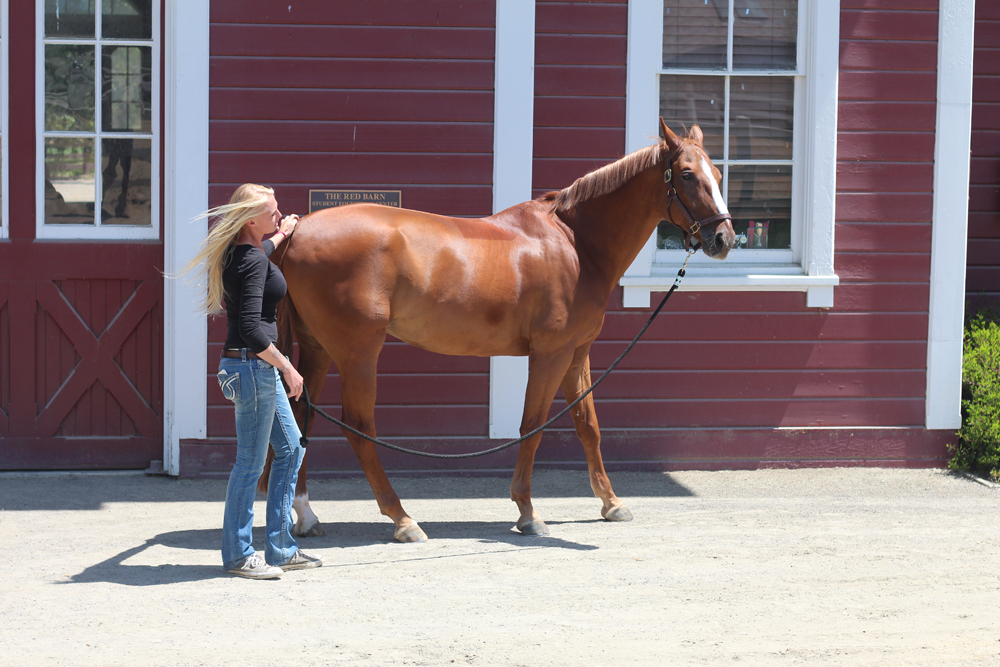 His daily routine at Stanford includes three servings of grass hay. He always gets out twice a day, once for 30-minute hand walk and the second time for a ride with Davis. "When he's here, he's on vacation pretty much, so not a lot is happening."

"He likes to lead himself with the (lead rope) in his mouth. You have to let him think that it's his idea of walking somewhere otherwise he won't go."

Houghton's job is also easier at home in California without having to clean stalls or clip the horses, all of which she has to do in Europe. "I ride Lucy's horses quite a bit, especially in Europe."
Barron flats in a straight bar or light rubber Pelham, and is in a Kimberwick with two reins at shows.
He's missing most of his forelock and hair on his forehead because a former groom never washed his face and always put him in a bonnet.

"I've tried using Vitamin E pills, but I can't really get the hair to grow back."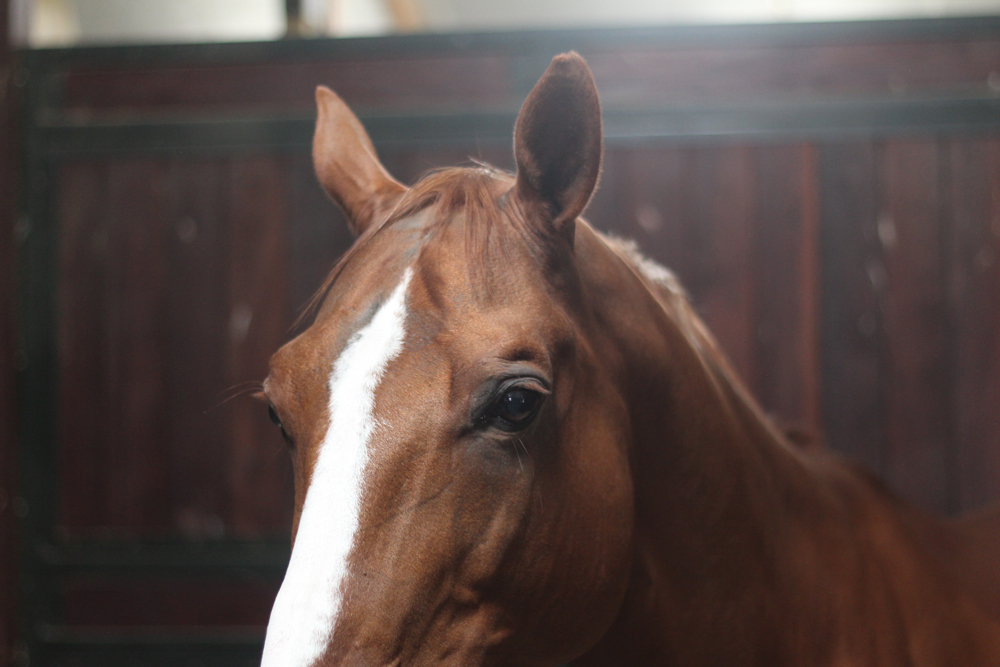 This may be Barron's last extended stay at Red Barn. Davis is expected to graduate in June, and Houghton is unsure if they'll return to Stanford at the end of October.

"The horses are really happy here so we'll see where we stable when we come back in October or November, before we go back to Europe for the indoors season."

Houghton's in it for the long haul with Barron. "As long as I keep doing my job and the horses are happy and I'm happy then I'll continue. The day I wake and don't want to go to the barn is the day I stop because it's not fair to the horses."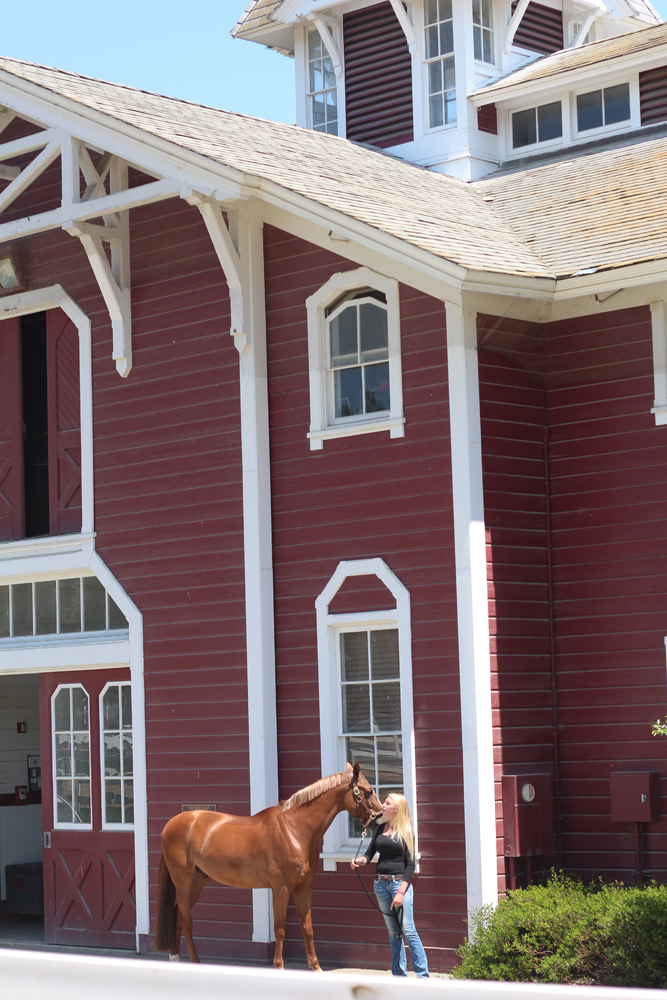 Barron's U.S. home—Stanford's famous Red Barn