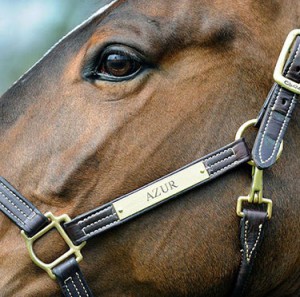 She's had a faster rise in popularity than Taylor Swift when she released her first hit single. She's the most exciting new star since Lebron James bypassed college to play in the NBA. She's received more five-star reviews than Adele's 25 album.
Hello…it's me.
It's HH Azur (Thunder Van De Zuuthoeve—Sion Van De Zuuthoeve, Sir Lui), and she had a meteoric rise to the top of the sport, representing the United States—and winning team silver—at the 2016 Rio Olympic Games just a little more than a year after her first grand prix win and then this spring claiming the 2017 Longines FEI World Cup Jumping Final (Neb.) to give McLain Ward his first World Cup title.
Olympic veteran McLain Ward has ridden the great two-time Olympic team gold medalist Sapphire and his Pan American Games team and individual gold medal partner Rothchild, but he has praise of another kind for the charismatic 11-year-old bay mare with the simple, elegant white stripe down her face.
"I've never been around anything quite like her," Ward has said.
The Chronicle went behind the stall door to get to know more about the straight 'A' student that is HH Azur:
• You can call her "Annie." Could there be a better nickname for a Team USA star?
While not named after the iconic Broadway musical and Disney movie, Annie definitely draws comparisons to the loveable, all-American-girl character of the 1990s.
• She has a village of caretakers. Grooms Lee McKeever, Chris Cook, Sean Kissane, Kirsty Bond and Kelly Massari all work with the mare. "It's a real team effort," Kissane said.

Annie enjoys a grooming.

• She walks on stilettos. She may not look it from afar due to her flawless conformation, but Annie is quite a tall mare. Her legs are long but perfectly in proportion with the rest of her body. When standing up close to the bay, it's a long way up to the withers.
• She is photogenic—ridiculously photogenic. Annie recognized the camera from the first snap of the shutter. From then on, she stood still as a statue for photographs.
While most grooms have to do jumping jacks and rustle peppermint wrappers behind the camera to get their horse's ears to perk up or repeatedly shake the lead shank to get their horse to stand still, Annie's caretakers could casually stand and admire their horse's beauty and charisma.
Annie will need no modeling practice after landing her first endorsement deal. Wheaties box, anyone?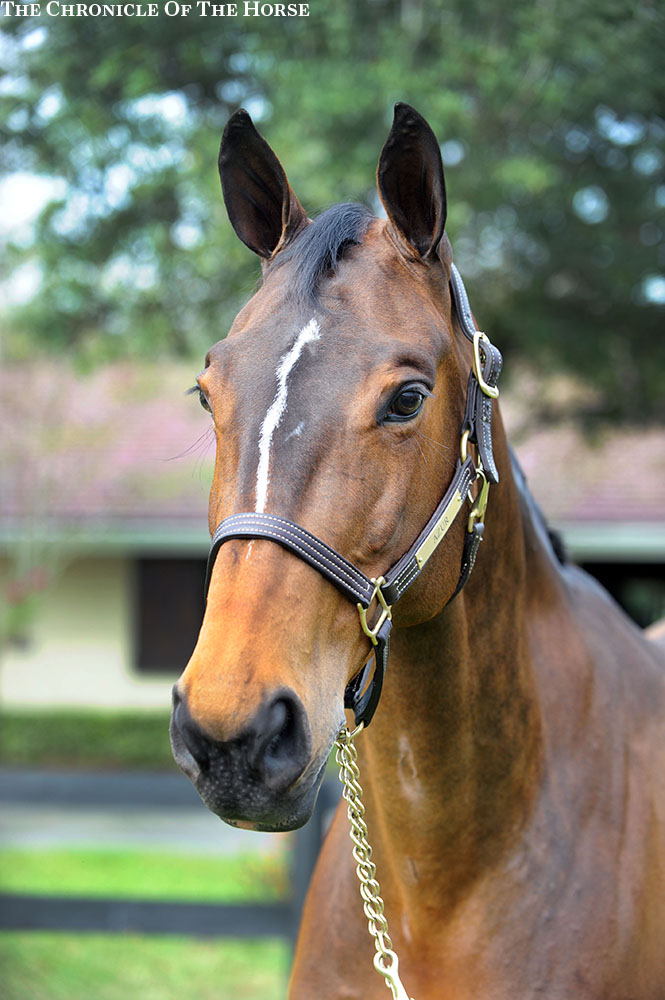 Annie models.
• Her personality is blossoming. "She's definitely developed more personality since we've got her," Bond said. "When we first had her, she was a little bit plain, but now she's starting to become more friendly. When you walk into the barn now, she always comes out to say hello.
"She's starting to realize how good she is," she added. "Now that she's starting to win a bit, she's starting to realize, just recently."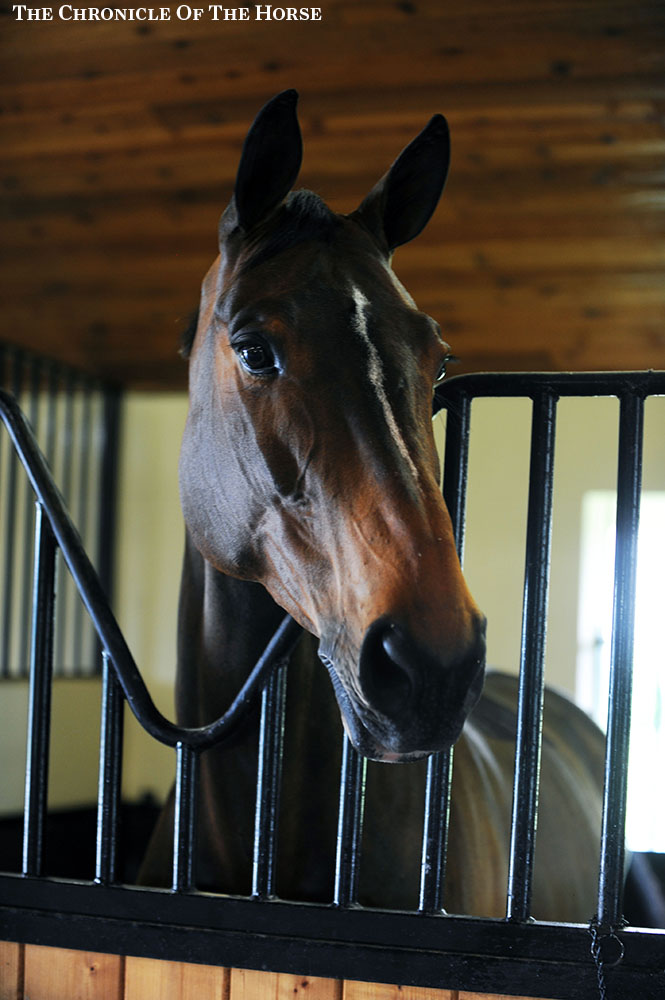 Annie awaits attention.
• Her snack of choice is pizza.
You saw this coming, didn't you? Annie's Pan American Games individual gold medal-winning stablemate and next-door-neighbor Rothchild became one of the Chronicle's most-read Behind The Stall Door stories of 2015 largely due to his donut-eating habits. Well, Annie enjoys some junk food of her own. She prefers pizza—pizza crust, to be precise—though she isn't too picky when it comes to snacking.
"Before, she wouldn't eat a lot, but now, she'll eat anything," Bond said. "She'll eat bread, she'll eat donuts, she'll eat bagels, popcorn…"
With that kind of diet fueling her athleticism, she might just be the quintessential American.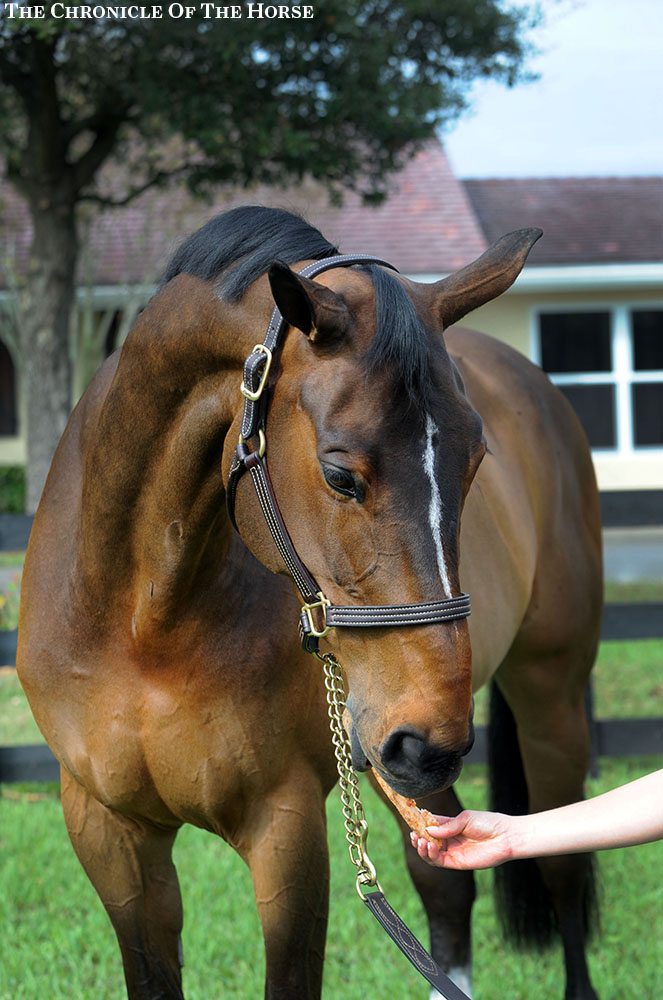 The sign of a true American: Annie's favorite snack is a slice of pizza.
• Her success comes as no surprise to her caretakers. She showed promise from the start.
"It was obvious," Kirsty said. "Even when we were just doing the 1.30-meter in the DeNemethy ring [in the winter of 2015], you could see [the talent] there already. It's been cool to see where she started and where she's come so fast."
• Less is more when it comes to her tack.
"Her flat bridle is very simple," Bond said. "She just goes in a figure-eight. At the show, she's only in a plain nose band, nothing around her mouth, and a twisted snaffle—just an eggbutt twisted snaffle. We'll change the bit up a little at home, but she normally just goes in a snaffle."
• She loves fresh air. Annie gets to spend quite a bit of time outside in her daily routine."
Normally McLain or Lee will ride her in the morning, and then she'll go out in the paddock, and then she'll go out and graze for a while in the afternoon," Bond said.
Her routine also includes wearing Back on Track wraps and spending about 20 minutes every other day on the TheraPlate, a vibrating plate that improves joint health and function.
•  She has one dislike and one dislike alone: body clipping."She's funny to clip her body," Bond said. "It sounds strange, but she's fine with her legs. She's perfect with the legs, ears, face, no problem, but the body is a problem. That's her main quirk."
•  Her favorite companion is stablemate HH Carlos Z, winner of the $500,000 Rolex Grand Prix at the 2015 Winter Equestrian Festival (Fla.).
"They do a lot of traveling together," Kissane said. "They enjoy each other's company, and they'll look out for each other. When they leave for the show ring and come back to the stable, they all neigh at each other and ask each other how they got on [in their classes]."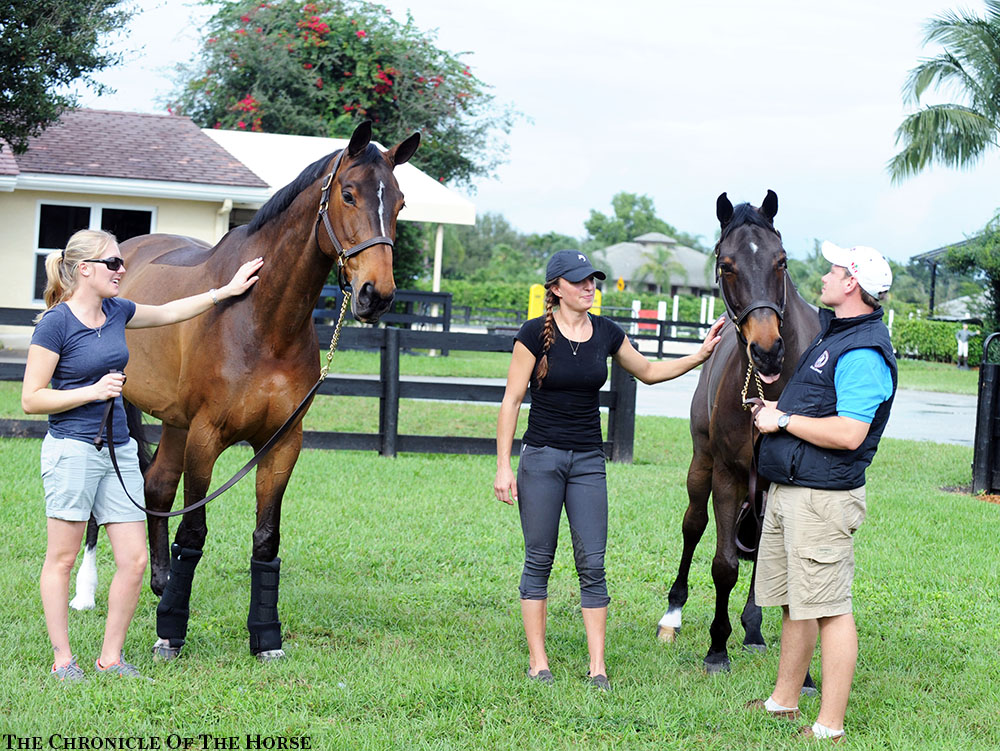 HH Azur and HH Carlos Z are as close as siblings.
•  She's the calmest, most poised 10-year-old show jumper you'll ever meet.
"She's got a very good head on her shoulders," Bond said. "Nothing bothers her when you take her out or do anything with her. She's very there in her mind. She understands everything.
"She likes the paddock, she goes trail riding fine, she's easy with traveling," she continued. "When you take her out on the road, she walks right by anything. Nothing bothers her."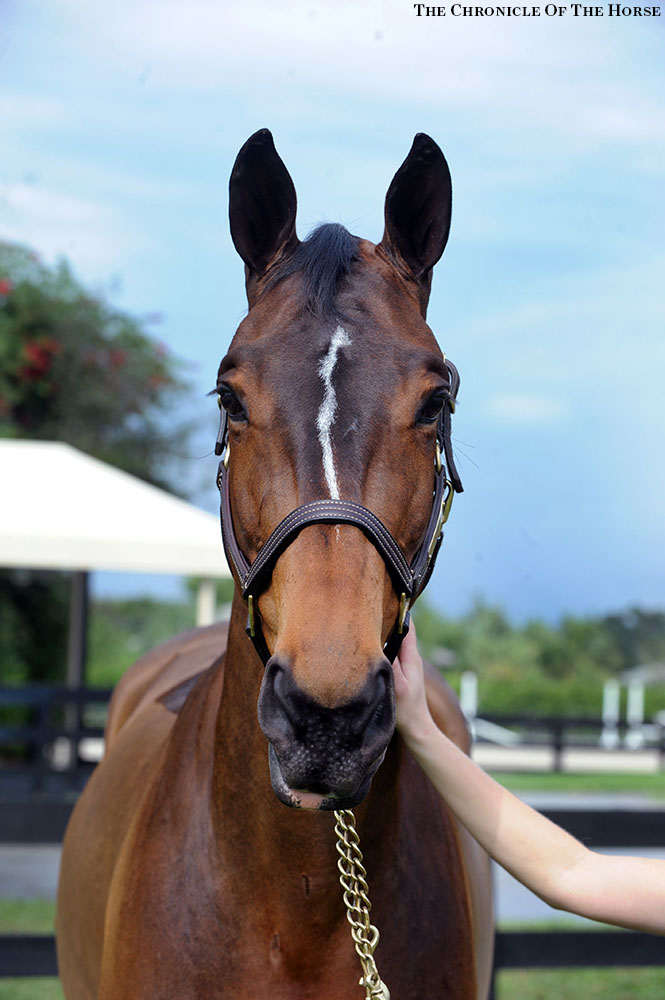 Annie exemplifies poise.
• She knows when to increase her energy level.
"She gets a little hot when she's at the ring," Bond said. "When she's jumped, a little bit of that blood gets up, but at home, she's very chill. In the past year, she's mellowed out a lot, and she knows that when she's home it's her time to relax."
•  She's seriously memorable. Read all about how I was captivated by Azur when we met in a COTH Staff Blog, "HH Azur Is Show Jumping's 'It' Girl."
A captivating stare.