With a horse show happening every weekend, and sometimes multiple major events taking place in locations around the country on the same day, the Chronicle reporters spend countless weekends on the road.
But regardless of how many horses we see winning championships and cantering down centerline, a few special moments always leave a lasting impression long after the story is written and the results are old news. As we head into the new year, here are a few of our favorite moments from 2016…
Ann Glavan's Moment: A Superstar Stands Out In The Crowd
I've been to many horse shows while on the job for the Chronicle, but I think I could go to a lifetime of competitions and never experience another jaw-dropping moment like what happened at this year's Rolex Central Park Horse Show when Valegro stood in the middle of a crowd, in the middle of New York City, to accept pats, hugs and take pictures with hundreds of fans.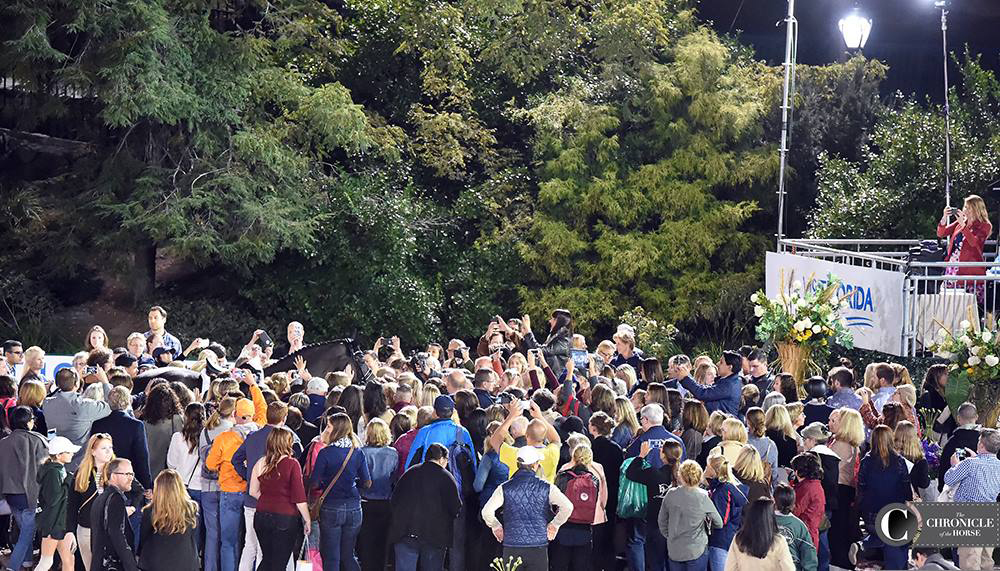 It was a brilliantly unscripted and unplanned moment—Charlotte Dujardin had just finished a demonstration ride of Blueberry's freestyle, as impressive a performance as we've come to expect from them. Charlotte did a broadcast interview on foot in the Wolman Rink-turned-show ring, with Blueberry standing behind her with longtime groom Alan Davies.
Once the interview was over, the announcer thanked everyone for coming, and the show concluded for the evening. The crowd began to leave and the press filtered back up to our press box for interviews with the top three dressage rider's from the day's CDI competition.
As I was powering up my computer and preparing to take notes, I saw a couple of press members pointing excitedly down into the ring. I looked down, and much to my surprise, five or six members of the crowd were walking into the ring, toward Blueberry and Charlotte, who was beckoning them forward!
What a kind gesture, I thought. A few fans are about to get the photo op of their life. But Charlotte kept beckoning, and soon it wasn't five or six people walking across the ring to her, it was 10. Twenty. Fifty.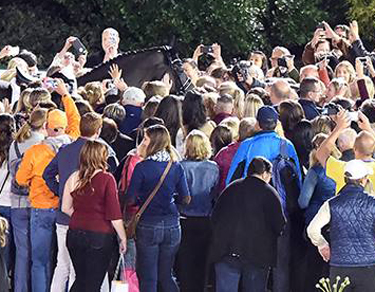 As we looked on, jaws on the floor, a crowd pressed in around Blueberry, surrounding him, Charlotte and Alan entirely. People were standing at his shoulder, at his head, at his flank, even directly behind him, giving hardly a foot's clearance to his hind end. It was cold, it was an arena Valegro had never seen before, in the middle of New York City with all the lights and noises and sites that entails, and he didn't move a muscle.
Not a single swish of the tail or glance behind him. We all waited for him to panic, to spook at the strange people all around him jostling for a view, to show some level of concern at the scene unfolding around him (we were certainly showing plenty!).
This was a show horse, the world's best dressage horse—some show horses can't even come into the ring for award presentations they're so spunky and spooky, but not Blueberry. He just stood there.
Nobody could believe it. We hardly remembered to grab our cameras to capture the moment unfolding in front of us. Here was the reigning Olympic champion, a horse who passages and piaffes and pirouettes with unprecedented power acting like a police crowd control horse, ears pricked in a bemused "Well thank you, I'm glad to see all of you too!" way.
That's my moment of the year, and indeed I think a good number of years will pass before I witness something that spectacularly awe-inspiring at a horse show again.
Mollie Bailey's Moment: The Stars—They're Just Like Us!
While watching the amazing horses and riders compete ringside at the Olympic Games in Rio de Janeiro was absolutely thrilling, the coolest part of the experience for me personally wasn't witnessing what happened in the ring.
The best moments won't be replayed on FEI TV, like when Ben Maher paused an interview to give us journalists a riding lesson as his former ride Tripple X came on course with Tiffany Foster, pointing out the one place on course he might fault well before he did. And how Meredith Michaels-Beerbaum interrupted our chat so she could watch teammate Daniel Deusser jump a clear round in the ring. She was just as nervous as any horse show mom, riding every stride along with him, urging her imaginary horse on and sitting up taller when he needed to whoa.
Talking to riders after their rounds was a real reminder that the stars are just horseback riders who put one boot on at a time, just like the rest of us.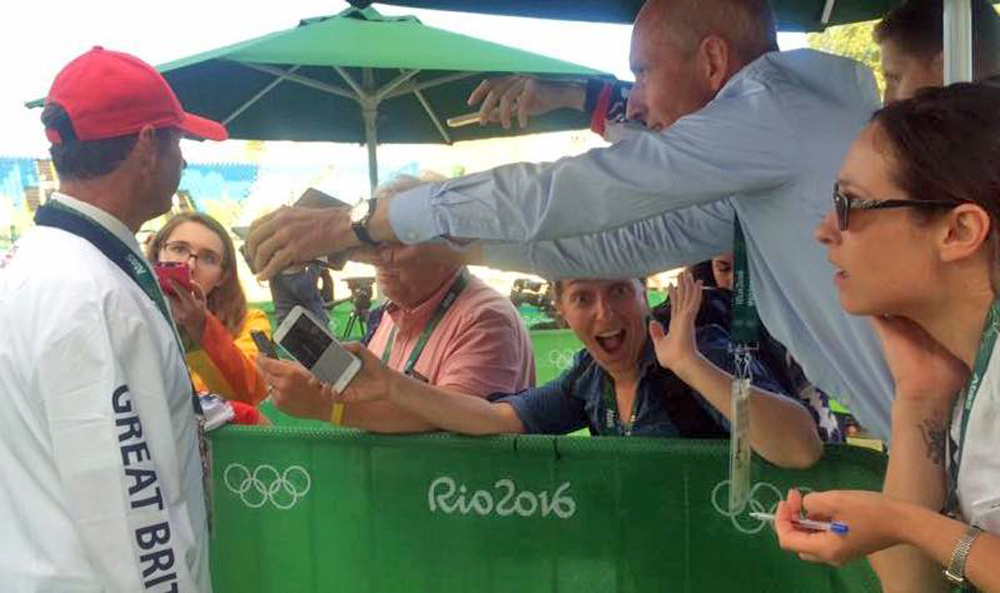 They spend their nights outside their horses' stalls when they colic, like Penelope Leprevost did. They do goofy things to bond with their horses, like Inessa Merkulova, who spent the morning of her Grand Prix special reading her mount romance novels like 50 Shades Of Gray.
When they fall off, they rip their breeches and have to walk around in them all day until they can find time to change, like Karen Donkers did. Some of them get up at obscene hours to squeeze in saddle time before work, like Chilean eventer Carlos Lobos Muñoz.
And they cry, publicly, when they fear it's their last time ever competing with their championship partner, like Jeroen Dubbeldam and Charlotte Dujardin did.
Forget everything that happened in the field of play, seeing Olympians as astounding athletes and horseback riders was the best part of the year.
Lisa Slade's Moment: The Eye Of The Storm
As the proud owner of a sometimes, um, volatile horse, I can now swiftly and expertly recognize the expression of an equine who's saying, "No f*&%$# way."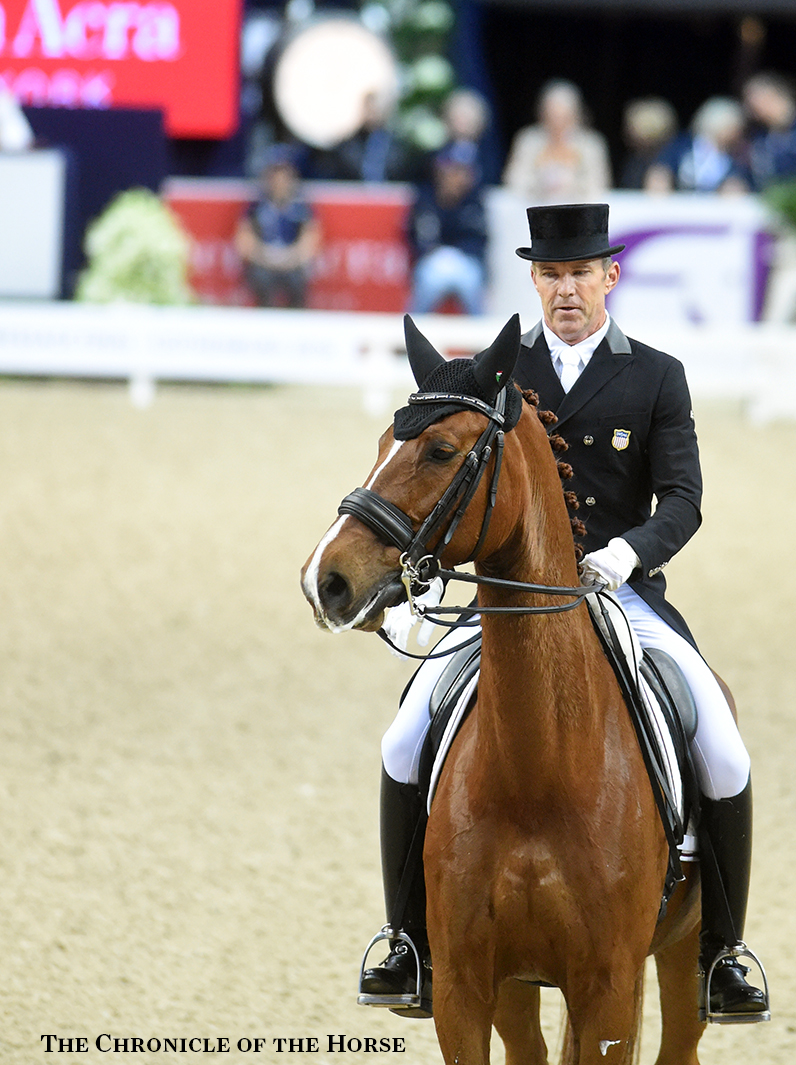 When Guenter Seidel halted at X for his Grand Prix test at the FEI World Cup Dressage Final, Zero Gravity popped his head in the air and looked around, and it was like he just noticed the crowd. His whole body tensed; his eyes went wider; he tried to back up.
In that moment, standing at C behind the judges, I think I said a tiny prayer for Guenter under my breath because that was a "no f*&%$# way" expression if one ever existed. Zero Gravity wanted to leave that ring, preferably through the rafters, preferably immediately.
But then I learned why GUENTER SEIDEL is, well, Guenter Seidel, one of the United States' best dressage riders. He wrapped his legs around that horse, and he rode the Grand Prix, the whole thing, minus the walk. Yeah, he did get last place, but there were moments of brilliance.
Afterwards Guenter laughed and said: "I think it's obvious that you have to walk that line between brilliance and failure, and right now there's really nothing you can do but practice these kinds of shows and get him more comfortable."
Watching Valegro is fun; it's great to see horses getting 80 percent—witnessing those moments when everything just goes perfectly to plan in a test.
But there wasn't anything more impressive I saw that day, maybe all year, than Guenter giving his young horse a sympathetic education in the electric environment of the Scandinavium.
Molly Sorge's Moment: The Win That Wasn't
Nick Haness had an amazing week at the Devon Horse Show (Pa.). He'd never won a Devon blue ribbon before 2016, but the young pro's trip from California paid off with three blue ribbons, other pieces of primary colors, and the first year green championship aboard Technicolor.
So, when Haness rode Countdown to scores in the 90s in Round 1 of the USHJA International Hunter Derby to take the lead going into the handy course, it looked like Haness' fairy tale was continuing. And then, when Countdown and Haness were clocking around the handy round with amazingly beautiful efforts over every jump and Haness rolled into the final long approach to the last jump—an enormous oxer—I was already writing the story in my head.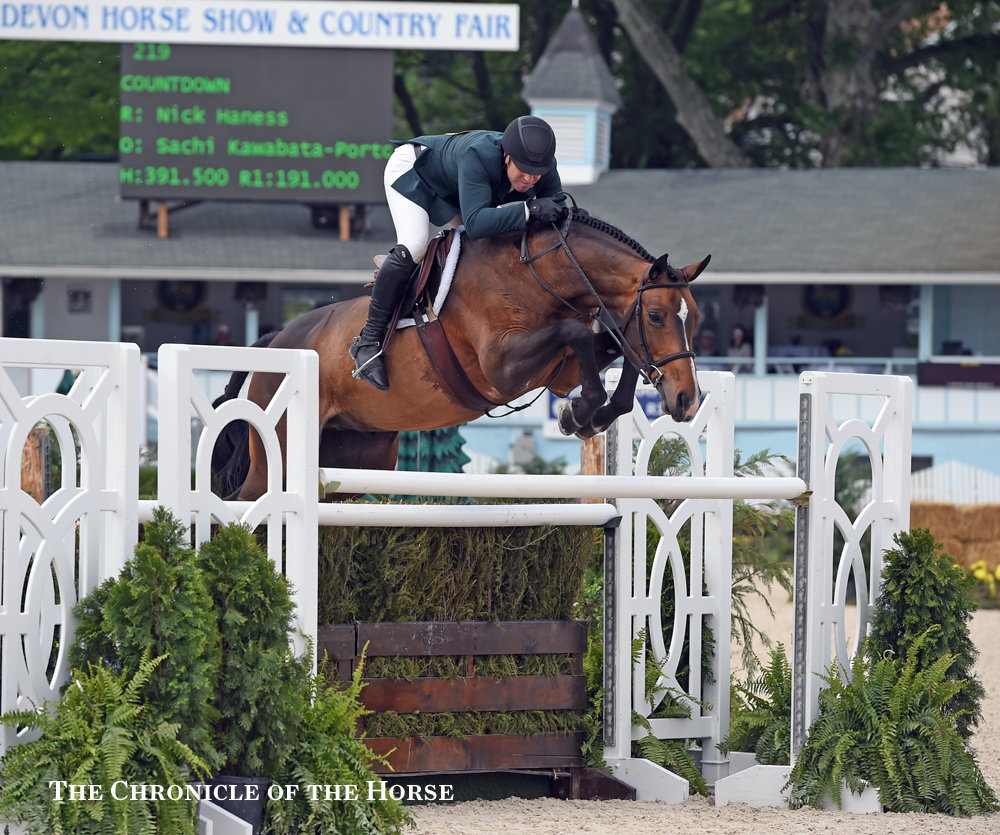 Countdown fired up over the more-than-four-foot oxer in ridiculously amazing form. I heard my camera shutter go click at just the right moment, and felt a surge of joy.
And then I heard it. Everyone heard it. Countdown's hind legs came down on the back rail of that oxer with an enormous clunk, and that rail fell with a heavy thud.
Haness shook his head as he pulled up, but with a smile on his face. He and Countdown ended up ninth in the class. Sandy Ferrell, who rode to second, said Haness didn't really worry about the mistake. "He was so worried about the trot jump, I don't think he cared about crashing the last fence. He said, 'I'm just glad I did the trot jump.' He's had the week of his career. Everyone was here cheering him on, because he kept riding so great," said Ferrell.
It's fun to watch riders exceed their expectations. So many times we see the same winners over and over, and winning seems to become rote to them. But to see someone really feel the impact of a top ribbon? That's when the job gets really fun. And the sportsmanship Haness showed, when a win that would have crowned an already amazing week escaped him, was truly inspirational.
This is part of the Chronicle's look back at 2016:
The Chronicle's top 10 most-read stories of 2016
The most popular 2016 Behind The Barn Door posts
The most-read Amateurs Like Us blogs of 2016
Our top 10 most-read Throwback Thursdays in 2016
Images Of A Year: COTH staff's favorite photos from 2016