New York City—Sept. 24
It's safe to say that no one who was seated at the Wollman Rink for the Rolex Central Park Horse Show CDI*** Grand Prix freestyle will soon forget this night. There was a historic win by Ireland's Judy Reynolds on Vancouver, and then there was Olympic gold medalist Valegro. He wasn't competing here, but his dressage freestyle demonstration with Charlotte Dujardin brought the sold-out crowd to first absolute silence, and then to tears.
"New York for me, I think for all of us, is a magical city, and this was a magical night," said Katrina Wuest, who judged the class at C. "It was a magical atmosphere, of course, and also with Charlotte performing. I think this is very important. We want to sell our sport, and we have to sell our sport to make it grow and make it more and more popular. It's a sport that's difficult to understand, and we only can sell it with these magic moments, magic feeling, magic venue."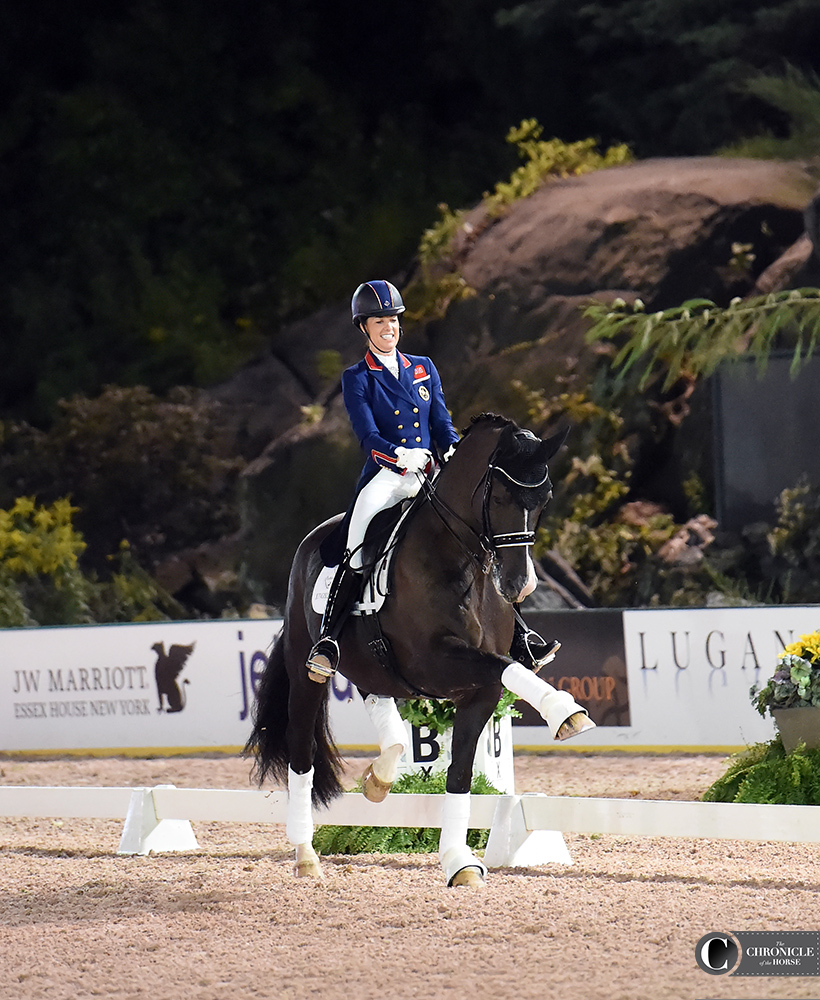 Charlotte Dujardin and Valegro. Photo by Lisa Slade.
On top of Dujardin's freestyle exhibition—performed to the pair's "How To Train Your Dragon" music and pattern—at the end of the night, announcers called people in the ring to meet Valegro. Hundreds took them up on the offer, and the gelding was quickly surrounded by spectators eager to touch the legendary horse.
Despite the massive crowd, Dujardin wasn't nervous.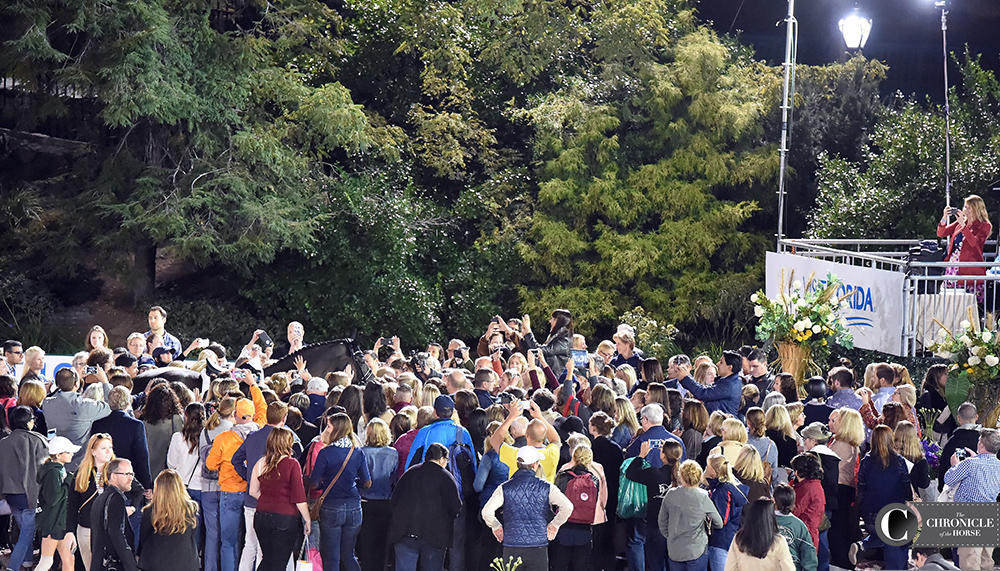 Valegro in the crowd. Photo by Lisa Slade.
"He's so good, and I know everybody's there because they love him and want to see him and pat him and kiss him," she said. "They were kissing him and hugging him, and I was like, 'Just stay away from the back end, and you'll be fine.' So he has had so many pats and kisses and hugs tonight. I don't think he'll forget!"
But before Valegro came in, there was a CDI**** class, and Vancouver K's score of 77.05 percent gave him first over Sweden's Tinne Vilhelmson-Silfven on Paridon Magi in the seven-horse class.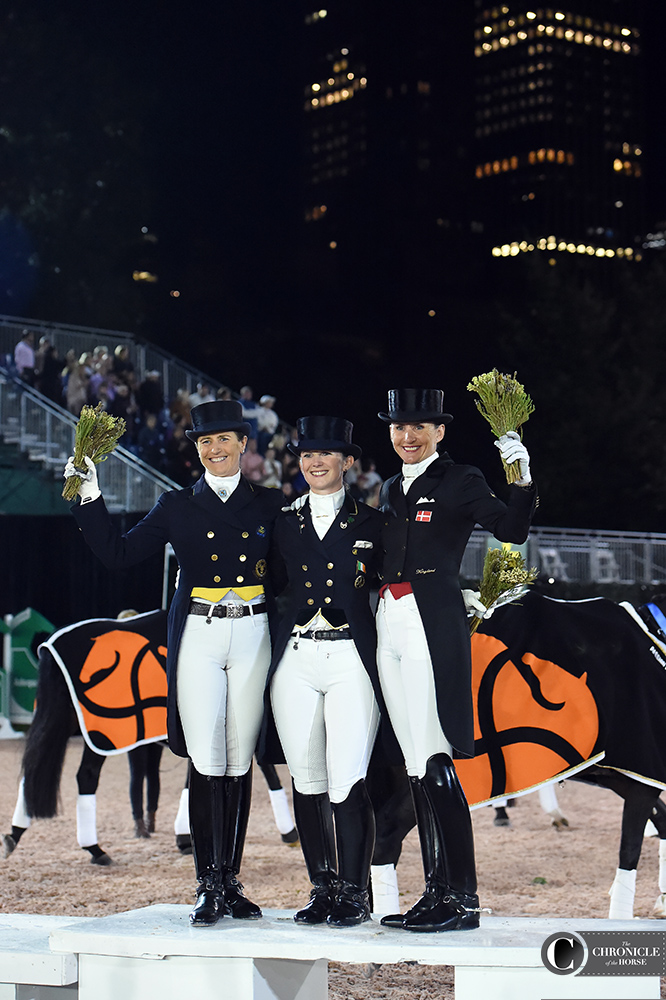 Tinne Vilhelmson-Silfven, Judy Reynolds and Mikala Gundersen. Photo by Lisa Slade.
"It was kind of surreal really," said Reynolds, whose parents Joe and Kathleen Reynolds own the gelding and were in attendance tonight. "I was probably a little bit more nervous tonight because I wanted to win again, and I knew we had the capability of doing it, so I wanted to produce the performance of the night. I put more pressure on myself, but I think its just fantastic. I certainly didn't think this was going to happen.
"I don't think [an Irish rider] has ever managed to win two classes in one weekend at a CDI," she added. "So yeah, it's nice to have done that."
Vilhelmson-Silfven brought her mount, owned by class sponsor Antoni Ax:son Johnson, from Sweden for the class.
"I was actually very proud of him today," said Vilhelmson-Silfven. "He was really working with me and on my aids, and I was spot-on the music where I wanted to be, so I had a great feeling and a greta round. I get to know him more and more and how to warm him up and make myself ready with him, so today was the first time I had a really good feeling."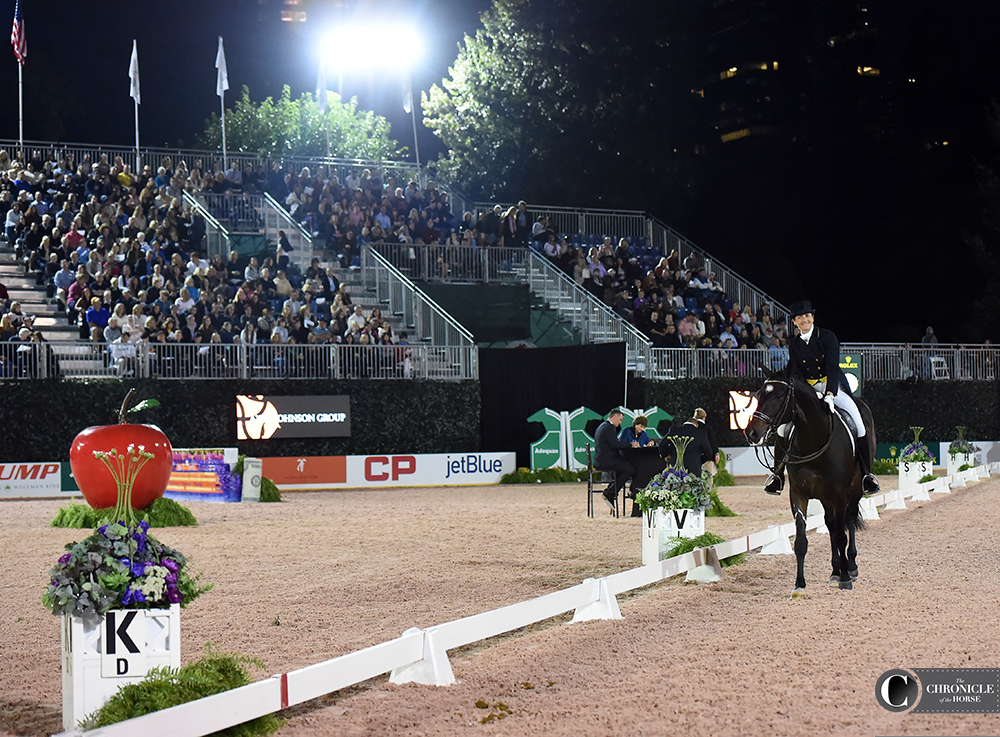 Tinne Vilhelmson-Silfven and Paridon Magi. Photo by Lisa Slade.
Denmark's Mikala Gundersen and My Lady finished third on 72.40 percent.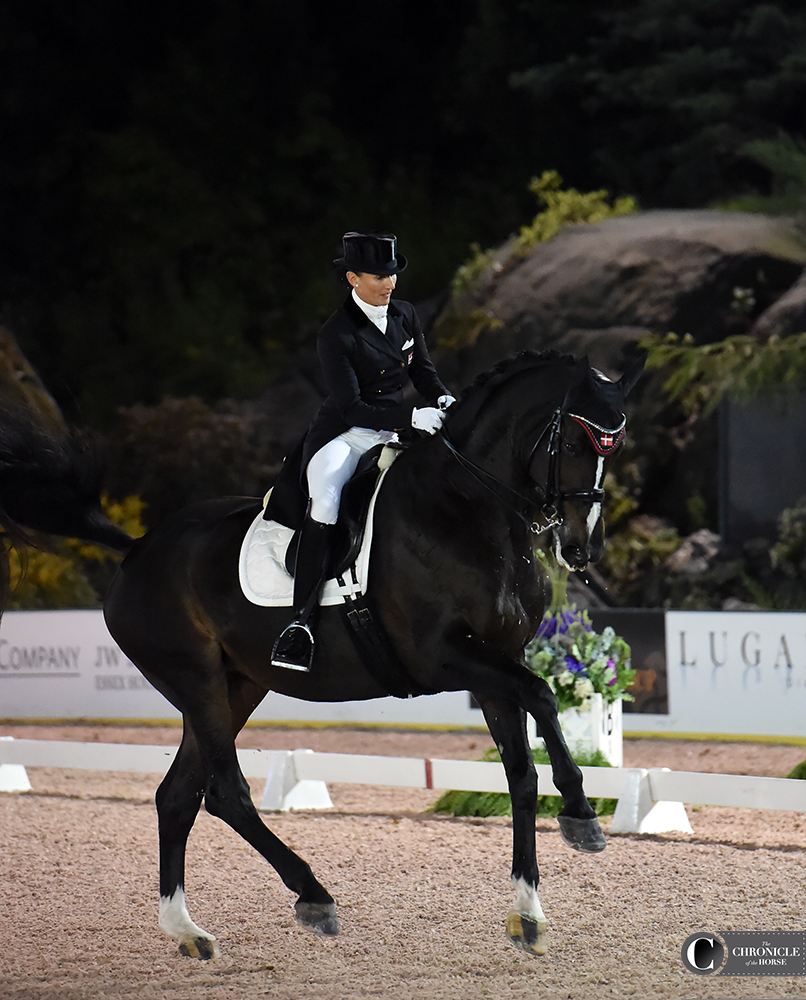 Mikala Gundersen and My Lady. Photo by Lisa Slade.
Reynolds is now staying over in the United States for Dressage At Devon CDI-W (Pa.) next week, and she's also hoping she might contest another U.S. show next year.
"To be honest he felt maybe a touch rusty this weekend, so next week will be better," she said. "And I'm really looking forward to it and starting our [FEI World Cup Dressage Final] campaign. We'll have a little break, and that will continue over the winter, and depending on how it's going, we might be back in America for the finals."
See the full results from the class: