Chilean rider Carlos Lobos Muñoz won over plenty of fans at the Rio Olympic Games with his enthusiastic celebrations aboard his mount Ranco.
The four-star first-timer negotiated Pierre Michelet's tricky course with no jumping penalties, but plenty of time on the clock, still good enough to sit a respectable 30th place going into show jumping. He picked up a single rail in show jumping to finish on a score of 96.1.
Lobos earned an invitation to represent Chile as an individual in Rio thanks to finishing fifth at the 2015 Pan American Games (Toronto). "Lobito," or little wolf, as he's known to his friends, is from a family of riders who focus on show jumping, and he swapped to eventing when he joined the military, which focuses on the discipline. He's been eventing at the Fédération Equestre Internationale level since 2006, and with Ranco he's risen to become one of the best South Americans in the sport.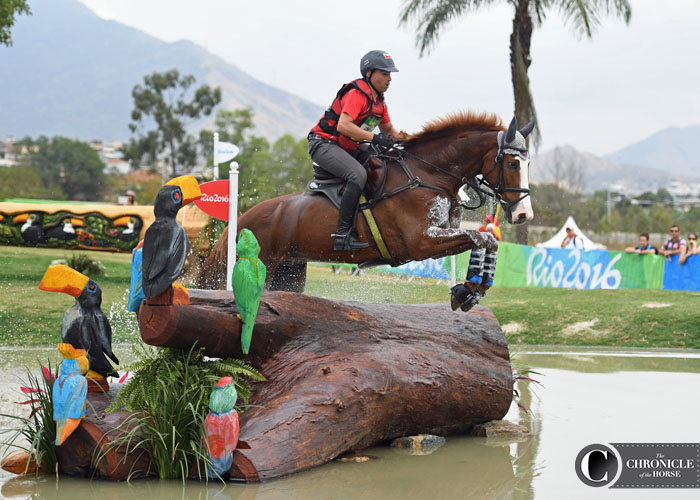 Carlos Lobos went for a safe cross-country round with no jumping penalties. Photo by Lindsay Berreth.
Lobos paired up with Ranco in 2010, just after the horse entered his first two-star competition with fellow Chilean Felipe Martinez. "We have a very special relationship," said Lobos. "We've been working together for five years, and we know each other really well. We have a perfect connection."
Ranco is a 13-year-old gelding whose FEI recording lists Chile as his place of birth but no pedigree. He's owned (and has been since 2003) by the Chilean Army.
Ranco and Carlos Lobos pulled a single rail in show jumping to finish on a mark of 96.1. Photo by Mollie Bailey.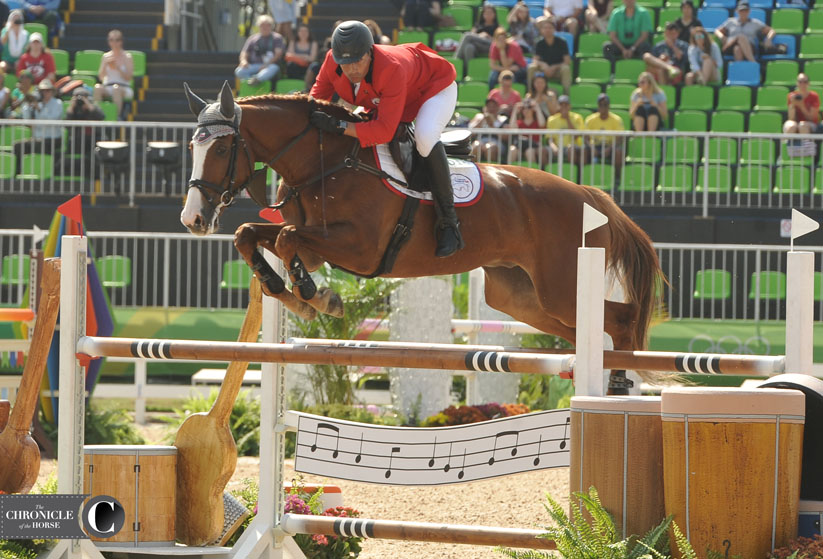 The pair won their last three competitions, two CIC***s and one CCI*** in Quillota, Chile, where he lives. He competes mainly in Chile, and also in Argentina and Brazil.
Lobos' place in the military means training is hardly his main focus. He gets up at 5 a.m. to train for the sport before his duties begin as a student at the cavalry school. He trains with Andre Parro, brother of Brazilian eventer Carlos Parro.
He was also proud to represent his country in the first games held in South America.
"There aren't many South American countries represented here, so with Brazil and Chile we're trying to show off a little bit what we do," said Lobos, 35. "In South America it's hard to actually practice eventing, so we're really trying to show that it's possible to do that and that we're having fun.
"It's helpful for the horses [to not have to travel as far], but though it's also winter here, in Chile it's much colder."
Lobos returns to Chile tomorrow to go back to work with a big smile on his face.
"I'm really happy with my first Olympic games, just thrilled to be here," he said. "It's an experience I'll remember my entire life."
Mollie Bailey and Lindsay Berreth are on the ground in Rio de Janeiro for the Chronicle and will be reporting with all the news, fantastic photos and behind-the-scenes details all posted on www.coth.com. Your go-to page for all things Olympic is http://www.chronofhorse.com/2016-Olympics
We'll have live blogs of competition sessions, Twitter updates, blogs, photo galleries, stories about each day's competition and so much more. Don't miss a thing—we'll have everything you need to know. Also make sure to follow along on the Chronicle's social media outlets: Facebook, Twitter, Instagram and Snapchat (@chronofhorse).