At the Chronicle, our main job is to cover who's winning, in stories like our coverage of Charlotte Dujardin's conquering of the Grand Prix yet again.
But there are so many other stories to be told in the mixed zone! Here are some of our favorite interviews from the Grand Prix from riders who may or may not be in the medals at the end, but who all have a story to tell!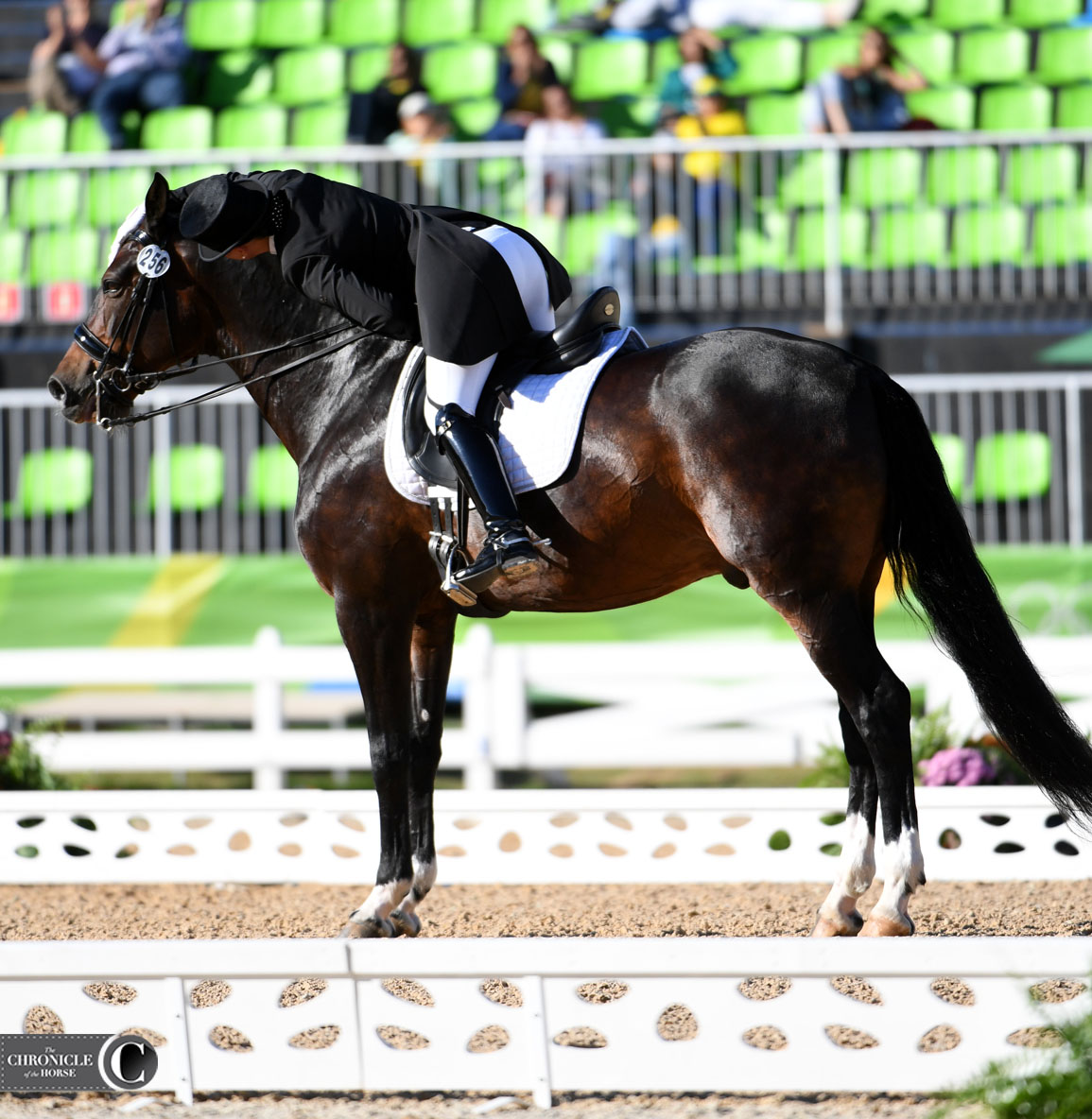 Inessa Merkulova on Mister X. Photo by Lindsay Berreth
Inessa Merkulova scored a 75.80 percent in the Grand Prix in her Mister X, putting her 14th and qualifying her to ride again in the Grand Prix Special. She's one of the two individual riders representing Russia.
The translator helping Russian dressage rider Inessa Merkulova giggled when Merkulova talked about what books she reads aloud to Mister X before they compete.
Merkulova had said that she spends about 1 ½ hours before tacking up just reading to Mister X. What kind of books? Romance. "He listens to my voice, he calms down. He's tuning in. It's a ritual for us now; he always knows it will come," Merkulova said.
Chronicle reporter Mollie Bailey joked, "50 Shades Of Gray," which caused the translator to snort with laughter. She didn't need to translate, that, though. Merkulova responded right away, in English.
"Yes, that also!"
Merkulova, who is based in Moscow, has ridden Mister X since he was very young, and this is her first Olympic Games. She said of Mister X, "He's not a horse; he's a person."
The International Olympic Committee's decision to ban Russian athletes from the Games due to doping concerns, which was reversed just a week before the start of the Games, caused Merkulova some sleepless nights. "It was unbelievable stress. It was very hard. It was a shame. I've been in the international sport for 20 years and of course I've been tested many times for doping. All the horses are absolutely clean and it would have been a shame if I had not been able to come," she said.
"We didn't know [we could come] until the horses needed to travel. My husband [Anatoli] is the general secretary for the Russian equestrian federation. So he was in touch with the FEI. And so they kept us both informed and supported us very much morally. We are very grateful to the FEI," Merkulova continued.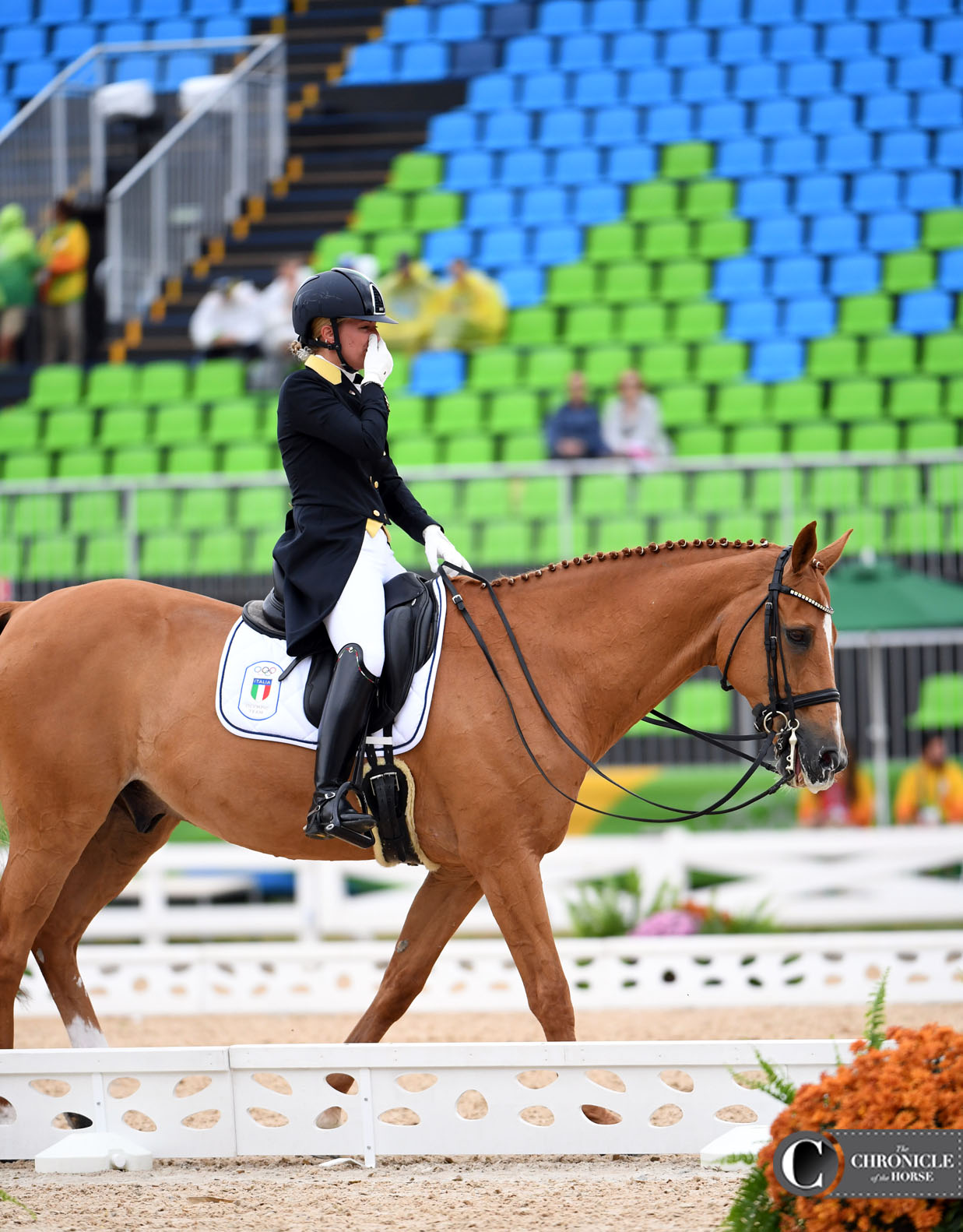 Valentina Truppa fighting back tears after her Grand Prix test on Chablis. Photo by Lindsay Berreth
Valentina Truppa, 30, is representing Italy as an individual. She rode Chablis, the 19-year-old Dutch Warmblood that she's been riding since he was 3. They earned individual gold in the 2007 European Young Rider Championships together. She and Chablis didn't qualify to continue to the Special, scoring 65.97 percent in the Grand Prix.
"He recognizes me. He doesn't like new people; he prefers girls and not boys," Truppa said. "He's not an easy horse to ride. So sometimes you have to compromise with him. He's given me many successes because I've won medals with him in Young Riders and I did well also in the big tour. He's a really good canter. I know the weak point is his piaffe, but he's my horse, he's my love. So it doesn't matter."
Truppa almost didn't get to compete when Chablis kicked himself in the stall before the first horse inspection. And last year, she had to take three months off to recover from a serious head injury in June. She was wearing a helmet when she fell. "The doctors told me that without a helmet I might not be here," she said.
"I was riding a young horse in a national competition in Arezzo, and he was scared about something outside the ring. The ground was very slippery, and he fell down and I was under the horse," she said. "It wasn't easy because I didn't ride for three months last year. I started riding again in September. It was a long way here, but I am here."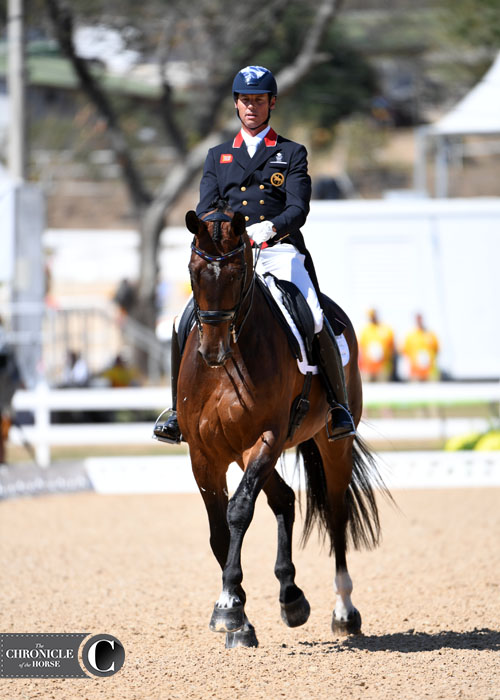 Carl Hester on Nip Tuck. Photo by Lindsay Berreth
Carl Hester didn't have exactly the test he wanted for the British team when Nip Tuck spooked during the walk. But they earned a 72.52 percent to help the Brits hold second place and to qualify Nip Tuck for the Special.
Hester joked that Nip Tuck had seen a Pokemon in the ring. "He needs glasses, I think," he said. "There was a flower on the ground right there. It's nothing, it's about that big. It's frustrating.
"I wanted a higher score, but Nip Tuck used to get that score when he was at his best. A lot of points lost, but a lot to like, too. The canter was lovely to ride, so at least I finished my test happy and I thought, 'If I can start my test tomorrow like I finish today, then I can really go for it. Because he's been really rideable all week."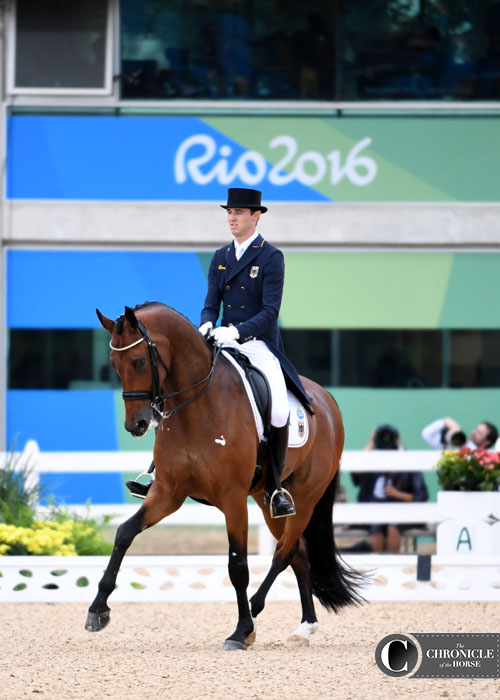 Sönke Rothenberger on Cosmo. Photo by Lindsay Berreth
Sönke Rothenberger, 22, rode Cosmo into seventh in the Grand Prix in his first Olympic appearance for the German team. Rothenberger is the son of two Grand Prix parents—Sven and Gonnelien.
Sönke's horse, Cosmo, is just 9, one of the youngest in the dressage at Rio. "The first time I sat on him as a 6-year-old every part felt amazing," he said. "But it was like a big puzzle I had to put together. Slowly step by step it's more realistic. We did our first U 25 [Grand Prix] and he won it. We did our first Grand Prix and we were second behind Isabell [Werth] and we know, 'OK this horse can compete with the top of the world.' Now he needs to get older and more experienced."
Sönke started riding dressage on ponies, then switched to jumpers. It was when Cosmo came to the Rothenberger barn that he found his way back to the little white ring. "We rode our first M class together, then we rode our first S class together then we rode our first Grand Prix, now we ride our first Olympics together," he said.
"I think because his father [Van Gogh] is a jumper and he's bred like a jumper he's like the flexible ball the way he moves," Sönke said. "That's certainly the way he feels. That's what makes him do these difficult parts of the test in such an easy manner. We've jumped him at home. He's a good jumping horse—he jumps really high, but not forward enough. Some of the eventers have said he could have been a good eventer as well."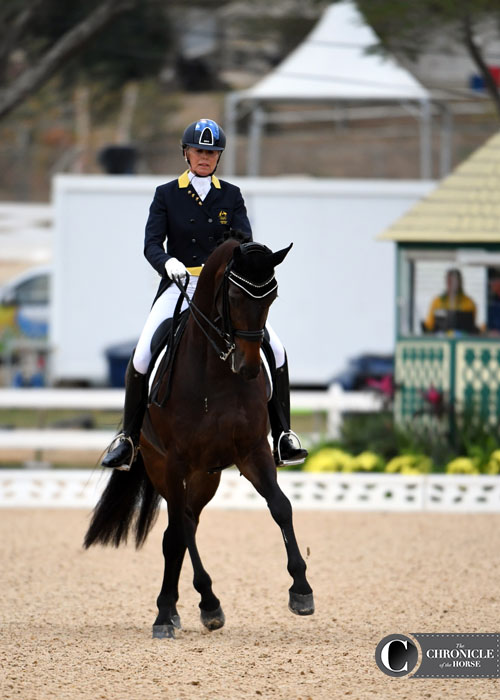 Mary Hanna on Boogie Woogie 6. Photo by Lindsay Berreth
Mary Hanna of Australia rode Boogie Woogie 6 to a score of 69.64 in the Grand Prix, which didn't qualify them for the Special, but she doesn't mind too much.
"That's by far his highest score, so it's personal best for him," Hanna said of the 10-year-old. "He's only done five Grand Prix tests in his life. So he's such such a baby. I'm hoping he'll be ready for [the 2020 Tokyo Olympic Games].
"I know there were some obvious mistakes, but my horse has only been doing Grand Prix for less than a year now. I think he's probably one of the youngest horses here. And so I'm absolutely thrilled with him. The judges are trying to give him the points. They see the quality of his work. So I really feel very positive.
"He's been a little bit of a child delinquent. He one bolted on me at a show. The only thing that stopped him is he went on the grass before a fence and a load of gravel; I'm very glad he stopped. He hasn't been the most easy and reliable of rides. He has been known to dump a few people. He's just come a long way to being a disciplined well behaved young man now, only making a few mistakes."
Yvonne de Losos Muniz was the bottom finisher in the Grand Prix, in 59th with a 61.30 percent on Foco Loco W for her country of the Dominican Republic.
"I've had a lot of trouble with this horse in the ring, so I was happy to stay in the ring to be honest!" she said. "But I was just like, 'Yay, I finished.' It's all good. I had different goals here than the majority. I'll let everyone else do the good stuff.
"He's very green and he's very spooky so what I had to do is really keep him together. Because he was a bit green he misunderstood keeping him together and he pulled back too much. But he's young, he's a horse that has incredible talent and tries too hard," de Losos Muniz said. "When he's nervous he does a little bit too much sometimes. It's not yet the right too much that I want."
De Losos Muniz is the first rider to represent the Dominican Republic at an Olympic Games. "Every time I got knocked down I just bounced back up. This is my first, but definitely not my last," she said. "Thank God I'm in a sport that I can go on forever, I'm sorry to say to my husband. For here I just came for the experience ands see what it's all about. I've been in many Pan Am and Central [Games]. But this is an entirely different experience that doesn't even compare to the other games. I'm floored. It's been fun the whole experience."
Mollie Bailey and Lindsay Berreth are on the ground in Rio de Janeiro for the Chronicle and will be reporting with all the news, fantastic photos and behind-the-scenes details, all posted on www.coth.com. Your go-to page for all things Olympic is http://www.chronofhorse.com/2016-Olympics
We'll have live blogs of competition sessions, Twitter updates, blogs, photo galleries, stories about each day's competition and so much more. Don't miss a thing—we'll have everything you need to know. Also make sure to follow along on the Chronicle's social media outlets: Facebook, Twitter, Instagram and Snapchat (@chronofhorse).