Well, I'd say it was an overall good day for camp America at the Pau CCI****. There were some brilliant rounds, but sadly a few heartbreakers. Hannah Sue Burnett's Harbour Pilot slipped coming around a turn at the first water, and they both ended their day early there. Kristi Nunnik and the lovely R-Star jumped the wrong option at this same water and also had a shorter trip than they would have liked. Good news is both horses and riders are absolutely fine and are just annoyed and hungrier for more!
Michael Pollard almost had a foot-perfect round on Mensa, but just narrowly missed a flag at one of the turning wedges at 20AB. He made most of the course and especially the last water—which I fought incredibly hard for—look like a simple gymnastic… except it was hanging rails to a rolltop drop into water to a right-handed corner 90 degrees to a wedge 90 degrees to another right handed corner all on a related serpentine/circle. Makes me tired just thinking about it!
The Americans have four in the top 12 going into show jumping, due to fast clear rounds from Marilyn Little and Phillip Dutton, and double clears from Clark Montgomery and myself. Phillip is in the closest striking distance to William Fox-Pitt, who is somewhat unsurprisingly, but still remarkably, is in first, second and third on all three of his mounts!
Our North American friends in camp Canada also had two clear rounds today from Shandiss McDonald and Hawley Bennett-Awad. Sadly Peter Barry had some trouble with Eddie later in the course.
As for my own horse, Donner the deer, I'm absolutely floored with him. He's just 10 this year, still green at times but has a heart of gold, is an incredible athlete and is an off-the-track Thoroughbred made to run and jump. He LOVES his job…at least this part of it. He had the fastest round of the day (although I promise that wasn't our end goal!) and this was his second double clear on cross-country at the four-star level this year.
The fact that we've built a partnership together from the beginnings of his eventing career makes it even more special. It also comes in extremely handy on a course like today, because you need 110 percent of your horse's trust.
Rolex Kentucky this spring was a beautiful, smooth, effortless round for him. Today at Pau took quite a bit more work. It was one technical combination after another, and there was never a second in the 11:48-minute course you could ease up and take a mental break (and definitely not a physical one!).
It was very flat but packed with question after question either on mounds or severe turns or off of completely blind ones. No amount of schooling can ever fully prepare you for a track like this. You do your homework as best you can, and then you get to find out on the day whether or not it was enough.
I feel like Donner not only passed the test, he kept learning and gaining more confidence as the course went on. After he skipped around Kentucky this spring I felt like I had a good cross-country horse. I now feel like I have a way more mature, educated, brave, GREAT one, and I'm really excited for his future.
I was disappointed after the dressage yesterday. He scored a 53-something, not a bad score, but definitely not a winning one. I thought he put in a really good effort. We made one small mistake on our first entry/centerline, but it only takes one bad first impression to lose the judges.
Donner put in a really good test, but he doesn't move like a warmblood, so we have to be that much more accurate to stay competitive. Luckily, we had a few tricks up our sleeve today and came back with way more gas in the tank than most others. I will take a below average trot any day of the week to have the feeling I did cross country today. That being said, there is more work to be done in the white box still. Sorry Donner!
We jog tomorrow morning and show jump later afternoon. I honestly don't know what to expect. He's a good jumper, but this is the hardest, longest cross-country he's done to date, and he ran faster than he ever has. It can take a toll on their bodies no matter how good they feel on course.
I also worry about the atmosphere with him. Donner is very sound-sensitive, and quite affected by atmosphere that makes him feel claustrophobic. He jumped a great clear show jumping at Rolex, but that stadium doesn't makes the horses feel as close to the crowd. Here, the ring is only lined by fence boards. While there is some stadium seating, it's is more like fancy covered bleachers, and people can get right up on the side of the ring, which he can't stand.
He's a good jumper, but when he starts to focus on outside stimuli, he can get flat in his shape. I'm going to do the best job I can tomorrow to help him with his nerves, and hopefully he isn't feeling too tired after the almost 12-minute course today.
Here's hoping for sound, good-jumping ponies tomorrow. Cross your fingers for North America, and for Donner!
Lynn Symansky and Donner earned a team gold medal for the United States at the 2011 Pan American Games. They were fifth at the 2013 Rolex Kentucky CCI**** and won The Fork CIC*** (N.C.). Symansky runs a training and teaching business in Middleburg, Va. Read Lynn's first Pau blog, Donner Is More Than Ready For France, her second, Of Wine, CrossFit And The Mental Game: Four-Star Prep In France, and her third, Now, We Get Serious.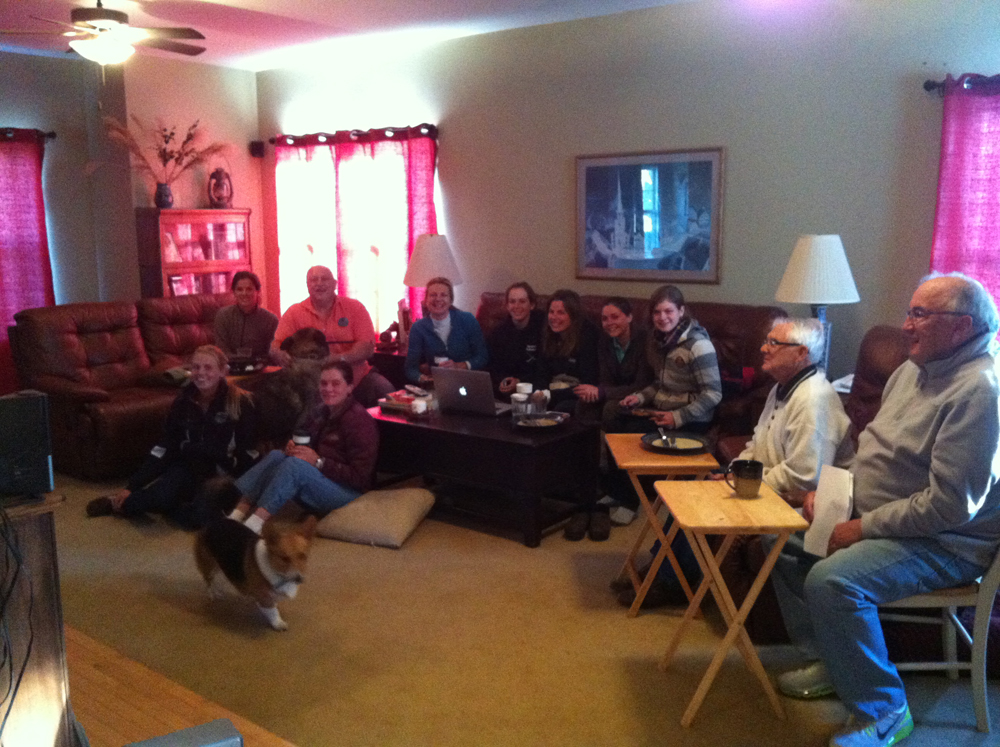 My dad had a Pau viewing party for some supporters back home. I want to give them all a huge thank you…Their support means so much to me! These pictures made my day complete.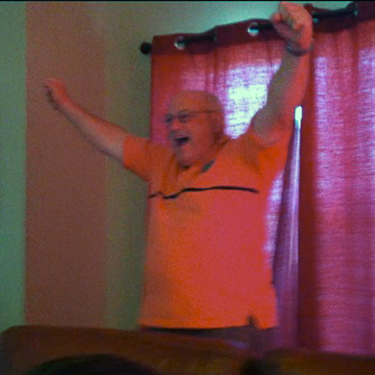 This is my dad having a celebratory cheer!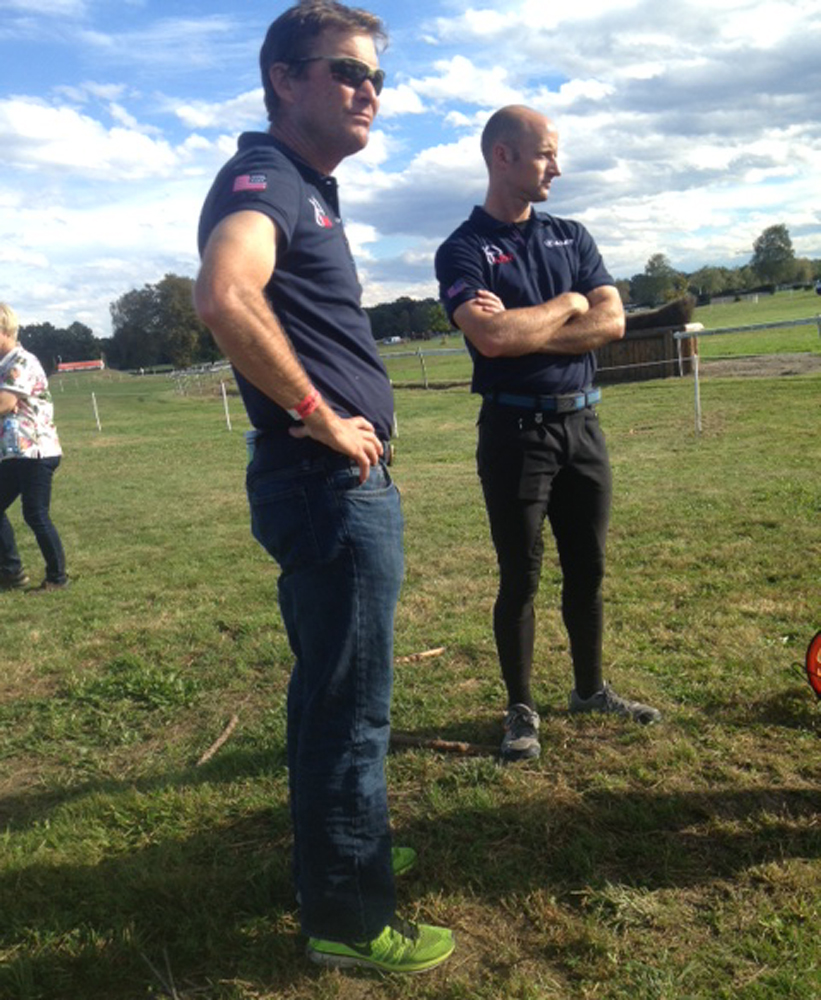 Phillip Dutton and Michael Pollard contemplating the course.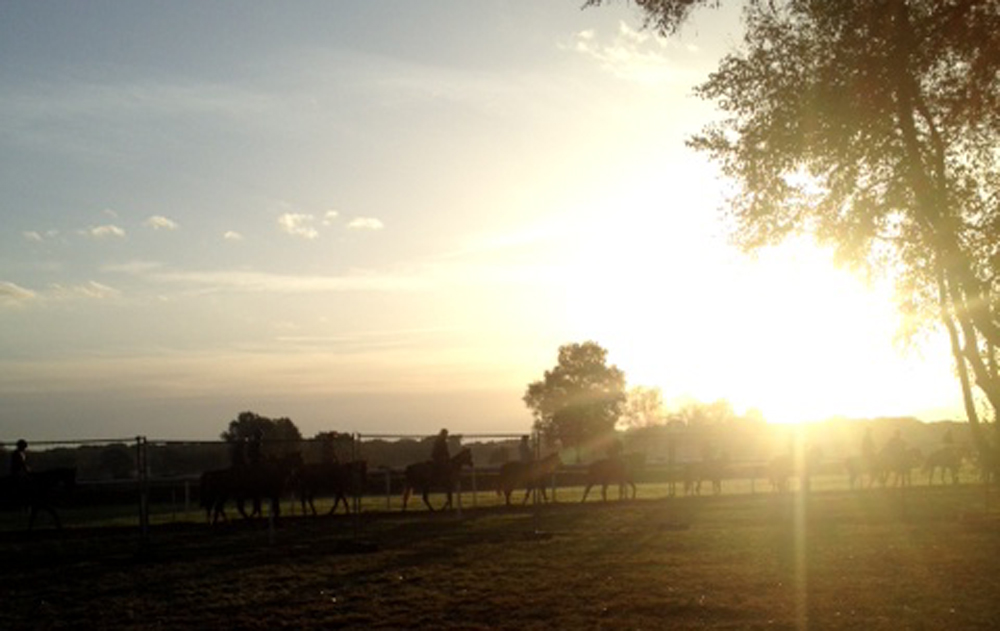 Over 600 horses lived at the Pau venue where a large portion of the cross-country ran. We had to wait until an hour before our cross-country started to walk this part of the course since they are worked there every day.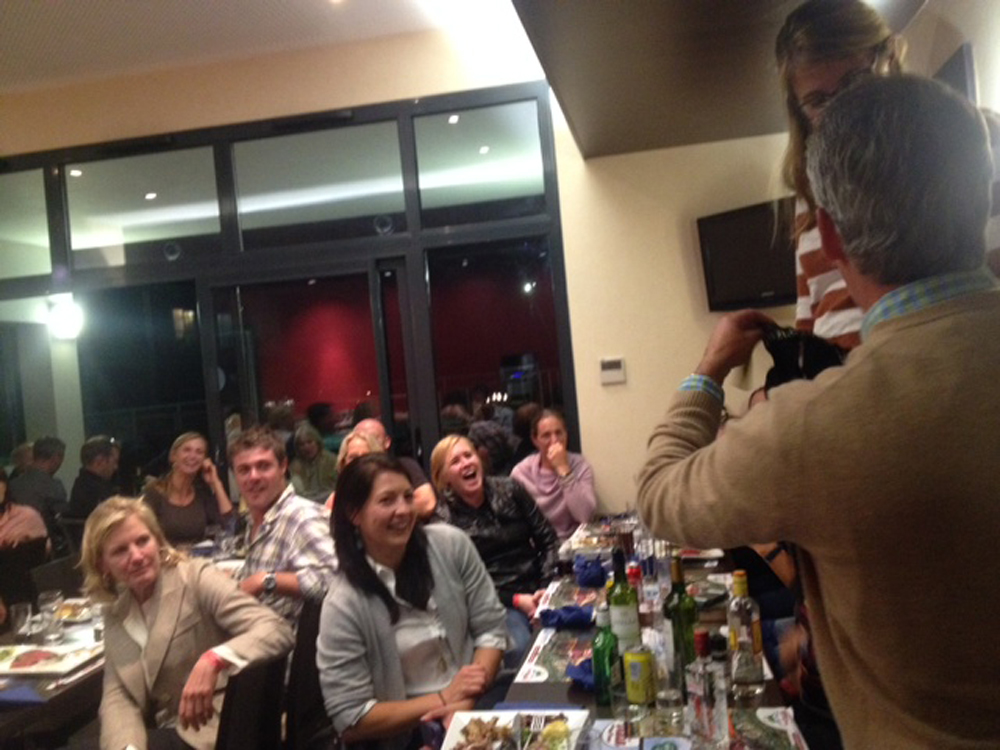 We celebrated USEF Managing Director of Eventing Joanie Morris's birthday during a team dinner.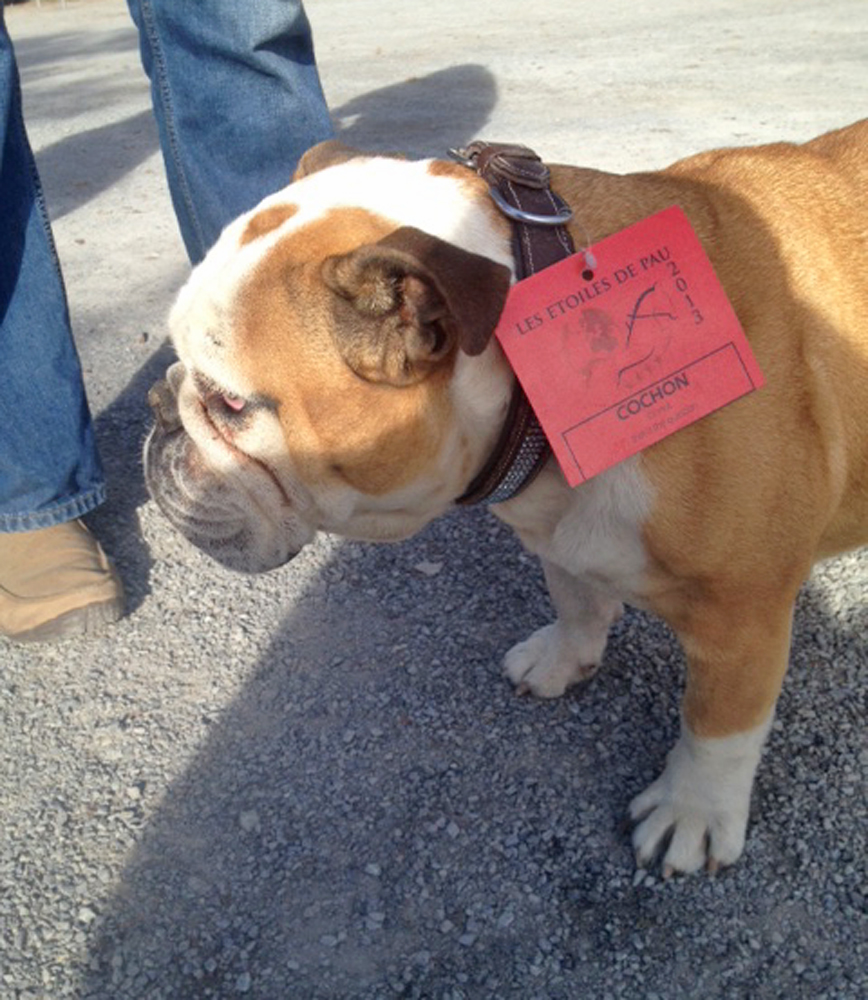 My favorite show dog. Supposedly "cochon" means "pig?"