Pau, France—Oct. 26

In a stunning feat, William Fox-Pitt showed the world how Pierre Michelet's cross-country course was meant to be done at Les Etoiles de Pau CCI**** today, riding all three of his mounts—Seacookie, Cool Mountain and Neuf de Coeurs—to the top of the leaderboard, respectively.
While overnight leaders Lucinda Fredericks and Flying Finish of Australia faltered, the British legend put in three double-clear rounds over a track that many nations consider a preview of Michelet's 2014 Alltech FEI World Equestrian Games (France) course.
"They were foot-perfect," said a chuffed Fox-Pitt of his three entries, who stand on scores of 41.5, 42.2 and 43.2. "They're all horses I know well, and they're all good jumpers."
But Fox-Pitt will have no rails in hand tomorrow, and that means Phillip Dutton and Mr. Medicott, who came in clear just 1 second over the time and now stand fourth on 44.6 penalties, will be able to apply some heavy pressure.
"It was good; obviously he's a great horse," Dutton said. "I'm still trying to get to know him, and we were trying to go fast without making a silly mistake."
Though he would have assuredly come in under the time had he successfully navigated the direct route at the final combination, Dutton chose to play it safe and take the long way, like most riders.
"This wouldn't be the ideal course for him, but he got better and better as the course went on," he said. "It gets better with each time. He's got to get to know me and my reactions, but I think this weekend is good for us."
Three other U.S. riders cracked the top 12 as well. Clark Montgomery, the team's pathfinder, got his fellow Americans fired up with a double-clear go aboard Universe that eventually slotted them into ninth place (52.0). Then Lynn Symansky followed up with the fastest round of the entire day aboard Donner; they stand 12th on 53.3 penalties.
Marilyn Little and RF Demeter also moved up to 11th (52.8) after logging just 1.6 time faults.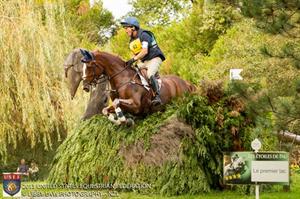 Phillip Dutton and Mr. Medicott led the U.S. charge at the
Pau CCI**** today, cruising to fourth place with just .4
time faults on cross-country. Photo by Libby Law/USEF.
Fortune failed to favor some other U.S. riders today, however. Michael Pollard and Mensa G picked up 20 faults in a fly-by at 20B; the set of skinny, brushy chevrons caused faults for five other horses, including two of Andrew Nicholson's mounts. Pollard also tacked on 24.6 time penalties, so he dropped to 47th place on his score of 100 flat.
After standing tied for 11th following dressage, Hannah Sue Burnett's weekend ended early when she fell from Harbour Pilot on a slippery turn into the first water complex that wreaked havoc on many riders.
"William slipped badly after fence 6A, and I couldn't pull myself back on," Burnett reported.
But even some horses who found a good spot on the footing there seemed to struggle.

"Horses didn't seem to read it that well," Fox-Pitt said of the combination. "There were all sorts of ways you could approach it, and it was interesting to watch. By contrast, it was amazing how well horses coped with the last water. You don't meet many fences with five elements, under trees and involving water, but it just shows how good our horses are now."
While the online results have Kristi Nunnink and R-Star listed as retired at the first water as well, the pair actually picked up a technical elimination there. R-Star ran out at the first element, and Nunnink accidentally jumped the wrong fence when she tried to shoot for the option afterward.
California-based Canadian rider Hawley Bennett-Awad called Gin & Juice's dressage performance (49.5) "by far the best she has been, ever," but today they came in slower on the clock than usual. "Ginny" gobbled up the course as hungrily as ever, but Bennett-Awad noted on her Facebook page that she lost some time when their jump into the last water ended up being much more of a launch than she'd expected, and she ended up needing to take the option out. The pair picked up 13.2 time faults and stand 23rd.
Her fellow Canadian Shandiss Wewiora also jumped around clear but picked up 42 time faults to drop to 46th place (94.5). Peter Barry fell from Kilrodan Abbott at 24, The Balcony Before the Lake, after a stop earlier in the course, but both horse and rider walked away. Kathryn Robinson, a Canadian rider based at Cranford Stud in England, was also eliminated for falling from Let It Bee.
Fredericks and Flying Finish, who'd led the dressage on 39.2 penalties, glanced off a skinny at the final water. Andrew Nicholson and Quimbo, who'd been fourth overnight, suffered the same fate as Pollard at Fence 20. Nicholson also faulted there with Viscount George and then retired him after a second stop two fences later.
Nicholson only narrowly missed getting another jumping penalty with his last ride, Mr. Cruise Control, at the penultimate fence. He chose the short route there over a corner off a tight rollback, which most riders avoided. Mr. Cruise Control lost much of his impulsion and only just managed to get his shoulder inside the white flag, taking it down as he drifted far out to the left. But officials allowed him to gallop on and finish just 2 seconds over the time, and Mr. Cruise Control now sits in sixth place.
Lucy Wiegersma, who'd been sixth after dressage (43.8), retired Simon Porloe after one stop at the slippery first water.
Officials pulled up Frank Ostholt and Little Paint (eighth in dressage; 44.7) after the horse began flagging near the end of the course. His entire hind end had slipped out from under him coming down to the first water, and as the course went on he began to tire visibly. He stopped at the B element of Fence 28, an up bank to a brush, and then barely made it over the option fence in his second attempt. Officials stopped the pair on the gallop to the next fence.
Pau Cross-Country By The Numbers:
75 starters
53 completions
36 clear rounds
9 double-clear rounds
29 riders had only one refusal
2 riders had two refusals
1 rider incurred three refusals
11 eliminations
8 retirements
7 rider falls
3 horse falls
Learn more about the Les Étoiles de Pau CCI***. For start times, results and a breakdown of faults by fences, click here. Stream the event live on FEI TV.
Follow the 2013 Land Rover U.S. Eventing Team.