Well, the event is getting closer. It's been nice to have this bit of down time in our own little world in France, working on some last-minute preparations before we head to Pau for the four-star.
We've been riding through and filming our dressage tests and then watching our rides, and setting up some jump exercises similar to what we think we may run into at Pau…minus the enormous mounds, tight galloping lanes, and atmosphere.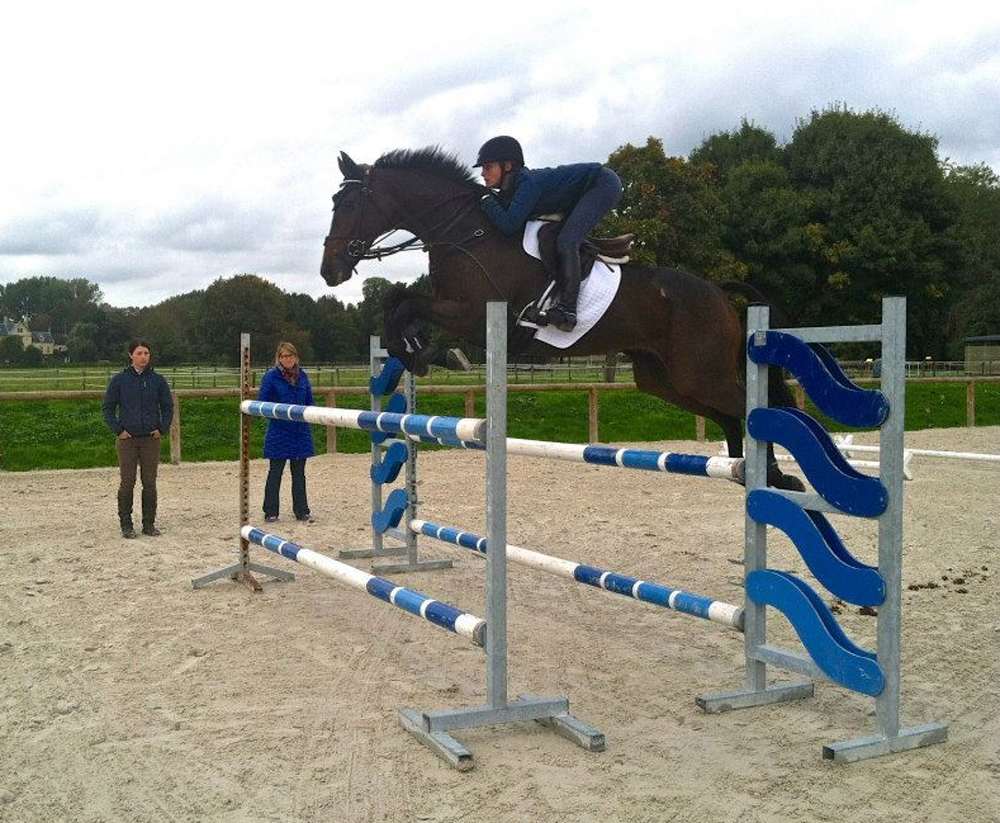 A quick jump school of Donner and me.
Photo by Alison Wilaby
I'm simultaneously apprehensive and excited to see how Donner handles Pau, but there's only one way to find out! I'm really thankful for this opportunity to expose him to atmosphere he's never encountered before, against a competitive field we've never seen before, on a course designer's track I've never walked around or ridden before. There's no better chance to test that out than on Pierre Michelet's CCI**** track, especially since he's designing at the [Alltech FEI World Equestrian Games] next year.
We've created barn happy hour in the late afternoon, and have used it to have some fun and get to know each other even better. There's no better way to do that than some French wine and a good game of Cards Against Humanity.
Michael Pollard is also conducting CrossFit workouts for any grooms and riders who want to join in (or who he can rope into joining him). It's a great way to stay fit, especially since we're used to being much more active and riding multiple horses a day. It's also a great way to mentally decompress.
Michael Pollard (right) is conducting CrossFit
workouts in the afternoons.
Photo by Lynn Symansky
While it's been nice to focus on just one horse, if you sit around for too long thinking about it, you tend to overanalyze. Riding is just as much of a mental game as it is physical. Each rider is different in his or her mental game.
Some do best and thrive under intense pressure, others struggle to find ways to block out all outside pressure and perform as though no one is watching, and yet others acknowledge their nerves by joking around and staying lighthearted. There is no correct uniform mental game for each rider—we all try and do what works best for each of us.
It's not easy to stay true to that when you're overseas training alongside people you don't normally train with every day, because you start to pay attention to what they're doing. At this stage in the game, you have to be careful to use this as a way to learn, rather than change your training routine and second-guess yourself. You're not going to move mountains the week before a major competition. After all, whatever you're doing has obviously worked to some degree and got you here in the first place, so your have to trust and believe in that. At least that's what I'm going with!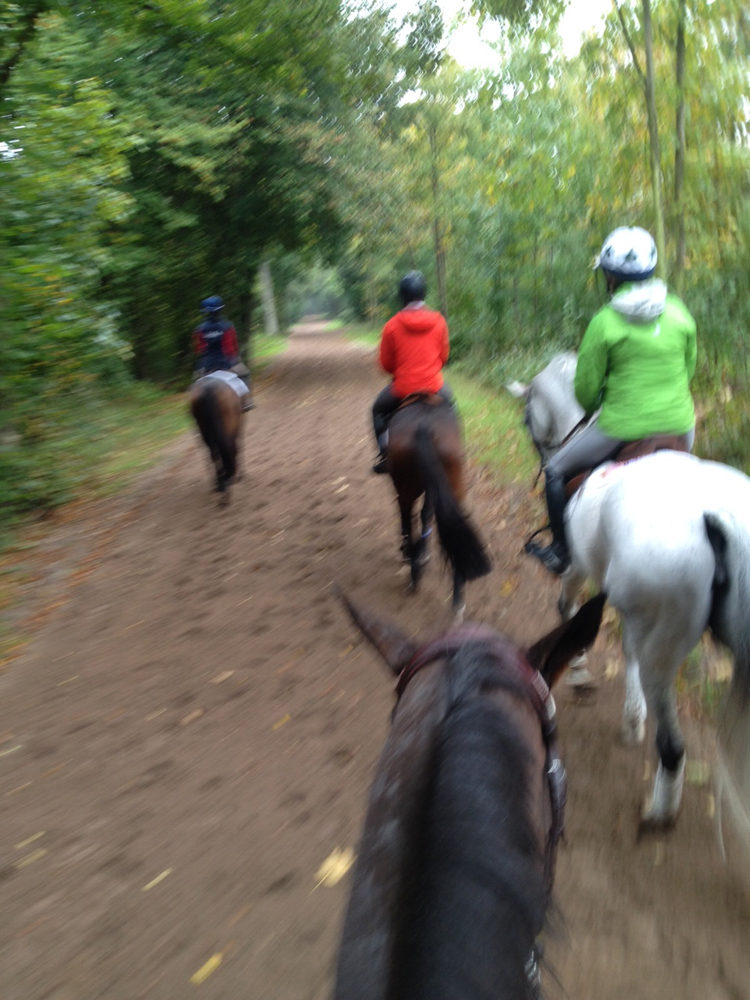 We get to hack out on gorgeous
paths through the woods.
Photo by Lynn Symansky
We all have our final gallop today. We'll have some last minute practice in the dressage ring here on Sunday, and the horses then ship to Pau through the night on Sunday. Donner has been feeling great, so hopefully he continues to stay well through the trip and on into next week. Fingers crossed for the USA!