Greetings from France! The Pau CCI****-bound U.S. and Canadian horses are all settled in at the gorgeous Fursan Equestrian facility in Chantilly, France, for the next few days until we ship 10-plus hours to Pau on Monday.
Donner is a bit tight and wild at the moment, but he's relaxing more and more with every ride. While a flight to Europe takes a lot out of some horses, unsurprisingly it seems to have had the opposite effect on mine.
A sensitive, spooky, fit, off-the-track Thoroughbred, a plane ride, and working out of a new facility right before heading to a four-star can be a fine art to master. I definitely haven't mastered him, but I like to think I'm starting to figure him out more with every season.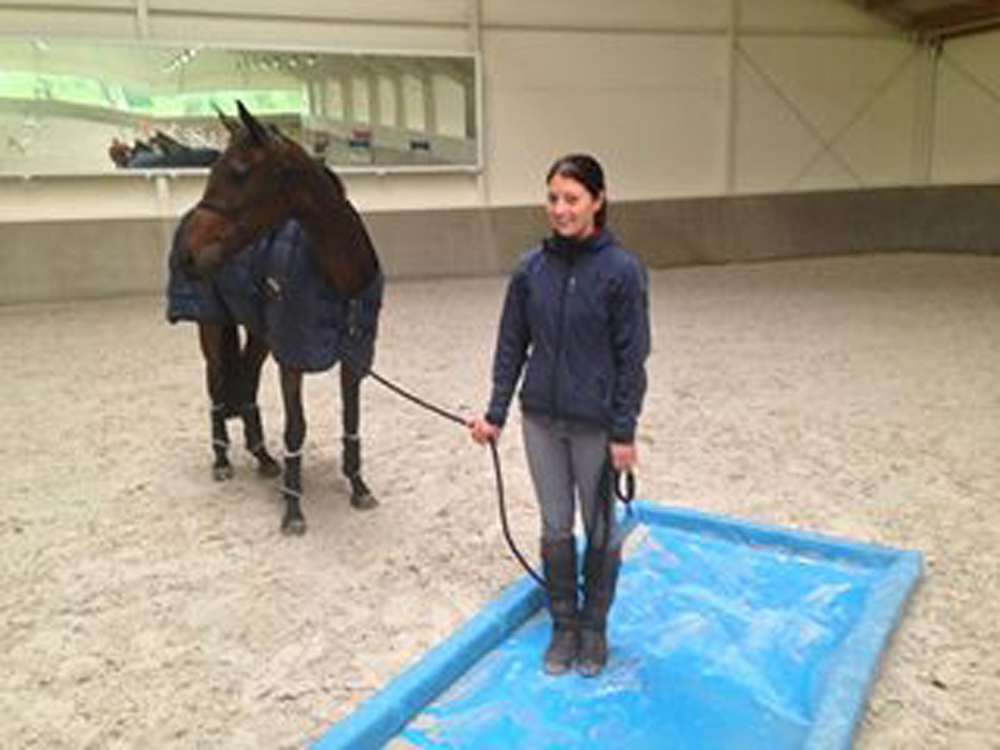 Katie Thornton does some
de-sensitizing with Donner.
The facility where we're temporarily based is absolutely gorgeous, as is the town. We've all had a chance to pick an individual training regimen depending on each of our horse's needs. There are several rings with fantastic footing, an amazing indoor with a viewing area that resembles a night club, and an endless supply of tracks to gallop on.
We're headed to have a little canter today right in the middle of town, which sounds a bit odd unless you're based right in the heart of the French racing community. They have both flat and steeplechase tracks tucked away in every neighborhood. It's as if Aiken, S.C., and Lexington, Ky., got together to make a hybrid town, but added history, breathtaking architecture and a few castles.
A bunch of us just had a fun evening over drinks, dinner and way too many laughs at the chateau just down the road. We have a really good group of riders, grooms and supporters here, and it's honestly really nice to be able to focus on just one horse for a change and even have a little bit of free time.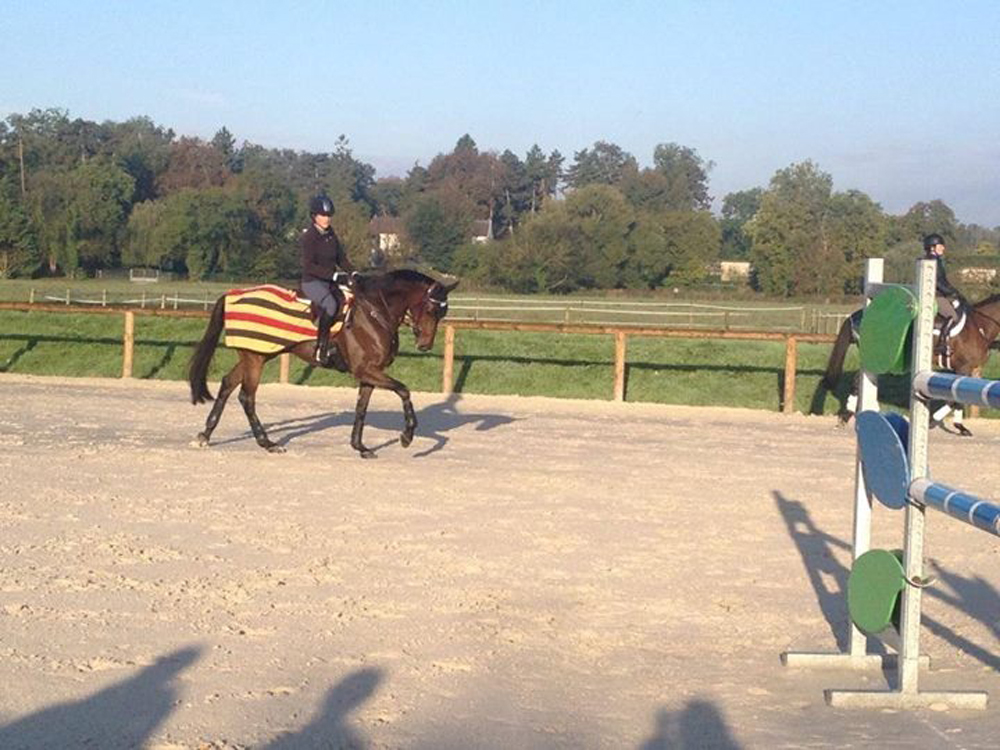 Donner and I in a schooling session.
Photo by Joanie Morris
I'm here for the most important competition of Donner's life to date, but it actually feels like I'm on a bit of a holiday. I promise you I won't be saying that in a few days time, but I'm enjoying it for the time being.
Lastly (but most importantly) I owe a HUGE thanks to quite a few names. First and foremost, Jacqueline Mars' outstanding generosity provided me with a grant to compete at Pau, and I am so incredibly grateful for this opportunity. Donner and I wouldn't be here without the Jacqueline Mars grant and the amazing support from so many people who attended and donated to our Pau fundraiser.
A big thank you to my amazing sponsors SpectraVet, Southern States, Triple Crown, CWD, ThinLine, Animo, Uckele, Rebound, WOW! Graphic Designs and Equiotic, who have all kept Donner and I going with their fantastic products.
Virginia Equine Imaging, Randy Pawlak, Angie Cooney and Maddy Meyers have helped keep Donner in great physical shape.
And last but not least a major thanks to Rachel, Liza, Ashley and Ally for keeping everything going back home while I'm away, and America's favorite Canadian Katie Thornton for coming to be Donner's super-groom for Pau.
As for my parents, my mom is headed to Pau to come cheer us on in a few more days time. My dad on the other hand is far too nervous to even consider coming to watch. He will be following from his favorite place on earth…right at home in front of his computer screen. I hope I can do everyone proud!
Lynn Symansky and Donner earned a team gold medal for the United States at the 2011 Pan American Games. They were fifth at the 2013 Rolex Kentucky CCI**** and won The Fork CIC*** (N.C.). Symansky runs a training and teaching business in Middleburg, Va.
There's a CASTLE where we are!

Mr. Medicott and Kilrodan Abbot chilling their
legs out in a riverbed after a gallop.

There's a large contingent of riders, grooms and staff
from the United States: from left to right
Katie Thornton (Donner's groom), Joanie Morris
of the USEF, me (!), Hannah Sue Burnett,
Michael Pollard, and Sara McKenna (Harbor Pilot's groom).

Hannah Sue Burnett on Harbor Pilot and me on
Donner, out for a hack.