Luhmühlen, Germany—June 14
Nobody came close to Japanese rider Kazuma Tomoto with Brookpark Vikenti (25.2) in today's second half of the Longines Luhmühlen CCI5*-L dressage, but U.S. amateur rider Frankie Thieriot Stutes was able to slot into third place with Chatwin, scoring a 28.8 in their first five-star.
New Zealand's Tim Price and Ascona M (25.8) remained in second place from yesterday.
Stutes was elated after her test today with The Chatwin Group's 11-year-old Oldenburg gelding (Contendro I—Oktav, Oldtimer). "I am so happy about our fabulous dressage score!" she said. "Chatwin is a German horse and has competed here as a 5-year-old. It's brilliant to know that he's back competing here as an experienced horse. He is so special, and I am very fortunate to ride such a lovely athlete."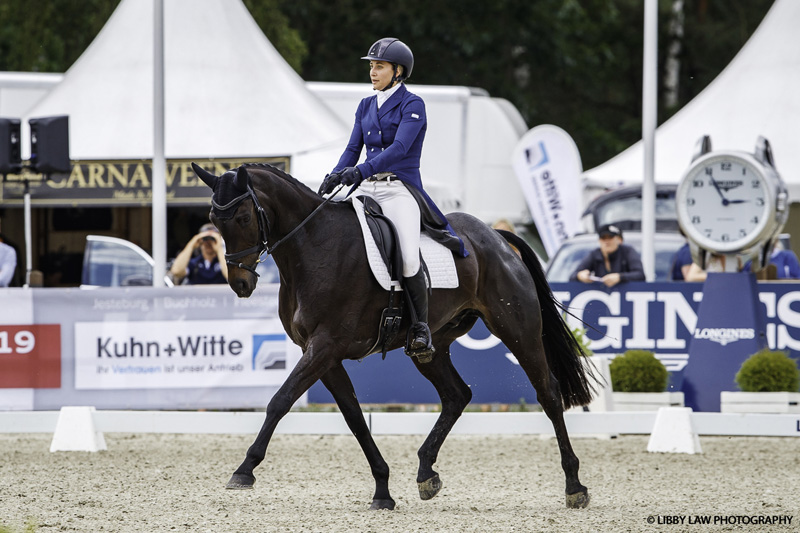 Stutes and Chatwin were the only combination in the world to win two CCI4*-Ls last year—at Rebecca Farm (Montana) and the Dutta Corp. Fair Hill International (Maryland). The gelding is her only horse, and she spends her days running her public relations company Athletux and handbag company Frankie Cameron and raising her two young children, Drake and Kingsley, with husband Mike Stutes.
Frankie is excited to tackle tomorrow's Mike Etherington-Smith-designed cross-country course.
"I've never ridden at five-star-level, so facing so many technical questions is new for me," she said. "It requires obedient horses. Chatwin is naturally fast, and I think the course suits us. I think we will have fun going round."