Luhmühlen, Germany—June 13
Japanese rider Kazuma Tomoto dominated Day 1 of dressage at the Longines Luhmühlen CCI5*-L with Brookpark Vikenti (25.2).
He is currently followed by newly minted world No. 1 Tim Price of New Zealand with Ascona M (25.8) and Great Britain's Alexander Bragg with Zagreb (29.7).
Tomoto's been campaigning Japan Racing Association's 11-year-old Irish Sport Horse gelding (Master Imp—Tullineaskey Butler's Simon, Ballysimon) since 2016, and they most recently won a CCI4*-S section at a challenging Chatsworth (England).
Tomoto was over the moon after his performance this afternoon. "I can't believe we took the lead today," he said. "This morning my horse was slightly tense, so I tried to make her feel as relaxed possible. The horse is naturally a very good mover, so my plan worked out!"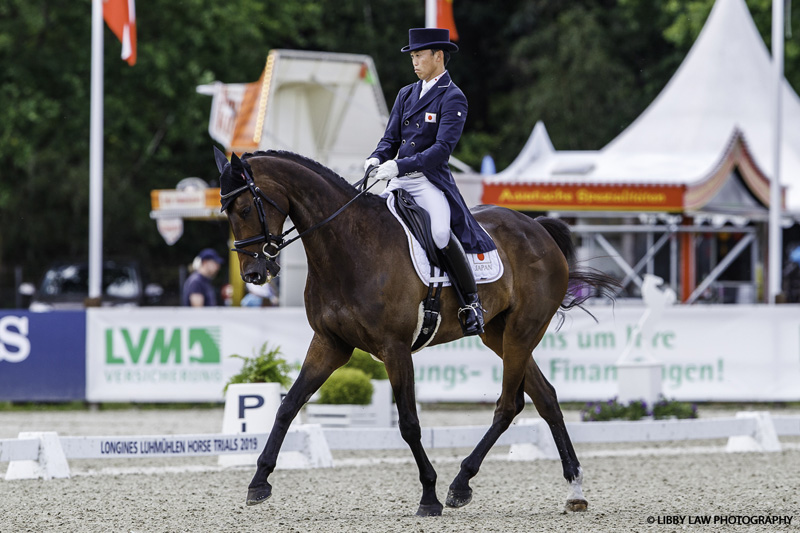 One of Japan's leading event riders, Tomoto competed on their fourth-placed world championship team at the 2018 FEI World Equestrian Games (North Carolina) with Tacoma D'Horset and recently completed his first five-star with the gelding at the Mitsubishi Motors Badminton Horse Trials (England) in May.
Price was equally happy with his mare Ascona M, an 11-year-old Holsteiner (Cassaro—Naomi, Carpaccio) owned by Suzanne Houchin, Sir Peter Vela and Lucy and Ben Sangster. They're coming off a CCI4*-S win at Tattersalls (Ireland).  "I am very glad my horse was performing the way she did today," he said. "I didn't want to risk too much, and she could have been a little more uphill. But she was concentrating on the job, so I am very pleased."
Both of the leaders have had a chance to look at Mike Etherington-Smith's cross-country. "I think it's a typical CCI5*-L course," Tomoto said. "There are many technical questions and a lot of turns along the course which require well-ridden horses. However, the fences are not too big, and I am looking forward to riding my naturally fast horse round this beautiful course."
"It's a technical course with plenty of questions and variety," Price added. "The grounds have been beautifully prepared, providing the best possible basis for this exciting course. Staying within the optimum time, however, might be challenging."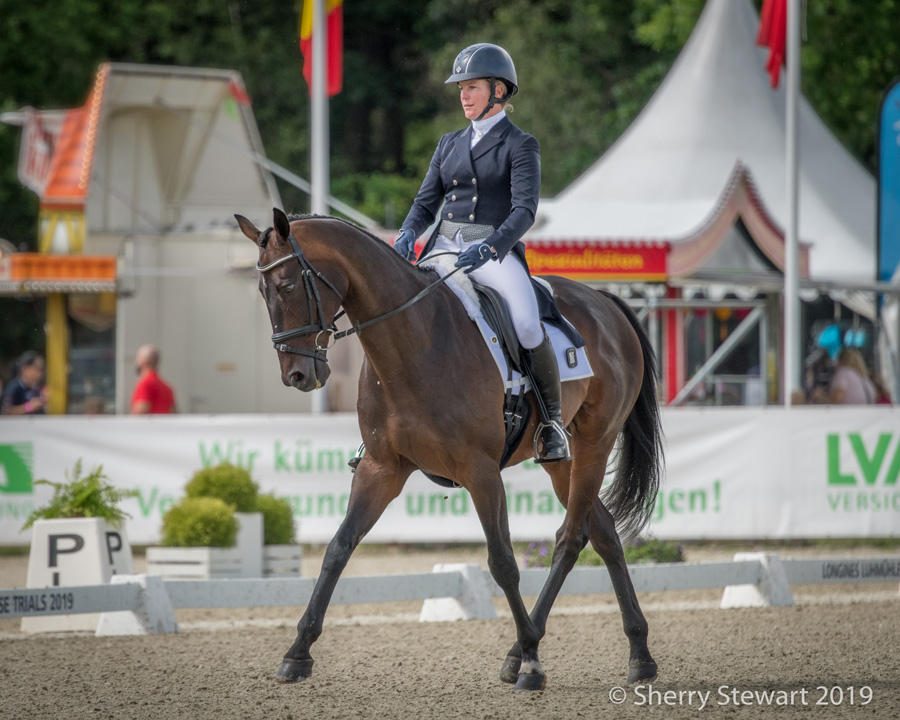 Allie Knowles and Sound Prospect are one of two pairs representing the United States this weekend. She and the Sound Prospect LLC's 17-year-old Thoroughbred gelding (Eastern Echo—Miners Girls, Miner's Mark) scored a 38.5 for 12th place.
Frankie Thieriot Stutes and Chatwin will complete their dressage tomorrow.