Elkton, Md.—Oct. 21
Many amateur eventers are used to competing week in and week out with top Olympians and four-star riders, but that doesn't always make it mentally easy, especially if you're ahead of them on the leaderboard.
Frankie Thieriot Stutes will admit that until recently, she got a little caught up in the star power at some of the East Coast events she competed at, and if there was ever a time to be nervous, today was the day.
She led the CCI*** at the Dutta Corp. Fair Hill International with Chatwin after a double-clear cross-country and only had a rail in hand as she cantered into the ring as the final rider to jump.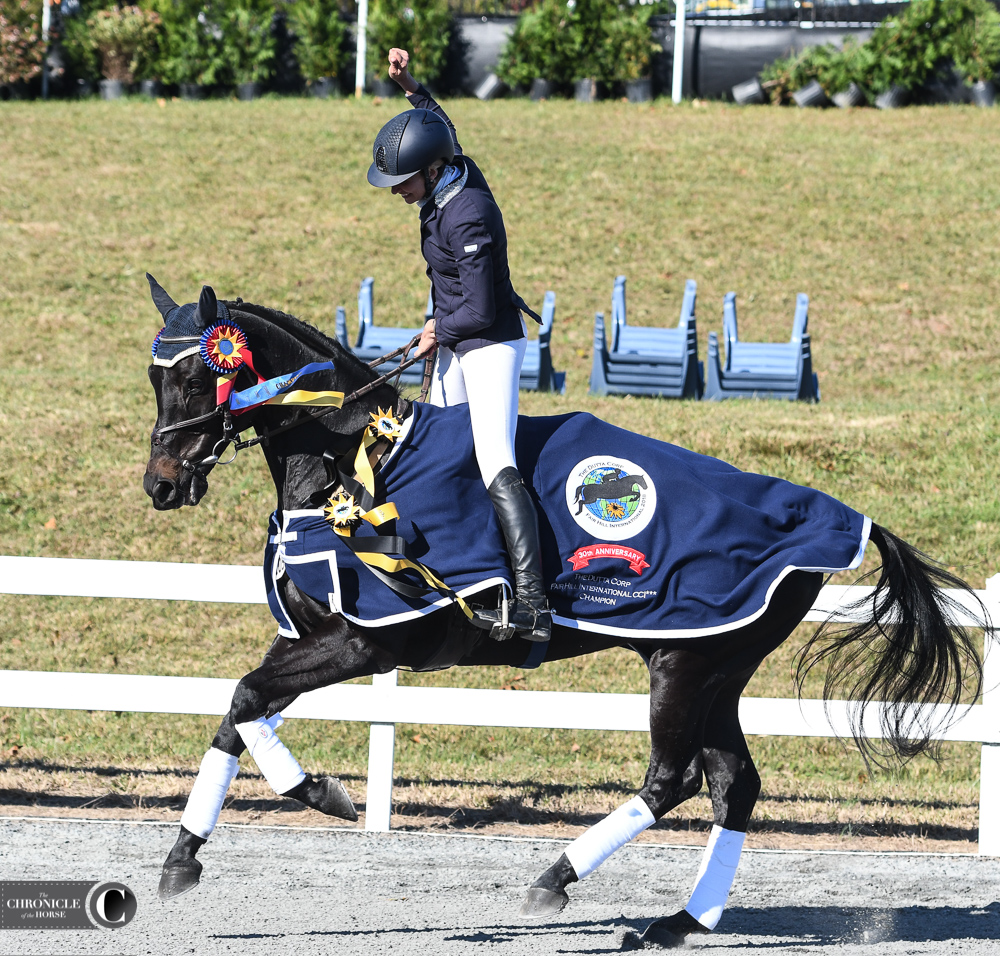 Show jumping is a historically difficult phase for Stutes, but she kept her head in the game and came out with a clear round to clinch the win and the Dutta Corp./USEF CCI*** Eventing National Championship.
"The last few months I feel like one of the mistakes I made the last time I came east with him was that I was really consumed, not on purpose, with what other people were doing," she said. "Like, how did this person look on the day before dressage? It kind of got in my head. This weekend I came here and was like, you know what? I'm just going to be here and be present in this moment with Chatwin, and if I can do the best we can do, then that's good enough for me. Even today, coming into the ring, I think I was the most calm I've ever been going into the show jumping. I knew that I could stick to my plan and that I could just jump each fence with him. I had a very clear plan going into it."
Ten pairs jumped double-clear over Marc Donovan's course. When second-placed Buck Davidson and Archie Rocks dropped the final rail, Boyd Martin and Long Island T moved up to take the reserve national championship.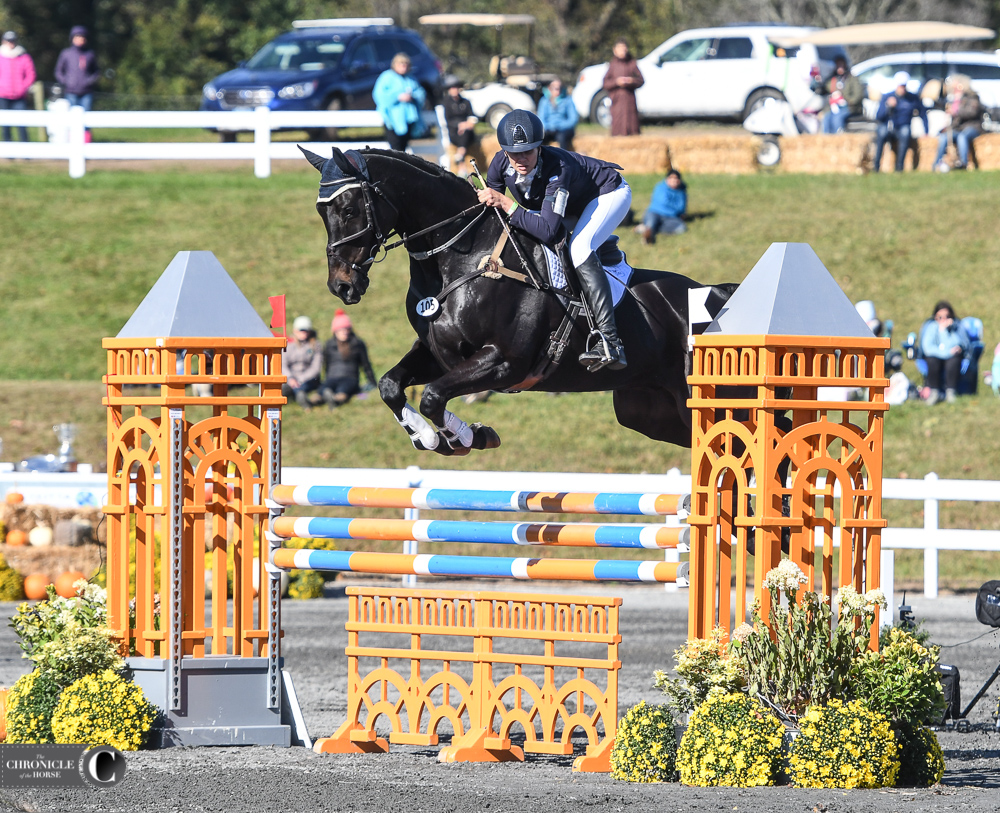 Stutes, who runs her equestrian public relations company Athletux and a handbag company called Frankie Cameron, trains with Heather Morris and Tamie Smith at shows. At home in Occidental, California, where they're 12 hours away, she tends to head to jumper shows to practice or get the occasional jump lesson from Andrea Pfeiffer.
"Going in today, even walking the course and in the morning, my thoughts would kind of wander out, and I'd say, 'No Frankie, just get back in your zone.' That's what I told myself going in," she said. "I've done two CCI***s with him, and we've had rails at both. I feel like we're better than that, and today I knew I could have had a rail, but I desperately for myself wanted to leave them up. Show jumping has notoriously been my hardest phase, and I think it's the trickiest one for Chatwin, who's not a very usual jumper. He's unconventional. We've worked incredibly hard over the last year. It's crazy to look back at Bromont last year because he was in these crazy nosebands because he's kind of difficult in the contact, and today I rode him in a snaffle. That's a huge accomplishment."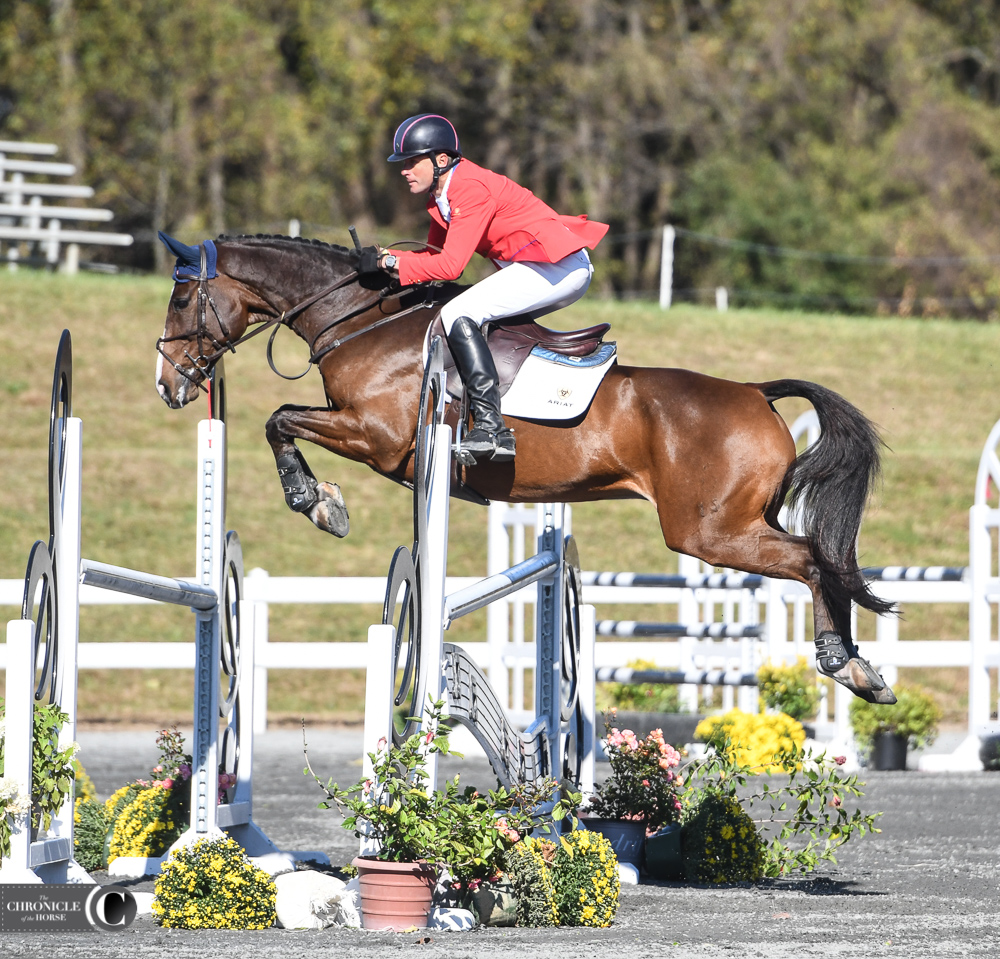 The pair topped the Rebecca Farm CCI*** (Montana) this year and came to Fair Hill on a travel grant.
"What an incredible year this was, for sure," she said. "I was just thinking for a minute this morning about just how grateful I am for all the incredible people in my life. Chatwin's certainly at the top of my list too, but I can't even tell you how many good luck texts I got this week from so many people. Every single one of them meant so much to me. I think everyone up here would agree that it's the people that get you where you're going. When it's going great, it's really great to have them, but those people are always there if it doesn't go great too. I'm feeling really lucky right now."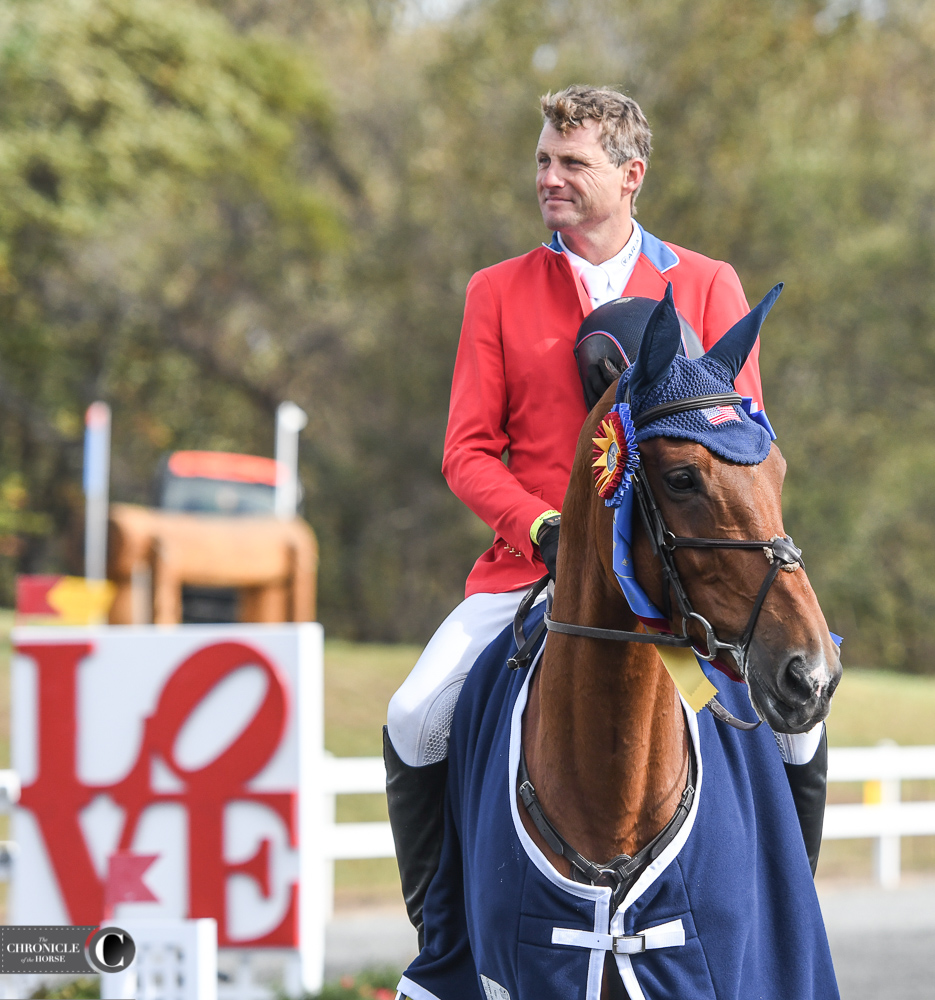 In addition to his reserve championship, Martin also picked up the CCI** win with Christine Turner's On Cue.
"On Cue's a big star," he said. "Chris Turner's backed me with a couple of horses, and I think this one is as good as any of hers. She's very elegant, she's got a great gallop and a brilliant jump, and I'm looking forward to having her here next year in the three-star."
Long Island T won the Jersey Fresh CCI*** (New Jersey), but it wasn't the best start to the partnership 18 months ago.
"Long Island T has had a wonderful year after a terrible start," he said. "We bought him 18 months ago, and it was horrendous to start with. Now he's won one three-star and come second. There was a time where I was thinking of trying to figure out how to sell him, and he's just come good. I think this three-day event is one of the best courses and best venues. You know if you get through this event that you know you've got a horse that's competitive anywhere in the world. It really builds the horses up for four-star next year, and we're grateful that Tim Dutta backs this event."
Dutta was thrilled to be back as title sponsor for the event. "I'm delighted to share our 30th birthday with Fair Hill's 30th birthday," he said. "The sport was spectacular, and we had an amazing winner."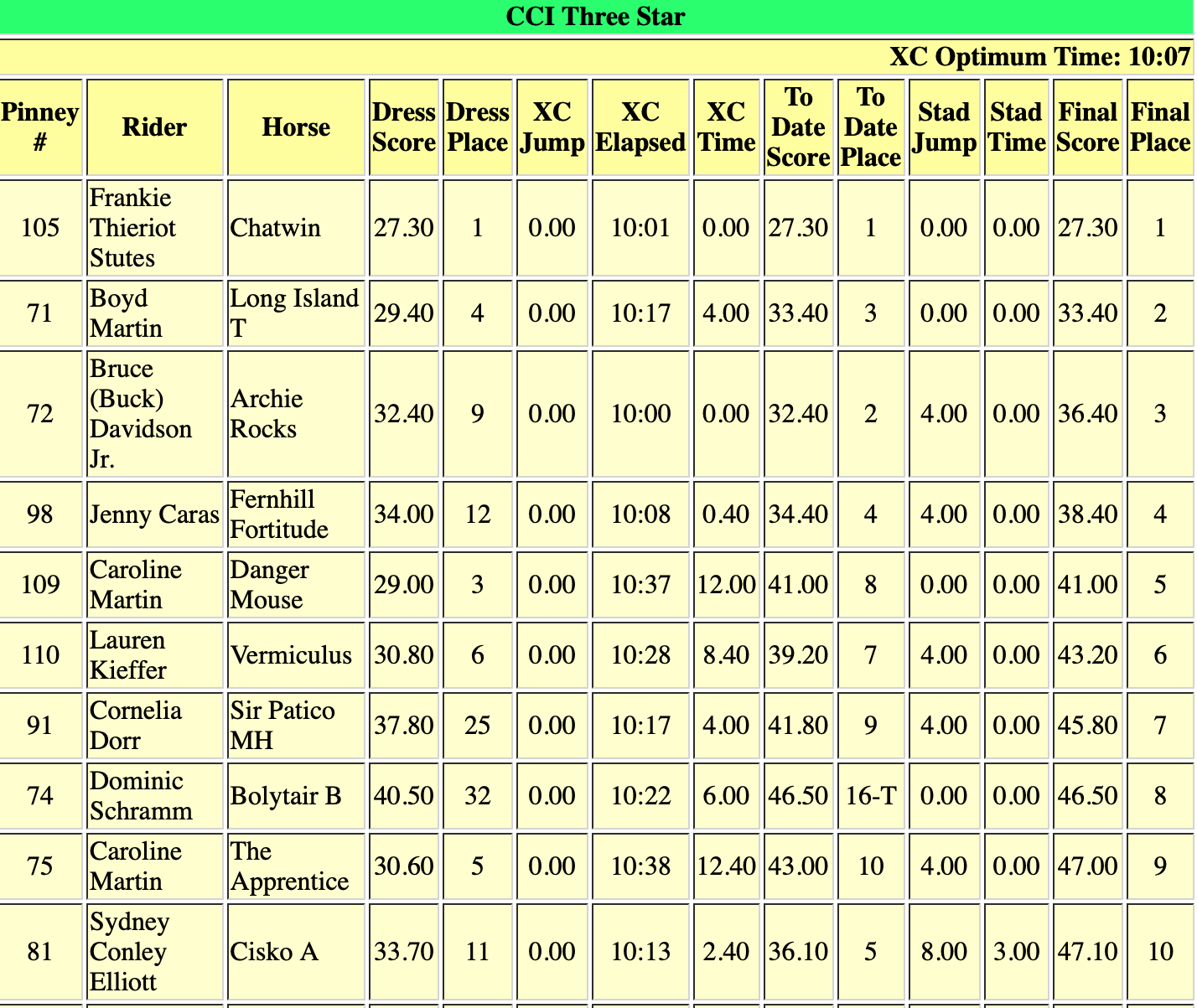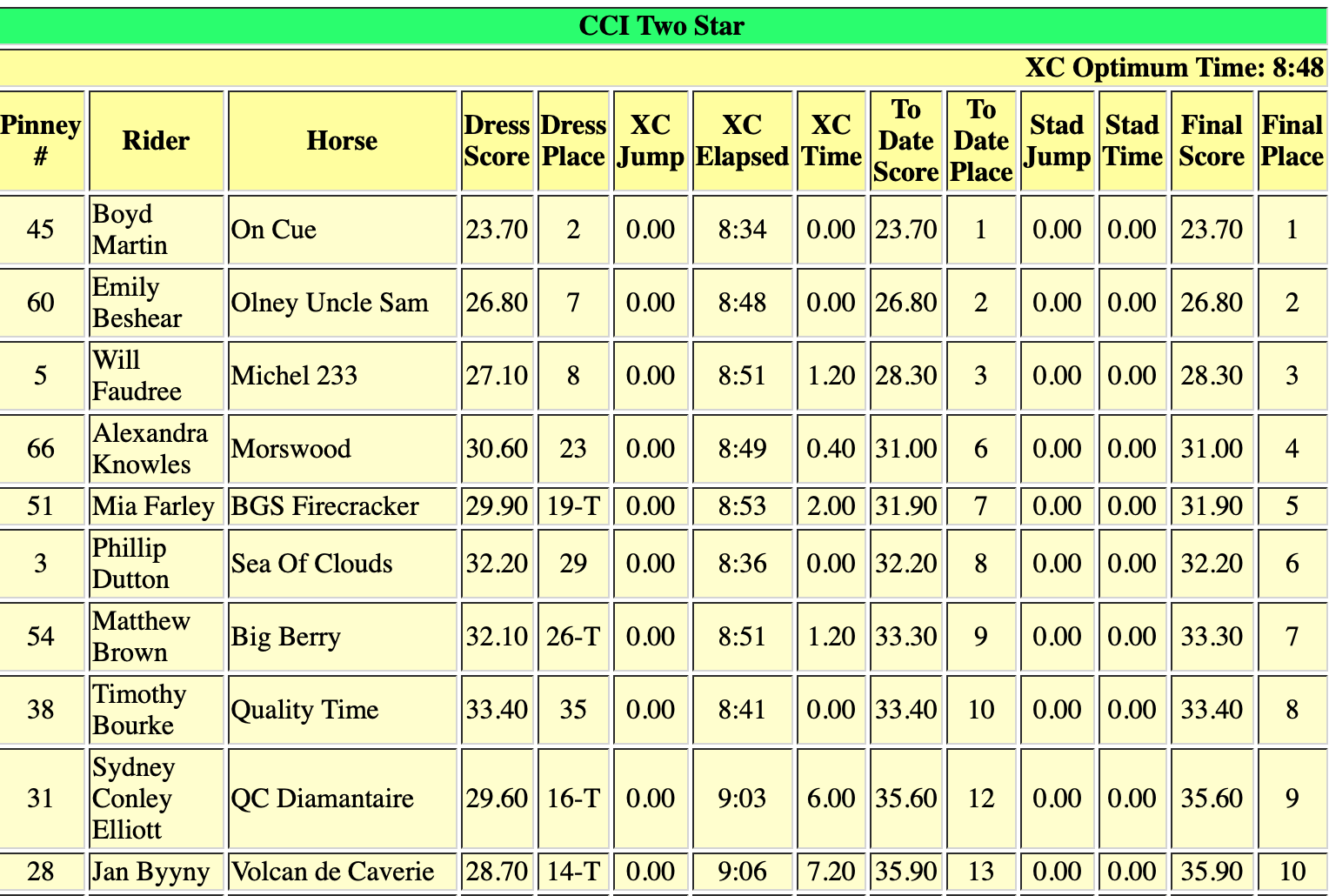 For all of our Fair Hill coverage, head to this page.
The Chronicle will be on site at the Dutta Corp. Fair Hill International all weekend to bring you news and photos from the fall's premiere three-day event. Check back at coth.com all weekend and be sure to read the Nov. 5 print edition for much more.
2018 Fair Hill International - Show Jumping
Lindsay Berreth / Oct 21, 2018 8:45 pm