Rio de Janeiro—Aug. 19
Nick Skelton's Fédération Equestre Internationale record spans back more than four decades, and he's ridden on winning teams for Great Britain on multiple occasions, but he's never won an individual medal at the Olympic Games—until now.
Aboard his partner for team gold at the 2012 London Olympic Games, Big Star, Skelton didn't touch a rail over today's two rounds in the individual final, then outran five other pairs in the jump-off to take individual gold. Sweden's Peder Fredricson kept all the poles up as well, but his All In couldn't quite catch Big Star, and a slightly slower jump-off time gave them silver. Canada's Eric Lamaze and Fine Lady ticked a rail in the jump-off but put in the quickest time to earn individual bronze.
Skelton was wiping away tears on the podium as he became the oldest equestrian to ever win an Olympic medal. His groom Mark Beever brought out a stepladder during the awards ceremony to make it easier for the 58-year-old, who has suffered several major injuries in his career, to mount Big Star for the victory lap.
"I was just emotional because I'm so happy," said Skelton. "I've had a long, long career. To [win gold] now is great and incredible for me, I've always wanted to do this, and nearly did it in London. I've had European and world medals, but to actually win this and be lucky enough to have this horse was pretty emotional."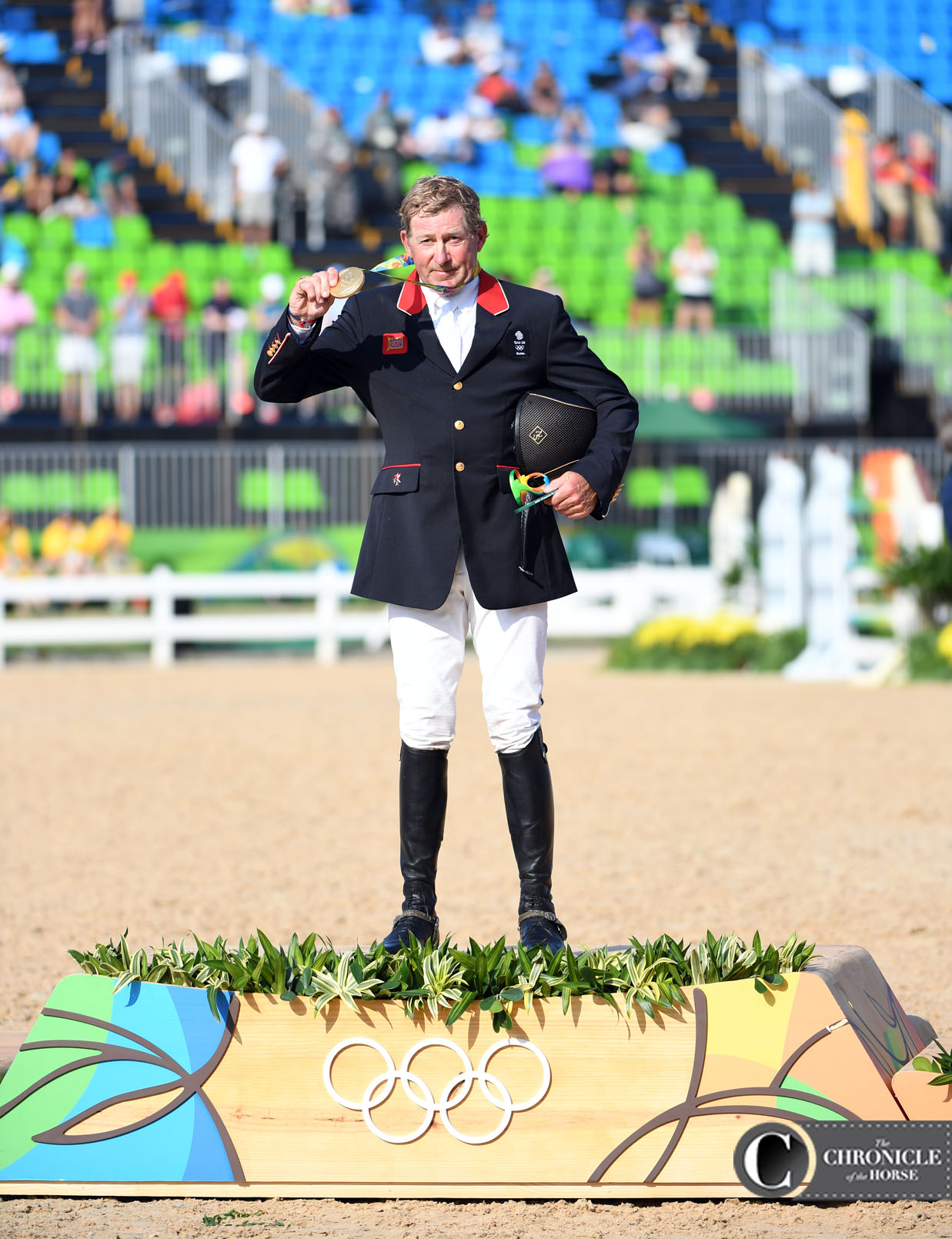 Nick Skelton. Photo by Lindsay Berreth.
"He wants to do it," he continued. "He has all the right attributes. For me he's the best horse I've ever had and am ever likely to have. He's worked hard. We've done a lot of work with him; we've been slowly bringing him back. Today he came through to me. This is for him."
Fredricson, a former eventer who also won show jumping team silver in 2004, was thrilled that All In came through for him.
"I know I'm sitting on a very good horse for this Games," he said. "Maybe I wasn't expecting this, but I was hoping for it," he said.
Lamaze felt vindicated after Canada narrowly missed out on a team medal after a jump-off against Germany.
"The Olympics is one of the most difficult thing we'll come across in our sport," said Lamaze. "I really appreciate what our horses do for us. For me this little mare has jumped her heart out all week long. There's three of us here at the moment, but anybody in that jump-off today deserves a medal."
Twenty–seven horses advanced into Round B of today's 2-round individual jumping final, and a full 13 hadn't accrued any penalties. A tough second round shook up the placings, still leaving six horses tied on no faults each.
Big Star, a 13-year-old Dutch Warmblood stallion (Quick Star—Jolanda, Nimmerdor), jumped first and ate up the ground with his huge stride, setting a pace for others to chase.
Switzerland's Steve Guerdat was next in the ring, aboard his partner for individual Olympic gold in 2012, Nino des Buissonnets. Nino ticked the very first fence.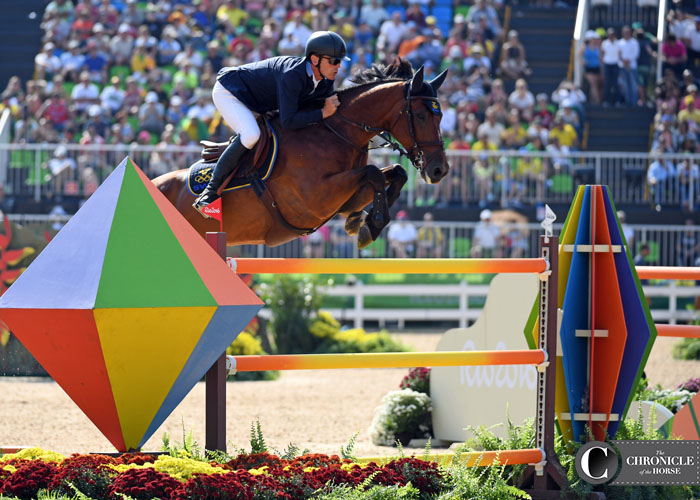 Pedar Fredricson and All In. Photo by Lindsay Berreth.
"I know I have a fast horse, and I have a chance. I looked at Nick and thought, OK I have to go, straight from No. 1," said Guerdat. "I think it was a very light mistake. The way the horse jumped, I didn't expect that mistake. Afterwards you can always say, 'I could have ridden that better or ridden it differently' but basically I'd have kept it the way we planned it. It just wasn't good enough."
Next in, Qatar's Sheikh Ali Al Thani and First Devision put 8 faults on the board, but he was thrilled to advance to the jump-off. It's the first time that Qatar has qualified a show jumping team for the Olympic Games.
"I had three fast jumpers behind me and already three fast ones in front of me," said Al Thani. "I had to go as fast as I could. Then it's all about going too much and having a mistake. I'm happy with my horse. I wish he could get a medal; he really deserved it."
Kent Farrington hadn't pulled a rail all week on Voyeur for the United States. They came into the jump-off ready to win, but pulled two rails. He went late in Round B and didn't have much of a break after the short course. Though he worked hard to get "Froggy" in peak form for Rio, the heat and demanding week took a toll.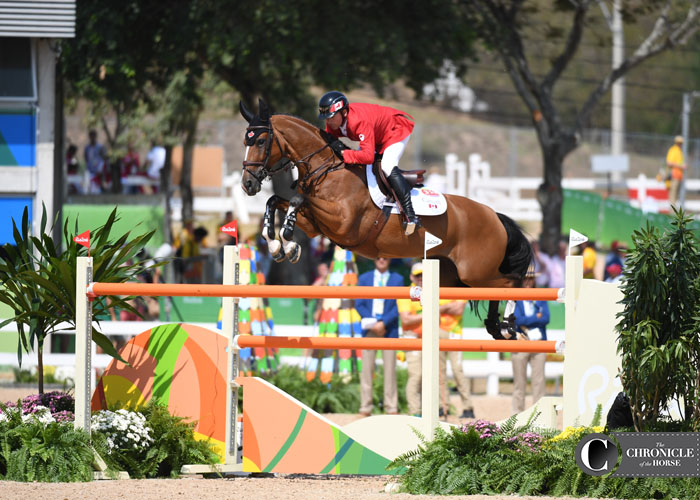 Eric Lamaze and Fine Lady 5. Photo by Lindsay Berreth.
"I think my horse was a little bit tired," said Farrington. "I think if we had more time to rest before the jump off it would have helped. Nick's horse finished early, had a bit of time to cool off, and everything before it comes up. The rest of us didn't have that. A lot of tired horses there at the end."
Like many in the jump-off Farrington questioned whether having six horses jump-off to determine all the medals worked out properly.
"Six horses in a jump off is a lot," he said. "I think it's too many for an Olympic Games. Not an ideal set up so you know you'll have only one person who's happy with the result in the end. But that's our sport, and that's what it is today, so we all have to give it a shot and go for it."
Farrington's teammate, McLain Ward advanced to Round B on Azur and left all the poles up there to finish on an overall tie for ninth.
"I thought she jumped brilliant," he said. "I maybe woke her up more for that second round. She was getting a little tired today I think. The course was much more suited to a bigger horse. I personally think the first course was really suited to the small horses, to the adders. But that's the test, and we have to also answer that test. I'm thrilled with the horse, disappointed with the day."
Mollie Bailey and Lindsay Berreth are on the ground in Rio de Janeiro for the Chronicle and will be reporting with all the news, fantastic photos and behind-the-scenes details, all posted on www.coth.com. Your go-to page for all things Olympic is http://www.chronofhorse.com/2016-Olympics.
We'll have live blogs of competition sessions, Twitter updates, blogs, photo galleries, stories about each day's competition and so much more. Don't miss a thing—we'll have everything you need to know. Also make sure to follow along on the Chronicle's social media outlets: Facebook, Twitter, Instagram and Snapchat (@chronofhorse).
For a more in depth look at Olympic show jumping, check out our Sept. 5 print issue.