Lexington, Ky.—April 28
The second day of dressage for the Rolex Kentucky CCI**** starts at 8:30 a.m. local time.
Check here for live scores, here for ride times and here for all the other important information you need (including live streaming links!). See all of the Chronicle's Rolex coverage.
3:45 p.m. Yep, Allison and Arthur into second on a 39.6 penalties! The only other pair this weekend to slot into the 30s. That'll push Marilyn Little and RF Demeter into third.
3:40 p.m. Very nice extended canter, easy transition back. (Well, it LOOKED easy from this end.) Changes are clean and without drama. They finish and Allison gives Arthur plenty of pats! Based on her provisional score that should slot into second…we will see soon!
Phillip Dutton spoke to us about his test on Mighty Nice:
"I would have liked a better score, but he didn't put a foot wrong basically. Can't ask him for more that that. I was pretty proud of him that he settled so well. It's pretty electric in there. For him to just concentrate on the test and what we're doing, it wasn't that easy for him, but he knew what he had to do."
3:39 p.m. Good entry and halt. The medium trot is massive and light. The shoulder-in and half-pass to the right are fluid and forward. The halt and reinback goes very well. A couple of steps of jigging in the walk before they're off into canter.
3:37 p.m. Best for last? Allison Springer and Arthur can really lay it down, so we'll see what they do today!
3:34 p.m. Mighty Nice has a big, uphill canter. He's another who just makes a lovely picture in his frame and overall presentation. Pretty is as pretty does…but pretty is nice too! Extended canter is bold. Excellent first change, second is great too. And yeah, the third and fourth changes are excellent too! That'll be a big score for them. Yep, he's going into 11th with that 45.0.
3:28 p.m. Next up our penultimate, Phillip Dutton and Mighty Nice. Phillip is GOING FOR IT. Mighty Nice bumps the board in trot work, and he looks a little upset about that, but Phillip gets him right back. This horse's walk is amazing, big reach, very elastic.
3:22 p.m. As expected this is going very well for her, with lovely trot work and the walk. But have a big bobble in one change, and he comes above the bit and scrambles through it. Their last change is a bit scrambly too. Their final centerline and halt are excellent. She's always a crowd favorite and gets plenty of cheers. She gets a 44.5 penalties, and that'll put her eighth.
3:20 p.m. There are just three left today, and at all!, and Jessica Phoenix and Pavarotti are one of those three. This horse and Jessie have won Pan Ams individual gold (2011) and silver (2015), and they're certainly capable of an excellent test.
3:18 p.m. Boyd's horse jigs just a bit before the canter transition. The canter work is again quite fluid and forward. The extended canter is big and Boyd gets him easily back. Their second change is a bit of a mess, but the third is good, and the last goes OK too. And they're done! This horse is not upset about the atmosphere at all. They get a 52.2, which is 31st now.
Buck spoke to us about his ride:
"I was really really happy with him. He's never been in an atmosphere like that. He couldn't have cared less. In the end, when everybody was clapping and standing there, he'd nearly fall asleep, so I'm really excited for him. I'm a little bit disappointed in myself in the third change and anyway, whatever, these things happen, but a good first four-star effort."
3:14 p.m. Boyd chose Blackfoot Mystery to go last of his three because the horse is, as he said, "a beast" cross-country, and that might be needed if the going gets heavy in tomorrow's rain. He also thought this horse could best handle the Friday afternoon dressage ring atmosphere.
The extended trots are fluid, as is the lateral work.
3:10 p.m. Boyd Martin heads in next on HIS last ride of three, Blackfoot Mystery.
3:08 p.m. Canter work is going well so far through the first set of changes and counter-canter, though you can tell the horse is carrying some tension. Lillian doesn't really go for it in the extended canter, but it's still smooth and correct. Oh, bummer, and they have a trot through one of the changes. The second-to-last change is late behind and the last has some tension. But they finish nicely! They earn 68.3 penalties for that ride.
3:04 p.m. Next up is Lillian Heard on her third ride, FYI. They have a straight entry, but the horse has a slight objection to halting. This horse doesn't have a huge trot, but the work is, well, workmanlike through the half-passes and mediums.
3:02 p.m. This might be this horse's first four-star but Buck isn't going to leave any points on the table, he's riding a forward test. There's not much to say about this test, it's very workmanlike. Solid, quiet halt but the rein book could have been a little more prompt. This horse is very relaxed. Big forward canter to start off. BIG extended canter, he really wants this. Nice uphill changes should be good for their score. A mistake when the horse takes a trot step in the third change.
2:58 p.m. Buck Davidson and Copper Beech
This is Copper Beach's first four-star but he's got a good pilot in Buck. "Sean" will be the last of Buck's three rides.
2:56 p.m. Mark and Campino score a 43.2 to tie with Hannah Sue Burnett and Harbour Pilot.
2:55 p.m. This is his 2012 Olympic horse, and Mark is also wearing his top hat. He's never won this event so he's eager to add that title to his resume. He got a lovely half pass with beautiful crossover. He is so quiet and still that everything appears seamless. Nice straight canter depart. This is a test you should save to watch over an over again. There's a lot to learn from him. A couple bobbles in the canter but nothing major.
2:50 p.m. Mark Todd and NZB Campino
The man, the myth, the legend. Right up there with Blyth Tait, this Australian is definitely one you should keep an eye on. He's sitting on a seasoned four-star horse, so he'll be in the hunt.
Lauren Kieffer on her test with Veronica…
"She was really good. She's been in a lot of big rings and a lot of big atmosphere, especially this last year we've travelled a lot. She definitely knows what's happening tomorrow, and kind of the older she gets the more she anticipates that, but I was really happy with her. I think her canter work has actually gotten a lot better and you know every time we do a four-star test she takes a few points off. I don't know how many more years we have, but hopefully she keeps that trend going."
2:34 p.m. Ryan scores a 60.4. We're now on break until 2:50 p.m. when Mark Todd starts our final group.
2:33 p.m. Their test looks nice and relaxed. They get a nice angle in the second shoulder in. The walk could be a little more forward and active. He jigs some through the extended walk. He could use a little more tempo in the canter as well, but it's obedient. As Karen O'Connor joked, "I think he's getting time faults." A little hoppy through the change. "Razz" got a little sticky in their third change.
2:26 p.m. Ryan Wood and McLovin will be our final pair before our last break of the day. This will be Ryan's final of three rides.
2:25 p.m. They score 52.3.
2:23 p.m. "Delta" is having a hard time settling today. She got quite tense before entering the ring and it took some time to settle here. She breaks into the canter for a stride going into the extended trot. It might not be their day but you can see the quality in this horse. They could be squarer in their halt to rein back. The canter half passes are bringing their score up, but the mare stutters through the change. Emily is doing everything she can to push her scores higher.
2.18 p.m. Emily Beshear and Shame On The Moon
This is Emily's first four-star with this mare, but she's no stranger to tough competition. She looks quite snazzy in her purple tail coat.
Tim Bourke chatted about managing Obie in dressage…
"It was toleration again today. He's worked hard and I've tried really hard with him on the flat over the last year. got a lot of help from Sharon [White] and a lot of help from Mara [DePuy] and it seems to be paying off. I couldn't be more happy with him right now. He's a good boy and he held it together in there."
2:18 p.m. "Finn" is a lovely mover. She's had two Badminton completion, but she's looking for her first completion at Rolex. This horse has a lovely uphill gait and a lot of movement in the shoulder for the trot work. He's a little tense in the walk and is a bit quick footed. A lot of lift and expression in the canter. He steps off his lead for a second after the first half pass.
They score 46.9.
2:10 p.m. Tiana Coudray and Ringwood Magister
This U.S. pair joins us from the UK, where they're based. They were part of the U.S. team at the 2012 Olympics and this was actually her Young Riders horse.
2:09 p.m. They score 43.9.
2:08 p.m. This mare has beautiful articulation in her trot. Lovely cross over in her half pass. In her early marks she's actually ahead of Michael Jung. Gina Miles says her shoulder in has one of the most correct angles they've seen all day. Not the squarest halt which will cost her. Veronica jigs some in the extended walk. Lauren loses her top line for a moment after the canter transition. Her first change was super with straightness and jump. Lovely test!
2:02 p.m. Lauren Kieffer and Veronica
Keep your eye on this pair. They were second here in 2014.
2:02 p.m. Tim and Obie get a 55.5.
2:01 p.m. Tim has been working on his dressage and it shows. They had an early spook but their half pass was good. Tim is presenting Obie in a double bridle. They did a very nice halt and rein back. There's definitely a crowd now and Obie jigs a bit as he approaches them but Tim got him right back. The canter half pass was weak and was lacking the crossover desired. He has a straighter legged change which will affect their score. Their next change is stronger. Tim looks thrilled with that performance.
1:54 p.m. Timothy Bourke and Luckhaun Quality
If you've read the Rolex Preview you're familiar with Tim Bourke and "Obie". This is their third Rolex and they are the sole Irish representatives. Dressage isn't Obie's strong point but you'll see them on fire tomorrow.
1:54 p.m. Laine and Al earn a 55.9.
1:53 p.m. Al took a look at the crowd in his first halt but he's eager to work. Laine's been working on her dressage riding in some pure dressage over the winter circuit. He jigs some in the walk and then he cantered out of the walk pirouette. He's eager to give her that extended trot. . He swung his hindquarters to the right in the halt, and then he jigs through the extended walk. He's getting a little fussy in the canter transition but is settling now. He's giving her lovely changes.
Not the test she wanted but she's got plenty of fans.
1:51 p.m. Bobby Meyerhoff socres a 56.2.
1:46 p.m. Laine Ashker and Anthony Patch
This pair is also quite familiar with Rolex. This is their fifth time cantering down centerline. "Al" is an off-the-track Thoroughbred that's quite strong in the dressage. Meet him here.
1:45 p.m. Bobby's got a purpose today! He put in a very forward and bold medium trot. He's a little inconsistent in the contact when his neck gets short but overall good. He came off the contact some after the rein back but Bobby's got "Token" back in business. This is another horse that is waiting for the opportunity to run tomorrow. He looks strong. He was a tad behind in his second flying change. The third change has similar problems with a small trot step behind.
1:38 p.m. Bobby Meyerhoff and Dunlavin's Token
This pair are no strangers to Kentucky. They've contested it twice already. He and his wife relocated to California in 2014.
1:37 p.m. Barb and Eveready put in a nice steady medium trot. She put in a fantastic walk pirouette. She's giving us a nice forward and uphill test. He jigged a little in the walk but she did a good job bringing him back. Lovely canter half passes, but he could have a bit more jump in his canter. He steps of the lead once behind. "Punk" seems more relaxed in the canter work.
They score a 52.7.
1:30 p.m. Barbara Crabo and Eveready start our afternoon sessions. This is their third Rolex and they come from Arizona. Meet Eveready.
12:13 p.m. They score 50.4, and we're officially on break until 1:30.
Sinead on her test…
"He was great. At this stage of the game I'm just so pleased to have this horse here. I'm going to get all teary-eyed. It's just such an awesome feeling going down centerline looking through those ears. Trotting into this venue, you have a moment, and I know everybody has it when you're going down this but in this moment you're like get it together. His quality of work is just so nice, but we're all in this sport. You've been here a couple times and I turn into a super perfectionist."
12:11 p.m. Allie is bold with her helmet choice with the grey center section. She picked up a bold forward canter to start and continues into a bold medium. Could use a bit more angle in the shoulder in. "Sounder" could have been a bit more active in the walk pirouette and it got a bit big. She does a good job keeping him quiet as she picks up the reins after the extended walk. Clean changes. She really went for it in the extended canter.
She looks pleased.
12:06 a.m. Alexandra Knowles and Sound Prospect will be our final pair before the lunch break.
We caught up with Kim Severson to chat about her test…
"I'm actually very pleased with him. His trot work was better than his canter work which was unusual. I was very happy with his trot and walk. His canter was good- he got a little, tight but we had sort of a short preparation after we got here to the horse park. He stepped on a nail like in the barn area so we spent a lot of time, you know, we haven't had the most time to prepare him while we've been taking care of it and making sure he's good. He feel's terrific actually so I'm just very pleased with him.
12:04 p.m. Sinead gets a 47.6.Now she's really smiling.
12:02 p.m. Tate looks excited today, but he's being nice and obedient. Sinead is hoping for a good test because she's looking to represent the U.S. at the Olympic Games. Not as square as she would have liked in the halt and then he had an initially poor step into the rein back. They had a small jig step in the extended walk but their first canter half pass is gorgeous. Early in the first change and he was late behind. A second beautiful canter half pass though. Very bold in the extended canter and he gives her a great ride. The next change is so much better. He was late behind again in the right-to-left change, his other change is much better.
A nice quiet pet for Tate and a small smile from Sinead.
Liz Haliday-Sharp chatted with us about her ride with HHS Cooley
"He went a little bit green in places. He's never been in an arena that big. I'm shocked by the score–I have to be honest though. The test was really not that bad so I'm pretty upset. He made a little mistake in the beginning, which was a real shame, but everything else he did, he really didn't do to bad of a test i thought so I'm pretty disappointed., but I thought my horse tried really hard, you know, he did good half passes. He went in and did a pretty good job for his first 4 star so yeah it's disappointing but we just have to pull ourselves together and figure out what we can work on better for next time."
11:58 a.m. Sinead Halpin and Manoir de Carneville
It's time for everyone's favorite French horse, "Tate"! This pair represented the United States at the 2014 World Equestrian Games (France) and were fourth at Rolex in 2014. He was also second in Burghley (England) in 2013. We didn't see him in international competition in 2015, but Sinead is ready to show him off.
Tate is sporting awesome quartermarks and he's wearing his typical breastplate.
We caught up with Blyth on his test…
"I'm just very disappointed obviously because he's capable of doing a great test. There is an atmosphere in there and he hasn't experience an atmosphere like this but the trot work was satisfactory and then the walk he got tense and the canter he just got strong and rigid and I couldn't set him on his backside. These movements you need to able to be in a bit of balance, so they he was able to be cheeky and do what he basically wanted, so it was really disappointing because I just threw it all away in the canter work."
11:50 a.m. Lisa Barry and F.I.S. Prince Charming—withdrawn
Lisa posted the following on her Facebook
"I have had to make the very difficult decision to withdraw peanut from competition here at Rolex. His feet are just a bit too sore after the hard footing we've had for the last couple of weeks. Although we could make him happy enough to get through the dressage I don't think it's in his best interest. I want to thank my wonderful team and sponsors for all their help in getting us this far and of course my mom and my coaches for all their support!!! This sport has its highs and lows but little peanut is more important to me than anything and we will live to fight another day! Good Luck to all of my friends this weekend!!! I'll be cheering you on and in the box for a hug when you kick ass tomorrow!"
11:49 a.m. Kim scores a 51.6.
11:48 a.m. "Sparky" gets a bit above the bit in the first halt. Dressage is a work in progress for this horse, but Kim is known for her dressage skills. She's keeping him nice and uphill. They're using a d-ring which you don't see as often in eventing. She's getting every point she can out of this horse's walk. A small trot step into the canter. She made a lovely transition into the extended canter. A little kick out in their second flying change. Sparky looks like he's ready to leave the dressage ring and go run, but Kim is doing a fantastic job with him. He swaps off his lead on the final centerline, but she gives him a big pat.
11:42 a.m. Kim Severson and Fernhill Fearless
Now this is the queen of Rolex. She won the event three times with Winsome Adante (2002, 2004, 2005). This is her fourteenth four star. This pair finished 11th at Rolex in 2014.
11:41 a.m. They score 54.8.
11:39 a.m. He took a step back after the first halt and then gave her a couple canter steps but she's regained his attention. In the second half pass he started with too much haunches, but she got him back on track. They could have had a longer halt, but she's playing her cards well. He's doing very well in the canter work. They run into a little bit of trouble in their third flying change.
11:34 a.m. Liz Halliday-Sharp and HHS Cooley
Liz was sitting second at the end of the first day with her other mount Fernhill By Night. She was recently knocked down by Marilyn Little and RF Demeter.
11:33 a.m. It's a 43.2 for Hannah even with the mistakes and they're currently sitting in fifth.
11:31 a.m. William has a lovely trot and Hannah is doing a good job at giving him a nice, accurate ride.Their second shoulder in to half pass looked a lot fantastic. She took her time with her halt and it shows with 8s across the board. They did get a couple strides of jigging in the extended walk, but she's put it behind her and is making big moves in the canter work. Lovely canter half pass. Clean change out of the counter canter. He got a little hind quarters leading in the second canter half pass and he gave her a change when she went to correct it. She's so good at riding the next movement whenever mistakes happen.
11:26 a.m. Hannah Sue Burnett and Harbour Pilot
Now this is a flashy pair. "William" is known to be quite the looker. They were individual silver medalists at the 2011 Pan American Games (Mexico). This is the pair's second Kentucky and their fourth four-star. William was injured at Burghley in 2014 and has only done one international competition since then, Red Hills CIC*** (Fla.) where they finished third.
11:25 a.m. Blyth gets a 54.1.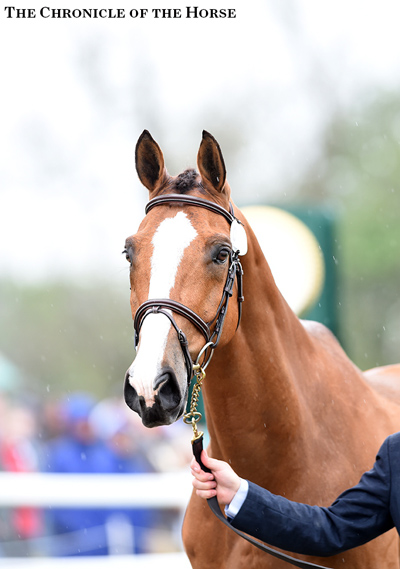 Xanthus III in the jog.
11:23 a.m. This horse has a natural cadence which will serve them well. A bobble in the beginning of the shoulder in but a quick fix and it's back to business. Blyth also elected to wear a top hat. This is a horse that I'd like to take for a spin. He looks lovely! The commentators believe that's one of the best rein backs we've seen so far. His canter could use more impulsion and the first flying change was a bit dicey. The horse is losing focus and has anticipated the flying changes and it's been costly. He's fallen off the lead a number of times.
11:18 a.m. Blyth Tait and Xanthus III
If you want to watch a master at work, Blyth Tait is your guy. The Kiwi is a veteran of six Olympic Games and 10 four-stars. He won Burghley (England) in 1998 with Chesterfield. This horse contested Luhmuhlen last year. He won here in 2000.
11:17 a.m. Lovely cadence in her trot work. She struggled a little bit to find the angle in the shoulder in. They weren't completely square in their halt. Nice transition from extended walk to collected walk into the canter. They lost their lead behind briefly in their first canter half pass. Nice straight flying change. She tried to half halt to prepare for the changes and they broke to trot for a second, a shame.
They score 57.8.
11:10 a.m. Daniela Moguel and Cecelia
Daniela kicks off our last grouping before the lunch break. She's the first rider from Mexico to contest Rolex is a number of years, and she's hoping to make the Olympic team. Want to learn more about Daniela? She was our One To Watch at the Fork (N.C.).
Leah Lang-Gluscic spoke to us about her test with AP…
"You know what, last year he was a feral beast and this he tried so hard to be relaxed and professional, whatever the score is I'm thrilled with him. This is a huge step for his future. The fact that he could go in there and do a 4 gaited walk yesterday in ring familiarization it took us 20 minutes to get that in there so I'm really really proud of him."
10:44 a.m. Matt scores a 46.3. We're on break until 11:10 a.m. with Mexico's Daniela Moguel and Cecelia.
10:42 a.m. Matt is originally from the West Coast but he m over his business east so he could be more competitive. "Flaxen" is giving him lovely cross over in the half pass. He got a little low in the poll and behind the vertical in the rein back. Nice uphill canter transition. He set the horse up well for the flying change and was rewarded with a lovely one. Beautiful extended canter. Matt should be pleased with that test.
And the crowd goes wild and so does Super Socks. Big rear from him.
10:38 a.m. Matt Brown and Super Socks BCF
This is another Rolex rookie pair. Matt Brown has been waiting to get to this moment for a long time, and he's another Chronicle blogger. Matt is has a brown dressage saddle to match his bonnet.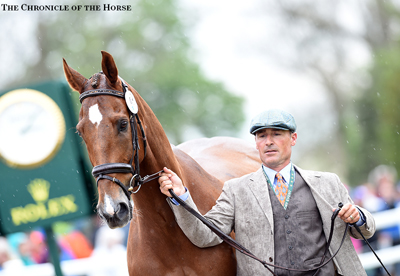 Matt Brown and Super Socks BCF in the jog.
10:37 a.m. Sally scores a 67.8.
10:36 a.m. Off to a good start with a nice square halt. Her walk pirouette as a bit large behind, and into a conservative extended trot. The angle of the shoulder in has been inconsistent. They had a couple of trot steps into the canter transition. Nice clean changes. She's getting above the bit in the second canter loop.
10:30 a.m. Sarah "Sally" Cousins and Tsunami III
Tsunami III is also one of our older horses in the field and a veteran at that. This is "Sue's" fifth Rolex. Sally has elected to ride with a breastplate.
10:29 a.m. Lisa Marie Ferguson and Honor Me score 55.7.
10:27 a.m. This a big expressive horse. Lisa has elected to wear a top hat and Honor Me is wearing a double bridle. Their half walk pirouette was a bit large behind. "Tali" is a Welsh Cob-Thoroughbred cross. He wants to get a little quick in the extended walk. She lost some straightness of the line in the canter half pass. Her extended canter was a bit conservative. A BIG expressive change from Tali. He was a little late behind in the second to last change and then he got a bit eager in the final change.
10:22 a.m. Lisa Marie Fergusson and Honor Me
Lisa has been waiting a long time to final come down centerline in the Rolex Stadium. She's had two prospects before tragedy struck, but now she's finally here with Honor Me.
10:21 a.m. They score a 46.5.
10:20 a.m. "Sonny" already looks super relaxed and ready to perform. His medium trot work is lovely. She's doing a very accurate forward test. Her halt before the rein back wasn't the cleanest. Holly did a lovely job preparing for the first flying change and is rewarded with a clean, expressive change. Her test was smooth, and she's thrilled!
The crowd gave them lots of love and Sonny got a bit excited.
10:17 a.m. Leah Lang-Gluscic and AP prime score a 62.1.
10:14 a.m. Holly Payne Caravella and Santino
We saw Holly yesterday with Never OutFoxed and she'll be looking to improve her score of 67.2. She's been paired with this horse since 2011, but this is her first four-star with him.
10:13 a.m. Sydney and Cisko A score a 55.2.
10:10 a.m. Cisko shifted his hindquarters to the right slightly in the first halt, but they continue on into lovely trot work. Cisko also has some lovely quarter marks. She's very accurate and has nice angles in the shoulder in, but commentators Karen O'Connor and Gina Miles think she needs to be a bit more forward. He needs a bit more jump to his gaits. He gave a slight but through the change. He got a little stuck in the hind end on their final flying change. She sure is happy though!
10:06 a.m. Sydney Elliott and Cisko A
This is Sydney's first tour around the dressage arena at Rolex. She's been paired with Cisko since 2013. Learn more about Sydney here.
10:03 a.m. Selena O'Hanlon and Foxwood High score a 50.8.
10:02 a.m. In the trot work "AP" looks tense through his neck and is a bit fussy with his mouth. She's riding a very accurate test. He jigged a little bit coming out of the extended walk. There was a little bit of a buck in the first flying change. He got a little low in the front end in their second change. This horse looks like he's ready to go cross-country!
And it's a big smile from Leah at the end! She's got quite the fan club.
9:58 a.m. Leah Lang-Gluscic and AP Prime
You might recognize Leah Lang-Gluscic from her Chronicle blogs throughout Rolex. To see what she thought of the cross-country course after her course walk, click here. She was the Chronicle's One To Watch last year, but ended up withdrawing after dressage, so she'll be looking for a completion this year.
9:54 a.m. Selena has also elected to ride in a double bridle. "Woody" is sporting some nice quarter marks as well. Their trot work has been nice and accurate but conservative. They weren't quite square in the halt prior to the rein back, but their rein back was nice. Her changes are nice and smooth. Woody's canter is nice and uphill which will earn them points. In his second canter loop, the flying change was exuberant and expressive, but he came above the bridle some. His left-to-right changes are weaker. She seems pleased with that.
9:50 a.m. Selena O'Hanlon and Foxwood High
Canadian pair Selena O'Hanlon and Foxwood High will start us off for our second group of day two.
Marilyn spoke with us about what she's been doing to improve Demi's dressage…
"She is a chestnut mare, bless her, and I think the most important thing is to come in and make sure she's ready to put in a very relaxed test. Rolex is always tricky because there's a lot of emotions and there is a lot of atmosphere. This year I've been focused on just very relaxed, happy horse and if you watch the warm up there's not a lot of pressure. We're walking, pet her, let her settle in, give her a little time. So she went out there ready to do her job, and I think she feels really well in her body, had a lighter year this year as everybody knows. But she's in a good place, so looking forward to the weekend."
9:25 a.m. Bunnie and Ecko score a 71.3.
9:23 a.m. We're on break now! We'll start back up at 9:50 a.m. with Canada's Selena O'Hanlon on Foxwood High.
9:21 a.m. Bunnie's clearly just managing this test as well as she can with "Ecko." He jogs through the walk with a lot of resistance, but she gets to canter next, so that should go better for her. This is the second Rolex for Bunnie, and Ecko did complete last year with a super cross-country trip. Lots of tension in canter; she's keeping a lid on it just barely.
I'm sure they are thrilled for that phase to be over! Now they can "relax" for the rest of the weekend.
9:19 a.m. Bunnie Sexton and Rise Against are in now. Bunnie is probably the nicest person you could ever meet, and she'll do this whole weekend with the biggest smile on her face too. Rise Against does not adore dressage, though she's improved him a lot over the years, but he's a cross-country monster.
9:17 a.m. And Marilyn scores a 42.5! That'll put her into second.
9:15 a.m. Marilyn's test is going very well! She had a small bobble with the walk, but the canter is super, with great and jumping changes. The extended canter is bold, big. This big mare just makes a lovely picture, and she looks very solid in the contact. Last two changes are excellent. Just steps out behind in the final halt, but that should be a very good score for Marilyn and Demeter!
Buck spoke to us about his test with Petite Flower:
"I'm really thrilled. That's the best she's ever gone. I fell off at Carolina CIC, and she didn't get to go there, but she was in the lead after dressage. She went very well at the Fork. I didn't run her because the ground was hard, and she's sort of been getting better and better, so we'll keep our fingers crossed for the rest of the weekend."
9:10 a.m. Demeter has a beautiful and explosive extended trot. The lateral work flows and is nicely forward.
9:07 a.m. Marilyn Little and RF Demeter are up next. Marilyn of course our show jumper-turned-eventer, but this pair are eventing veterans now with a chance to slot into the top placings if this goes well… (To learn more about "Demi" come behind the stall door with us.)
9:05 a.m. Avery is just 22, and In It To Win It is 16. The horse gets a little low in front during the trot lateral work, and he looks like he's blowing out some tension. The second half of the lateral work goes better, very accurate. They're presenting a nice picture in the canter, steady in the frame and still a very accurate test. Nice final halt, lots of pats for "Winston." She gets a score of 60.5 penalties for her first Rolex ride.
9:00 a.m. Avery Klunick and In It To Win It, a first-time four-star pair, are in next. Avery, who's from Texas, had some cool cowboy boots for the jog.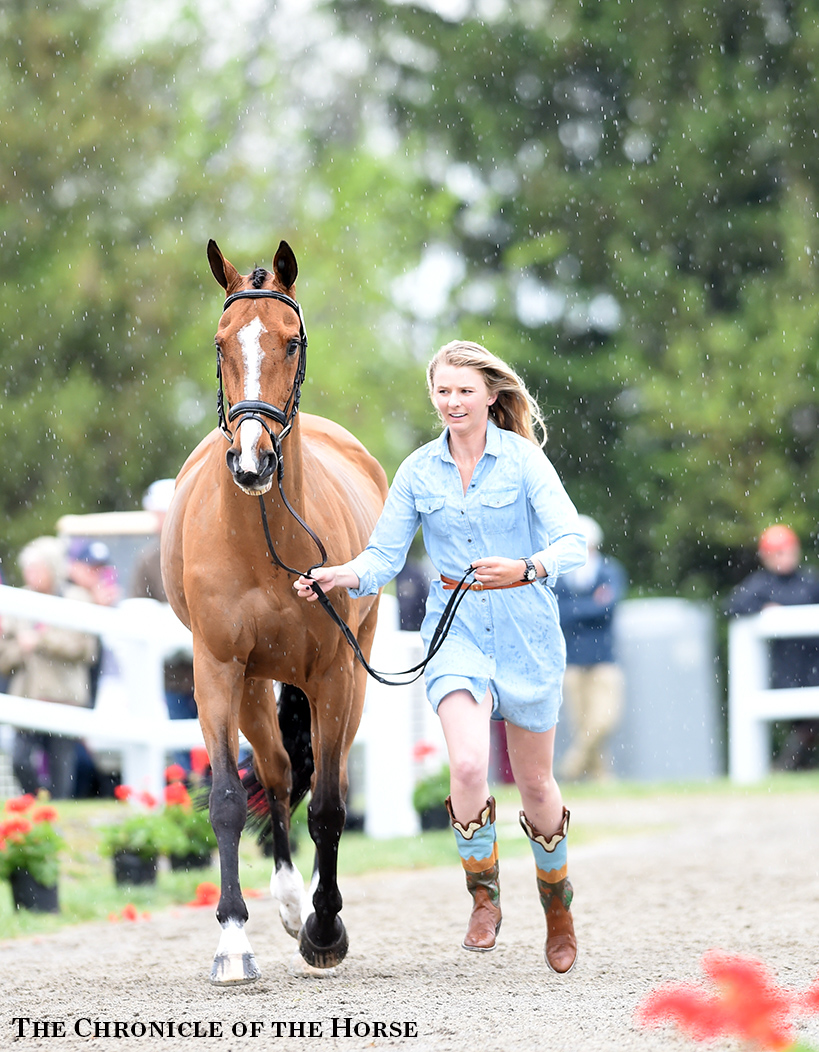 8:57 a.m. Some steady trot work, though Vandiver stuck behind in a walk pirouette. The canter's big and jumping, but the horse is so big he looks like he almost gets stuck in the corners at times. He's getting a little low in the poll and behind the vertical. They finish with a square halt.
8:55 a.m. Doug Payne and Vandiver are in next. This is a fairly new ride for Doug; the gelding started Rolex last year with Werner Geven, but they didn't finish.
8:51 a.m. It's worth noting that the weather today is beautiful. And that is NOT what we're expecting tomorrow sadly, as there's a 100 percent chance of rain and thunderstorms.
8:50 a.m. Little Leo's a little tense in the extended walk, and she can't really let him out. He jigs a bit in the collected walk, but now they're cantering. First change is frisky and late behind; the second a little better. He's looking fit and ready for tomorrow. They miss the last change and have to make a second attempt. Final halt is good though!
8:45 a.m. Next in is Panda Christie with Little Leo, all the way from Great Britain. Little Leo did his first four-star at Pau last year. This is a very cute horse with a big white blaze, but he has a little bit of a head tilt through this first part of the trot tour.
8:40 a.m. Petite Flower really showing off a nice extended trot, and the lateral work has a good cadence as well.
She has a big and relaxed walk too, very slinky. The canter half-pass to the right goes beautifully for them. First change is just a bit late behind, second one is much better. Nice square halt to finish. Buck looks thrilled! That scores a 46.7, and that'll put him into sixth place now.
8:38 a.m. Next in: Buck Davidson on his second ride, Petite Flower. Buck likes to wear matching hats with his horses; here he is yesterday with Park Trader.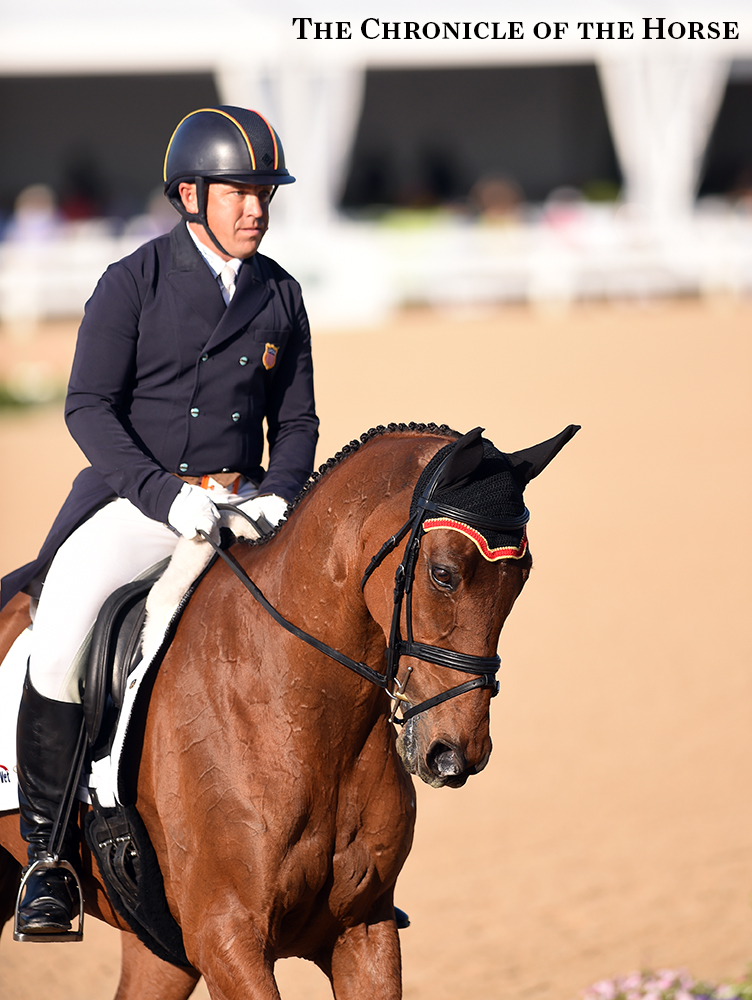 8:30 a.m. Lillian Heard and FCC Barnaby, with the unenviable position of going first today, head into the ring.
This is Barnaby's first Rolex, first four-star. Her trot work's pretty steady and correct. Though it's obviously not great going first, if you have a horse who can get upset by a lot of atmosphere it can be an advantage. The stands will be packed by this afternoon.
Lillian's putting in a pleasant test with Barnaby, especially in the canter. A little conservative in the extended canter. He gets a little crooked and anticipates the last two changes, but she finishes with a good final halt. She gets a 53.8 for that test, and that'll be 18th for now.
8:25 a.m. In case you missed it, here are the top 5 from yesterday. (Michael has an almost 10-point lead over the rest of the field, which you can read about here.)
1. Michael Jung and FischerRocana FST
2. Liz Halliday-Sharp and Fernhill By Night
3. Phillip Dutton and Fernhill Fugitive
4. Boyd Martin and Shamwari 4
5. Maya Black and Doesn't Play Fair
Lillian Heard and LCC Barnaby are going to be first in this morning at 8:30. This Lillian's second mount of three; she rode Share Option yesterday.