They say the three keys to success are location, location and location. Louisiana is not known as a hotbed of eventing. It's fairly flat, quite warm and only hosts two U.S. Eventing Association recognized horse trials a year, but to Sydney Conley Elliott, it's home.
While she may be geographically at a disadvantage, Elliott has managed to run a successful training business, virtually by herself, and compete at the upper levels. "Living here, you know you're in for a drive," she said with a laugh.
This coming weekend, Elliott, plans for her drive to take her to the Red Hills Horse Trials (Fla.), where she has Pancho Villa entered at the advanced level. Check in with www.chronofhorse.com for coverage of Red Hills.
Elliott's business is essentially a one-woman show. The 28-year-old spends most of her time training horses for other people and traveling to competitions, which leaves little time for teaching. "Without the owners, I would not be able to do anything. It's all about them for sure," she said.
She does everything, from the finances to the grooming to cleaning stalls, and loves every minute of it. "I'm so fortunate that I can do what I love to do. I would gladly work a 13- or 15-hour day seven days a week rather than be stuck in an office. Some days I think, 'What am I doing? I'm so exhausted.' It can be overwhelming. It's not for everybody, that's for sure," she admitted.
What's This Eventing Stuff?
Growing up in Bossier City, La., Elliott was horse-crazy from the start. When she was 7, she started riding at Holly Hill Farm in nearby Benton and began a lifelong friendship with owners Robert and Tracy Hewlett. "I practically grew up [there]. They're a great family, and they just keep it going," said Elliott.
When she was 8 and riding her first pony, Elliott got the opportunity to participate in a clinic with Karen O'Connor. While she'd heard of eventing, it hadn't crossed her mind when she signed up for the clinic. "I remember, she asked me, 'Do you know this is an eventing clinic?' And I said, 'No, ma'am.' And she said, 'Well, we're going to teach you how to do cross-country.' And she did, and it got me going," Elliott remembered.
Throughout her early eventing career, Elliott worked regularly with former upper-level eventer Regis Webb, who's based out of Holly Hill. "Unfortunately she wasn't able to pursue her career in the saddle, but she was able to pass her knowledge on to [me]," said Elliott. "I was a very wild kid when I was younger, so I think I was a little difficult to coach, especially for dressage. That was the last thing I wanted to do. She definitely had her work cut out for her teaching me the basics."
Elliot was bitten by the bug and decided to pursue the sport seriously. "It's funny, I think I'm the most cautious person you'll ever meet, until I'm on the back of a horse. I don't do roller coasters, I won't get on a motorcycle, I won't even ride a scooter," she said.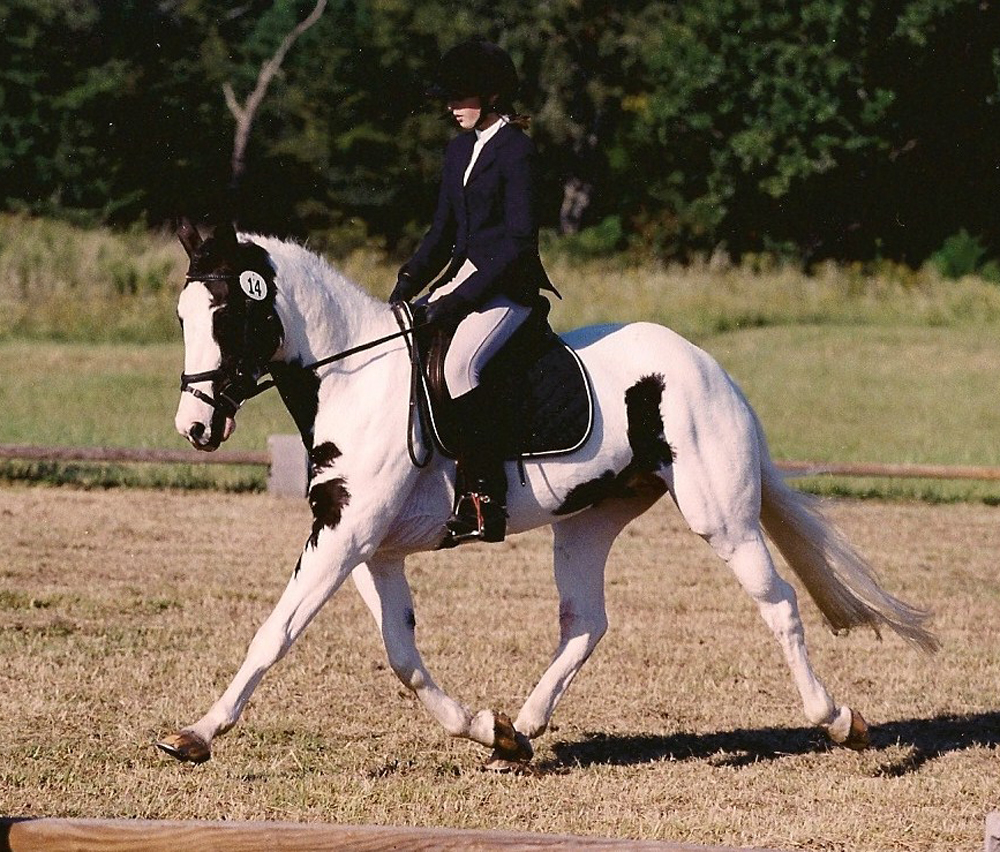 Sydney Conley Elliott competed to the
preliminary level with her first pony
Fancy Shadow Chaser.
Photo by Shannon Brinkman
Still on that first pony, a 14.1-hand paint named Fancy Shadow Chaser, Elliott continued to clinic with Karen a few times a year and competed through the preliminary level. "She was not much to look at," she said of "Fancy." "You definitely wouldn't think she would run around prelim, but she was the perfect first pony for me. Luckily Karen was patient enough on most days to work with me!"
By the time she was 14, Elliott was ready for her next mount. Karen helped her sell Fancy, and she went through a series of off-the-track Thoroughbreds that didn't work out.
Finally she found Rajas Dawn, a 6-year-old Thoroughbred who had been show jumping. Elliott gained valuable experience on the mare, starting her at novice and winning the CCI* at the Virginia Horse Trials in 2003. They competed through the two-star level before Rajas Dawn injured a tendon and was eventually retired. "She was a great mare to get my feet wet at the FEI level," said Elliot. "She made my eye a little bit better for picking horses. She really taught me a lot of basics."
Making A Life
A quick stint at Louisiana State University didn't ignite any other career aspirations for Elliott. "I just thought, 'I think I'm going to ride.' It's not very practical, but I wanted to do it," she said. In that time, Elliott began picking up catch rides and problem horses, and meeting owners who opened the door for her to be able to compete and show.
Elliott keeps about 10 horses on her property and rides several that live at Holly Hill. Many of the horses she rides are youngsters, and Elliott enjoys seeing their development. "I think every day is a new day, and I love seeing their progress," she said. "You can just see their brain working, and I love that part and teaching them to enjoy their job. If I can teach them to enjoy their job, whether I get to keep the ride or they go on to somebody else, that just takes the cake for me."
Her top ride is Michelle Taylor's Pancho Villa (Icarus De Carolina—SS Sassy, Stars N'Stripes), a 10-year-old Selle Francais gelding. Elliott started riding him when he was 3. "He was a mess [as a young horse]—so fresh and extremely wild, just unruly. He can still be that way, and it takes a certain rider to get along with him," she said.
Just Point And Go
The gelding left her barn for a few years and competed to intermediate with Marcea Funk before returning to her in 2011. "[Michelle's] been very, very patient because it was a rough start when he came back. I had not done any kind of upper-level competing for seven or eight years since my mare retired. He had a couple of issues that needed to be ironed out," she said.
With the help of Mike Huber and Heather Morris at Gold Chip Stables in Dallas, Elliott quickly reaffirmed her partnership with him. "He loves to gallop, and he likes to do it his own way. The less interference from me, the better. I kind of point and go, and he's pretty good," she said.
They ran their first advanced together in 2012 at the Rocking Horse Winter II Horse Trials (Fla.), where they finished in seventh place in their division and were named to the U.S. Equestrian Federation's Developing Rider list.
Elliott and Taylor haven't made a concrete plan for the gelding this year, but so far, they've started off in great form, finishing fifth in a division of advanced at the Rocking Horse Winter II Horse Trials in February. "I don't think I could ever do it on a horse that feels safer than him. The jumps are so large, and the combinations are so technical, that you want to go out on something that will take care of you, and he will take care of you," she said.