Lexington, Ky.—April 28
If you'd placed a bet before dressage started at the Rolex Kentucky CCI****, you'd probably have chosen Michael Jung on fischerRocana FST to win the day. But leading with a nearly 10-point margin on 34.4 penalties? Well, you might not have expected quite that result.
Jung didn't admit that even he expected a score like that, which is nearly 5 penalties better than his winning dressage score at least year's Rolex, but for the German phenom—with Olympic gold, World Equestrian Games gold and numerous four-star wins to his household name—it's also clearly not a surprise.
"Yes of course I'm very happy," he said with a small smile after his ride. "She did a wonderful test, I think. She was very concentrated—nice to ride, nice to work. It was nearly everything like we trained, so I'm very happy.
"I think she likes it [here] very much," he continued. "She was happy on the transport. It's not always so easy for every horse, but she traveled very well. Also she really likes the stadium. She did nice dressage last year, she jumped clear in show jumping and in the cross-country, and she galloped well. I think this is a beautiful competition for her."
U.S. rider Liz Halliday-Sharp is sitting second (43.0) with Fernhill By Night, with fellow countryman Phillip Dutton right on her heels with Fernhill Fugitive (43.1).
"He's a bit lazy," said Halliday-Sharp of "Blackie." "You have to watch your watch and go, 'OK, not yet, not yet.' You pick up trot, canter and do a change each way, and then you go into the ring. He's different than a lot of four-star horses that way. But he's a big horse, and he can get away from me in the test a little bit, but today he really tried, and I felt like he was working with me the whole time. We're getting a good partnership now."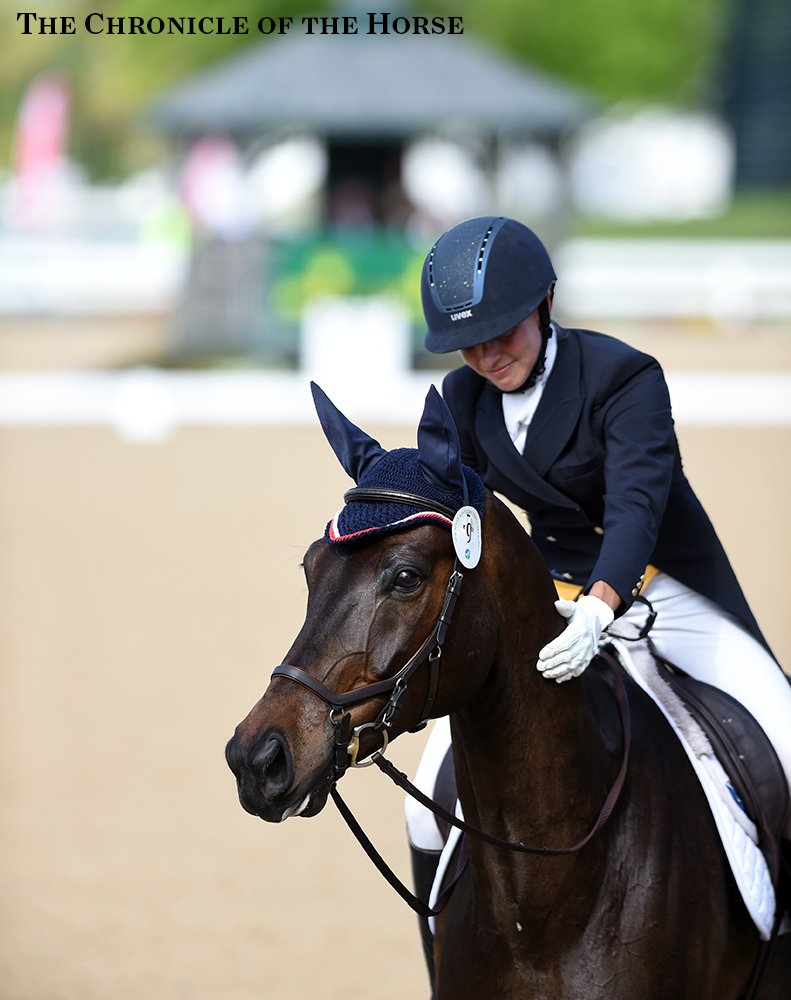 Liz Halliday-Sharp and Fernhill By Night. Photo by Lisa Slade.
Fernhill Fugitive was Dutton's first ride of three—he's also seventh on Fernhill Cubalawn with Mighty Nice to come tomorrow—and actually the first ride of the whole competition.
"It's not always great going first, but when you enter three you know you have a good chance of going first," he said. "You never know how the scoring is going to go, but I was pleased with how he went, and that's probably his best four-star score so far. He's coming together and maturing, and he's a quiet and good-natured horse, so he's easy to teach."
Other tidbits from the day:
Boyd Martin brought out his 2014 Alltech FEI World Equestrian Games (France) partner Shamwari 4, placing fourth after Day 1 with 44.6 penalties. Martin also placed 24th with Steady Eddie, who went early this morning. His third ride, Blackfoot Mystery, goes tomorrow.
"Yeah this one moves just slightly bigger than Steady Eddie," he joked. "I was quite pleased with [Shamwari]. It's the first real big deal competition he's been to since WEG. It wasn't a perfect test, but it was alright. I knew they'd score a bit hard the first horse, so I put the greenest one out, Steady Eddie. If the footing gets chopped up a bit [on cross-country], I'd prefer to put Shamwari on the slightly better footing, and then Blackfoot Mystery deals well with the electricity on Friday, and he is a beast cross-country, so I figured he'd be the most suitable for [going last]."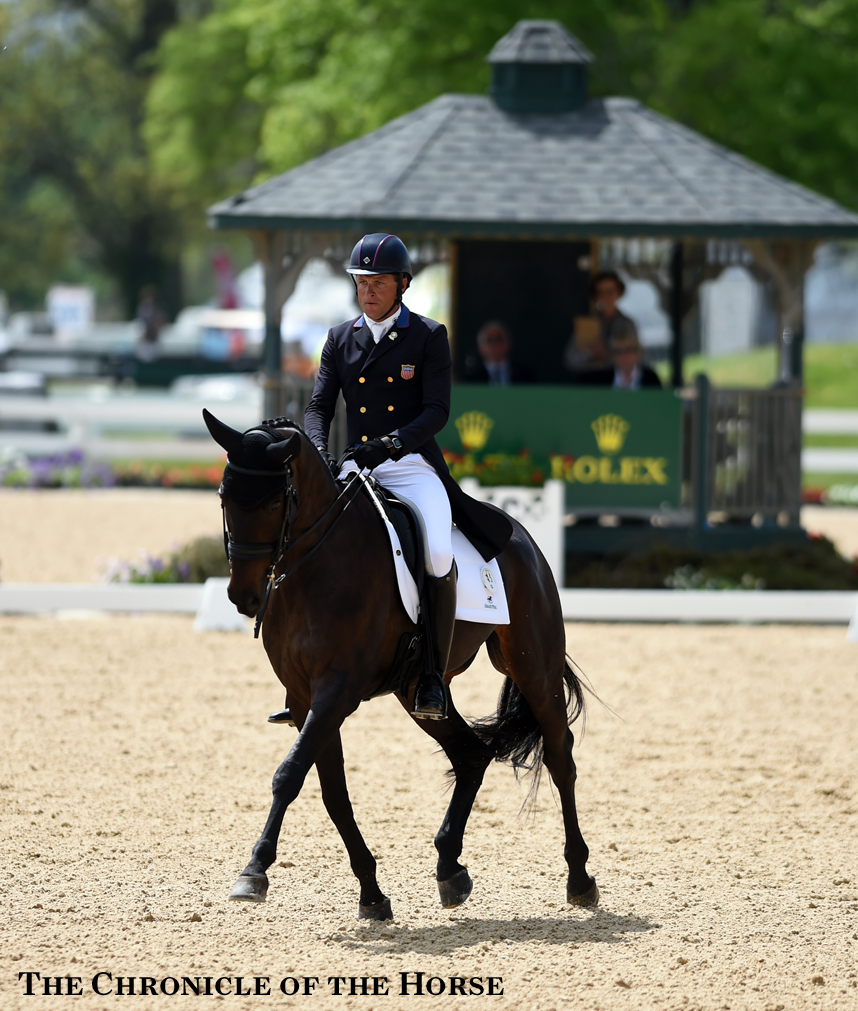 Boyd Martin and Shamwari 4. Photo by Lindsay Berreth.
Maya Black sits fifth on Doesn't Play Fair after Day 1. They're fresh off a win at the The Fork CIC*** in North Carolina.
"I feel like I've definitely had a lot of improvements since last year, and I feel like in these last few months he's kind of become more rideable and more broke, and I think it's just something that is a process," said Black. "I felt like in there today, you know, it's a big stadium, and there's a lot going on, and I was really happy with the improvements from last year. Overall I was so pleased with him. He's come a long way. Just to see that he can go in there and improve each year, I'm happy with that."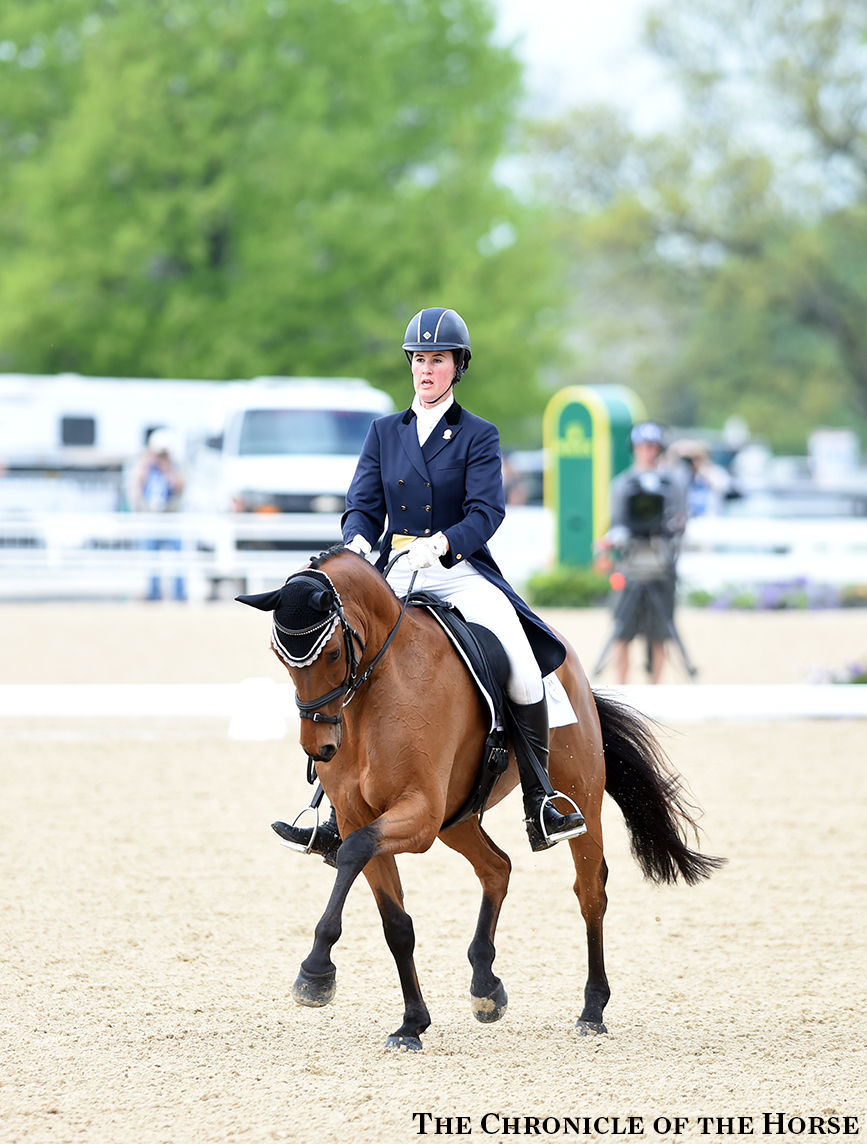 Maya Black and Doesn't Play Fair. Photo by Lisa Slade.
New Zealand's Jock Paget came from Great Britain with Clifton Signature for the gelding's second four-star, and he ended the day in sixth on 47.5 penalties.
"He was a little green for an arena like that," said Paget. "It's good to see that he could go in there, and he feels the atmosphere, but he didn't let it get to him too much. He did the movements. I think he had a good time. He came out feeling a bit fresh.
"I think he needs a bigger arena," he joked about the large gelding. "Maybe an 80' x 40'."
Tim Price is another New Zealander who made the trip from England for this four-star. He had to scratch his second-placed mount from last year, Wesko, due to injury, but with Bango he's sitting tied for eighth with Katie Ruppel on Houdini.
"I was really pleased with him," said Price. "He's an unknown quantity in this sort of atmosphere. He's young, and I've taken him quite quietly, so to have this kind of atmosphere—not that there's a lot of people here, but it's more the environment and things—it's got a bit that he's not used to. He handled himself quite well. He's been very fresh all week, and that's been a bit of the best work we've had at the end [of the test] here, so he's got a lot more to give in the future. But now I'll take that."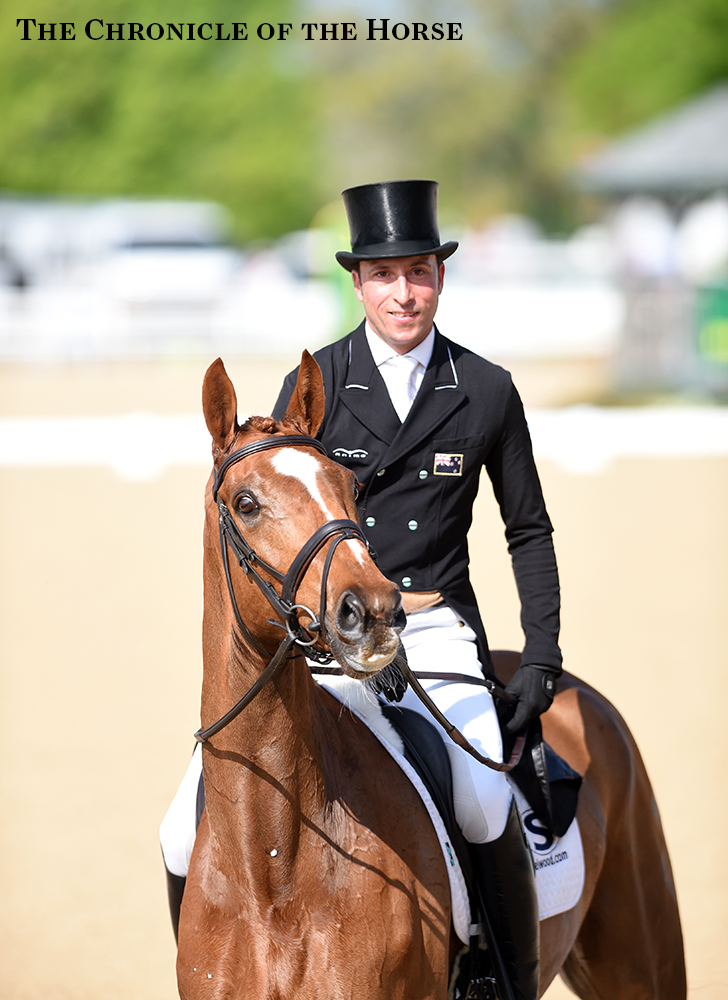 Tim Price and Wesko. Photo by Lisa Slade.
Courtney Cooper is here for her first four-star on the homebred Who's A Star. The horse had a strange moment when he seemed to sting himself in a flying change, but they finished up their test nicely for a score of 50.9 penalties.
"I'm pretty excited! I've gotten the whole range of the emotions," she said. "He's my homebred and my first homebred, so I'm really excited to be here."
Lynn Symansky didn't have quite the ride she wanted when Donner got his tongue over the bit while going around the outside of the dressage ring. They finished the first phase with 55.8 penalties.
"It's never happened to him before," she said. "He was amazing in warm up. It's probably actually the best feeling he's ever given me, so I thought he was going to go in there and really nail it, but once that happens, they can't right themselves. There's not really much you can do. You're just sitting on a time bomb in there the whole time.
"He actually held it together as best he can, but you can't take any connection or contact, so we were just coasting through. We were a bit disappointed," she continued. "I feel he really could have done a heck of a lot better, but we were just in survival mode at that point."
Tomorrow's dressage begins at 8:30 a.m. See full scores from the day, lots of photos and our live blog from the day. You can also follow along with all of the Chronicle's coverage.