Lexington, Ky.—April 27
The first day of dressage for the Rolex Kentucky CCI**** kicks off today at 8:30 a.m. local time.
Click here for live scores, here for ride times and here for all the other important information you need (including live streaming links!). See all of the Chronicle's Rolex coverage.
3:30 p.m. Day 1 of dressage has concluded! Be sure to check back at our homepage shortly for a full recap.
Here are your top five for the day:
1. Michael Jung and FischerRocana FST
2. Liz Halliday-Sharp and Fernhill By Night
3. Phillip Dutton and Fernhill Fugitive
4. Boyd Martin and Shamwari 4
5. Maya Black and Doesn't Play Fair
3:25 p.m. Ryan's Fernhill Classic is having moments of fanciness and then a few minor bobbles in the trot work. He gets a little buck in a flying change. Fernhill Classic is ready for Saturday.
He gets above the bit in the extended canter, but Ryan is managing him to still put in a pretty clean test. Whoops another little bit of playing in the flying change. They're done though! And we're also done for the day.
3:20 p.m. Boyd and Shamwari slot into fourth with a score of 44.6. Next in will be Ryan Wood and Fernhill Classic. They're the last of the day.
3:15 p.m. Boyd Martin and Shamwari 4 are in next. This was Boyd's mount for the 2014 WEG in France. Boyd's riding him very forward so far; the horse is super active. The trot half-passes have good cadence and reach. This horse has a massive walk.
Canter half-pass is steady too. First change jumps through, and he GOES in the extended canter. The second change is lovely as well. Third has a little misstep but not a dramatic mistake, and the fourth change is again lovely. Excellent final halt, and that should score very nicely!
3:10 p.m. Phillip Dutton and "Cuba" are in the ring now. This is a very steady horse, of course expertly ridden by Phillip. He gets a little above the bit in the changes, maybe anticipating a bit, but Phillip always gets him right back. A good final halt. That's the second of three rides for Phillip! He'll be sixth for now on Cuba.
3:05 p.m. Just because he's adorable, check out Nox Martin (Boyd's son, pictured with mom Silva Martin) watching Boyd's test this morning. He's wearing a tiny shadbelly and "helmet!"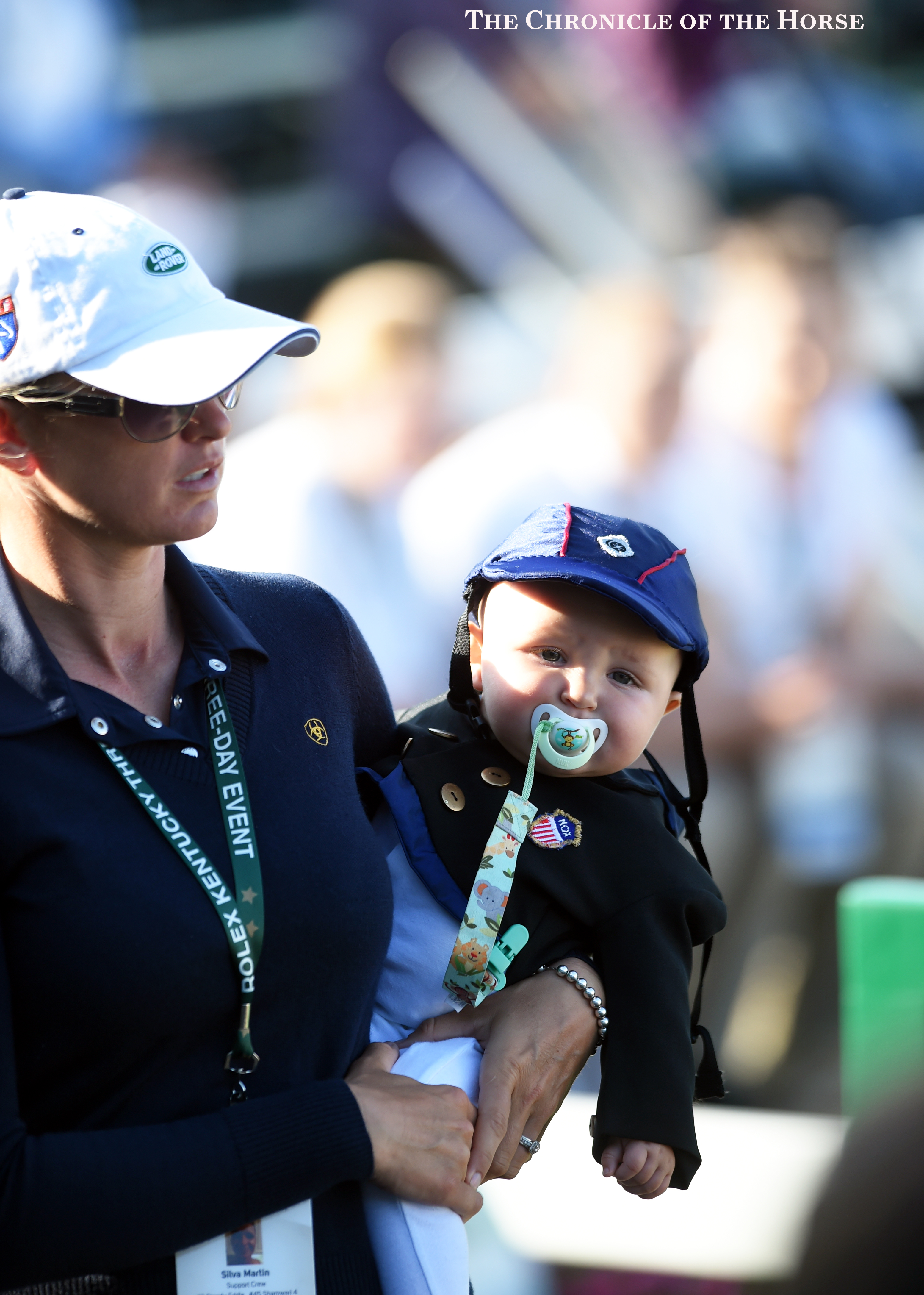 3:04 p.m. We have just three rides left for the day, and Phillip Dutton is in next with Fernhill Cubalawn.
3:02 p.m. Jessica Phoenix and A Little Romance head in next for Canada. This little mare won the Bromont CCI*** a few years ago in Quebec. It's another horse who's not the absolute biggest mover, but she can put in a steady test. Some tension in the walk for Jessie and "Blue Eyes." The canter is a little short and hopping behind, but she's still riding an accurate test. Changes are quick, but they're happening! Jessie gives her tons of pats at the end.
2:50 p.m. Jock Paget and Clifton Signature head in now for New Zealand. This is a big and flashy dark chestnut with lots of white on his face. Super cute!
As you might imagine, their trot work is quite accurate and fluid. The transition from walk to canter is prompt. The first two changes are a bit crooked, but the last two are super, and the final halt super square.
2:30 p.m. And we're on break until 2:50! Check out the updated scores here.
Lynn Symansky on her test:
"He unfortunately got his tongue over the bit right as I was going into the ring, and everyone was clapping for the horse coming out. It's never happened to him before. He was amazing in warm up. it's probably actually the best feel he's ever given me, so I thought he was going to go in there and really nail it, but once they get that, they can't right themselves. There's not really much you can do. You're just sitting on a time bomb in there the whole time.
"He actually held it together as best he can, but you can't take any connection or contact so we were just coasting through, so we were a bit disappointed. I feel he really could have done a heck of a lot better but we were just in survival mode at that point."
2:25 p.m. Mikki Kuctha and Rubens d'Ysiuex are heading in next. In case you missed it, Mikki was our "one to watch" this year. They'll be the last pair before the last break of the day. He's another horse wearing a breastplate!
The first extended trot goes well. Rubens is shaking his head with a bit of sass during the first part of the lateral work. The second part is more fluid. Canter work is steady, changes are without drama. Mikki's all smiles at the end!
2:19 p.m. Eli MacPhail and RF Eloquence in the ring now. The horse has some moments of tension, but some of the trot work is also really nice. Halt and reinback are good.
Counter-canter and the first changes go well. This has been a consistent test. Lots of pats at the end.
Michael Jung about his ride on Rocana:
"Yes of course I'm very happy. She did a wonderful test, I think, very concentrated. She was nice to ride, nice to work. Nearly everything went like we trained, so I'm very happy. I think she likes it [here] very much. It's not always so easy for every horse, but she traveled very well. Also the stadium she really likes."
2:12 p.m. Clip Clop doesn't have quite the expressive trot of some of the horses we've seen today (FisherRocana, ahem), but this is quite steady so far. Joe really goes for it in the extended canter. They have a few issues in the changes and their score will put them just out of the top 20 for now.
2:07 p.m. Joe Meyer and Clip Clop are next for New Zealand. Joe sported a kilt at yesterday's horse inspection.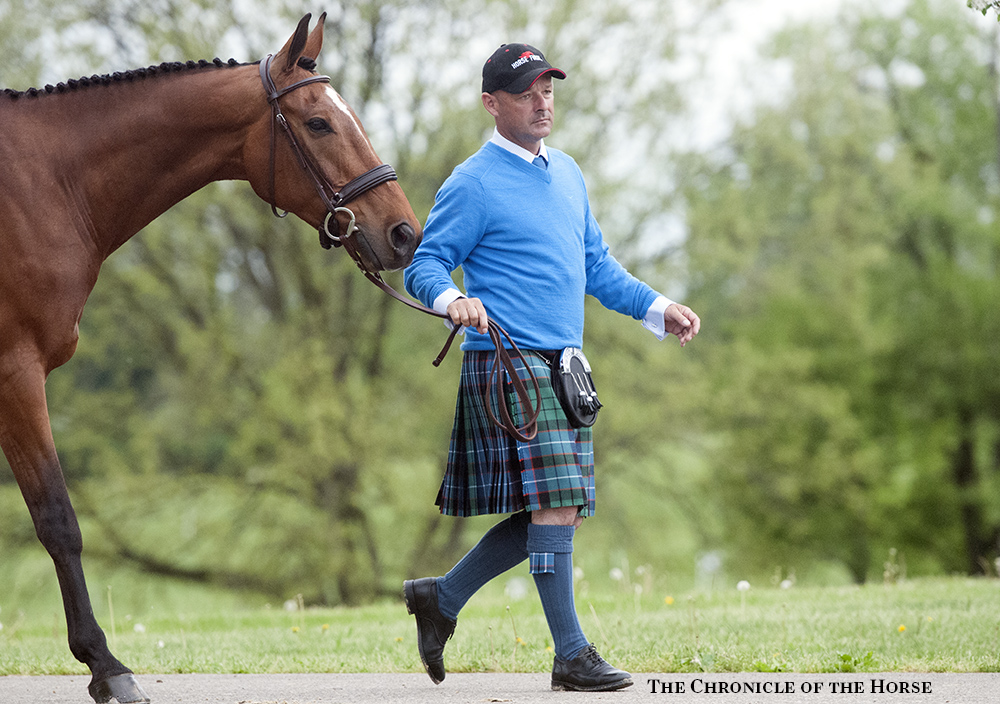 2:04 p.m. Next up: Lynn Symansky and Donner! Donner was a bit…lit up at yesterday's jog! This trot work is settled and fluid so far. Donner is a classic OTTB, he looks happier to be cantering than trotting. They have a little miscommunication regarding a flying change, and there's some trotting there, but they quickly pick it back up. The extended canter is lovely.
The last two changes go much better. Donner doesn't love the clapping, but Lynn gives him some pats. They earn a 55.8.
1:57 p.m. Elisa Wallace and Simply Priceless head down centerline yet. You have to feel for anyone who follows Michael, but her test is going very nicely so far as she heads into the first shoulder-in and half-pass. Trot work is overall workmanlike. A little tension in the walk, but he's keeping it together. Elisa of course known for her work with mustangs in addition to her eventing pursuits. They finish up their canter work, and she's looking thrilled with that. She gets a score of 49.6 penalties, and that'll go into a tie for eighth right now.
1:51 p.m. A 34.3 for Michael! One judge (E) gave him an 80 percent! Everyone else is going to be chasing that now.
1:45 p.m. Alright here we go… It's German phenom Michael Jung on FischerRocana FST heading up the ramp and into the ring. They won last year. CAN THEY DO IT AGAIN.
The test kicks off with a good first halt and strong extended trot. Shoulder-in and half-passes are fluid. Perfect and square halt. Into the canter, and, as you can expect, that's going beautifully as well. Flying changes look like they could win at a pure dressage show as well, even, clean and straight. Aaand a perfect final halt as well. That will go into the lead…but by how much?
1:41 p.m. Jordan and Capato won the Twin Rivers CIC*** in California for their final prep run a few weeks ago. Extended trots are nice, just a slight loss of rhythm at times in the lateral work.
This horse has a huge canter step, and he has one change that's late behind, but the changes are otherwise big and jumping and expressive. Lovely extended canter. She looks happy with him as they finish! Jordan's in sixth after that ride.
1:38 p.m. Next in is Jordan Linstedt on Revitavet Capato. But right after HER is last year's winners Michael Jung on FisherRocana FST, and I'm sure the crowd is already excited about that. (Not that they're not excited about Jordan too!)
1:35 p.m. Kurt Martin and Delux Z doing a fluid test in the ring. Their trot work is nice, the horse is looking settled in the ring so far. Delux Z has a little tension towards the end of their walk, but he's again very settled in the canter. Changes are clean and pleasant, ending with a smile from Kurt.
1:15 p.m. Dressage starts back at 1:30 here with Kurt Martin on Delux Z. In the meantime, check out some photos of the morning's action! Here are leaders Liz Halliday-Sharp on Fernhill By Night.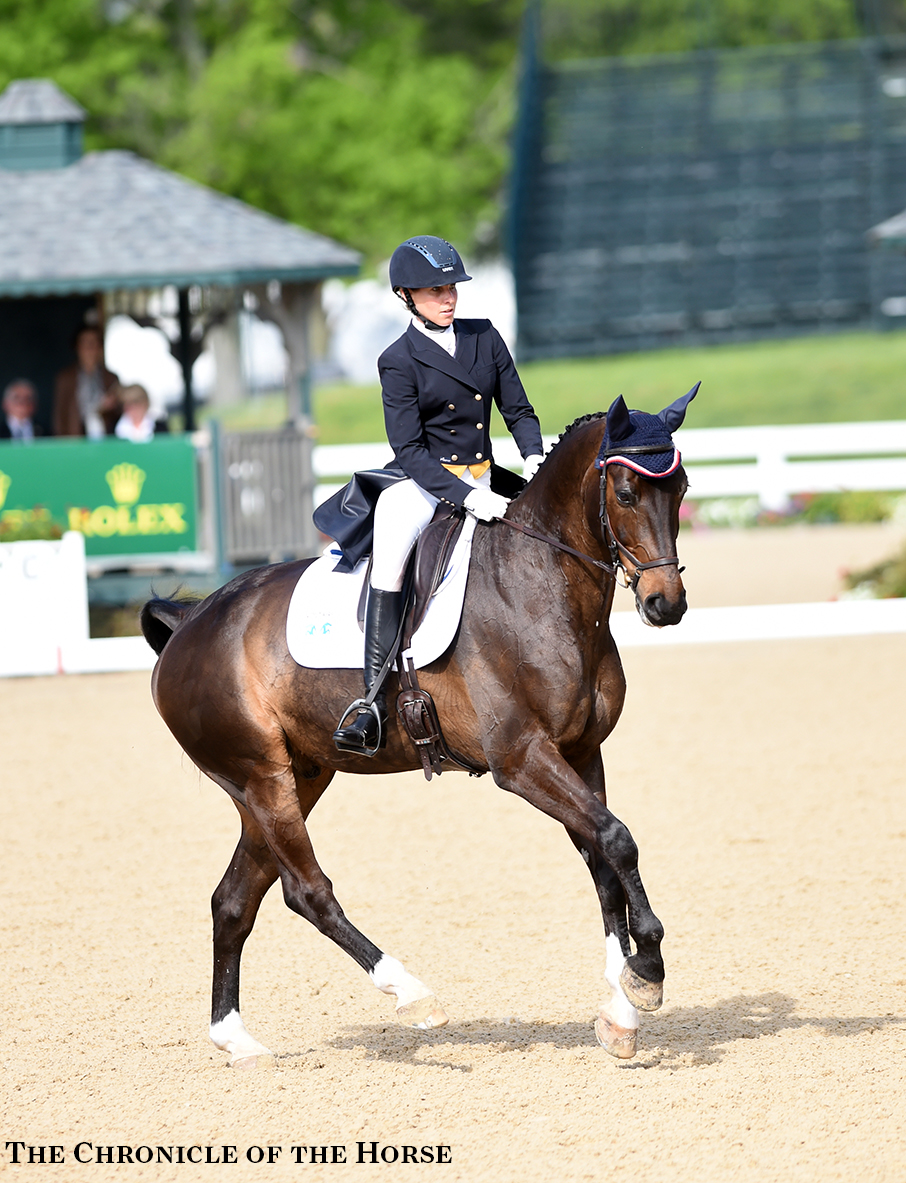 At the lunch break the leaderboard is as follows:
1. Fernhill By Night/Liz Halliday-Sharp/USA 43.0
2. Fernhill Fugititve/Phillip Dutton/USA 43.1
3. Doesn't Play Fair/Maya Black/USA 45.5
4T. Bango/Tim Price/NZL 48.3
4T. Houdini/Katie Ruppel/USA 48.3
11:58 a.m. Katie Ruppel and Houdini
Katie and "Hewie" will be the final pair before the long lunch break. This pair is also fresh off a win at the Fork (N.C.), where they took home top prize in one of the advanced sections. Houdini completed Rolex in 2014 but retired last year on cross-country, and he's a graduate of the young event horse program. This horse has a lovely big extended trot. He gives her good crossover behind in the half pass and their halt is lovely. The counter canter loops are lovely and he stays in a nice consistent, rhythm and top line. He pads the ground slightly in the change in the final canter loop. She's quite happy with that ride.
They score 48.3 to provisionally tie with Tim Price and Bango for fourth.
11:50 a.m. Maya Black and Doesn't Play Fair
This pair is fresh off a win at the Fork (N.C.), and this pair has certainly done their homework. Unlike the last horse in the ring, "Cody" is quite small at 15.2 hands. Their trot work was lovely. He got a bit stock in the front end for the rein back but he gives her a nice marching extended walk. He has a nice powerful hind end in the canter with a lovely uphill test. He's a tad late behind in the last two flying changes, which might cost her the lead. Overall that looked like a fun ride.
They score 45.4.That will put her into third provisionally.
Want to know more about Cody? We went Behind the Stall Door with him.
Maya shared her thoughts on her test…
"I feel like I've definitely had a lot of improvements since last year, and I feel like in these last few months he's kind of become more rideable and more broke, and I think it's just something that is a process. I felt like in there today, you know, it's a big stadium and there's a lot going on and I was really happy with the improvements from last year. Overall I was so pleased with him. He's come a long way. Just to see that he can go in there and improve each year, I'm happy with that."
11:42 a.m. Nilson Moreira da Silva and Muggle
Nilson and Muggle are also newcomers to Kentucky. Muggle has a bit of a comeback story, as he's been injured quite a few times. Nilson came to the U.S. with $300 in his pocket to get his start. Muggle is one of the biggest horses in the competition standing near 18 hands. They did have a break early in the medium trot. His footwork could be a bit quicker in the canter but he gave a nice flying change in the canter loops. He's expressive with his front legs through the changes but could have more jump behind.
Here's what Nilson thought of his first four-star…
"I feel really good. It's my first four-star and probably inside there the horse got excited and sometimes I felt he got a little bit above the bit, but I'm really proud of his first test on this level. I really enjoyed this time. It's really good. He was a good boy. We haven't been eventing that long, only 3 1/2 years and already in a four-star. I'm really proud of myself and proud of my team and proud of myself too because it's not easy. it's hard. You do this sport. I'm really happy."
11:34 a.m. Kyle Carter and Madison Park
At 18, "Parker" is one of the oldest horses competing this weekend. This is their sixth four-star and their fourth Rolex. They competed at the 2008 Olympics (Beijing), 2010 World Equestrian Games (Ky.) and the 2007 Pan American Games (Brazil). Kyle competes for Canada but is based in the US. Dressage isn't Parker's favorite phase but he's giving Kyle a good ride. He has a lovely halt and rein back, nice and square and balanced. He jigs a bit out of the extended walk. The canter could be a bit more active but the movements are correct. This pair has nice expressive changes, but his second change was a tad late behind.
They score 58.3.
11:26 a.m. Ellen Doughty-Hume and Sir Oberon
Ellen Doughty-Hume got married at Rolex two years ago by the Head of the Lake by David O'Connor. They were not accepted at the first horse inspection that year, but she got to ride him down the aisle for her wedding. This is her second Rolex with "Obie". He's lacking angle and bend in the first shoulder in. The second one looks better. He wasn't the squarest in her halt before the rein back, but her walk work is strong. He could be steadier in his top line in the canter work, and he loses some of his balance in the counter canter.
11:18 a.m. Courtney Cooper and Who's A Star
This is Courtney Cooper and "Tag's" first time down centerline in the Rolex Stadium. They've had trouble at four-stars in the They're lacking some fluidity in the half pass. He uses himself well in the canter. As they came into their final two changes on the diagonal he stumbles and props some, but she puts him back together. Up until this point it was a strong test.
They score 50.9.
Here's what Courtney thought of her first Rolex…
"It was all really good. I really enjoyed it. He was super. It was pretty exciting to be in there the first time. I thought his medium and extended trots were both very good. A little disappointing that he hit himself coming into the diagonal but he tried really hard and I thought finished really well.
I'm pretty excited! I've gotten the whole range of the emotions. He's my homebred and my first homebred so I'm really exciting."
11:10 a.m. James Alliston and Parker
Great Brittain's James Alliston gets us started back up with Parker. This pair is based out on the west coast. Parker showed off quite a bit in yesterday's jog. James has also chosen to show in a double bridle. Their trot work started off nice and accurately. There was some resistance in the top line for the rein back. He gets short in his stride for the canter half pass. Overall a nice conservative test.
They score 64.3.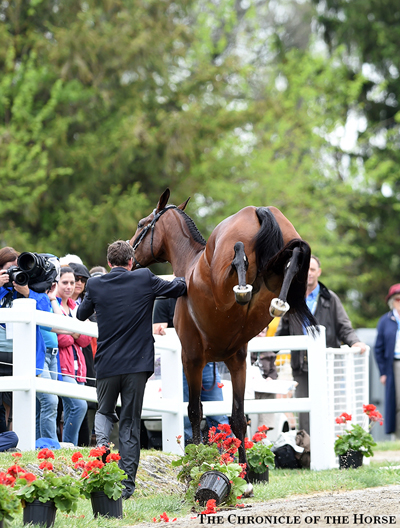 Here's Parker giving James Alliston some grief during yesterday's jog.
We're on break once again, with the Jame Alliston and Parker kicking things off at 11:10 a.m. After 15 hores, you leaders are: Liz Halliday-Sharp and Fernhill By Night (43.0), Phillip Dutton and Fernhill Fugitive (43.1) and Tim Price with Bango (48.3).
10: 38 a.m. Ashley Johnson and Tactical Maneuver
This pair are also Rolex rookies. "Gucci" is a little quick in the trot, but appears obedient and is very consistent. He comes off the contact in the rein back. Though he got a bit tense anticipating the change, he gave her a nice change. Her extension is conservative, but correct. His canter changes some through the changes but ultimately a nice test. She's very happy with that!
They score 63.4.
10:30 a.m. Katherine Coleman and Courage Under Fire
Katherine Coleman is another American based in the UK. She's also elected to wear a top hat. They are our first true four-star rookies, as neither horse nor rider have ever attempted one. There's some early tension in the test and Courage Under Fire gives her a couple canter steps after her first halt. Her walk work is quite good. Nice square halt and she marched back in the rein back. "Meg" seems to be relaxing more as she continues through the test. There's a mistake in the first flying change as she changes early behind. She's anticipating in the flying changes, giving her them a bit too early. She's a little strong into the final halt.
Want to know more about Katherine? She was our One To Watch for Red Hills earlier this year.
They score a 67.2.
10: 22 a.m. Colleen Rutledge and Escot 6
Colleen was the first rider to complete all the Northern Hemisphere four-star events. She had to withdraw her strong partner, Covert Rights, and this is Escot 6 is a Rolex rookie. She's also riding in a double bridle. "Monkey" got a little hurried in the early trot work, but he gives her a lovely extended trot. It's getting a bit windy in the Rolex Stadium. He's a little bit behind her leg, and he gave her a buck in the flying change.She lost the canter for a second going into the corner before the centerline.
They score 64.3 to tie with Angela Grzywinski and Novelle.
10:14 a.m. Mackenna Shea and Landioso
Mackenna Shea is one of the youngest rider at Rolex. She and Avery Klunick are both 23. She took long trip to get here coming out from the west coast. Their shoulder in isn't the most consistent; the angle wavered slightly. Her halt is strong and she really goes for it in the extended walk. She was a little late in her change in the counter canter. She's been a bit conservative in her extended canter. He's a little feisty in the changes, and the canter work wasn't their strongest.
They score 50.3.
10:06 a.m. Angela Grzywinski and Novelle
This mare is very feisty! This pair has been partnered together for quite a long time. This will be their second attempt at Rolex. Angela is here to make an impression and is putting in a bold test. Her extended trot work was lovely. She's a little braced in the rein back and gets low in the shoulders and you can see some tension in the walk. This mare is ready for Saturday. She had a very active canter, but is a little quick with it's footwork—while not a positive for dressage, it will be an asset for cross-country. She got a nice final flying change, and the mare sat a bit abruptly in the final halt. She looks quite pleased with the test. Angela's got a big year, she's getting married in two weeks.
They score 64.3.
9:58 a.m. Tim Price and Bango
Our first New Zealander of the day is Tim Price, who is based in England. He was second here last year with Wesko, who was originally entered but pulled out after he sustained an injury. This is the horse's second four-star. Tim is the first rider of the day to wear a top hat, and Bango has a silver fern leaf quarter mark. Bango has nice big, swinging movement in the trot. He tries to canter a step out of the walk pirouette, but Tim corrects immediately. Their halt wasn't totally square behind before the rein back, and he's conservative in the extended walk. The changes are accurate but could have more jump. There's a slight bobble in the extended canter when Bango stepped off the lead behind for a step as Tim brought him back.
They score a 48.3 to go into third provisionally.
Here's what Tim Price thought of Bango's test…
"I was really pleased with him. He's an unknown quantity in this sort of atmosphere, he's young and I've taken him quite quietly, so to have this kind of atmosphere—not that there's a lot of people here, but it's more the environment and things, it's got a bit that he's not used to. He handled himself quite well I thought for him. He's been very fresh all week and that's been a bit of the best work we've got was at the end here, so he's got a lot more to give in the future, but now I'll take that. I was really happy with him."
9:50 a.m. Liz Halliday-Sharp and Fernhill By Night
American Liz Halliday-Sharp starts it back up with Fernhill By Night. She trains out of England, but is back in the States for the winter. This pair debuted at Rolex last year, but fell on cross-country so they're looking for a solid run tomorrow. Blackie has a lot of natural cadence and gives her a lovely walk pirouette. His lengthening was lovely and came back to her wonderfully. Their canter work is also accurate with nice clean changes. Liz is clearly on a mission.
Did you know? Liz also competes and commentates on motor-racing.
With a 43.0, they sneak into the provisional lead.
Here's what Liz had to say about her test…
"I was really thrilled. Funny enough for a 4-star horse he is naturally a very lazy horse, and actually in a big ring like this, he'll sometimes get even quieter, which is funny. But I felt he really tried today––I could feel him saying 'I'm trying to do my best,' so I hope the score reflects that, but either way I'm thrilled with him no matter what. We have a good partnership and he's a super horse on the flat anyway, but sometimes it's the good dressage horses you get disappointed if you can't get the best of them so it's nice to have him going and try so hard today.
"I thought his changes were super today, they were really soft and he can be a horse in a bigger test that can sometimes not always be sharp off the aids and today he felt like he really thought about his job so I was really pleased with that. I thought the trot work was quite good and I felt like I had a good sort of rhythm throughout so I hope the judges agree, but I'm happy with my horse—regardless I'm happy."
We've finished our first grouping of the morning, and there's a break until 9:50. It's trailblazers Phillip Dutton with Fernhill Fugitive (43.1) with the lead, followed by Buck Davidson and Park Trader (49.6) and Lauren Kieffer with Landmark's Monte Carlo (50.0). All three of these riders have held the title of USEF National Four-Star Champion.
9:26 a.m. Lauren Kieffer and Landmark's Monte Carlo
Lauren is no stranger to Rolex, but this is "Patrick's" first four-star. Lauren has known this horse since birth and was the first person to put tack on him, so they know each other very well. His trot work was very clean, but he got a little stuck in the walk pirouette. He spooked int the canter loops but they recovered well and went right back to the counter canter to produce a lovely change. Patrick moved his haunches some at the final halt, but overall Lauren looks pleased.
They score 50.0 to go provissionally in third.
FUN FACT: All of the riders so far have worn Charles Owen helmets.
9:18 a.m. Holly Payne Caravella and Never OutFoxed
We've got Holly Payne Caravella now. We'll see her brother Doug Payne tomorrow. Her shoulder in was lovely but she lost some regularity in the half pass as the horse is a bit unsteady in the contact. He's tense in the walk work and the rein back and looks ready to go out cross-country. Their canter loops are the smoothest; it looks like he's still holding a little bit of tension. He's a bit late behind in the changes.
They score 64.5.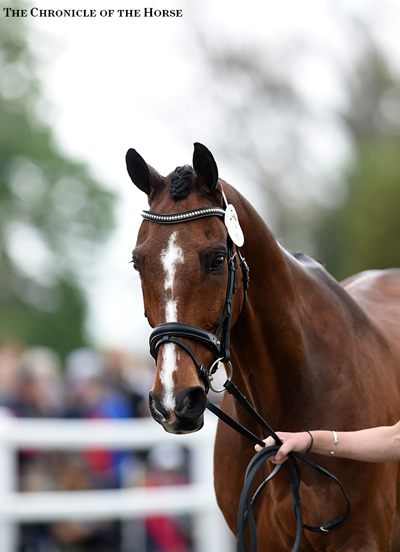 Here's Never OutFoxed yesterday in the jog.
9:10 a.m. Ryan Wood and Frankie
Ryan Wood also has three horses today. This is his first with Frankie. Ryan is a native of Australia but trains in the United States. This is Ryan's first time competing at Rolex, but he's completed the four-star at Adeliade in his home country. His extended canter was lovely.
He scores a 62.2.
9:02 a.m. Lillian Heard and Share Option
Share Option is known for his fun personality. If you tell him to speak he'll actually whinny on command. They made their four-star debut two years ago. Their test starts very lovely and fluid and the horse is nice and forward without running. Their canter half pass is very accurate, but it could use a little more jump behind. Her flying changes are lovely and clean, which should give her good marks.
They get a 61.7.
Here's what Lillian had to say about her test…
I'm very happy with it. He can get tense in the ring and oddly enough slow down. That's his reaction to being tense. But he was super relaxed, he didn't make any big mistakes. It was probably his best test that he's done for me at this level.
8:54 a.m. Jessica Phoenix and Abbey GS
Jessica Phoenix is the first of our Canadian riders. Fun fact: this is the first double bridle we've seen of the day. Their trot work is steady, but there's a little resistance in the rein back. Their final halt isn't the straightest, but Jessie seems happy with her test.
They score a 54.3.
8:46 a.m. Boyd Martin and Steady Eddie
Boyd also brings the first of his rides. This is Eddie's first four-star career. They break into the canter briefly down the first centerline after the halt and does so again in the shoulder in. His extended trot work is better and gives Boyd a lovely half pass. He steadies in the canter work and carries a nice uphill balance. His changes could be stronger but the last one shows a lot of improvement.
They score 56.9.
8:38 a.m. Buck Davidson and Park Trader
Buck is another four-star veteran with his first of three mounts. Park Trader looks a little fresh this morning, but ever the professional, Buck gives him a strong ride. Their rein back gets a little low in the withers, but otherwise good. It was a steady test with particularly good trot work, but some of the changes were late behind. They're clearly a crowd favorite and get lots of applause.
They score 49.6.
Here's what Buck had to say about his test with Park Trader…
The dressage has been a struggle and we've really been working hard and he's not easy. The horse has changed my life. It changed my way of training and made me a way better trainer. A way better coach. The Segals have been amazing and stuck by me when I was the one that told them to get the horse and right away broke my shoulder. I just love him to death and to get in the 40s finally, I'm very proud of him.
8:00 a.m. Phillip Dutton and Fernhill Fugitive are the first pair in the ring at 8:30 this morning. Here they are from yesterday's (rainy) jog: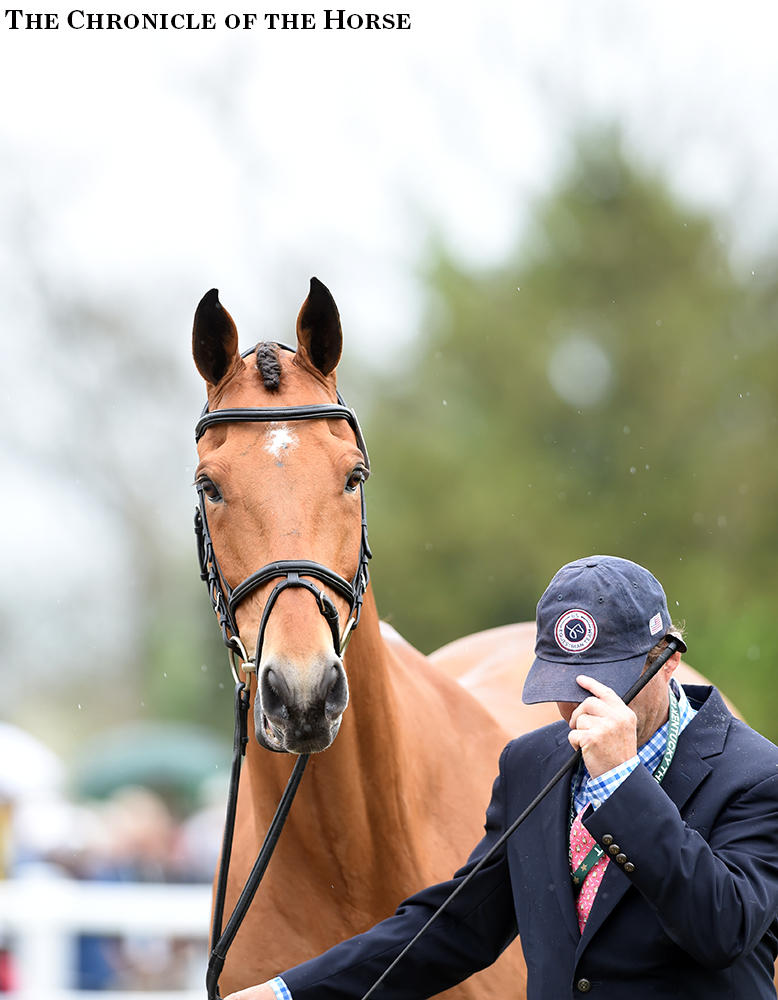 Winner of the 2008 Rolex Kentucky, Phillip Dutton kicks off the day with his 2015 Pan American Games team gold medal partner Fernhill Fearless. Phillip has really been working on getting "Jack's" scores up and it shows. Commentator Karen O'Connor is pleased with what she saw. Want to know more about Jack? We went Behind The Stall Door with him last year.
They start the day with a 42.3.