Rio de Janeiro—Aug. 9
Thirty-four year old Michael Jung has smashed record after record, dominating the sport to become the first simultaneous World, Olympic and European champion. So it came as no major surprise when the German juggernaut earned his second consecutive individual gold medal, only the third eventer to ever win back-to-back individual gold in Olympic competition.
Jung also helped boost his German team to silver, but no one could get ahead of the team from France, who claimed their first eventing gold since 2004. Australia, led by Sam Griffiths on Paulank Brockagh, slipped from the top of the leaderboard to team bronze on show jumping day.
Jung's horse, the 16-year-old Sam FBW, never put a step wrong during today's two show jumping rounds, jumping two double-clear rounds to secure the win. He was also the only horse in the competition to finish on his dressage score (40.9).
"It's very special for me because it's the second time with Sam," said Jung, Horb, Germany. "He's a fantastic horse, and I am absolutely happy that I can ride him. I am very proud of him. He's so strong in the cross-country. He can run every hill; he can jump every fence. We have a very good partnership."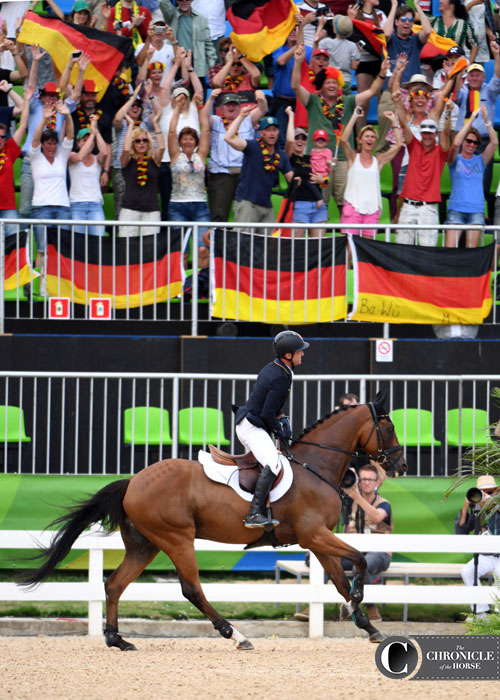 Michael Jung and Sam FBW. Photo by Lindsay Berreth.
Jung started the competition in fifth place after a relatively disappointing dressage score, but he stayed strong when others faltered throughout the cross-country and show jumping.
"In the show jumping, he is really nervous, but he's also really concentrated," he said. "He jumped the second round much better than the first round. He gave me a really good feeling in the warm up, and that is very special."
Australia's Christopher Burton held a narrow lead after cross-country, but in this morning's team round, the young Santano II dropped two rails to fall to fifth and let Jung slip ahead.
As per the International Olympic Committee Rules, the top 25 riders returned to jump a second round to determine individual medals.
Frenchman Astier Nicolas and Piaf de B'Neville had jumped clear to sit right behind Jung heading into this afternoon's individual round, and helped his team to the gold medal in front of many enthusiastic fans. The last time the French won Olympic gold was in 2004 in Athens, Greece.
"It's been a very long wait," he said. "We've been waiting since Athens, and it's such a relief today. We have a very good team of good friends."
Nicolas and his teammates, Karim Laghouag (Entebbe), Thibaut Vallette (Qing du Briot) and Mathieu Lemoine (Bart L) jumped clear in both rounds, and only Laghouag added a time penalty in the second round to finish on 169.0 ahead of Germany (Jung, Ingrid Klimke on Hale-Bob OLD, Sandra Auffarth on Opgun Louvo and Julia Krajewski and Samourai du Thot), who finished on 172.80.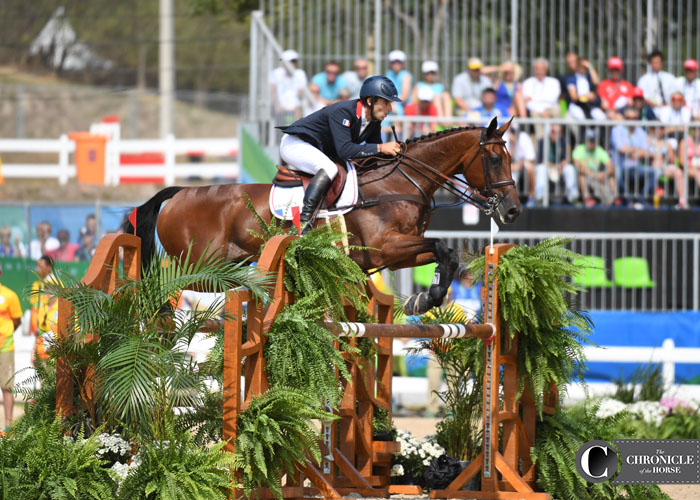 Astier Nicolas and Piaf de B'Neville. Photo by Lindsay Berreth.
Australia (Shane Rose on CP Qualified, Stuart Tinney on Pluto Mio, Sam Griffiths on Paulank Brockagh and Burton) finished in bronze medal position on 175.3.
New Zealand sat in silver medal position after cross-country, and a lovely clear from Clarke Johnson put them in gold medal position. But they dropped off the podium completely when last to go, Mark Todd on Leonidas II suffered a disasterous four-rail round.
"I knew when we started that he started getting a little bit agitated," said Todd. "When I came down into the arena he was just not relaxed and looking around, a little bit wild. The further we went, the worse he got. He went rigid in his back and was stuck. When we had the first rail down I said 'Don't panic, it's OK. We've still got a medal. But then the next one came down then the next one, and it was just like survival to get home."
Nicolas was 2 points behind Jung heading into the individual round, but when his gelding swam through fence 3 and picked up two time faults, he ensured a individual silver medal, but widened the margin between him and Jung.
"The first round he was amazing to ride. I had to jump clear for us to win," he said. "Unfortunately in the second round it was just bad riding."
While Team USA suffered a disappointing day yesterday, failing to finish a team, Phillip Dutton served as a bright spot of the competition. The six-time Olympian already won two team Olympic gold medals while riding for his native Australia, but he'd never taken home an individual prize.
But that changed today when he took home individual bronze, moving up from his fifth-place ranking after cross-country.
Dutton had a tense moment this morning when "Happy" was held during the horse inspection, then passed on the second go. Dutton said that the horse had indeed banged his stifle yesterday on cross-country, but came out feeling fresh, and he had to work him down in the morning.
"He's not quite as loose as he usually is, but he jumped well," said Dutton after the first round, where he left all the jumps in place and picked up a single time penalty. "His curb chain broke as he was coming to the first fence which really wasn't the most ideal way to start, but he jumped beautifully."
In the final round Happy ticked a pole, but when Burton knocked two fences Dutton moved onto the podium.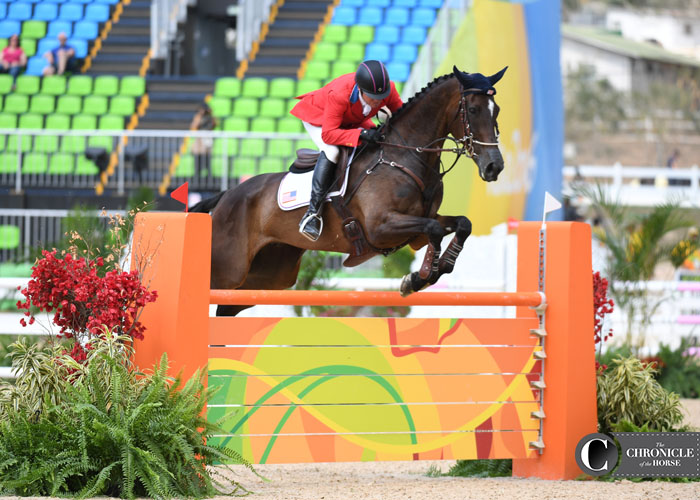 Phillip Dutton and Mighty Nice. Photo by Lindsay Berreth.
The 12-year-old Irish Sport Horse (Ard Ohio—Sarazen) was a last-minute replacement for Dutton, West Grove, Pa., who was originally slated to ride Fernhill Cubalawn. But when that horse incurred a minor injury during one of his final gallops during team training, Happy stepped up to the plate.
Dutton felt especially proud for the late Bruce Duchossois, his longtime friend and patron who owned Mighty Nice for him and died two years ago. The horse now competes under the aegis of the HDN group, including Caroline Moran, Kevin Keane, Evie Dutton, Ann Jones and Michael Bombar.
"Caroline's shed probably half a bucket of tears already," Dutton quipped.
Dutton ranked Happy as among his all-time best horses.
"He's right up there," said Dutton, 52, who is the oldest U.S. athlete at the Olympic Games. "I've had better gallopers in my time, but I don't ever think I've had a horse with more heart. He just keeps trying, even if he's not feeling so good or he's tired, he just really wants to do it."
Dutton's teammate Boyd Martin started the day in individual sixth, but slipped down to 16th after logging 8- and 12-fault rounds on Blackfoot Mystery, who is still green at the four-star level. Martin wasn't thrilled with his rounds, but pointed out that this was his mount's most difficult phase.
"It was a disappointing round, but this horse tried so hard this weekend, and he just had nothing left in the round here," said Martin after the final trip. "But he'll get stronger, and I think it's still an impressive result.
"What a great placing for Phillip!" he continued. "That was a huge effort—and it was his replacement horse. What a legend."
Check out Dutton speaking with Team USA on what it means to win a medal:
Miss the action? Catch up with a round-by-round blog. Find full results here.
Mollie Bailey and Lindsay Berreth are on the ground in Rio de Janeiro for the Chronicle and will be reporting with all the news, fantastic photos and behind-the-scenes details all posted on www.coth.com. Your go-to page for all things Olympic is http://www.chronofhorse.com/2016-Olympics
We'll have live blogs of competition sessions, Twitter updates, blogs, photo galleries, stories about each day's competition and so much more. Don't miss a thing—we'll have everything you need to know. Also make sure to follow along on the Chronicle's social media outlets: Facebook, Twitter, Instagram and Snapchat (@chronofhorse).