Rio de Janeiro—Aug. 8
As many riders predicted, cross-country day at the Olympic Games shook up the leaderboard, with several experienced pairs picking up penalties.
Australia's Christopher Burton and the young Santano II rose to the top today with a double-clear round to stay on their dressage mark of 37.6 when dressage leaders William Fox-Pitt and Chilli Morning picked up 20 penalties for crossing their path at fence 20AB, two arrowheads with brush.
We have a play-by-play of every rider, and lots of feedback from riders on the course.
Burton has Germany's Michael Jung breathing down his neck though (40.9), as the reigning Olympic champion rode Sam FBW to one of three double-clear rounds over Pierre Michelet's course.
"To be honest I wasn't expecting this," said Burton. "He's far and above exceeded our expectations, this little horse. I didn't expect him to be so fast around the course. I'm just going to enjoy today, tomorrow whatever."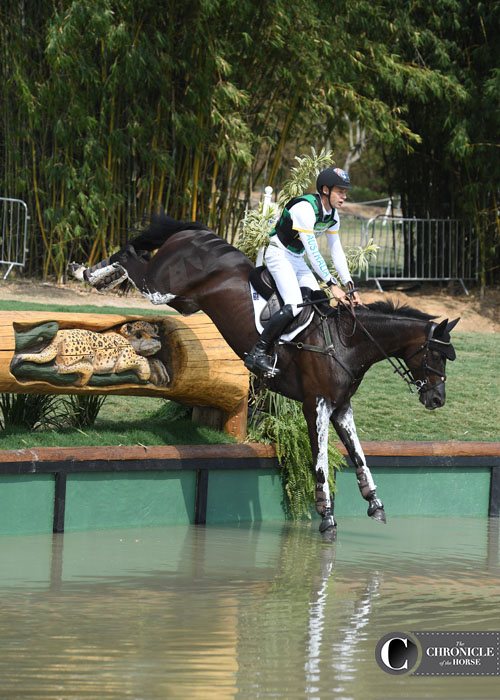 Christopher Burton and Santano II. Photo by Lindsay Berreth.
France's Astier Nicolas and Piaf de B'Neville were also double clear to move up from 17th after dressage to third.
Forty-eight of 64 starters completed (Russia's Evgeniya Ovchinnikova withdrew Orion before cross-country), and of the finishers, 20 picked up at least one jumping penalty.
"It was a lot runouts and dramatic things; some riders we were not expecting having runouts," said Michelet. "I think the course was the same for everybody; it was challenging. With the team competitions, if there are some difficult fences teams can change their mind and have a good strategy for finishing the course."
Germany showed a chink in its armor, as experienced team riders Ingrid Klimke (Hale-Bob OLD) and Sandra Auffarth (Opgun Louvo) both picked up 20 penalties—at the final water and the first water, respectively—and their teammate Julia Krajewski (Samourai du Thot) was eliminated for three cumulative refusals, dropping the team to fourth place.
Two riders retired on course after refusals—Ecuador's Nicolas Lionel Wettstein on Nadeville Merze and the U.S. team's Clark Montgomery on Loughan Glen—and 14 were eliminated, including top riders like New Zealand's Tim Price (Ringwood Sky Boy), Belgium's Karin Donckers (Fletcha Van't Verahof), Italy's Stefano Brecciaroli (Apollo VD Wendi Kurt) and Australia's Shane Rose (CP Qualified).
There were three horse falls—Price, when his gelding slipped in the grass on the way to fence 24, and the Netherlands' Theo van de Vendel, whose horse Zindane fell after hanging at leg at 24, an upright gate. Lauren Kieffer and Veronica also both fell at 24. Ireland's Padrig McCarthy fell from Simon Porloe at fence 17A, while Donckers had a rider fall at one of the corner combinations.
Despite Rose's elimination, the Australian team jumped into first place (150.3) with fast rounds by Sam Griffiths (Paulank Brockagh) and Stuart Tinney on the 18-year-old Pluto Mio.
New Zealand, who was in sixth after dressage, showed their cross-country strength with their other three riders coming home fast and clear to stand on a score of 154.8.
The legendary Mark Todd and Leonidas II are in fourth place individually (46.0), Jonelle Price and Faerie Dianimo rebounded after a disappointing dressage test to move into 13th, and Clarke Johnstone, also well down the leaderboard in 23rd after dressage, bounded up into a tie for seventh with Balmoral Sensation.
France dropped to third on a score of 161.0.
"I've already thanked Pierre for building the course, because if it wasn't like it was we wouldn't be sitting in silver medal position," said Todd. "When we walked the course, we thought it was a really strong course. There were alternatives everywhere. If you didn't want to go the straight ways you didn't have to. If you want to win a medal at these games, you've got to go direct and go fast."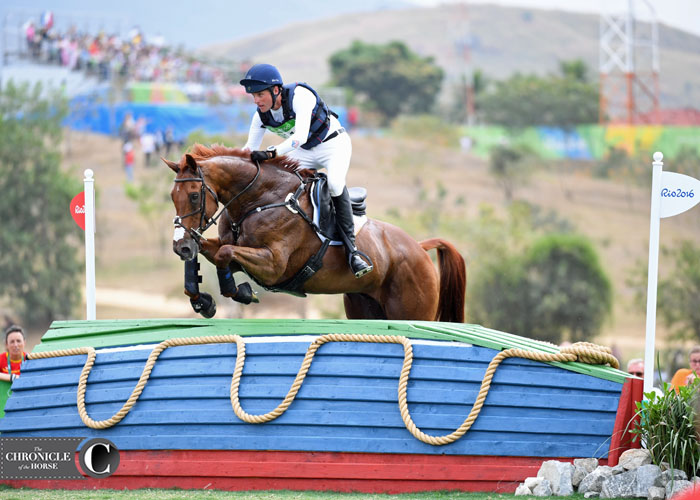 Boyd Martin and Blackfoot Mystery. Photo by Lindsay Berreth.
The U.S. team had hoped to have four clear rounds when they came to Rio, and things started positively when their first to go, Boyd Martin and Blackfoot Mystery, put in a brilliant round to pick up 3.2 time penalties.
"Red" looked tired coming home, and Martin admitted he was sweating it out too.
"I'm feeling exhausted. That was one of the most physically demanding courses. You had to jump a jump, turn, accelerate," he said. "You know, it was tiring, and it was laboring, and it was intense.
"For the horse it was question after question after question," he continued. "You get through one tough jump, and then you come onto another tough jump. I'm so thankful I was on an old race horse from Kentucky because he kept fighting the whole way home. He was definitely on empty coming to the last three, and he just tried his heart out and jumped every jump. I'm so pleased with him."
Montgomery was out next for Team USA, and "Glen," who's been so consistent over the last 18 months, never really got into a rhythm after a stop at 4b, a log drop in. He then picked up two refusals later on course before Montgomery elected to retire.
Montgomery said he was disappointed that Glen's left drift, which he thought he'd addressed over the last 18 months, came back.
"It's an adjustability issue. He's very difficult to make come back and then to turn to the right especially. It's something that I know needs a good fix," he said. "We were unable to fix it before we got here—we thought everything was OK, and apparently it wasn't."
Kieffer was out next and needed to make it around for the U.S. team to post a score, but she and Veronica fell at an upright gate when they took the straight route from the cabin at 23 to the gate at 24.
Kieffer injured her left thumb and had it in a wrap but wasn't sure of the damage. She decided to go the fast route because it had worked well for several riders.
"She was being really good, and it's stupid not to go the straight way. Then she just kind of hit that gate with her right front. For a second I thought she might save it but down we went," she said. "My job was to get a clean round first and foremost, so it's pretty disappointing to let the team down."
Thankfully Veronica was doing well. "She's fine. By the time I got back to the vet box she was jigging and trying to bite me," said Kieffer.
Last to go for the United States, Phillip Dutton had a few sticky moments on course with Mighty Nice—including an amazing save at a brush corner where only some impressive acrobatics by Dutton got "Happy's" shoulders inside the red flag—but they got the job done to come home clear with 3.2 time penalties. He moved into fifth place, while Martin sits in sixth.
Chef d'Equipe David O'Connor was understandably disappointed in the team results.
"I feel devastated. You're one fence away from a medal, basically, and Phillip and Boyd I thought were great. Boyd obviously had to use every skill that he had in order to get that done," he said. "[Veronica] was foot-perfect the whole way around the whole course [until she fell]. The instructions were, if she feels good and she's going well, and you get a good jump at the corner, you do the nine [strides direct to the gate where she fell]. But I think you always respect riders when you're here to compete and here to go."
He said he would never second-guess a rider's decision in the moment.
"We've all been in that situation. She got caught inside the line, which she shouldn't have done, but I'm not going to second-guess her decision," he said.
About Glen, O'Connor said the gelding hasn't seemed in the game from the dressage yesterday, but everything health-wise checks out. He didn't see the first refusal because he was running to watch on TV screens.
"The horse didn't look like it was going to be in the game right from the beginning," he said. "I saw the second one. He shot straight off to the left. He's had a great past 18 months leading up to here, but I'm sure there will be a lot of Monday morning quarterbacking for all these reasons."
O'Connor thought the course rewarded experienced pairs today, with the likes of Jung and Todd succeeding.
"There's nobody there that doesn't have years of team experience," he said. "Not just experience of individual competition—decades of team competition—and I think that's what today shows. Experience does count in horse sport."
For full results, click here. Find out what happened in the moment with COTH's round-by-round coverage. And read more reaction to the day from riders.
Mollie Bailey and Lindsay Berreth are on the ground in Rio de Janeiro for the Chronicle and will be reporting with all the news, fantastic photos and behind-the-scenes details all posted on www.coth.com. Your go-to page for all things Olympic is http://www.chronofhorse.com/2016-Olympics
We'll have live blogs of competition sessions, Twitter updates, blogs, photo galleries, stories about each day's competition and so much more. Don't miss a thing—we'll have everything you need to know. Also make sure to follow along on the Chronicle's social media outlets: Facebook, Twitter, Instagram and Snapchat (@chronofhorse).