The top 25 contenders in the individual standings come back to jump for individual medals. We'll be updating you with all the news from the eventing show jumping phase… who did what where. Keep checking back as we'll update all through the individual final round (1:00 p.m. – 1:55 p.m. EDT).
Important links: the Round 2 order of go / live results / live stream / COTH's cross-country coverage / all the Chronicle eventing coverage
FINAL INDIVIDUAL RESULTS
GOLD – Michael Jung of Germany on Sam FBW
SILVER – Astier Nicolas of France on Piaf de B'Neville
BRONZE – Phillip Dutton of USA on Mighty Nice
1:58 p.m. It's really no surprise—Michael Jung goes clean AGAIN and wins ANOTHER gold medal. He just simply can't be beaten. Jung and Sam FBW are the only pair to finish on their dressage score.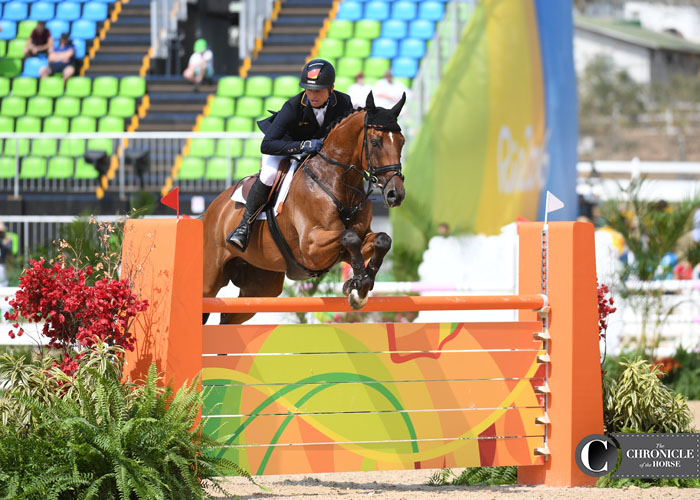 Michael Jung and Sam FBW. Photo by Lindsay Berreth
1:54 Astier Nocolas took a wide swing to the oxer at Fence 3 and got to a bit of weak distance and Piaf de B'Neville swam through the fence and pulled the rail. His careful round also picked up 2 time penalties (the first time faults we've seen in this round). It gives Michael Jung more of a gap, but keeps him in the silver medal position.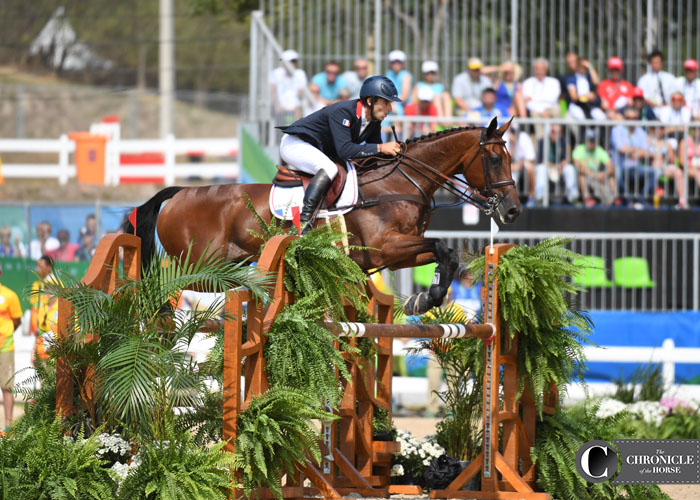 Piaf de B'Neville and Astier Nicolas. Photo by Lindsay Berreth
1:52 p.m. Christopher Burton has a bit of a rough ride through the triple combination, and then Santano II knocks a block off the wall! That puts Phillip Dutton into a medal placing!!!!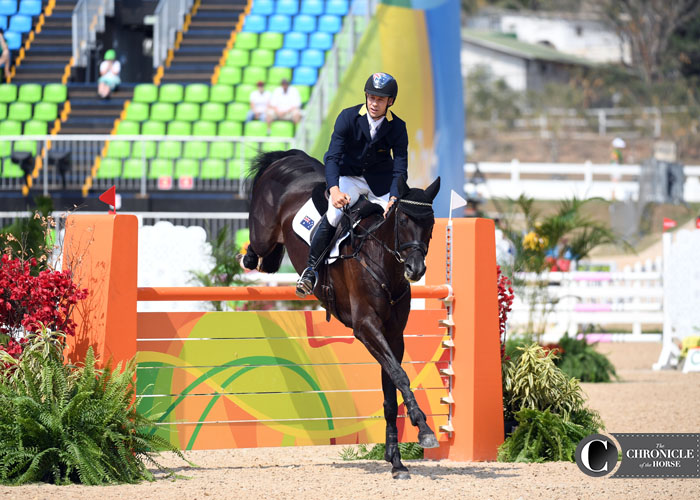 Christopher Burton on Santano II. Photo by Lindsay Berreth
1:50 p.m. Phillip Dutton had a rail in hand and he needed it when Mighty Nice ticked the C element of the triple combination out of the way. He stays in fourth place, but looked quite disappointed as he pulled up. Now the top three have a bit of a cushion.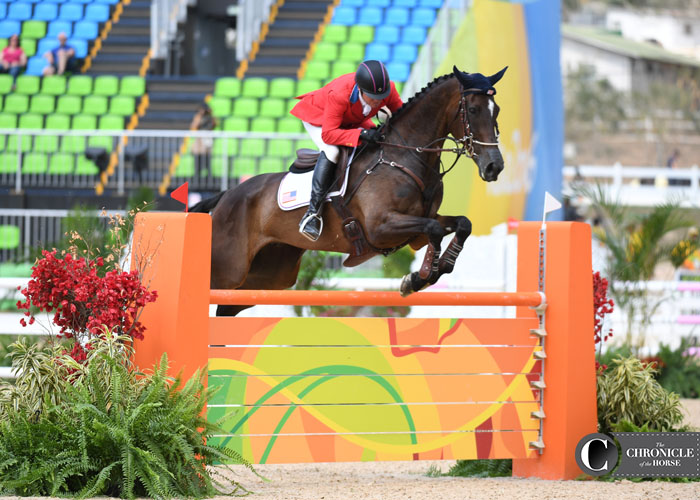 Phillip Dutton on Mighty Nice. Photo by Lindsay Berreth
1:48 p.m. Clarke Johnstone had an early rail and then saw a bit of a long, weak distance to the last oxer and had that down as well on Balmoral Sensastion.
1:46 p.m. Sam Griffiths turned in a second stylish clean round aboard Paulank Brockagh to make sure he stays in the top six of the final standings for Australia.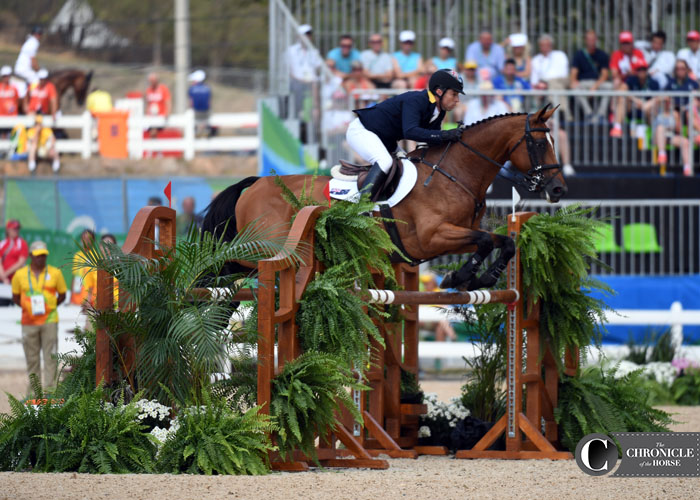 Sam Griffiths and Paulank Brockagh. Photo by Lindsay Berreth
1:44 p.m. Blackfoot Mystery isn't known for his show jumping prowess, and he picks up 12 faults in this round, which drops him pretty far down the placings. It looked like "Red" just lost a bit of sharpness and carefulness. He had a few hard rubs before the first rail fell in the triple and then two more dropped.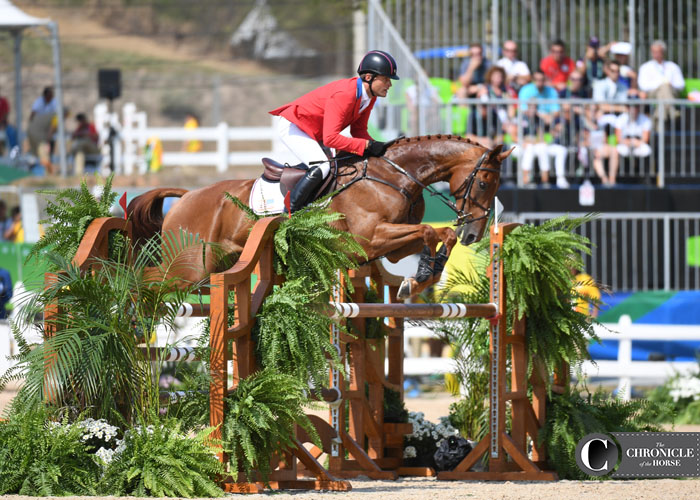 Boyd Martin on Blackfoot Mystery. Photo by Lindsay Berreth
1:41 p.m. The Chinese rider Alex Hua Tian, riding Don Geniro, turns in a lovely, stylish round but just topples a block off the wall to have 4 faults. That assures him a top-10 placing.
1:39 p.m. For France, Mathieu Lemoine had two rails in the first jumping round with Bart L. He has a rail at Fence 3 and then another at the last oxer to drop out of the top 10.
1:36 p.m. Rebecca Howard and Riddle Master are jumping for Canada, and Riddle Master is giving the rails plenty of room. But he ran out of space in the triple combination and had one down at the vertical at C there. The 4 faults will drop her out of the top 10.
1:34 p.m. Mark Todd had a heartbreaking four rails in the team final round, dropping the New Zealand team from gold to out of the medals, and he's back with Leonidas II. The announcers said they'd asked Todd what went wrong in Round 1, and he replied that he didn't know—the horse didn't feel tired or make obvious mistakes. But in this round the horse was back on form, and jumped clean.
1:33 p.m. Brazilan rider Carlos Parro has three rails with Summon Up The Blood, but from the cheers that went up as he finished, you'd never know it.
1:29 p.m. Jonty Evans capped an amazing week by putting in a second clean jumping round to make sure he finishes in the top 15. He canters around pointing to Cooley Rorkes Drift as the crowd cheers.
1:27 p.m. For France, Thibault Vallette and Qing du Briot have a rail early, at Fence 3, but finish well to just add 4 faults to their score.
1:25 p.m. Ingrid Klimke and Hale-Bob turned in a clean round in the morning, but they snagged a rail this time around.
1:23 p.m. Jonelle Price and Faerie Diamond left two rails on the ground when they finished their course, leaving her with a 73.5 score and dropping her a few places.
1:21 p.m. The announcers commented that Sandra Auffarth has never left an international championship without a medal with Opgun Louvo, and she jumps clean again after a clear round this morning, too. She did have a momentary miscommunication on the way to one oxer, but the game chestnut worked it out and jumped clean.
1:19 p.m. As he always does, William Fox-Pitt gives us a riding lesson. Chilli Morning is jumping powerfully with a big flip of his tail over some of the fences. They finish with a clean round, which puts him in 18th provisionally though he might move up if the following riders run into trouble.
1:16 p.m. Merel Blom and Rumour Has It pick up a rail in the triple and a few blocks off the wall jump to add 8 faults to their score. The announcers discuss how the show jumping courses are more of a mental challenge for the riders than a physical challenge for the horses as she rides.
1:14 p.m. The Japanese rider, Yoshiaki Oiwa, and The Duke Of Cavan pick up 8 faults over the final course, though The Duke Of Cavan looks fit and full of energy! He was a bit of a freight train on the cross-country as well.
1:12 p.m. Stuart Tinney and Pluto Mio run into trouble early, with two rails in the first half of the course, but they finish well.
1:10 p.m. In now is Marcio Carvalho Jorge on Lissy Mac Wayer for Brazil. He rides a lovely round but has a rail down in the triple and again at the very last—a brightly colored oxer over a liverpool off a long approach.
1:07 p.m. Tim Lips rides Bayro into the ring, and the gray has a braided tail much like the U.S. hunter style. Lips rides for the Netherlands and he made the triple combination and the oxer that comes up six strides later look effortless. He finishes with the first clear effort of this course. "I think we'll get a dair few clears," said one announcer.
1:05 p.m. Pietro Roman is in for Italy. He runs into trouble at the A of the triple combination, which is an oxer-vertical-vertical with short distances. He has one down at the A there, but no other faults. It seems like the time allowed is a bit more generous in this round, while it was tough to get in the team final.
1:02 p.m. Joris Vanspringel is in as first to go. He rides for Belgium and the annoucers said he works on the railway and rides! This is his fourth Olympic Games. He's riding Lully des Allunes and he has just one rail, at the final oxer.
1:00 p.m. OK, the cameras and the live feed are back on! The course is a different course than the team medal round—and built a bit bigger.
11:40 a.m. We're on a short break until 1 p.m., when the individual rounds begin. Check back with us then! In the meantime, here are the team and individual scores from the morning:
TEAM:
1 FRA France 169.00
2 GER Germany 172.80
3 AUS Australia 175.30
4 NZL New Zealand 178.80
5 GBR Great Britain 252.10
INDIVIDUAL:
1 GER JUNG Michael SAM FBW 40.90
2 FRA NICOLAS Astier PIAF DE B'NEVILLE 42.00
3 AUS BURTON Christopher SANTANO II 45.60
4 USA DUTTON Phillip MIGHTY NICE 47.80
5 NZL JOHNSTONE Clarke BALMORAL SENSATION 51.30
6 AUS GRIFFITHS Sam PAULANK BROCKAGH 53.10
7 USA MARTIN Boyd BLACKFOOT MYSTERY 58.90
8 CHN HUA TIAN Alex DON GENIRO 59.60
9 FRA LEMOINE Mathieu BART L 61.60
10 CAN HOWARD Rebecca RIDDLE MASTER 61.80
11:35 a.m. And France wins eventing team gold! Germany silver, Australia bronze. Michael Jung also sitting first individually.
11:33 a.m. Our last rider of the morning, Christopher Burton on Santano II, is jumping for team gold for Australia. We will see if he can do it.
They have B of the triple and then B of the double down! That's 8 faults.
11:29 a.m. Ah and what a bummer for New Zealand. They have four rails down for 16 faults. That'll actually drop New Zealand off the podium and Germany onto it. Now we wait to see who'll earn gold, Australia or France.
11:27 a.m. And now: Mark Todd and Leonidas II for New Zealand. If you could choose your ideal anchor rider for a team, you'd probably choose Mark Todd. His round will determine if New Zealand earns its first team gold in eventing. He has one rail in hand.
11:25 a.m. France's last rider, Astier Nicolas on Piaf de b'Neville, up now. If he's clear, France is secured at least bronze…
And they are clear… France will be on the podium!
11:22 a.m. And now we have Germany's Michael Jung and Sam FBW. Germany is out of the running for team medals, but Michael is sitting second individually.
No suprises here, they are CLEAR. Can he win another Olympic gold this afternoon?
11:20 a.m. The Netherlands' final rider, Merel Blom on Rumour Has It, up now.
They add just 2 time to their team's score. They'll return this afternoon.
11:17 a.m. Brazil's top-placed rider, Carlos Parro on OTTB Summon Up The Blood, in the ring now. They're in seventh individually and also looking to help Brazil stay in fifth as a team.
Ah, they have B and C of the triple down, and then they also pull B of the double for 12 faults added.
11:14 a.m. Dressage winners William Fox-Pitt and Chilli Morning up now. They picked up a technical stop yesterday by crossing their tracks to drop them out of medal contention.
But they are easily CLEAR today. We'll see them again this afternoon.
11:12 a.m. Ireland's final rider, Jonty Evans on Cooley Rorkes Drift, in next. That is a double-clear round for them! They'll return for the individual final.
11:09 a.m. Now it's Italy's Pietro Roman and Barraduff. They have two rails down and also pick up 6 time penalties for 14 total.
11:07 a.m. Rebecca Howard is clear; she's inside the time by .08 seconds! She'll return for the individual final.
11:05 a.m. Canada's Rebecca Howard and Riddle Master up next. They had a good round with only time yesterday: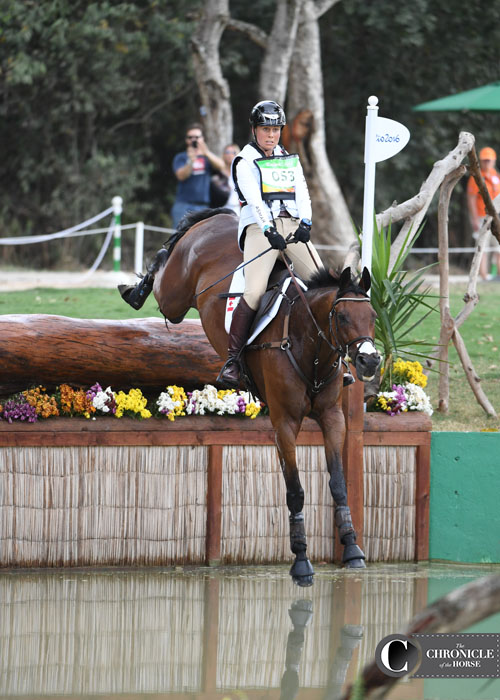 11:03 a.m. Ludwig Svennerstal and Aspe up for Sweden.
They roll the first two in the triple combination when they get in a little long for 8 penalties. But they are inside the time.
11:01 a.m. Phillip Dutton and Mighty Nice, currently ranked fifth for the US, up now! And he is CLEAR! Just 1 time penalty. That'll hold him at least fifth individually for now, in medal striking position.
10:58 a.m. Sam Griffiths and Paulank Brockagh up for Australia. They're in silver team position at this moment.
They are clear too! This is going to be a close team final…
10:55 a.m. Next is Clarke Johnstone and Balmoral Sensation for New Zealand. They're seventh individually right now.
And he's CLEAR. That's good news for the NZ team, who'll have Mark Todd as their anchor here shortly.
10:52 a.m. France's Mathieu Lemoine and Bart L up now. This will be an important score for France, who are currently leading the team competition.
And they have a rail in the double combination and the last down. That's going to shake up the team standings again… France is back in third, Australia sitting second and New Zealand is in gold position. It's far from over though…
10:49 a.m. Ingrid Klimke and Hale-Bob OLD, who were ranked fourth after dressage but had a stop late on course yesterday, are up next for Team Germany.
It's a beautiful, easy clear for them! (Well, it looked easy at least.)
10:47 a.m. The Netherlands' Tim Lips and Bayro next to go. They have two rails down early on course, but then they finish up the rest clear. They're inside the time too.
10:44 a.m. Big cheers as Marcio Carvalho Jorge and Lissy Mac Wayer enter for Brazil. This pair initially declared eliminated yesterday, but they had that taken away after a protest.
They have two down and pick up 2 time as well for 10 added to their score.
10:42 a.m. Great Britain's Pippa Funnell and Billy The Biz up now. Billy looks like he'd prefer maybe a 1.50-meter track today, and they're very easily double-clear!
10:40 a.m. Mark Kyle on Jemilla up next for Ireland.
They have two down, including B of the double combination.
10:38 a.m. It's one down early on course for Arianna but they're inside the time, adding 4 to Italy's score.
10:36 a.m. Jessie and A Little Romance pull A of the double down, but the back rail of that oxer, for a total of 4 penalties.
Now we have Arianna Schivo and Quefira de l'Ormeau heading into the ring.
10:34 a.m. Now it's Canada's Jessica Phoenix and A Little Romance. They were cross-country trailblazers yesterday: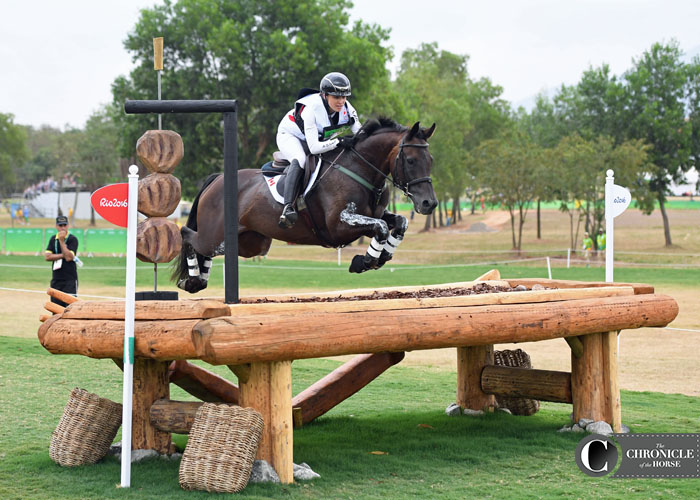 10:32 a.m. We're back! Sara Ostholt trotting in now. They have that A of the double combination and a couple of time penalties.
10:05 a.m. We'll have Sara Algotsson Ostholt and Reality 39 in the ring after just a short ring drag break here.
10:02 a.m. Boyd Martin and Blackfoot Mystery in the ring now…he's starting this phase in sixth.
And they have two rails down. We'll have to see what that'll do for his individual placing. He will qualify for the individual final though.
10:00 a.m. Oh boy, Stuart Tinney has four poles down and 1 time. That'll actually move Australia behind both France and New Zealand.
9:58 a.m. Ah, and it's two rails for Jonelle Price, which will actually bump them below France in the team scores for right now. Still much more to come though.
Australia's Stuart Tinney and Pluto Mio up now. Australia currently leading the team competition.
9:56 a.m. New Zealand's Jonelle Price and Faerie Dianimo up now. This'll be another crucial team score… Here they are from yesterday: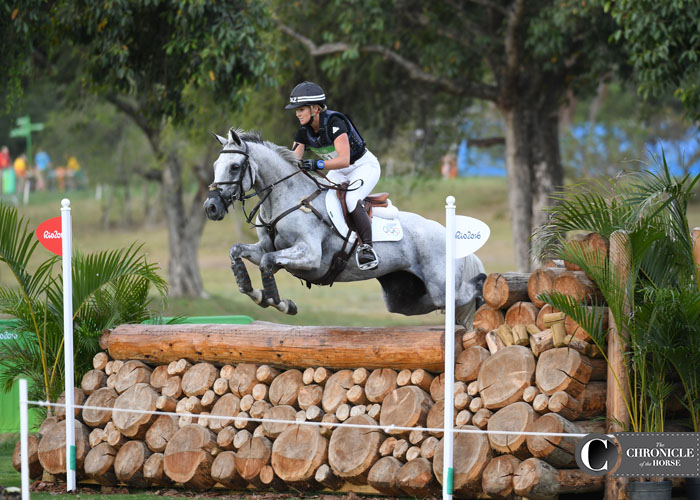 9:54 a.m. Thibaut Vallette and Qing du Briot are next in the ring. They are also clear! That'll be good for France's team score.
9:52 a.m. Sandra Auffarth and Opgun Louvo in for Germany now. They are clear, which was really never in doubt. They had a shocking runout yesterday, but they would have otherwise been top contenders for individual medals.
9:50 a.m. Alice and Peter Parker have A of the double combination down, the front rail of the oxer. They are inside the time though.
9:47 a.m. The Netherlands' Alice Naber-Lozeman on Peter Parker up next with Alice in her Dutch orange coat. Here they are on yesterday's cross-country: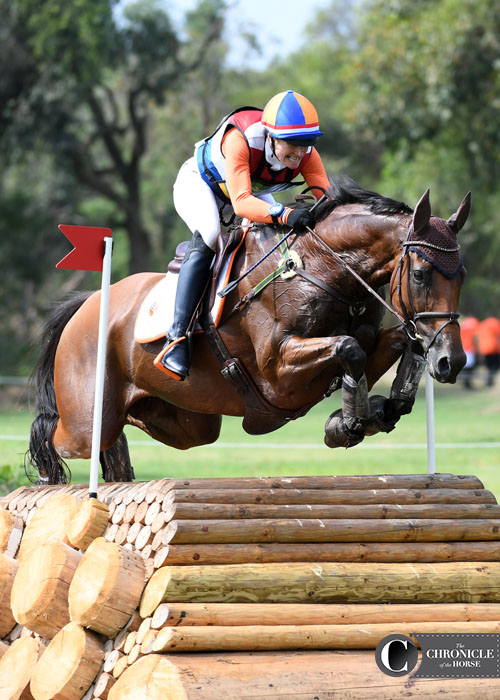 9:44 a.m. We're going to see Marcio Appel and Iberon Jmen heading in now. The horse kicks out over nearly every fence, trying to be careful, but they do have two rails down for Brazil.
9:41 a.m. Kitty King and Ceylor L A N are up next as the second pair for Great Britain. Her bay horse looks very keen and fresh, and that'll be our second double-clear today!
9:38 a.m. Ireland's Clare Abbott and Euro Prince trotting in now. And she jumps everything in a lovely style, and she's clear! For both time and jumping, that's our first double-clear of the day.
9:36 a.m. Luca Roman and Castlewood's Jake now are in the ring for Italy.
They have A and C of the triple down and then the last fence as well. So that's 12 jumping for them and 4 time.
9:34 a.m. And now Canada's first rider, Colleen Loach on Qorry Blue d'Argouges, enters. This horse is jumping in a perfect form this morning! Ah, they have just one pole down and add 4 faults to their total. It's that double combination again.
9:32 a.m. Sweden's Linda Algotsson is up now for Sweden on Fairnet. They finish inside the time but have one rail down to add 4 to Sweden's team score.
9:30 a.m. Karim Laghouag and Entebbe in now for France. And they are CLEAR with just 1 time penalty. So we've still yet to see our first double-clear round this morning.
9:26 a.m. Ruy Fonseca and Tom Bombadill Too enter for Brazil, getting massive cheers.
Oh no! The horse stops at the first element of the triple at fence 8, and Ruy just goes over the head. That'll sadly be elimination for him. But he's helping re-set the fence before walking out! Brazil still has three of its other riders to jump today, so that shouldn't impact their team score if everyone else goes OK.
9:24 a.m. And now we're onto the team riders, starting with Great Britain's Gemma Tattersall and Quicklook V.
And they are jumping clear! They do add 4 time.
9:22 a.m. Our final individual, Alex Hua Tian on Don Geniro, is next for China. His horse is jumping beautifully. Ah, and they also have A of the double combination. Everyone is pulling the front rail of that oxer. They'll finish on 59.6 with no time penalties in this phase. We should definitely see them back for the individual round later today.
9:20 a.m. Yoshiaki Oiwa and The Duke Of Cavan enter for Japan now. Oiwa is placed 16th individually now.
They have the B of the double down, which is the first time we've seen that one fall today, but they make it inside the time! That should have qualified them for the individual final, but we'll soon know.
9:19 a.m. Belgium's Joris has one rail down and also adds 4 time. Time very obviously a factor here, which could greatly impact team placings as we get further up the leaderboard.
9:17 a.m. Elmo has a lovely round on his fine-boned mare until that oxer heading into the double, which is quickly becoming the bogey fence today, and they nearly crash through that one! They also add several time penalties (6) but finish the last two well.
Next up: Joris Vanspringel and Lully des Aulnes
9:14 a.m. Carlos Munoz is the first inside the time! They add 4 by taking down A of the double combination.
Elmo Jankari and Duchess Desiree will enter next as individuals for Finland.
9:12 a.m. Chile's Carlos Lobos Munoz and Ranco in next. They gained a ton of fans yesterday with their clear jumping across country.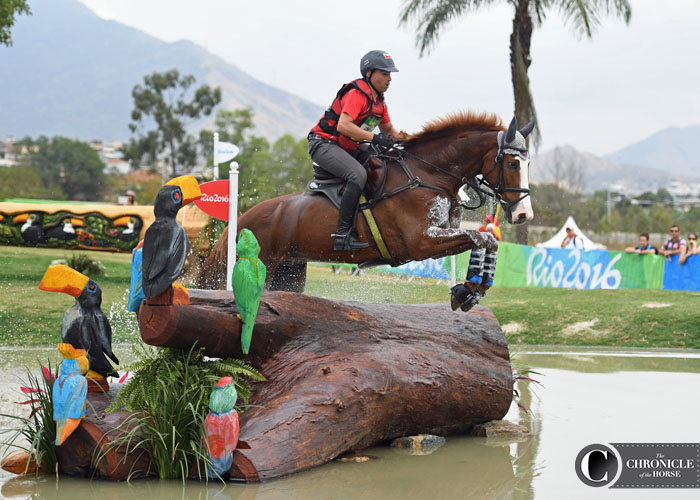 9:10 a.m. Biarritz fresh and jumping well for Camilla. They have A of the triple combination down and then another oxer down plus 4 time for 8 total faults. She's another one looking thrilled with the completion though!
9:07 a.m. Noe Des Vatys looked a bit tired, maybe a little backed off, for Ben Vogg. They have two rails down and add 6 time to their final score.
Camilla Kruger and Biarritz enter now for Zimbabwe. You can read more about Camilla here.
9:04 a.m. And it's 8 jumping and 3 time for Lauren Billys. She looks thrilled to have completed her first Olympic Games though!
Next in is Ben Vogg and Noe Des Vatys for Switzerland.
8:59 a.m. The California-based Lauren Billys on Castle Larchfield Purdy will be first in this morning for Puerto Rico. All of the individuals are going first, and then the riders who are (or were, in the case of the U.S. competitors) on a team will go next.
8:45 a.m. Good morning friends and fellow eventing fans! We're kicking off this first round of show jumping at 9 a.m. eastern time. Currently there are 46 riders slated to jump (for team medals and individual qualification) in Round 1, and then the top 25 will return immediately after to jump for individual medals. Follow along here all morning for up-to-the-minute updates starting at 9. In the meantime, here's a pic of cross-country leader Chris Burton and Santano II.