Oct. 6 – Upper Marlboro, Md.
There aren't many pony riders who can say one of their trainers phones in advice from thousands of miles away. But Madeline Schafer, winner of the WCHR Pony Challenge at the Capital Challenge Horse Show, had a bit of help from her sister, Samantha, in Texas.
Samantha, who rides for Baylor University (Texas) and was a decorated junior hunter rider, couldn't make it to Capital Challenge this weekend, but communicated with their mom, Stacy Schaefer, nonstop.
"I asked her, 'Are you watching the horse show under your desk?'" Stacey said. "She'll send me text messages because she watches the courses on her phone and she'll say 'Oh no, we could have a problem here. Make sure Maddy sits up and keeps her reins short!'"
The long-distance coaching worked, as Madeline rode Rolling Stone, a 15-year-old Welsh gelding owned by Further Lane Farm in East Hampton, N.Y., to the top of the class against 31 other small, medium, and large ponies.
"The trip was really smooth and after I jumped the in to the last line, it just felt awesome," said Madeline.
Madeline, 12, of Westminster, Md., paired up with "Stony" at Old Salem (N.Y.) in May. Originally, Daisy Farish was set to ride the small pony throughout the summer and into the fall indoors, but Farish decided the partnership wasn't right.
"She told me, 'I can't ride him, I'm too tall!" Stacey joked.
Luckily, Madeline and Stony got along great and so it was no question that she would ride him in the WCHR Pony Challenge this week. Winning the class wasn't the only goal for the 7th grader; she also had to stay caught up on schoolwork. "[Capital Challenge] is really close to home, so I didn't have to miss a lot of school, Madeline said.
"We miss as little school as possible, because it's so hard to catch up," Stacey said. "It's hard to feel like you're always behind. That's not a good feeling for anybody."
The Hat Trick
For the third year in a row, Tori Colvin rode to the top of the WCHR Junior Challenge. Despite the number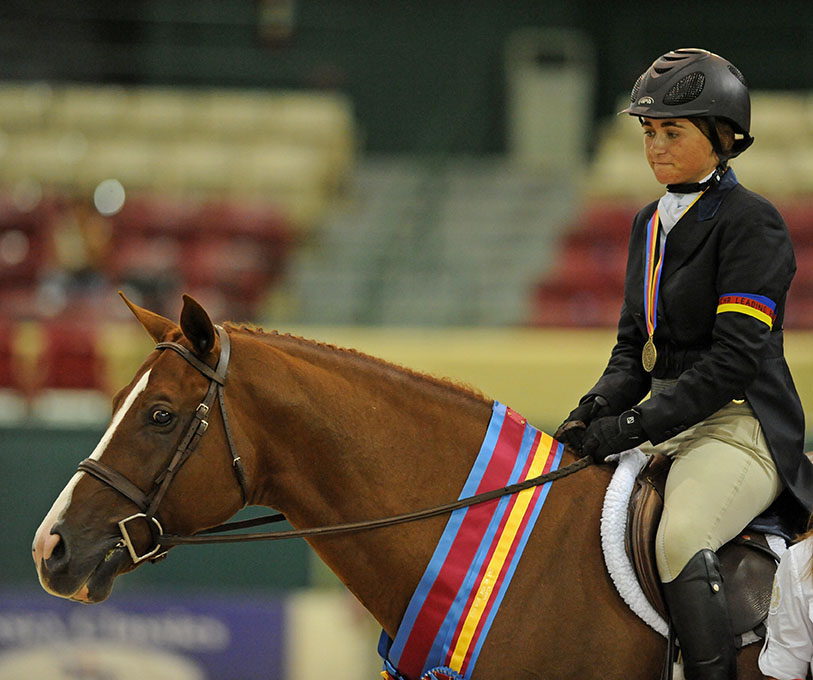 Tori Colvin topped the WCHR Junior Hunter Challenge
for the third year, this time aboard Canadian Blue.
Photo by Camille Corum
of accolades she's picked up in her career, Colvin was a bit surprised when the show announcer introduced her as a three-time winner of the class for the award ceremony.
"I didn't even know it was three times! But I know now. I thought I just got it last year," Colvin laughed.
Colvin piloted Canadian Blue, an 8-year-old warmblood gelding (Converter—Larissa K) owned by Scott Stewart to the blue.
"He was the greenest horse to take. We decided it would be good experience for him to keep being able to go in the indoor," said Colvin, who admitted the winning round was not her best.
"He doesn't spook much, but he did once at [the FTI Winter Equestrian Festival (Fla.)] and it was the same jump," Colvin said of the first gray wall on the course in the WCHR Junior Challenge.
Colvin, 15, of Loxahatchee, Fla., dominated the junior hunter divisions at Capital Challenge, claiming both the championship and reserve in the small junior, 15 and under on Dr. Betsee Perker's Ovation and Canadian Blue respectively. Aboard Inclusive, also owned by Parker, Colvin topped the large junior hunter, 15 and under division.
Colvin paired up with Canadian Blue at the FTI Winter Equestrian Festival (Fla.), showing briefly in the first year greens before moving to the small junior section.
For an in-depth report from Capital Challenge, check out the Oct. 21 issue of The Chronicle of the Horse.
Check out Amanda Steege's blog for the Chronicle, and catch up on the reports from the WCHR Professional Finals, WCHR Handy Hunter Challenge, WCHR Pro and Developing Pro Challenges and the WCHR Amateur-Owner Hunter Challenges.
Full results are at capitalchallenge.org.