Upper Marlboro, Md.—Oct. 3

"I just can't believe it; I dream of this," said Laura Wasserman through tears and tricolors as she exited the award ceremony for the WCHR Amateur-Owner Challenge today hugging her horse's neck.
The beaming champion was in somewhat of a rush as her flight home to Beverly Hills, Calif., was supposed to depart in less than an hour. But as we walked back to the barn, she couldn't stop smiling or praising her Back In The Game, soaking in the moment of her big win.
Wasserman has trained for eight years with Archie Cox, her most vocal ringside fan today, and with her horse for only two. "I tried him at one jump, and that was it, I knew I wanted him. He's been a fairy tale to me ever since," said the overjoyed Wasserman, 49, of finding her dream horse, on which she'll compete at the Washington International (D.C.) next.
"I've learned so much and feel like I've gotten better and better," Wasserman continued. "I finally have a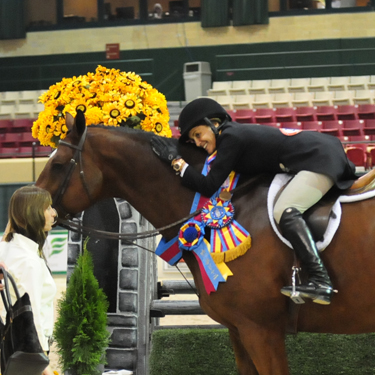 Laura Wasserman gave Back In The Game
big hugs after their winning performance.
Photo by Taylor Joyce
groove, a rhythm." She earned third and sixth earlier this week in the amateur-owner, 36 and over division. She had made some mistakes, and was nervous about making the same ones in this class, especially in the turn towards the two-stride in-and-out. "I just told myself, 'I'm doing it. I know I can win this,'" she animatedly recalled, "I told myself 'just look over it and kick!'"
Wasserman did just that and rode Back In The Game, a 15-year-old warmblood by Robin II Z, to the highlight of their career together. Wasserman recalled "stalking" Back In The Game years ago when he was showing with Paris Sellon, but then he was sold to the East Coast. When the opportunity to own him came up two years ago, she jumped at it. "He's truly a special creature. When you ride him, you feel like a million bucks."
This is Wasserman's second trip east with Back In The Game for the Capital Challenge. "It's fun for us to do something different and come back east with the really great riders," she said. "It raises the stakes." While Back In the Game will stay east until after Washington, Wasserman is flying back and forth between coasts to take care of her children, 10 and 8. She left a career in the movie business behind to be a full-time mother. "My husband has been so supportive. I really am living the dream," she said.
Amarillo Takes Blue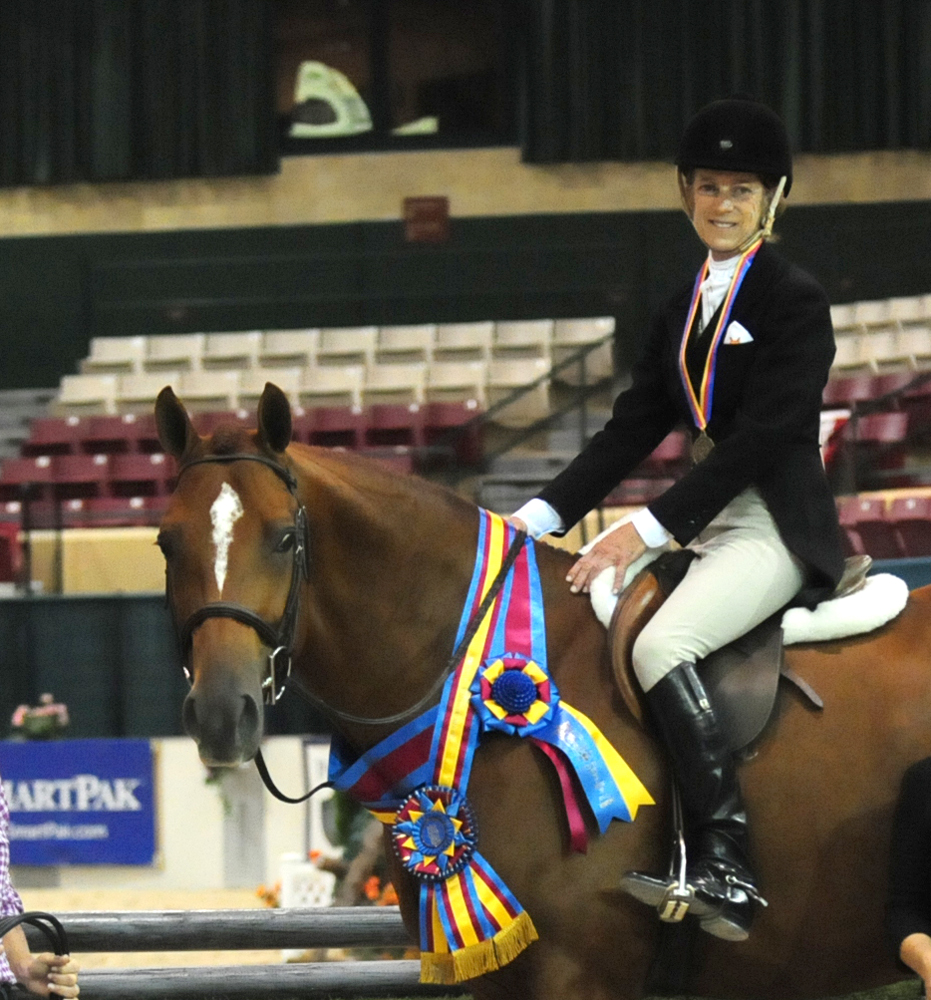 Amarillo is a new face for
Jane Gaston, but he's winning
like all her other mounts.
Photo by Camille Corum
Winning in the amateur divisions at the Capital Challenge isn't new for Jane Gaston of The Plains, Va., who has stacked up an impressive record at the show over the years. But this year, she didn't have much mileage on her new horse, Amarillo, a 6-year-old Schwaiganger (Acolydor—Dynastie) gelding. The Schwaiganger is a Bavarian stud book.
Their week together at Capital Challenge didn't get off to an auspicious start. "He was acting green at the beginning of the week but he worked out of it before today," said Gaston. She said Amarillo was a bit fresh on the first day, then "I rode him like an idiot the second day but he forgave me," Gaston said. But by the time the WCHR 3'3" Amateur-Owner Challenge rolled around, they were both in winning form and took the title.
Last December Gaston went over to Germany to look for a new top horse and was smitten by Amarillo the moment she saw him. "He just looked so handsome standing there," Gaston said.
Gaston took Amarillo down to Ocala, Fla., for the HITS winter show season and began their partnership in the 3'3" amateur-owner division.
"He's very easy in the ring. You don't have to push him to do anything," said Gaston, who trains with Hunt Tosh.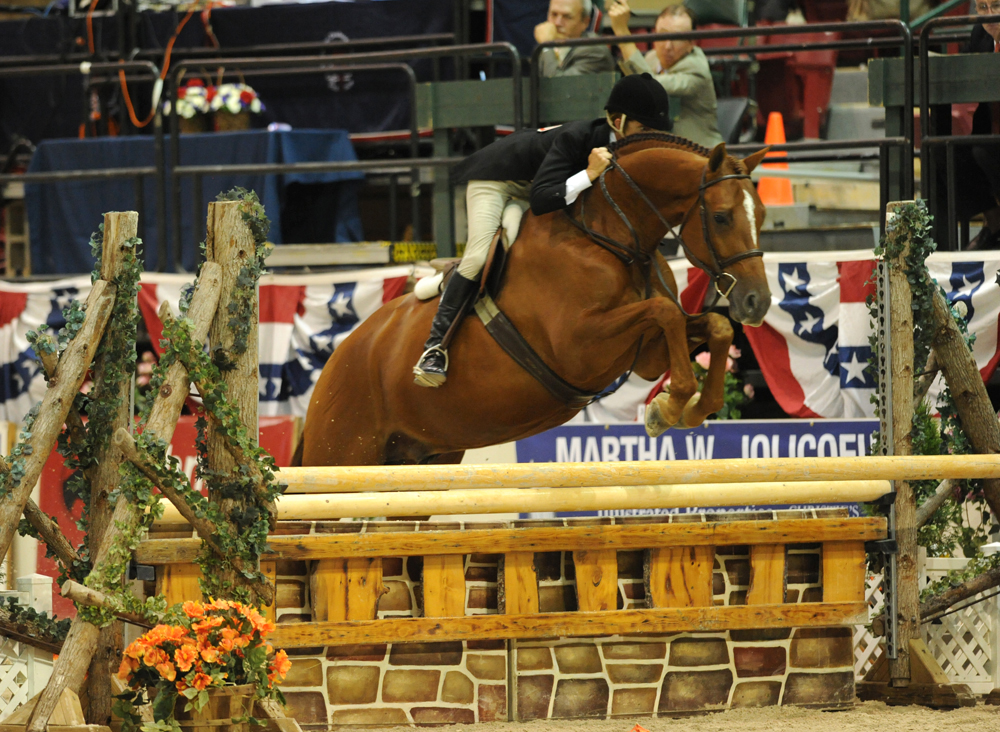 Amarillo's stylish jump helped him and
Jane Gaston top the WCHR 3'3″
Amateur-Owner Challenge.
Photo by Camille Corum
Of the WCHR Challenge, she said it is one of the best awards to win. A huge supporter of WCHR, Gaston says she hopes the program will keep expanding. "[Capital Challenge] was on my radar this year [with Amarillo] because I love the WHCR program," she said.