Oct. 5 – Upper Marlboro, Md.
To say you have a philosophy for horse showing is one thing, but to live by that philosophy is quite another.
Nick Haness put a twist on the old adage "go big or go home" and snagged the WCHR Handy Hunter Challenge at the Capital Challenge Horse Show (Md.) for the second year in a row.
"I always go into these handies thinking you got to go all out or don't do it at all. That's always been my philosophy," said Haness.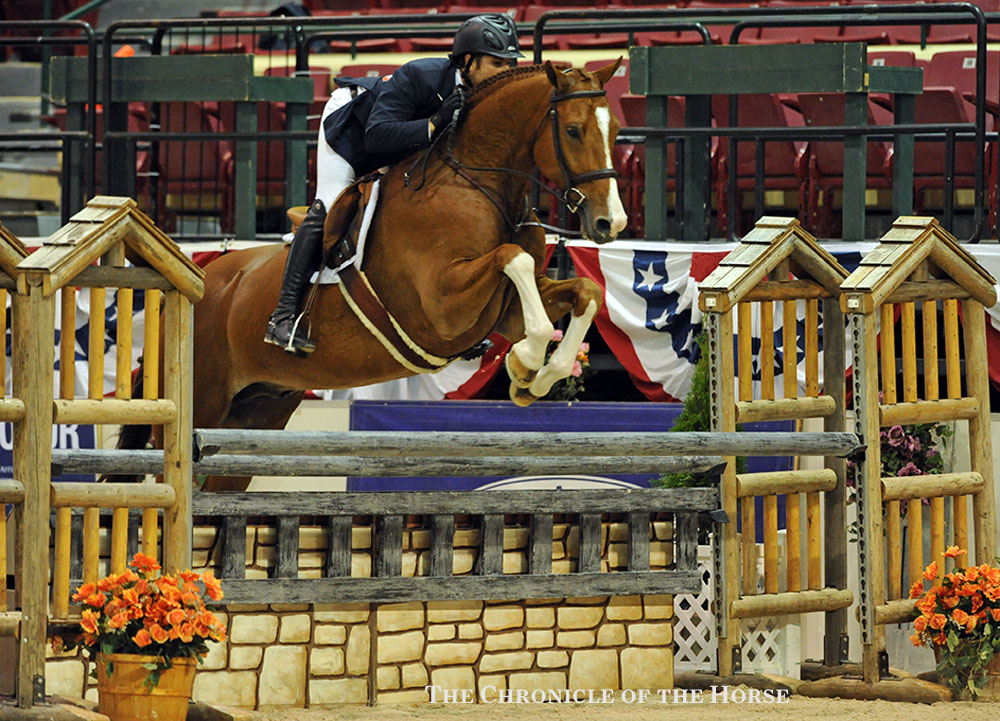 Nick Haness made some bold moves aboard Winfield
to win the WCHR Handy Hunter Challenge for the
second consecutive year.
Photo by Camille Corum
As reigning champion of the Handy Hunter Challenge, Haness, wasn't sure he would come back this year. "It was a lot of pressure to come back. I was like, 'I don't want to not win it!'"
This year, he took on the course with a new mount, 7-year-old Mecklenberg gelding Winfield owned by Lexie Looker of San Dimas, Calif. "I thought a lot of this course involved different options for track, for stride, and for turning," Haness said. "When I walked the course, I walked all of the most challenging options. And that was my plan going into it."
Having only competed in a few USHJA International Hunter Derbies together since June, Haness, of Hunterbrook Farm in Coto de Caza, Calif., put Winfield's power, scope, and stride to the test.
"For a half a second I doubted myself. 'Should I do that or stick with something more conservative?' But I took the chance and it worked out pretty well," said Haness.
"There was one line that I was contemplating either doing a very forward and direct six [strides] with a tight rollback back to the trot jump. That would have been the more difficult option there and I was thinking maybe I should go for an easier seven [strides] and land a little slower. [Winfield] jumped down the six great and we made the inside turn to the trot jump and it all came into place," he continued.
Despite acting green early in the week, Winfield, together with Haness, set the bar unreachable for the 12 other riders with a score of 88.66. Trailing in second with 85.00 points was Taylor Adams and Taken.
"He's been a little peek-y in there this week. The scoreboard, the crowd, and all the things outside the ring were distracting him, but today I felt like he was really relaxed and he handled himself and the pressure well," Haness said.
For an in-depth report from Capital Challenge, check out the Oct. 21 issue of The Chronicle of the Horse.
Check out Amanda Steege's blog for the Chronicle, and catch up on the reports from the WCHR Professional Finals, WCHR Pro and Developing Pro Challenges and the WCHR Amateur-Owner Hunter Challenges.
Full results are at capitalchallenge.org.