On Dec. 2, U.S. show jumper McLain Ward announced that Clinta, his parter for team gold at the 2018 FEI World Equestrian Games (North Carolina), has been retired.
"It's with some disappointment that I have to announce that after a year of great efforts to bring Clinta back from an injury to the sport again the decision has been made with her very supportive owners, the Sweeneys and Susan Heller, to retire her," Ward wrote on his Facebook page. "It's a decision not filled with sadness, just disappointment as she is healthy and sound but we feel is unable to physically take on the stresses of the highest level of competitions. Clinta is without question the highest quality athlete I have ever ridden and has a heart and competitive spirit to match."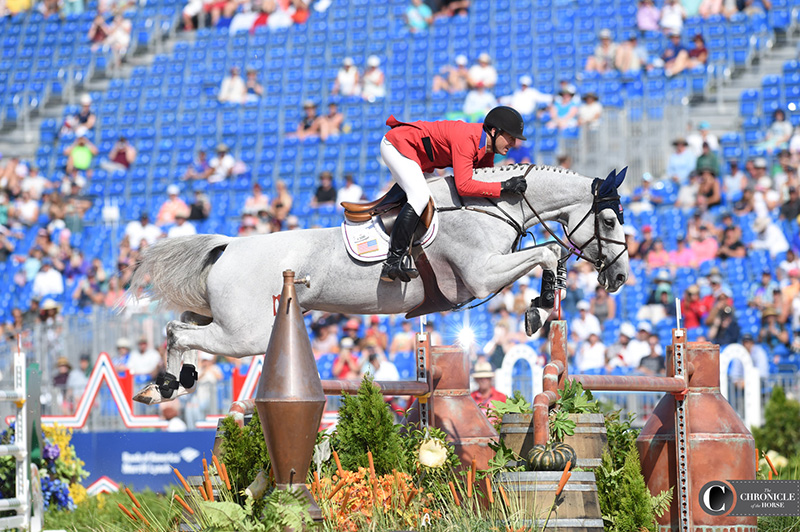 Ward discovered the mare at the CHIO Aachen (Germany) in 2017, and after seven months negotiating with then-owner Paul Schockemöhle, Sagamore Farms secured the ride for him in early 2018. They scored their first win together at the Longines Masters Of New York in April, and their success that year continued with wins at Old Salem (New York), Devon (Pennsylvania), Rotterdam (the Netherlands) and Aachen.
They were named to the U.S. team for the WEG that September and anchored the team to a gold medal win in a jump-off with Sweden and finished fourth individually. Clinta finished her year by earning third in the Rolex IJRC Top 10 Final in Geneva (Switzerland).
The Oldenburg mare (Clinton—Last Flight, Lord Pezi) won the WEF Challenge Cup during Week 8 of the 2019 Winter Equestrian Festival (Florida) before sitting most of the year out. She returned to the show ring in 2020 and jumped in her last class at Tryon Fall 6 (North Carolina).
Ward said the 14-year-old mare will now have a breeding career.
"Her owners and myself are looking forward with great anticipation to breeding her in the coming spring," he wrote. "With much of the breeding world following the current trend of new technology to produce higher numbers of foals we have jointly made a decision to take an old-school approach and breed Clinta naturally and have her carry and raise her offspring. We hope her competitive spirit and giant heart will come through in her foals and believe that also will provide for a happy and healthy retirement for the mare who has given us so much of herself."
Watch Clinta's winning jump-off round at the WEG, courtesy of FEI: