Devon, Pa.—May 31
As the riders set off on the victory lap following the $250,000 Sapphire Grand Prix of Devon, Peter Doubleday jokingly announced them as the winners of the Grand Prix of McLain Ward. It would be a fitting moniker for the class, as this year's win with Clinta marked the 10th time Ward's won it.
"Even on a rainy night how can you beat the atmosphere?" Ward asked. "I've always said this is a very special place. It's an iconic location, a crowd that's second to none. I don't think there's an atmosphere in the world that's better, and it's always been a very special place for me, a special place for my father before, and I don't know, things just seem to go well for me."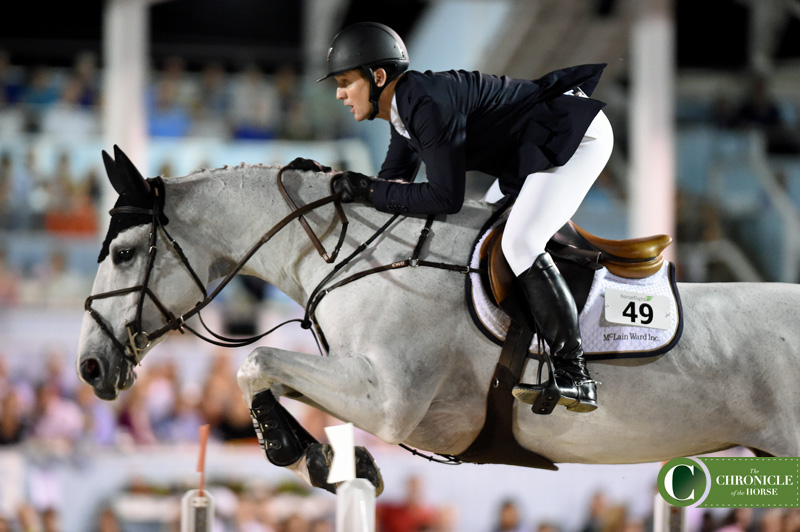 Historically Devon's grand prix has been stuffed full of top horses, so Ward knew he needed to bring a superstar to make sure he had a shot at the win. With HH Azur over in Europe he looked to Clinta to fill that role. Since Ward purchased her this winter, the 11-year-old Oldenburg mare (Clinton—Last Flight, Lord Pezi) has been on a hot streak. She's fresh off of wins at the Longines Masters of New York and the Old Salem Horse Show (New York), and every time he's set a new benchmark for her, she's delivered.
If there was ever an opportunity for her to put her hand up, tonight's grand prix was it. Of the first 10 horses, five retired, and as the class progressed, another three retired and two were eliminated.
"I thought it was a great course," said Devin Ryan, who took third with Eddie Blue. "The course designer had a great number, five, in the jump-off. Yeah, the numbers in the beginning were looking a little scary for the course designer, but in the end I think up to 15 places were 4 faults, that's one rail down, so any course designer to have multiple 4-fault rounds, and the rails came down in multiple places, and I think that makes a sign of a good course."
"I also thought it was excellent," said Ward. "I agree, this show, this event has really taken itself to a new level. It's reinvented itself, Devon, and it really is a world class show jumping event, and the course and the caliber of riders here reflects that. Every class is full with the top horses and riders. They're bringing their best horses here and are trying to win. I thought it was a challenging course, and I think four to six clear in a major grand prix is how it should be."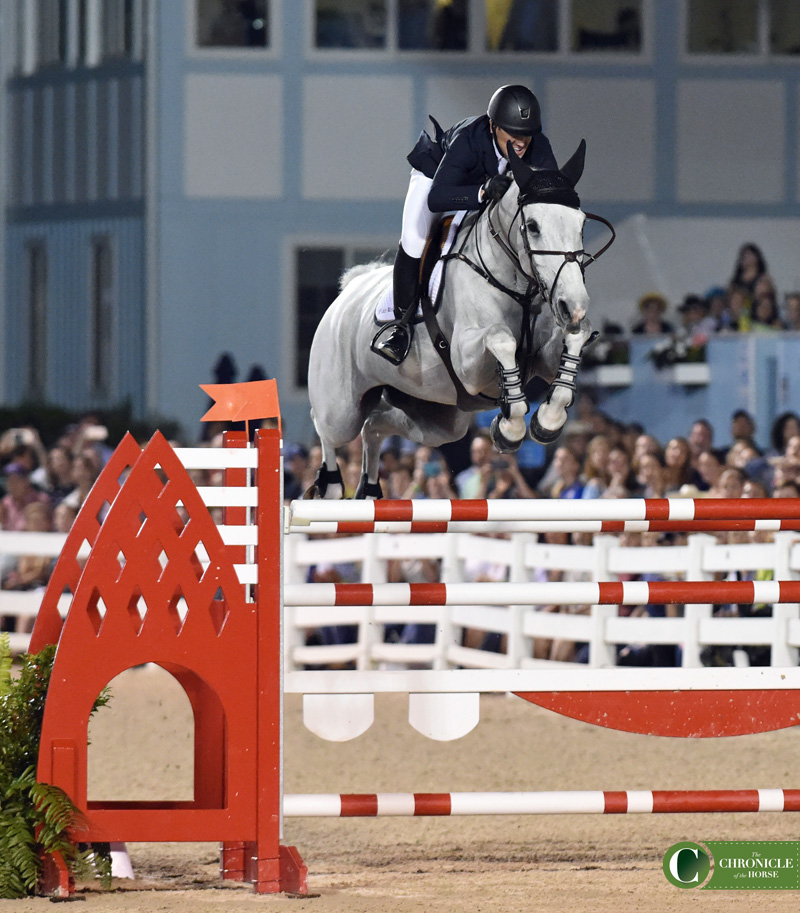 Adrienne Sternlicht was the pathfinder to a clean round with Cristalline in the jump-off and stopped the clocks at 40.20 seconds.
"I had many more experienced and incredible riders behind me, and I have the gift of riding an incredible horse, so I tried to trust myself and stick to my plan," said Sternlicht. "I've become more calm and more and more confident in jump-offs, so I tried to execute according to [my trainer] McLain's plan."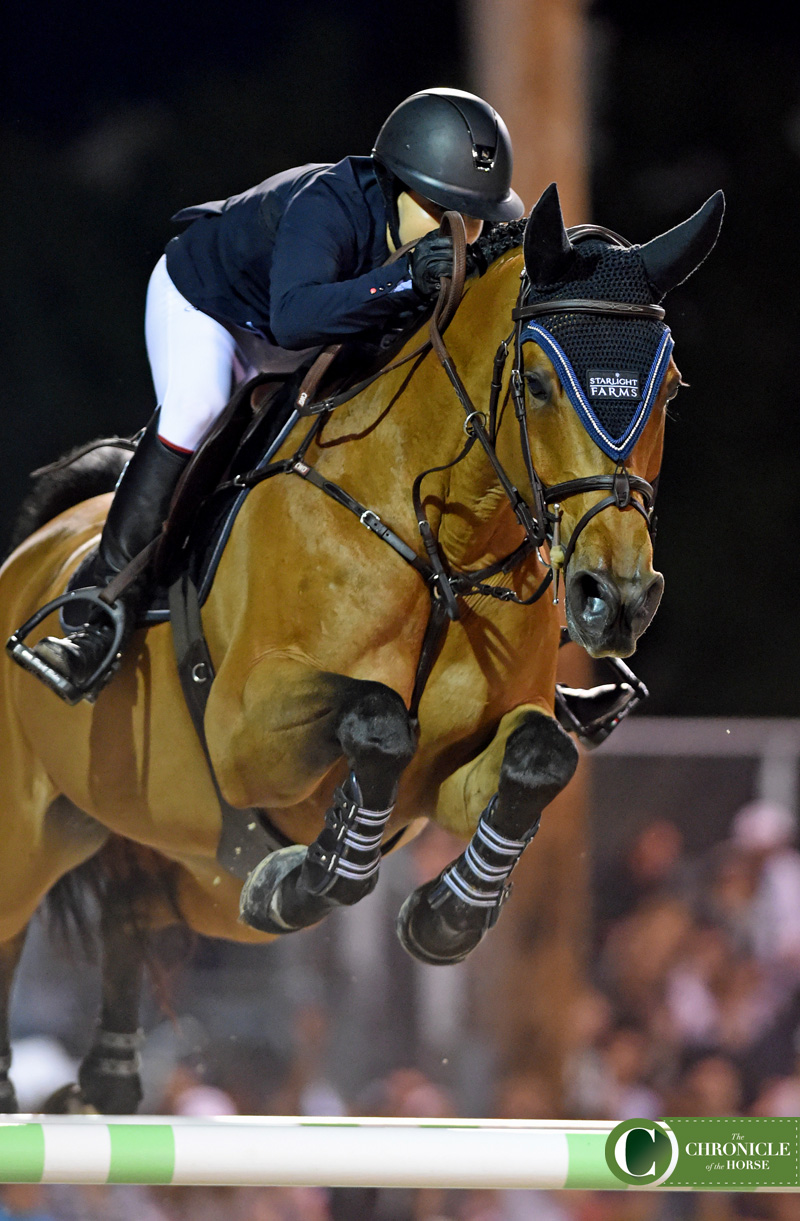 Brianne Goutal-Marteau ran into trouble in the double with Viva Colombia, and the mare ran out at the second element. They jumped back through before retiring. Next up was Ward, and he was gunning for that win.
"The whole beginning of the jump-off worked out well," said Ward. "The turn on the double came up really good; that was the only thing I was really concerned about. She's such a careful horse that I worried she'd go too high. I actually got a little stuffed going back on the original No. 1, and I thought that was a bit slow, so I tried to make up a bit of time and kind of picked up on the last fence, and to be honest she very easily could have chipped or stopped at it.
"It showed for me where the horse is mentally that she believes in what I'm asking of her because it was a little bit of a dicey distance," he continued. "It wasn't so well done on my part. That's the whole thing about the sport: The horse saved me there; the horse did an incredible [thing], and everybody's like, 'Wow amazing!' And you can ride the fence perfect and have a light rub, and they say, 'What's wrong? You're not as good as you were before.' That's a bit the sport, and you kind of forget when you get away with it, and you remember when it didn't go your way, but the horse was great."
Watch Ward's winning jump-off, courtesy of USEF Network: 
Ryan tried to chase Ward's time of 36.91 seconds, but Eddie ended up catching two rails. Todd Minikus finished out the jump-off with Chaventyno; they lowered the height of two fences to take fourth.
"It seems like the past two or three years I've been right on McLain's coattails going into this class, so I was like I know I have a really good horse, and I wanted to take a shot at it tonight," Ryan said. "We come to the horse shows to compete and to win, and I always just try to be double clean and stuff like that. I try to be double clean and win it. I went for it and took maybe too much of a shot for that double. My horse has such a big stride that sometimes it gets away from me a little bit, and he just dragged me a little bit past it and got underneath it, and it wasn't my night. I tried to win it too much."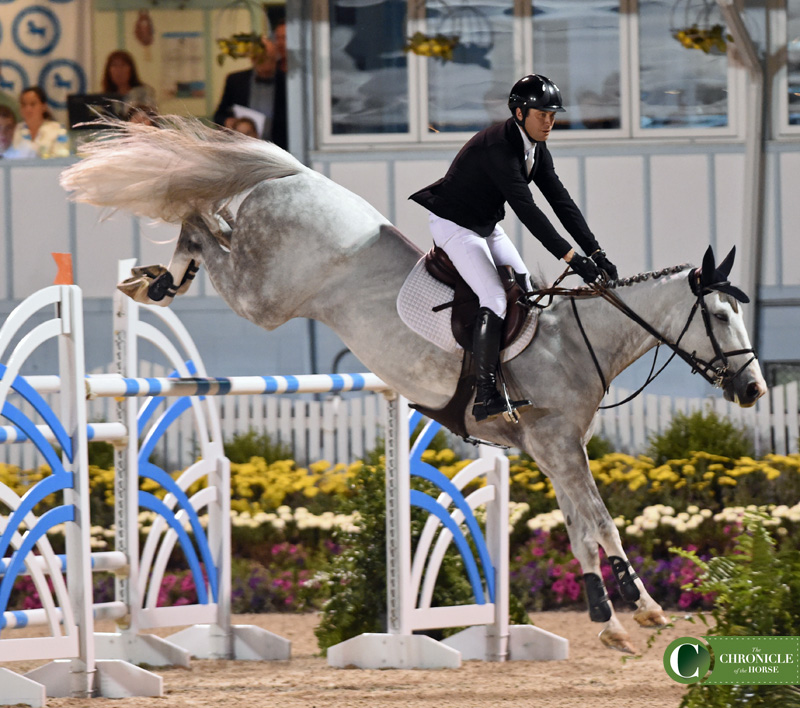 Looking for information on where you can watch and when your favorite riders or classes go? We've got it all in one place for you. 
Find all our coverage from the show here, and check here for full results.
Make sure you're following us on Facebook, Twitter and Instagram as well.
Want more Devon? Check out the June 18 issue of the print magazine. What are you missing if you don't subscribe?
2018 $250,000 Sapphire Grand Prix of Devon
Kimberly Loushin / Jun 1, 2018 6:56 am