Rio de Janeiro—Aug. 15
You can forgive Charlotte Dujardin for bursting into tears during her interview following her Grand Prix freestyle performance on superhorse Valegro. After all, the two had just smashed their record at the last Olympics by nearly 4 percentage points to finish on a 93.85 percent.
"The world record's a [94.30 percent, which the pair set at London Olympia CSI-W last year], so I know it's possible," said the 31-year-old Dujardin. "To commandeer it again here at the Olympics is quite special. Today was really, really magical. Going into [the 2012 London Olympic Games], I had no pressure or expectation to deliver individual gold. Coming here today I really did feel nervous for the first time before coming in. I thought I felt that pressure and the expectation to deliver today to retain the gold from London. When I got into the arena and trotted around the outside Valegro gave me the most incredible feeling. That put a smile on my face, and I knew it would be OK."
It was better than just OK. Judges Susanne Baarup (Denmark) at H and Mirabel Alonso (Mexico) at C awarded the pair a 99 percent on her artistic marks—her overall artistic average peaked at 97.71 percent, with a test they've only performed once before, set to samba-themed music. Her test featured a high level of difficulty, which she executed nearly flawlessly, with piaffe pirouettes and extended canter down centerline to canter pirouettes.
You can read a round-by-round blog of all today's freestyle rides here.
Dujardin has just become Britain's joint top Olympian in terms of gold medals, tied with cyclist Laura Trott.
The rider also had a special fan in the crowd: During the award ceremony, her longtime boyfriend Dean Golding displayed a banner reading "Will you marry me now?" It's the third time someone's asked for a wedding at the Games.
"I've already got a ring on my finger," said Dujardin with laugh. "He's such a banana. Bless him, he's been waiting a long time. He asked me actually just before London, and I said yes, and I don't think he's believed it's going to happen, so I think this has made it so public that I've definitely got to do it."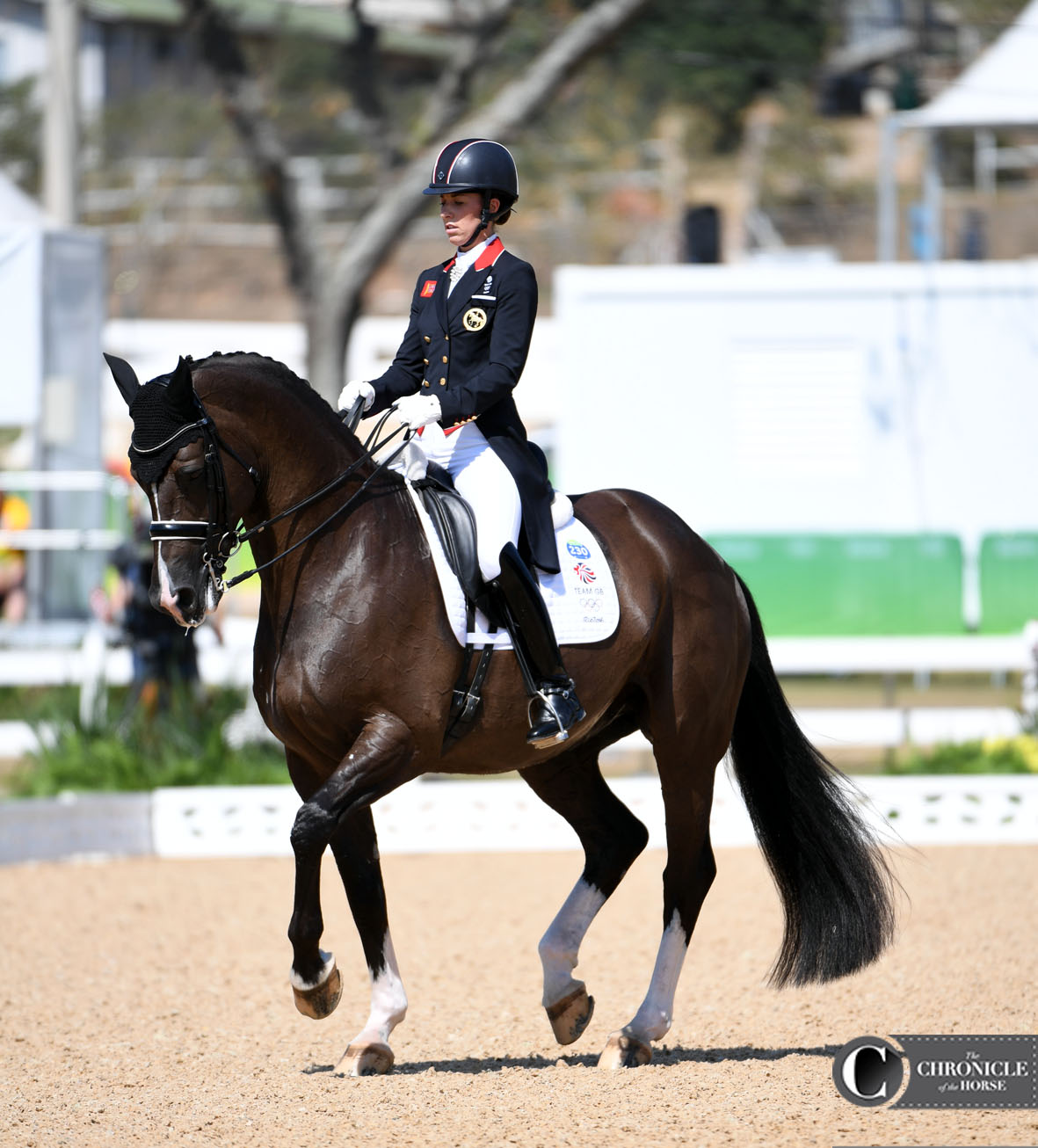 Charlotte Dujardin and Valegro. Photo by Lindsay Berreth.
Dujardin also responded to rumors that "Blueberry," a 14-year-old Dutch Warmblood (Negro—Maifleur, Gershwin), is headed for a retirement paddock, and she said that it's in the cards, though no definite plans have been made yet.
"That's part of the reason it's so emotional for me," she said. "There's not going to be another Olympics, or another championship. He's a horse of a lifetime—a legend. When you write what he's achieved and read it, it doesn't seem possible. I owe it to him to finish at the top, and for everyone to remember him that way."
Last to go in the ring, Germany's Isabell Werth and Weihegold OLD put in a overall fluid performance, with just a blip in one of the final piaffes and a bobble in the extended trot. But Werth's mark of 89.07 percent moved her and her relatively inexperienced partner into silver medal position. That brings her personal Olympic medal count up to 10, the highest of any equestrian.
She was especially impressed that her 11-year-old Oldenburg (Don Schufro—Weihevoll, Sandro Hit) handled the temperature, which topped 90 degrees Farenheit.
"It was really fantastic how our horses came through it and worked with it," she said. "I was really happy about it, and to win here the silver medal when I remember in April I didn't even expect to go to Rio…I definitely couldn't expect to go to Rio and get an individual medal."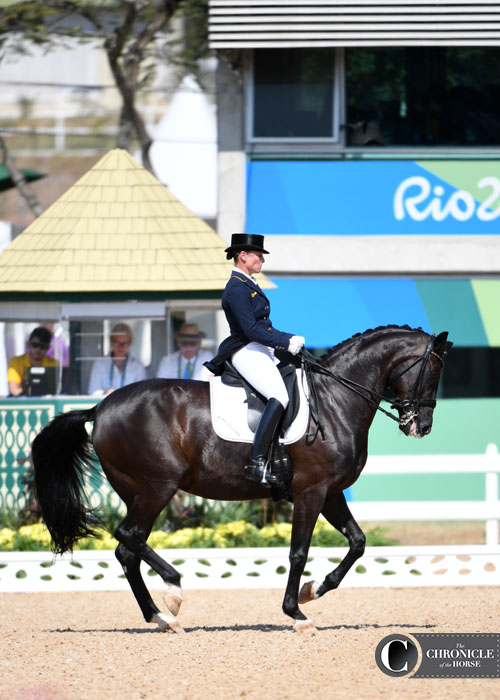 Isabell Werth and Weihegold OLD. Photo by Lindsay Berreth.
Werth's teammate Kristina Bröring-Sprehe and Desperados FRH improved on their performance two days ago on their way to the individual bronze.
"I'm really proud of Desperados," she said. "It's really hot today, and it was not so easy. A little bit more power, and it would have been better. In the passage, he lost a good bit of power today, but with the canter into the pirouette, I had a really great feeling. He's willing to work the whole competition, and I'm really proud."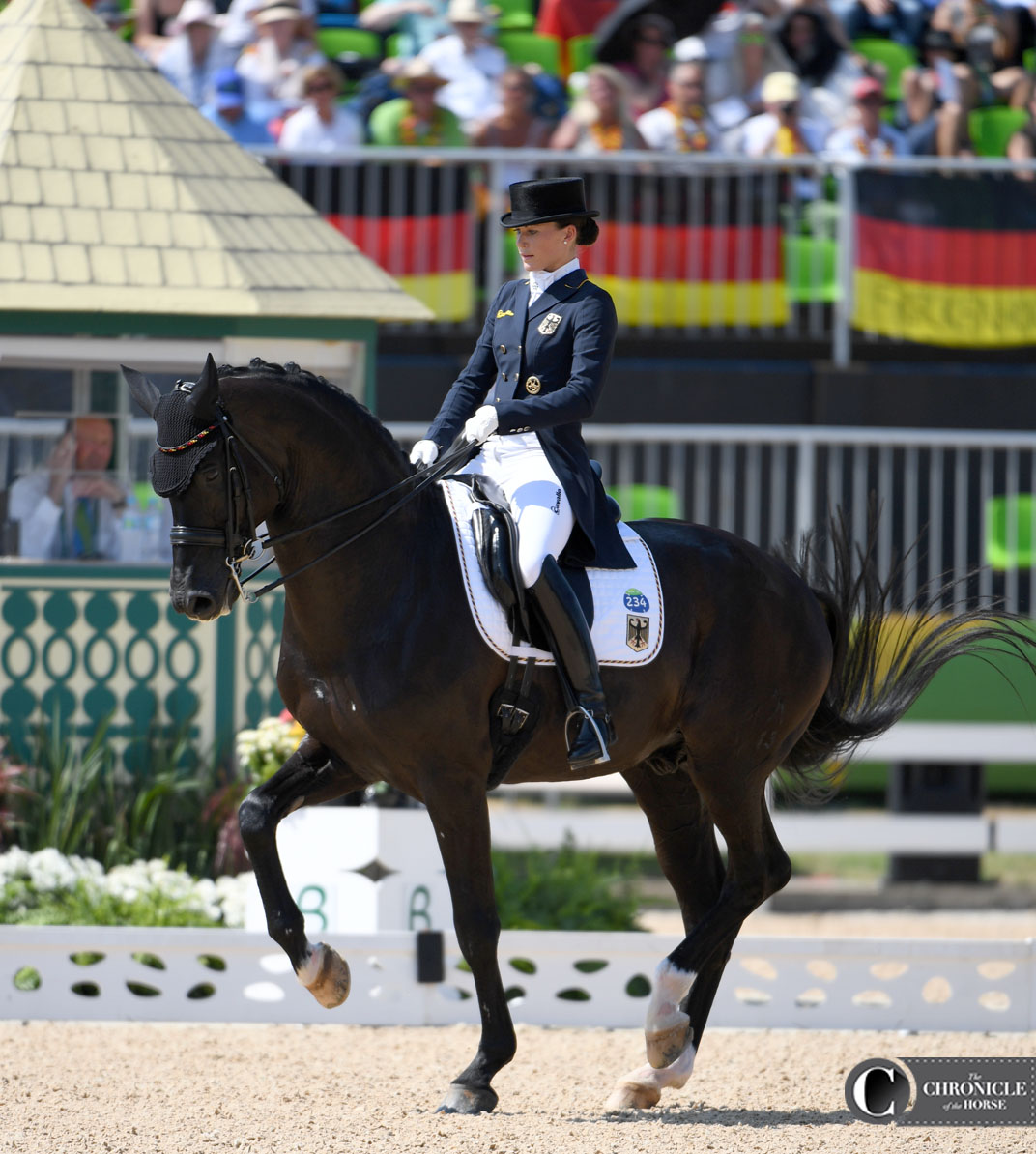 Kristina Bröring-Sprehe and Desperados FRH. Photo by Lindsay Berreth.
Three riders from Team USA qualified for today's 18-horse individual clean-slate final.
Laura Graves and Verdades finished just outside the medals in fourth place on a personal best score (85.19%), Steffen Peters and Legolas 92 finished in 12th (79.39%) and Allison Brock and Rosevelt earned 15th (76.16%).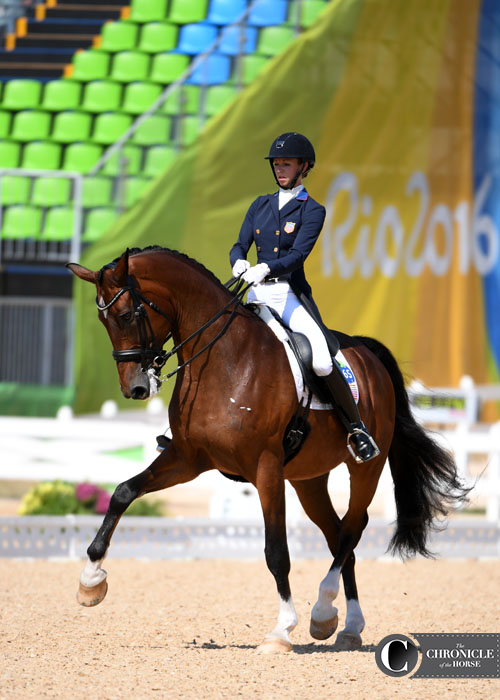 Laura Graves and Verdades. Photo by Lindsay Berreth.
Graves said she felt like she had a little less horse today in "Diddy" because of the heat, and the toll the travel has been taking.
A short 15-minute ride in the morning and a 25-minute warmup was all the gelding needed.
"He was ready to go when the horse before him went in," said Graves. "We tried to reserve that, and we didn't do much. But this definitely plays a role in how much energy we all have. He stayed really honest, and you can't ask for more.
"I'm so blessed that [Chef d'Equipe Robert Dover] and my personal trainer Debbie McDonald have sacrificed so much of their time this summer to be in Europe with us. It really has made a difference. I feel now like the tests are very easy. This was fun. If I had a little more horse, I think we could have snuck in a few more percentage points," she added.
Peters was first in the ring, and he was happy with Legolas' test that showed off his piaffe and passage and added few extra degrees of difficulty, including a double pirouette before a canter to piaffe transition.
"We risked it all, and I was hoping for a score around 80 percent, and the judges agreed with me, so I'm super happy," he said. "Today was 99 percent less pressure than the previous day. Honestly, I had a blast in there. I just loved it, just enjoyed it."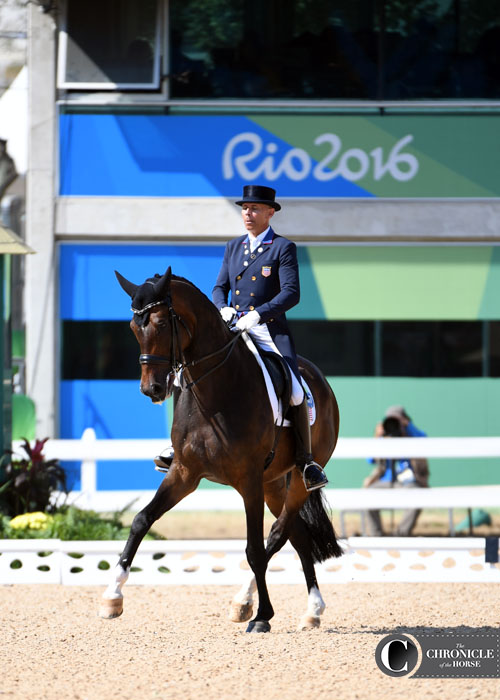 Steffen Peters and Legolas 92. Photo by Lindsay Berreth.
Brock admitted she hadn't ridden her freestyle much because of being focused on team rides, but she was thrilled with Rosevelt.
"Bless his heart. I was like, 'By the way, new pattern! And we're going.' He was, for the most part, quite cooperative," she said.
"I just love that music. I think it really suits that horse very well; it's very beautiful," she continued. "Marlene Whitaker did it; it's called Tangetto. It's a compilation, but the style is called Tangetto. The canter music is from Mr. and Mrs. Smith, and it's that beautiful, waltz-y thing, and I think it suits him quite well. It's the type of music that doesn't overwhelm the audience. It draws you into the horse, more than you just hearing stuff, and you have to pay attention and absorb it a little."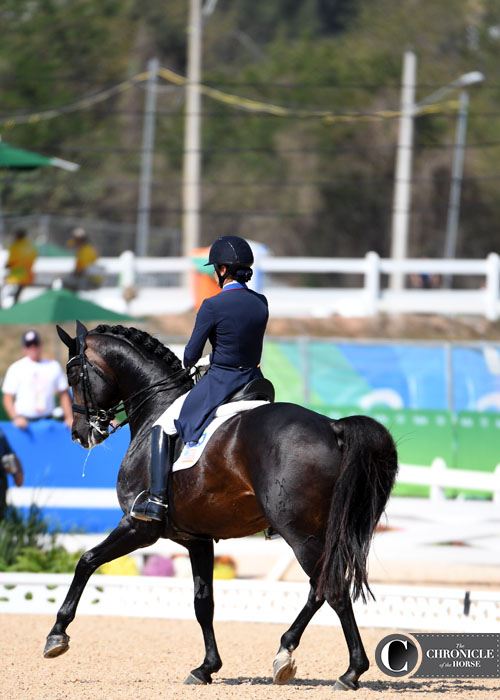 Allison Brock and Rosevelt. Photo by Lindsay Berreth.
Find full results here.
Mollie Bailey and Lindsay Berreth are on the ground in Rio de Janeiro for the Chronicle and will be reporting with all the news, fantastic photos and behind-the-scenes details, all posted on www.coth.com. Your go-to page for all things Olympic is http://www.chronofhorse.com/2016-Olympics.
We'll have live blogs of competition sessions, Twitter updates, blogs, photo galleries, stories about each day's competition and so much more. Don't miss a thing—we'll have everything you need to know. Also make sure to follow along on the Chronicle's social media outlets: Facebook, Twitter, Instagram and Snapchat (@chronofhorse).