Three years ago, there weren't many people who had heard of Laura Graves and Verdades. Now? They're the hottest stars in the little white ring.
Graves and "Diddy" took U.S. dressage by storm in 2014, trotting out of anonymity and into fifth individually in the Grand Prix freestyle at the Alltech FEI World Equestrian Games (France).
They followed that up with a team bronze medal at the 2016 Rio Olympic Games, scores of CDI Grand Prix and Grand Prix freestyle victories, and a stunning second place in the 2017 FEI World Cup Dressage Final on April 1.
We originally went Behind The Stall Door with Diddy in March 2015. Here's what you may not know about Diddy:
• Graves isn't just his rider—she's also his groom! "It's just me!" she said.
"We travel all over together. I do have to bring in some help for big world events like the WEG [and the World Cup Final] just because you're required to when there are so many media events going on and team events where you have a schedule. Then, you need a second set of hands. But I feed him, clean his stall, groom him, braid him, ride him, bathe him, ice him, walk him. It's really hard for me to release that responsibility because I've been doing it myself and the same way for 13 years.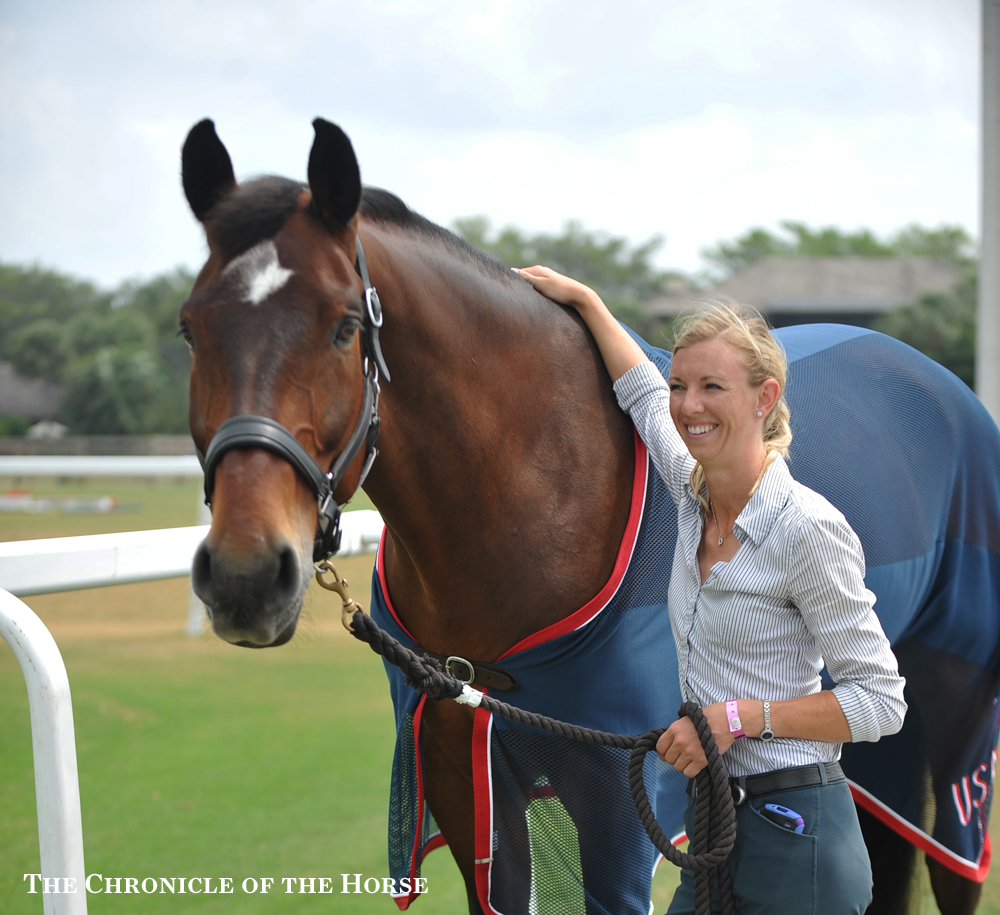 "Dealing with so many situations where we're under so much pressure, I think it really gives me an edge to know him so well and to be able to make the call and know when to keep the pressure on, when to take the pressure off, when he needs to rest, when he needs to do work, or if I work him is he going to get sick. I really have a good sense of how he's feeling," Graves said.
• He loves a lot of people in his space all the time: dogs, people, other horses—he's extremely social. He also does not have a mean bone in his body. He's just a very kind horse.
• Diddy likes to sleep, but when he's not sleeping he would prefer you do something with him: groom him or walk him or ride him, anything but just stand in the stall!
• Diddy was a challenge to break. Graves has had him since he was a yearling, and did all of his training. "He was so sensitive and afraid of things. One day you'd think that you had him broke and the next day you couldn't get near him with a saddle pad," Graves said.
"And it was honest fear. If he's afraid, he's really afraid, he's not trying to get out of work. It took probably until he was 7 years old until I could ride him without lunging him first.
"There were days we would lunge him and say, 'OK, today is not a riding day,' because he was always so insecure. He was always such a big mover that he would sometimes get going and just frighten himself and he would lose his balance.
"So it was a really big deal for him when he was finally mature enough to relax in his own body. But he's always been a fun horse to train because he's so quick in the mind and he tries so hard that he will really do his best not to make the same mistake twice."
• Diddy always has to stop and smell other horses' poop, no matter what he's doing.
• Diddy gets turned out solo. "He used to go out with my retired Quarter Horse, Sunny, but it's just a risk I'm not taking these days," Graves said. "We do have a fence line where they can still touch and scratch each other, but I would just be devastated if I put him in a situation where he could get hurt. You know, he's my one shot. This isn't a horse that's owned by sponsors and he's not just one horse in my string; he's my pet and I want him to be healthy for a lot of years."
• "High maintenance" isn't Diddy's style. "As much as he's not the most beautiful horse to look at, his body works really well. When you look at horses in the stable, he's not the one that makes you go, 'Ooooh,'" Graves said.
"But his body is really in good condition. Knock on wood, he doesn't get sore, really. After a competition, a vet will say, 'What do you do with him to keep him this way?' and I don't do anything special. He doesn't get a magnetic blanket or any special treatments, he's just really comfortable in his body.
"He goes on the VitaFloor in the morning, and he loves that. Then after he's worked he gets iced in regular ice boots. He's really just a regular horse."
• There's no real relation between his names—Verdades and Diddy. His original name was Victor C, but Graves found herself calling him Diddy. "I don't know how he got the name! Itty bitty Diddy, maybe? I don't know! His funny little nicknames developed into 'Diddy,' and when I found Verdades for a name, it worked well because it had the 'D's' in it and people could see the relationship. But one did not come from the other," Graves said.
• Diddy's a prankster. He may look imposing and dignified in the ring, but he's got a pretty deep goofy streak back in the barn. "He has a very busy mind. When he was young, we had a run-in barn attached to the field and he would turn on the water spigot and flood the barn," Graves said.
"He would open gates and was always fidgeting with his mouth, and he's still that way. He just loves to play and loves to be entertained. He loves big rubber feeders; he'll take them and fling them around. He loves to drink from the hose. He's very orally fixated. He's really bad when he's hand-walking because he always wants to see if there's something you're hiding in your hand or in your pocket."
• Diddy would be the unwittingly popular kid in high school. "He'd be very popular, but would never return phone calls, and always show up at a party super aloof , but very much a part of everything," Graves said. "He's so oblivious to a lot of things, but if something's going on he wants to be a part of it. Like, everybody would want to be his friend, but he would be so unaware of that."