Elkton, Md.—Oct. 15
Whether riders had a good dressage test or a poor one at the Maryland 5 Star at Fair Hill, they've all come out of the main arena knowing it's not likely to make much difference come Sunday. The track Ian Stark set for Saturday's cross-country is big and attacking, and perhaps Olympic veteran and former five-star winner Phillip Dutton said it best: "I think it's bloody hard, actually."
"I've only walked it the once, but I'll spend a fair bit of time walking around and trying to have a plan," Dutton said after his dressage test on Sea Of Clouds. "It's a big endurance test. There's a lot of jumping, and it's also technical, so it ticks all the boxes for a five-star event course."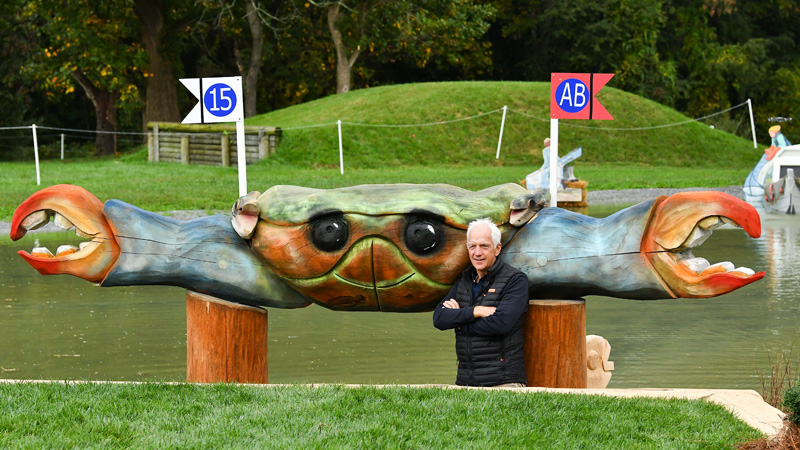 Current leader Oliver Townend predicted the terrain will be a huge factor, calling it potentially more challenging than the hills at England's famous five-star Land Rover Burghley Horse Trials.
"We always think of Burghley as the toughest terrain, but actually when you walk Burghley there are long pulls—and you feel like you're walking forever—but then when you get to the top of Winners Avenue, you can actually keep them open and get them breathing again at the same time and you run downhill for a long time," he said. "Whereas here, for me, it's a little bit more intense. It's a little bit more steep climb, drop down; steep climb, drop down; steep climb, drop down, and again he's put some fences in some places that I think is very, very brave to do. Even the rails going up the hill [at 13AB], that's something that none of us have possibly seen—well, I've never seen it since I've been eventing. It's probably not been designed for the last 35 to 40 years.
"It's just very different things out there, but Ian was a very big hero of mine," Townend continued. "He's a very brave rider and a very brave course designer, and I have a lot of faith in him, so hopefully if we do our jobs and look after our horses and ride with the terrain in mind as much as the fences, hopefully we'll be able to create a very good, exciting day."
The course begins inside the timber race course with a few straightforward fences. The first combination comes at 3AB, the Paul Bunyan tables, which Stark said he purposely roped to force riders to ride it in a bending four strides rather than try to do a direct three. The next combination, the Cecil Country Tourism C&D Canal Water at 5AB, is fairly straightforward with two boats set in the water that should ride well unless a horse loses momentum.
Horses should roll along through the next few fences until facing their next serious question, the coffin at 9ABC, the Fair Hill Foundation Rail and Ditch. The rail at 9A is frangible, but Stark said he wasn't looking for penalties here.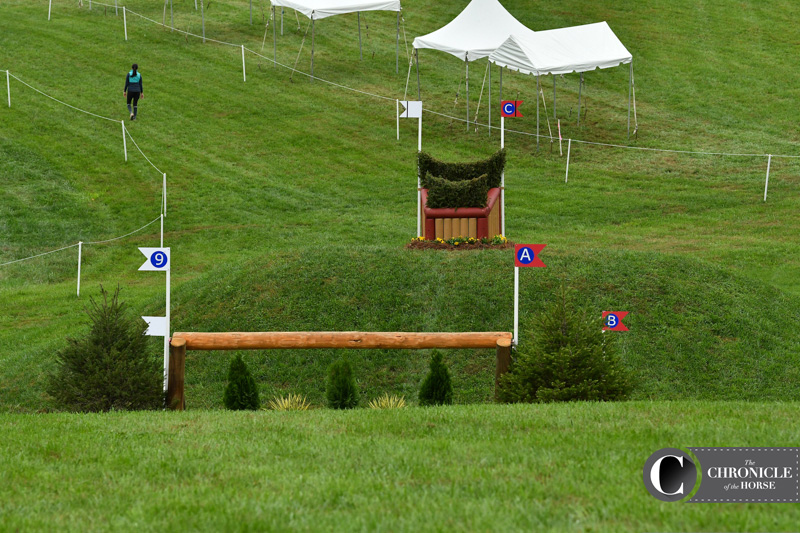 "I want the riders to sit up and quietly prop horses up," he said. "Because of the safety, it's frangible. I'm hoping and praying nobody breaks the pins, and if it's back legs, hoping ground jury will not give them 11. I'm hoping they'll possibly be lenient."
The next combination, 10AB is a brush wedge to a skinny brush oxer followed immediately by a nearly 90-degree turn to a brush corner. Initially Stark labeled it 10ABC, but due to the toughness of the question, he decided to make the corner a separate question, fence 11, in order to give riders an option if they need a few strides to reorganize without picking up 20 penalties for a refusal.
There's another big table as riders head towards the back field to 13AB, the timber rails created as an homage to Fair Hill's steeplechasing history.
"The timber racing fascinates me," Stark said. "I have never been brave enough to do these. I wouldn't like to gallop at upright rails with other horses galloping."
There's a brush oxer next, which is the biggest fence on course in terms of height and width, but Stark said he intended it to be a let-up fence to give the horse a bit of a breather as they head up to the top of the hill for the Maryland Crab Water, 15ABCDEF, at the top of Sawmill Field, which is where the challenges start coming quickly.
"I think the middle three minutes, in the back Sawmill Field, are as intense as it gets for five-star," said Will Coleman, who recently became the first American to win the prestigious CHIO4*-S Aachen (Germany). "You're going to have to go to have a chance at the time, but you have to, I think, listen to your horse a little bit out there, and they're going to need a second wind here and there out there. When and how you do that and still negotiate all these giant questions is sort of what it's all about."
That main water features a log carved and painted to look like a Maryland blue crab with a maximum 2-meter drop into the water on the backside of the fence. The landing is a slightly ramped to reduce concussion on the horses. They'll gallop across the water to a bank with a dry ditch in front of it, cantering over a log over the top before finishing over an ultra-skinny wedge at F. There is a longer alternate route for those who need it, and Stark has left a space at the top of the bank to allow riders to bypass the log and jump another fence further away should they run into trouble jumping up the bank.
"The riders really need to walk that and pay attention," Stark said. "In the heat of the moment, it would be easy to miss an effort."
After that, they'll gallop down a hill to an open oxer before heading to another fence that's had a lot of riders talking: No. 17, the Fair Hill Flyer, an open corner with a ditch in front of it which many have compared to Badminton's Vicarage Vee.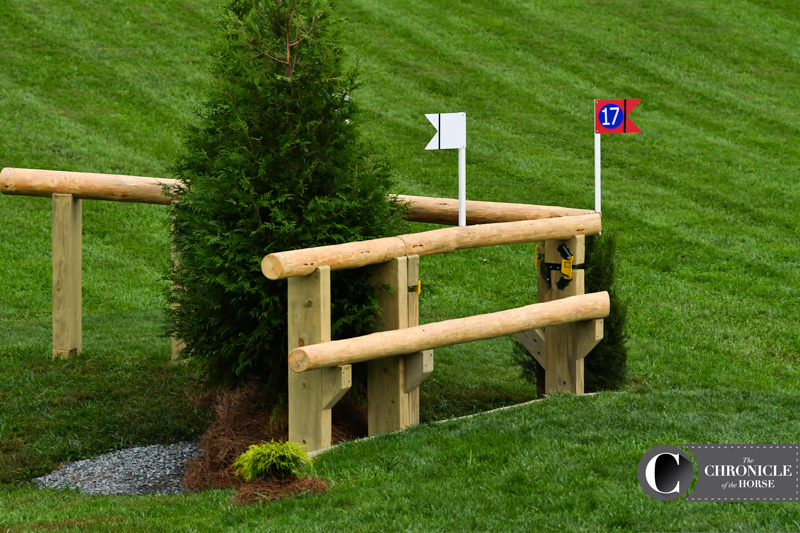 "You see the ground line; I've given them a very definite take-off point," Stark said. "I've given them correct line, but they still have to be good and brave and bold and scopey in jump. If they come down there, and they're a bit nervous, some will come down picking, and they won't be able to jump and the horse will run out. Others will get over-excited and 10 [strides] out see a stride and go, 'Yahoo!' and the horse will get up there and stop."
After the open corner, competitors jump an eye-catching but straightforward rollercoaster-themed fence at 18A before heading to the Fair Hill International Drop at 18BC. After that are fences 19 and 20, the Camden Yard Houses set one stride apart. The line from the drop requires accuracy and is only four strides or so, depending on how it is ridden. Stark decided to number the two houses separately so that riders won't try to play the hero if they aren't entirely organized.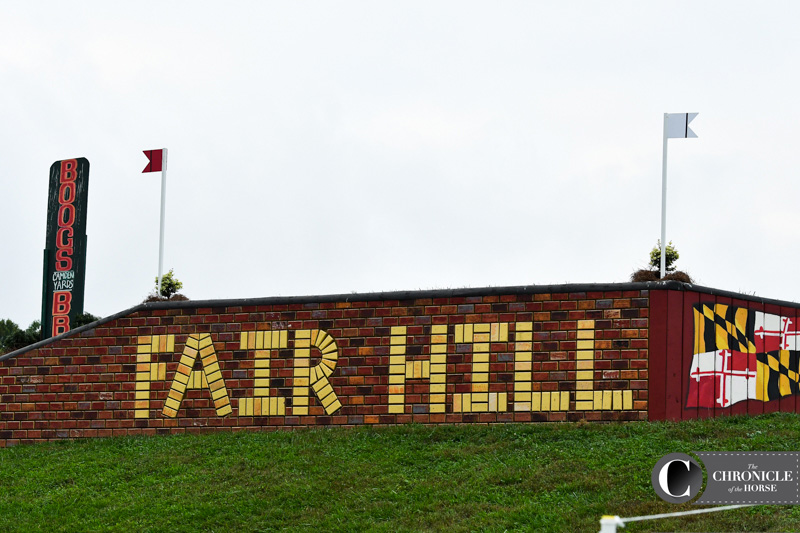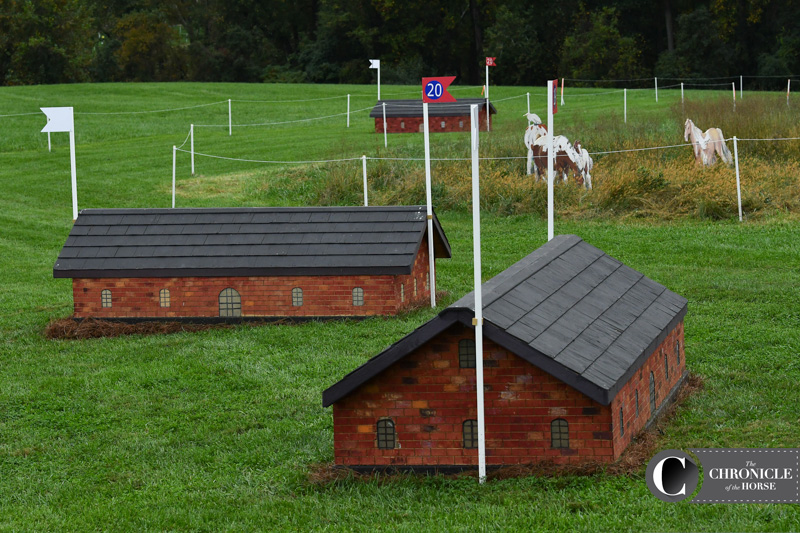 "The tree [on the landing side of the drop] is so much in your way [on the way to the cabins] and knowing how they're going to drop off the bank is kind of difficult to guess," Hannah Sue Burnett said. "I think if they get distracted; you come in too slow, too fast, whatever, I think even slightly drift left or right. Luckily I do know Harbour Pilot so well, I'm pretty sure I know what he's going to do off of that drop. I've been to Burghley, and he's done that drop twice. The distance relates so much to where you are and where they land, and if they pick up easily. That second cabin doesn't really show up until your third stride and it's kind of a four-and-a-half almost. I think people are going to do a lot of different things. I haven't decided what I'm going to do yet, whether it's best to stay off to the left or try to bend it.
"Because it's numbered separately, if something happens where I don't think he understands that there's a second cabin, absolutely [you can turn and approach it on it's own]," she continued. "It's really nice, actually. I was relieved when I figured out there was a way to not have a 20 there. I think it's going to have to be perfect for them to jump that second cabin, just to understand that that's a jump. If they don't see it, it's going to be very hairy at the end. It's nice that he opened that up rather than punishing them for trying."
There's another maximum-spec table on the way out of the back hill to a table to corner combination at 22AB. The following fence is fairly small to give the horses a chance to catch their breath before a climb to the end of the course.
At this point, there are only two more combinations left on the course. First of them is the owl corners, which are a pair of brush keyholes at 25AB, with the angle of each corner built at a preliminary width.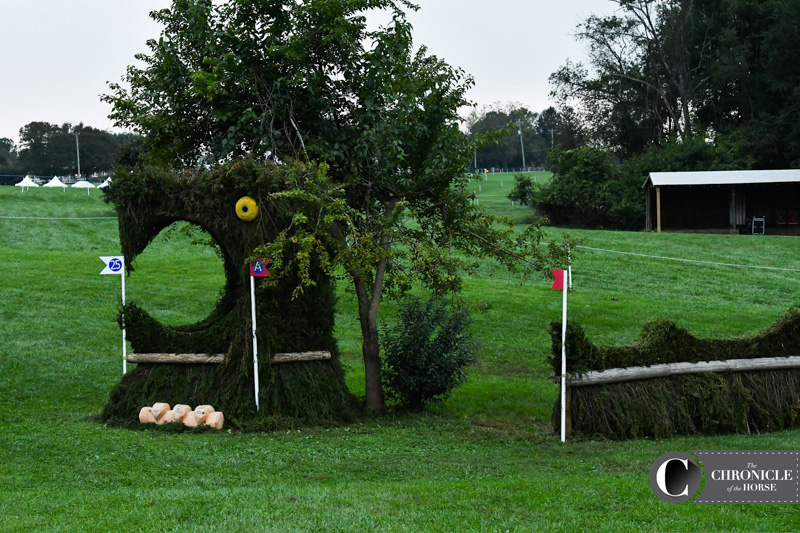 "Some of the Americans came up to me and said, 'We've never seen anything like it,' " Stark said. "I told them I don't think the Europeans have seen it either; it's just something I thought will be fun. It's a prelim angle; because of the brush, it's forgiving. All they have to do is jump the height of the rail."
The final combination is the penultimate fence, 27AB, the Brown Advisory-Oriole Bird water, which was built with generous ground lines to prevent horses from getting underneath the fence and getting into trouble. If the horses are really tired, Stark has given riders an option of cantering through the water and jumping a pair of brush fences on dry land that will add time on the clock.
Stark described the final fence as, "bright and cheerful without a lot of height because I want to get the horses home. Even if they're tired, I want to get them home."
The course is set over 6,270 meters at a speed of 570 meters per minute with an optimum time of 11 minutes.
"I just hope riders use their head and [are] not thinking of the clock all the way," Stark said. "A lot of the cross-country designing and riding today has become very open distances and kick on and attack. The horses are always pushed on that long stride, and I tried not to do that. I tried to keep them more together and give them a chance to get to the fence. In general, I want to see the riders play with the horses' canter, gallop some fences and be more collected. I think they have to be concentrated and riding the whole way around it."
Cross-country starts at 9 a.m. Saturday with the three-star division scheduled to run until noon. The five-star cross-country begins at 1 p.m. and should run until 4 p.m.
Want more from the Maryland 5 Star? Follow the Chronicle's online coverage here. You can get loads more news, analysis and photos in the Nov. 8 issue of The Chronicle of the Horse magazine. What are you missing if you don't subscribe?