Elkton, Md.—Oct. 14
When Oliver Townend's name showed up on the start list for the Maryland 5 Star at Fair Hill, eventing fans knew he'd be the one to beat. He came with Cooley Master Class, his two-time winner of the Land Rover Kentucky Three-Day Event, and he made it immediately clear that he didn't fly over from England just to have a nice, relaxing week in the United States.
As the penultimate competitor on the first day of dressage, Townend made a statement. With mostly 8s and a few 8.5s in his trot work followed by 9s in his extended canter, the Brit scored 21.1, giving him a comfortable lead over the rest of the field. Hannah Sue Burnett (Harbour Pilot) and Lynn Symansky (RF Cool Play) are 6.9 penalties behind him in a tie for second on 28.0.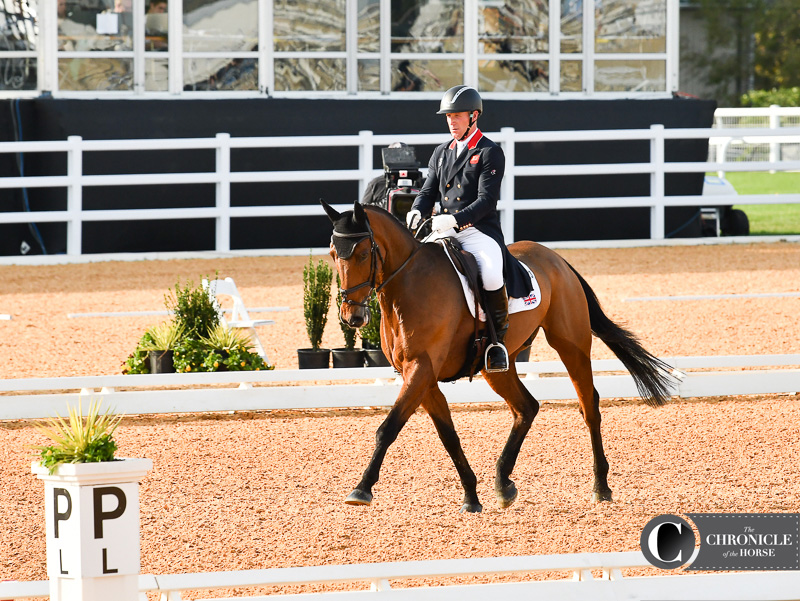 "It was all right, wasn't it?" he joked immediately after his test. "Yeah, he's obviously an older horse, and he's got a lot of experience. He's 16 years old now, but it's very rare a 16-year-old gets better, but he's definitely improving as the years go on. He's had a quiet couple of seasons because of [COVID-19] and whatnot. Couldn't be happier with him."
Townend said the Irish Sport Horse (Ramiro B—The Swallow, Master Imp) is typically quite lazy, but that he's felt a bit wild this week.
"He's never felt as good; he's never felt as happy," Townend said. "He's been fairly mad all week for him. He's a lazy horse by nature, but he's squealing and messing about. He's been a pain in the backside all week. I said I don't mind this as long as you go in the dressage and you behave yourself, which he's done better than ever before, so we couldn't be happier with him. He's a very special horse for the whole team at home, and we've got him as fit as we can, as well as we can, and he seems on very, very good form."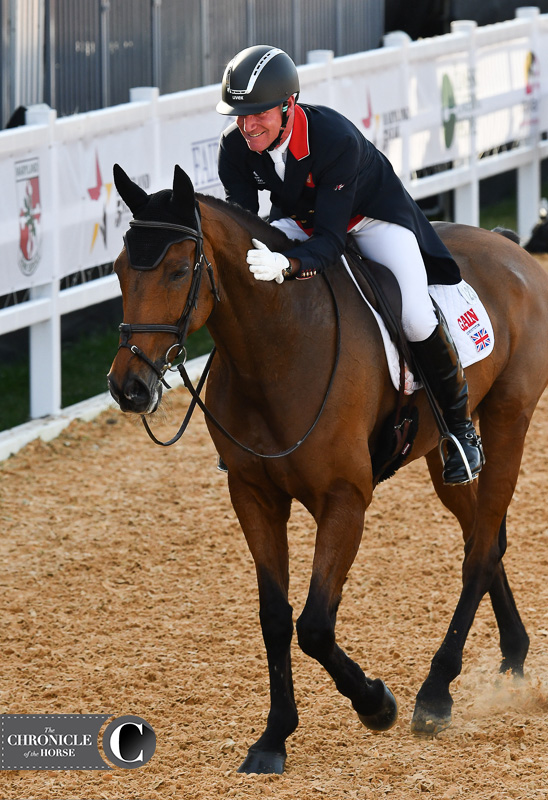 Symansky has been wanting to bring "Coolio," her 2019 Pan American Games (Peru) silver medal partner, to a five-star but after some missteps in the spring, she delayed the 13-year-old German Sport Horse (Condors Champion—Roxana, Radscha) gelding's five-star debut until now.
"We've had some weird bad luck this year," she said. "The plan was to go to the five-star at Kentucky this spring, and we had a very long, long abscess, so we were behind there, then needed a little time this summer for his stomach. It hasn't been the most ideal lead up, and I've been trying to get him to this level for a bit. We'll have a few more walks around and try and make a plan for him. It looks like a fantastic course to go and give it a crack, and I think [course designer Ian Stark] said it best in our briefing, which was something like, 'Don't pussyfoot around out there.' He's not kidding! That was a polite way of saying it."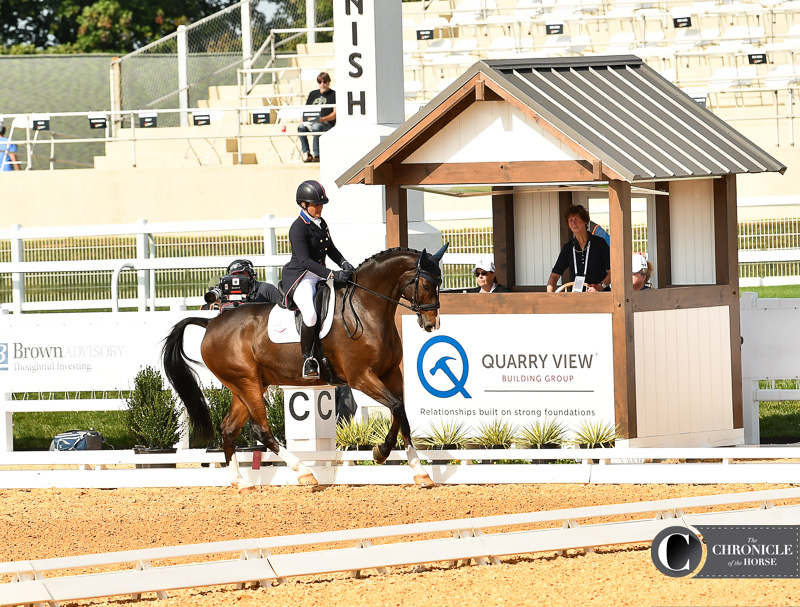 Symansky and Coolio had a few mistakes in the changes, but otherwise she was quite pleased.
"He was quite hot the last two days, and I did quite a bit of pre-riding this morning," she said. "I thought his trot work was excellent for him, but we gave away some points in the changes, which is a little uncharacteristic; those are usually a gimme. The score could've been better, but the scores are so tightly packed that it really won't matter for Saturday. So for his first time at the level, I was quite happy with him."
While Symansky's horse is a five-star rookie, Burnett's partner is a seasoned veteran.
"William," an 18-year-old Irish Sport Horse (Cruising—Shannon), has tackled a number of big tracks in his career, and Burnett saves him for big events. They had a technical elimination in Kentucky this spring, and since then he's only run twice: once at preliminary and once at intermediate before coming to the Maryland 5 Star.
"My horse has been around for a long time and been a lot of places, and he's like, 'Oh, you brought me somewhere worthy of me,' " she said. "He felt relaxed and also impressed and excited, so it was good.
"He was very fluid and rideable,' she added. "I felt quite a bit of pressure going in because he was so relaxed and ready to put in a very good test. At one point I did kind of lose track of where the centerline was and went a little bit to the side of it and then veered back, but otherwise I was happy with the whole test and how we performed as a partnership."
The remainder of the five-star field will do dressage tomorrow beginning at 1 p.m., but the riders have made it clear that it will not be a dressage competition.
"I think the terrain will take the biggest part," Townend said of Saturday's cross-country. "If you put the fences individually, it's a little bit like all of these five-star courses. The fences are fair; the fences are big; the fences are obviously what we expect from five-star. But then you add the terrain; you add the five-star; you add the pressure, and then it's going to be a very, very tough day on Saturday. I don't think everybody will make it to the end. I think he'll cause trouble throughout the whole course. I think it's going to be very, very tough."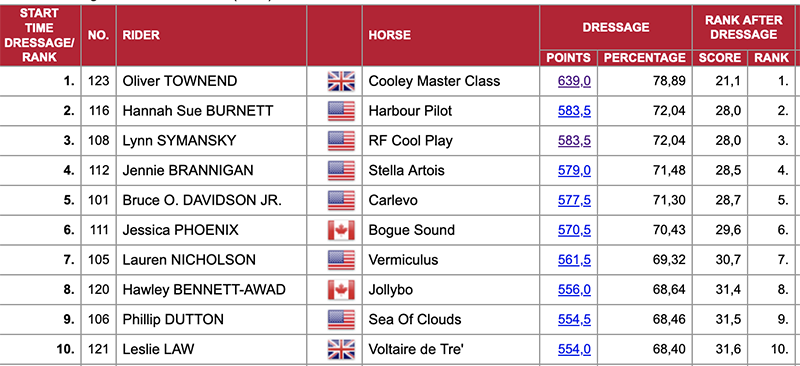 The USEF CCI3*-L Eventing National Championship is taking place at Fair Hill this week as well. After the first day of dressage, Kurt Martin holds the lead with D.A. Lifetime on a 23.5.
See full results here.
Want more from the Maryland 5 Star? Follow the Chronicle's online coverage here. You can get loads more news, analysis and photos in the Nov. 8 issue of The Chronicle of the Horse magazine. What are you missing if you don't subscribe?