Follow along with us as the top eight teams after the first team round jump again for the team medals and 18 individuals join them in the final qualifying round for the individual final on Aug. 19.
The U.S. team is in exciting tie for first place as Round 2 starts. We'll be commenting on each ride, updating as they go. Don't miss a minute of the action!
Want to know when the U.S. riders go and more about scoring and how the competiton works? Click on our What You Need To Know article.
IMPORTANT LINKS: The order of go / live streaming / live results / What You Need To Know / Meet The U.S. Show Jumping Team / All COTH's Olympic show jumping coverage
FINAL RESULTS:
GOLD: France
SILVER: USA
BRONZE: Germany
11:54 a.m. – Daniel Deusser is very obviously going for a slower and careful clear round and gets it done on First Class, finishing clean in 44.58 seconds and securing the bronze for Germany! With two rails already, there's no way Canada could catch them, so the fourth riders don't have to jump to confirm the result—bronze for Germany!
11:52 a.m. – Amy Millar was turning and burning on Heros, but caught a rail behind. They with a good time (43.06 seconds) but 4 faults.
11:50 a.m. – Fibonacci is jumping out of his skin and Meredith Michaels-Beerbaum is pushing him around the turns. They finish clean, in 44.35 seconds!
11:48 a.m. – Tiffany Foster and Tripple X are attacking, leaving a stride out in the first line. She's really going for it, and gallops the last! She's clear in 44.81 seconds.
11:46 a.m. – Christian Ahlmann and Taloubet lead off for Germany and are turning on a dime. "That's an audacious turn," the commentator said. They finish clear in 42.68 seconds.
11:43 a.m. - So all of the riders from each team—Germany and Canada—ride jump-off rounds, and the three best scores/times take the bronze!
Yann Candele is first in for Canada and First Choice 15 has a rail but a quick time.
11:28 a.m. – The Germans came into Round 2 poised for gold, but now Ludger Beerbaum has to go perfectly to force a jump-off for bronze with Canada. He's riding fantastically and Casello is jumping so carefully. He just nips in under the time allowed and ensures Germany will jump off with the Canadians for bronze!!
11:26 a.m. - Pedro Veniss must go clear to keep Brazil in the hunt for bronze! He and Quabri de L'Isle look good, but a rail falls at an oxer. He finishes up with that rail and 1 time faults, putting Brazil on 13 faults and out of the medals.
11:23 a.m. – Eric Lamaze and Fine Lady 5 make it look easy. And he's almost 4 seconds under the time, making it look effortless. He jumps clean on both rounds of the team competition to help the Canadians finish on 8 faults and a possible bronze!
11:22 a.m. – Steve Guerdat and Nio des Buissonets, the individual gold medalists from 2012, put in a lovely round with just 1 time fault. The Swiss team isn't in the medals, but he'll be back for the individual final.
11:18 a.m. - Rolf-Goran Bengtsson finishes up the Swedish effort with a single time fault aboard Unita. The team is out of the medals and Bengtsson won't be back in the individual final.
11:14 a.m. – Daniel Deusser is in as the third rider for Germany and the team is currently on 4 faults. If he and Ludger Beerbaum both go clear, they can take silver. But neither of them can afford a mistake as the U.S. team finished on 5 faults.
First Class is making huge efforts over the fences and Deusser is shaving the turns. The crowd is pin-drop silent. And then they gasp! As First Class pulls the B element of the triple combination. It's SILVER FOR THE U.S.!!!!!
11:12 a.m. – Doda de Miranda was doing his best to bring home a clear round for Brazil, but Cornetto K struggled a bit through the triple combination and had the C element down. The Brazilian team finishes with 8 faults as a total.
11:10 a.m. - Harrie Smolders and the amazing jumper Emerald haven't had a rail all week, but the chromey chestnut brings down two on this time around the ring. They finish with 8 faults, putting the Dutch team out of medal contention.
11:08 a.m. – McLain Ward and Azur turn an absolutely lovely clean round and in the time to keep the U.S. team on a score of 5 and in the hunt for a possible silve ror bronze behind the French! What a week for this young mare.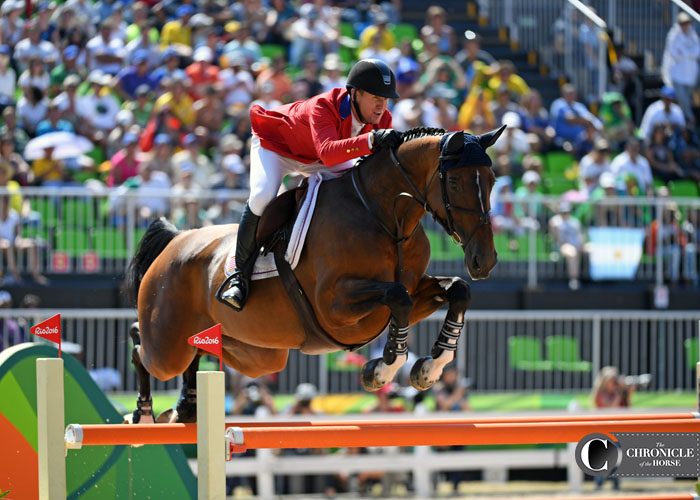 McLain Ward on Azur. Photo by Lindsay Berreth
11:06 – BOSTY has done it for France!!!! Roger-Yves Bost jumps with just 1 time fault on Sydney Une Prince and clinches gold for France! The crowd is on their feet stomping and cheering as no one can touch them!!!
11:04 – Amy Millar is competing in her first Olympic Games with her 10-time Olympic father Ian watching. She runs into trouble at the triple combination and has two down there and finishes with 12.
11:01 a.m. – Martin Fuchs is jumping for Switzerland with Clooney, a handsome gray horse with a classic jumping style. He runs out of airtime at the C element of the triple combination, bringing down the back rail there. He also picks up a time fault, so he'll put 5 faults on the Swiss team's record.
10:58 a.m. – Here we go with the third-rider rotation of all the teams. Henrik von Eckermann is up for Sweden, and Yajamila. He's riding very efficiently, and just nips up over the plank combination. And he's neatly through the triple. Then the last fence comes down—he'll finish in the time allowed but with that 4. That probably puts the out of the medal hunt as they have scores of 17, 1 and 8 so far.
10:48 a.m. – Here's the team rankings after two riders have gone for each team. These are deceiving, as it counts all scores and the French, German, Swiss, Canadian and Swedish teams all have a drop score to use.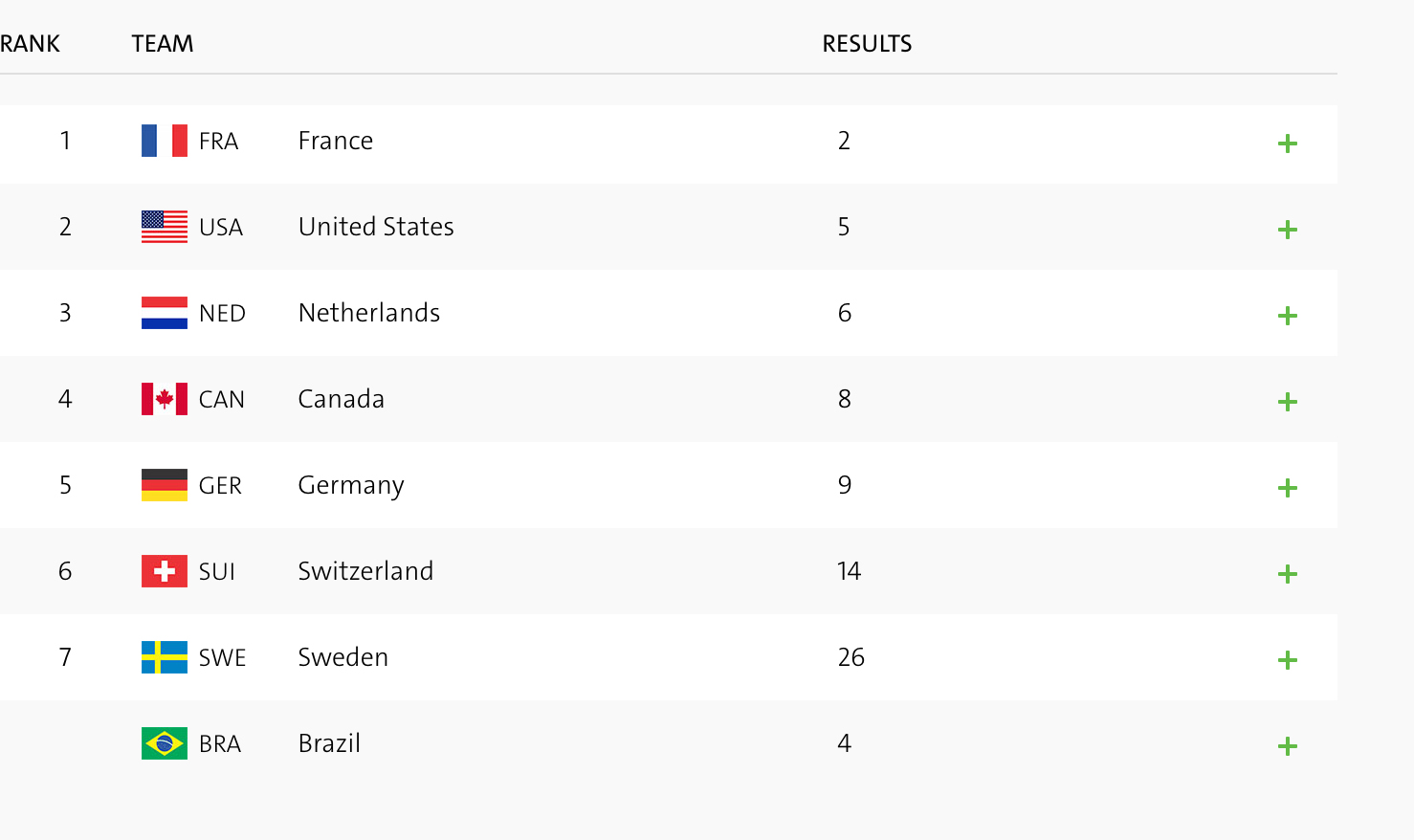 10:43 a.m. – Meredith Michaels-Beerbaum got the call to ride for the Germans just hours before the first round as she was the reserve rider with Fibonacci, but she's really come through. The gray gelding launches into the air over every jump—he has a massive jump. He spends a lot of time in the air, so Michaels-Beerbaum is hustling him around the turns. "Nacho" makes huge efforts to jump clean in the triple combination, but then a rail drops. She finishes with 5 faults.
10:40 a.m. - Like the U.S., the Dutch are jumping without a drop score. Maikel van der Vleuten and Verdi are in for them as the second to jump with an orange jacket on. Verdi is giving the jumps a lot of room, but they really rattle a rail at the next-to-last vertical. Verdi kicks out on the way to the finsih line, and they just miss making the time. That will add 1 time fault to the Dutch total.
10:37 a.m. – It's Lucy Davis and Barron in for the USA! Barron is super careful over the plank verticals. He tends to build a bit around the course, picing up speed. Davis will have to be tactful to keep the rails up later in the course.
And she's had the middle of the triple combination down, a vertical a very short stride after a wide oxer. She did finish within the time! That's a total of 5 for the U.S. team now.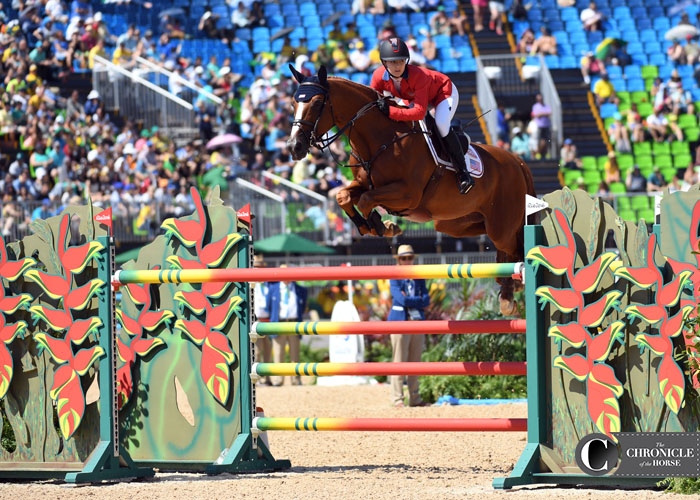 Lucy Davis on Barron. Photo by Lindsay Berreth
10:35 a.m. – Kevin Staut is in for France and he's such an efficient, stylish rider. He's so precise around the turns on Reveur de Hurtebise and the horse is making enormous efforts. That's it! ANOTHER one clear and inside the time! That's how it's done–it looked like an equitation round.
10:32 a.m. – Here's Tiffany Foster for Canada, who is such a bubbly, happy personality. She's on Tripple X, who was on the British gold-medal team in 2012 with Ben Maher. There's nothing Tripple X can't jump.
Foster wastes no time at all and Tripple X is miles over the fences! She's done it!!! She's the first one clear and within the time!!!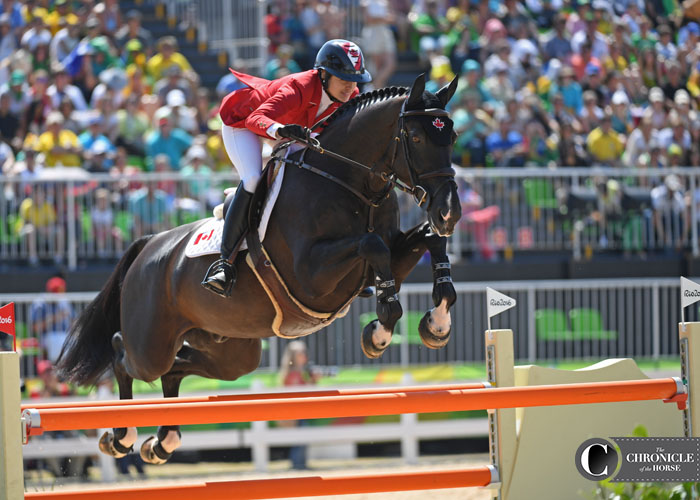 Tiffany Foster on Tripple X. Photo by Lindsay Berreth
10:29 a.m. – Romain Duget is in for Switzerland, and Quorida de Terho is a big, slow-moving horse. They have a rail early in the course at the planks and pick up 1 time fault. That's 5 for the Swiss, who have cowbells clanging in the crowd!
10:28 a.m. – Many think All In is one of the best horses in the world right now, and he and Peder Fredricson haven't had a rail all week for Sweden. Fredricson doesn't waste much time, and All In puts in some mighty careful efforts. They're a few seconds slow, but 1 time fault is a great score for Sweden. That got a "cracking ride" comment from the commentators!
10:24 a.m. – The Germans kick off with Christian Ahlmann on Taloubet. The stallion was originally a mount for his girlfriend, Judy Melchoir, but he got the ride when Taloubet started being difficult. Years ago, Taloubet wouldn't go near a water jump. But Ahlmann's patient work with him has turned him into one of the top German horses.
They get a bit close to the in-and-out of planks and Taloubet twists over it, bringing the top plank down. He gets within the time, but has the 4 faults.
10:22 a.m. – Eduardo Menezes is in for Brazil, a team that's also only fielding three riders. Menezes is a familiar face for U.S. fans in California, as he competes and is based there. Quintol catches a rail at a vertical but then nips through the triple combination very nicely. He crosses the finish line inside the time–one of just two riders to do that—but has the 4 faults which will definitely count for Brazil's total.
10:20 a.m. – Jeroen Dubbeldam and Zenith run into trouble early, having a rail at the second jump. Remember, the Dutch team only has three riders jumping. This pair has World and European Championship gold team medals to their record, and this is their last championship appearance as the horse is being sold. They finish just over the time, putting 5 on the board for the Dutch.
10:16 a.m. – If anyone can make the time, it's the speed demons Kent Farrington and Voyeur for the USA. He is ALL business, shaving the turns and letting Voyeur carry his good pace. He jumps CLEAN!!! Just a second over for 1 time fault, but what a great round to get the U.S. team started!!!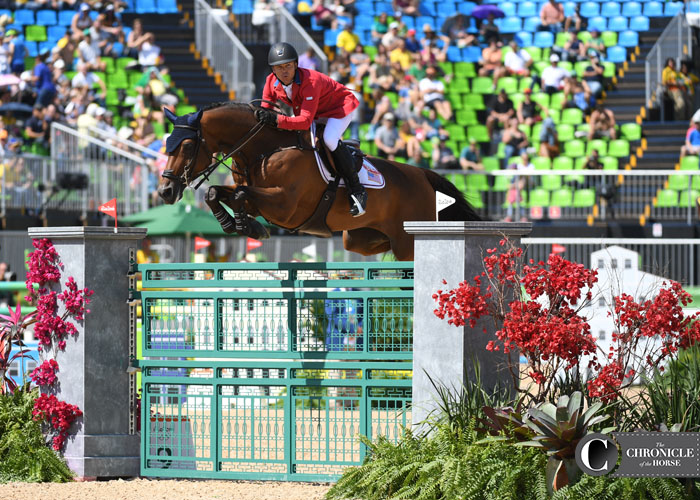 Kent Farrington on Voyeur. Photo by Lindsay Berreth
10:14 a.m. - The French team has had a real roller coaster of a week, but Phillipe Rozier gets them off to a great start today, riding a lovely round on Rahotep de Toscane to pick up just 1 time fault. He was the reserve rider who stepped up at the last minute when Simon Delestre's horse was injured in Rio, but he's had just 5 faults over the week.
10:12 a.m. – Yann Candele is wasting no time on course with First Choice 15 and the horse is jumping VERy well! He's definitely going for it! He for sure got inside the time, but ran out of luck at the last, dropping a rail much to Candele's (and Canada's!) dismay. They finish on 4 faults.
10:09 a.m. – Jannika Sprunger came achingly close to a clear round as she motored around on Bonne Chance CW, but she was just fractions of a second over the time. She'll add just 1 time fault to Switzerland's total.
10:07 a.m – After a short drag break, we're into the team rotations, with riders from each of the eight teams in contention for medals coming in. The first to jump for Sweden is Malin Baryard-Johnsson, who runs into trouble late in the course. Cue Channa and Baryard-Johnsson pick up four rails and 1 time fault for 17 faults forSweden.
Interestingly, the commentators note that of the four teams tied for first on 0 faults (the U.S., Germany, Brazil and the Netherlands), Germany is the only team who will field four riders. The U.S. lost Beezie Madden when Cortes 'C' suffered a tendon injury yesterday, and Brazil and the Netherlands both lost riders to disqualifications.
9:52 a.m. - In his first Olympic appearance, Sergio Alvarez Moya has been very impressive, coming into this round on a zero score. Carlos 273 is one of the most photogenic horses in the Games, with a striking gray color, classic face and textbook jumping form. They make the course look easy, but a bery light rub at the last oxer drops the rail. He adds that 4 faults to 2 time faults to finish on 6. It doesn't matter, though, because he's for sure in the individual final (and with a good rub!) where they start on a clean slate.
9:48 a.m. - Rene Tebbel is riding for the Ukrainian team, and he's taking his time around the turns. He's not hurrying for sure. And it results in 6 seconds over the time, which puts him with 2 time faults. He played it safe and he'll definitely be jumping in the individual final!
9:45 a.m. – Another Qatari rider, Ali Yousef Al Rumaihi, is in, and he's jumped clean over the rails all week picking up just 1 time faults over the first two courses. So I'd be surprised if he makes the time here, but no rails and a few time is going to be a good score for today!
Gunder gives the jumps plenty of room and Al Rumaihi makes sure to give him every chance to jump clean. He doesn't chase the time, so he does finish up with 2 time faults, but he left all the rails up. That puts three Qatari riders into the individual final! The Qatari rides train with the legendary Jan Tops and it shows in their professionalism and precision in their riding.
9:42 a.m. – Sheikh Ali Al Thani of Qatar is sitting on one of the best jumpers, the powerful and stylish First Devision, but the horse's slow way of going might make the time allowed a memory for them. Al Thani rides VERY careful and deliberately, choosing to place the horse very exactly, and it pays off!
He's the first rider to leave all the rails in the cups. He picks up 1 time fault, but he definitely will be jumping again in the individual final.
9:39 a.m. – The game little mare Lintea Tequila and Edwina Alexander are wasting no time indeed as the fiesty little mare zooms around the turns. Lintea Tequila has an amazingly powerful and tidy jump. They get a bit close to the A element of the triple and have it down, but they are the first ones to finish without time faults!
Alexander shows it's possible to make the time, but it will definitely be easier on a nippy little spped horse like hers.
9:36 a.m. – The Argentinian rider Matias Albarracin runs into trouble at the triple combination, having the rail at B down, but he is also over the time and has 1 fault there as well, so he finishes with 5 for this round added to the 5 he carried into today.
That's 13 riders having jumped, and NONE of them making the time.
9:33 a.m. – Reiko Takeda from Japan saw a bit of a long one to a wide oxer at Fence 5 and Bardolino sawm through the rails. She lifted her hand and retired and walked out of the ring. This was the first Olympic Games for her—she rides out of England with William Funnell.
9:30 a.m. – Bassem Hassan Mohammed's horse Dejavu has a lovely horse to watch—he has some major air time! He's a big-going and slower-tyoe horse. Mohammed gives him a very forward, positive ride, but then misses to the liverpool vertical as the penultimate fence and goes through the top rail. That puts him with one rail and 1 time fualt for the round.
The course is extremely technical and big, with very airy fences. The jumps are massive, but built very delicately.
9:27 a.m. – Manuel Fernandez Saro rides for Spain and his U Watch is a very careful and powerful jumper. He just ticks the back rail off a brightly colored oxer and then grabs the top rail off a liverpool vertical with his hind end. He finishes with 8 jumping and 1 time faults.
9:25 a.m. – Ben Maher said he's been working through some subtle control issues with Tic Tac and he changed bits from the first round to yesterday's first team round. The British team is out of the hunt, bu Maher could very well factor in the individual final as he puts in the best round so far—clear over the jumps but still just 1 time penalty! That puts him on a 9-fault overall total and he will be jumping again on Friday for an individual medal. (Remember, they start on a clean slate for the individual final!)
9:23 a.m. - Big Star and Nick Skelton are in now—Skelton was very upset that he was assigned a 4-fault penalty at the water jump yesterday as he was sure Big Star cleared the water. The British team was a surprising non-qualifier for the team final after their brilliant 2012 gold. Skelton brought Big Star back from an injury just for these Games. And even Skelton, a master at avoiding time penalities, ends up a few second over the time. Combined with a rail on course, that gives the 5 for this round.
9:22 a.m. - Ulrich Kirchhoff was the individual gold medalist for Germany at the 1996 Atlanta Olympic Games, but now he rides for the Ukranian team. He rides Prince de la Mare to a round with three rails down and 1 time fault, probably putting them out of the hunt for the individual final
9:20 a.m. – Matt Williams is in for Australia. They were clear in Round 1 of the team competition, and while the Australian team is out of the battle, Williams is still in the individual hunt. He has a rail down at the plank combination, though. They finish up well, though they also collect 2 faults. That's a total of 6 for them, combined with 8 from the first qualifier for 14 overall.
Williams made concerted efforts to get within the time allowed and still had 2 time faults, so it looks like the time is going to be REALLY hard to get today!
9:16 a.m. – Ramiro Quintana and Appy Cara rebounded from a slip and a crash through a fence on Day 1 to jump clean yesterday, but in this round they bring down two rails and also pick up 2 time faults for 10 total.
9:12 a.m. – Luciana Diniz said earlier in the week that she's had to adopt an "Olympic fighting spirit", and she rode very precisely and determinedly, but Fit For Fun came down on the back rail of the liverpool oxer and then also had 1 time fault—the four rider to collect a time penalty.
9:10 a.m. – The first fence of the course is a very upright wall with an airy gap at the ground line, a very unusual Fence 1! Karim Alzoghby has a rail on Amelia and finished with a time fault as well for a total of 5. It looks like a snug time allowed will play a major factor today!
9:07 a.m. - Jerome Guery has one rail and a time fault as he competes as an individual for Belgium on the charasmatic blue-eyes Grand Cru van de Roz.
9:03 a.m. - The first in, the rider from Uruguay, has two rails and 4 time faults. Want to know more about Nielsen van Hoff Nestor? CLICK to read about him!
8:56 a.m. – The day of the team final dawned with some very sad news for U.S. fans as the U.S. team announced they've withdrawn Beezie Madden and Cortes 'C' from the competition due to an injury. That means the U.S. team will only have three riders and no drop score, so the pressure is on!