Two rounds decide the individual medals of the Rio Olympic Games show jumping. The top 35 riders come back with a clean slate score for Round A at 9:a.m. EST, then the top 20 after that return for Round B at 12:30 p.m. EST.
CLICK here for What You Need To Know, which includes the times U.S. riders jump.
Chronicle reporters will be doing a round-by-round live blog reporting in real-time what happens with each rider, and after the end of the day will also post in-depth coverage and a gallery full of great photos. Follow along at www.coth.com and on COTH's Facebook and Twitter.
IMPORTANT LINKS: The order of go / live streaming / live results / COTH's What You Need To Know / Meet The U.S. Show Jumping Team / Read all about the U.S. team's hard-fought silver team medal / All COTH's Olympic show jumping coverage
2:04 p.m. Nick Skelton has won the gold medal with Big Star! What an amazing performance, and what a comeback for this pair! It is simply a magical finish.
The final Olympic individual show jumping medals:
Gold – Nick Skelton (Great Britain) and Big Star
Silver – Peder Fredricson (Sweden) and All In
Bronze – Eric Lamaze (Canada) and Fine Lady 5
American Kent Farrintgon finishes 5th individually with Voyeur. What a day, and what a finish. Check back later at COTH.com for a full report!
2:02 p.m. It's all on the line for Eric Lamaze and Fine Lady 5. They slice and dice it to the vertical and hop through the double. But he goes wide back to the penultimate fence, and they have the rail down! The beat Skelton's time—42.09—but they won't win gold with a rail. He'll take home the bronze.
2:01 p.m. Peder Fredricson and All In are next. They get a rub at the first vertical, but this time, it stays up. They give us the second clear round of this jump-off, but they aren't fast enough: 43.35. They are guaranteed a medal, and Skelton is guaranteed at least silver.
1:58 p.m. Here are Kent Farrington and Voyeur!! I could add a few more exclamation marks there, but I don't want to alarm anyone. Farrington is a great jump-off rider, as we've seen in the past. Will he and Froggy be able to catch Skelton?
Sadly, it's not to be. They have their first rail of these entire Games and have the first vertical down. They have the last fence down as well. What a shame, but Farrington can hold his head high with his performances this week. He'll finish as the highest-placing American show jumper, and that's certainly nothing to sneeze at!
1:56 p.m. Next up is Sheikh Ali Al Thani of Qatar with First Devision. They jump the first fence slowly but pick up the pace immediatley upon landing. But they have a rail at the liverpool oxer and at the final fence. They'll finish on 8 faults in 45.03 seconds.
1:54 p.m. Here are the defending champs, Steve Guerdat and Nino de Buissonnets. They have the first vertical down! Gold is gone, but silver and bronze are still up for grabs. They finish with the 4 faults in 43.08 seconds.
1:51 p.m. Here goes Nick Skelton! Team USA's own Laura Kraut, the traveling Olympic reserve and Skelton's girlfriend, is walking down the chute with him. You know he's getting some good advice there!
Skelton takes a good walk around as he waits for the buzzer, eyeing up the course and going over his plan in his head. He starts off. Over the first ad second, they take a very sharp turn back to the third. They get through the double, the liverpool oxer and turn back quickly to the last. They are clear! The time is 42.82 seconds. The pressure is officially ON!
1:48 p.m. Here's the jump-off track: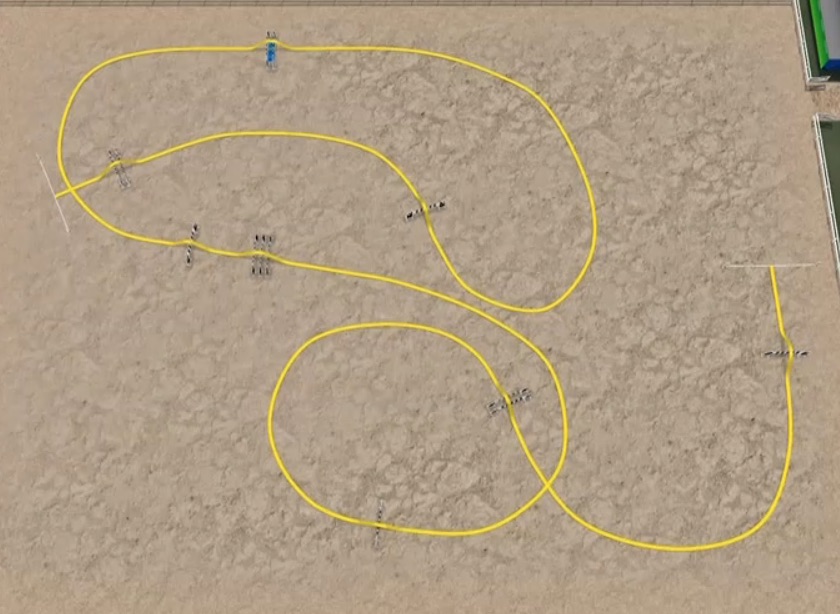 1:42 p.m. We are setting for the jump-off! We'll have 6 riders jump off for gold, silver and bronze. It's hard to believe, but going double-clear in the individual final won't be enough to get a medal for three of these riders. There have been some superb performances.
This will be the order: Nick Skelton (Great Britain), Steve Guerdat (Switzerland), Sheikh Ali Al Thani (Qatar), Kent Farrington (USA), Peder Fredricson (Sweden), Eric Lamaze (Canada).
1:38 p.m. We could have the individual gold medalists from the last two Olympics in this jump-off. Eric Lamaze is now in with Fine Lady 5 and is the last to go in this round. This pair hasn't touched a rail all week. Can they continue the streak?
Eric is riding with such confidence. Oh my! What a close call at the triple bar! Fine Lady hops in the air and hits the top rail hard, but it stays! They get through the final two jumping efforts and are clear! We will have a 6-horse jump-off!
1:35 p.m. Only two pairs remain before the jump-off. Peder Fredricson of Sweden will try to join the current list of 4 with Al In. And they do it! They are just within the time, but that's still good enough. The jump-off has grown to five!
1:33 p.m. Here he is: Kent Farrington is back with Voyeur!! Can they join the jump-off? I have anxiety.
Watching this pair, you have to admire the way Farrington has managed Voyeur this season. He wanted his horse to peak for these Games, and he has. He's been outstanding. He's not an easy horse to ride, either! Farrington has really worked hard to develop this horse's rideability. "Froggy" is responding to Farrington's every cue!
Oh. My. They are clear through the last double. They come to the last. THEY ARE CLEAR! HOLY MOLY, THEY ARE CLEAR! THEY WILL JUMP OFF FOR MEDALS! THEY WILL JUMP-OFF FOR GOLD! STAY TUNED, FOLKS!
1:30 p.m. Roger Yves "Bosty" Bost is back to try to make it a gold medal sweep of team and individual competition. Here he is with Sydney Une Prince. Can you believe he hasn't ridden in an Olympic Games since 1996? He's certainly made the msot of this opportunity 20 years later!!
You have to hold your breath through the triple. There's an anxious moment at the in, but they get over; then the middle element is sticky, but it's safe. However, the C element will come down for this pair. They'll also add a time fault to their total for a final score of 5. Well, Bosty still has to be pretty happy with that effort. He'll still go home with one gold medal!
1:27 p.m. Daniel Deusser is the next and last rider for Germany, and he's back with First Class. Will they be first today in their Olympic debut? Sadly, they won't. They have the vertical down at fence 3 and finish on a tw-round total of 4.
1:25 p.m. Now it's time for the German representatives: First up is Christian Ahlmann, riding Taloubet Z. They get a slight rub at fence 4, but the pole barely wobbles; they're safe there. Unfortunately, the same cannot be said of the out of the last combination; the vertical comes down. They'll finish on 4 today, out of medal contention.
1:22 p.m. Sheikh Ali Al Thani will now jump with First Devision for Qatar. This pair's round this morning was pretty skillful. Al Thani has been riding his entire life; as a youth, he received training from Lauren Hough's legendary father "Champ" Hough, an Olympic veteran in his own right. He's now trained by Jan Tops.
That training has certainly paid off; what a rider he has become. He could be an individual gold medalist, because he is CLEAR! He will join the jump-off!
1:19 p.m. Sergio Alvarez Moya will represent Spain next, as he returns for this round with Carlo 273. The 31-year-old is in this position in his Olympic debut. But he won't get an individual medal today. He has an oxer down and adds the triple bar to his total for a two-round total of 8 faults.
1:16 p.m. How remarkable would it be to see the same horse and rider combination repeat individual gold at an Olympic Games in show jumping? Steve Guerdat could do it with Nino des Buissonnets. They get in very tight to fence 2, but Nino takes care of business. Again, it's a little tight into the triple, but Nino is jumping on springs! Guerdat gives an aggressive ride in to the triple bar, and again, the job gets done. They come to the last, and they are clear! They will jump off for gold!
1:14 p.m. Next up is the young Swiss rider Martin Fuchs, the first of two Swiss riders we'll see, again in succession, here. Fuchs and Clooney have a rail at the in of the triple combination; it's a very hard rub. That'll be it for them, and they'll finish on a two-round 4-fault total.
1:11 p.m. Here's Joroen Dubbeldam for the Dutch. It'd be hard to imagine him not jumping clear, to be honest. Zenith has been jumping positively out of his skin! Dubbledam rides masterfully, and watching this pair, you just know that there's no way a jump will fall. They come to the last fence and get over, but they are JUST over the time! There will be no individual goal for Dubbeldam; he will finish on a total score of 1 agonizing fault.
1:08 p.m. Next up is Edwina Tops-Alexander and Lintea Tequila. After this pair won the Global Champions Tour Grand Prix of Miami Beach in April, I asked Tops-Alexander if this was a potential horse for these Games, but at the time she was pretty set on her other mare, Caretina de Jotar. But this mare stepped up to the plate, and Edwina no doubt made the right choice in bringing her here. Look at her go!
The crowd collectively groans as the pair has the triple bar down in the final combination. They will finish on 4 faults for these two rounds, but they have certainly performed admirably here.
1:06 p.m. Everyone remaining jumped clear in the first round; Nick Skelton will kick off this group with Big Star. It would really be something to see this pair get an individual gold medal after all the injuries this horse has overcome to get back to this point. Skelton was so patient and persistent, and boy has it paid off. Big Star might be better than ever! You certainly can't argue it. He jumps CLEAR to stay on 0! If anyone else equals that, he will jump-off for gold!
1:03 p.m. Rene Tebbel is now going to return with Zipper; he too had a time fault this morning, and if he watched his predecessor Albarracin at all, he's got to know he really needs to pick up the pace if he was to go fault-free. This is defnitely not a quick-moving horse; he's big and lumbering, but he sure is jumping well. He'll need to save time in the turns. Things get very tight through the last double, and the vertical comes down. He again has a time fault, too. That'll be a two round total of 6.
1:00 p.m. Next up is Matias Albarracin of Argentina, who only had 1 time fault this morning with Cannavaro 9. Albarracin will need to really watch the time here, because it's tighter this time around. Cannavaro rubs the C element of the triple hard, and it rattles but stays up. So do all the other jumps, but this pair again picks up a time fault. They'll finish in a two-round total of 2 measley faults.
12:57 p.m. Maikel van der Vletuen of The Netherlands returns now to the ring with Verdi. They had a heartbreaker in the first round after having the very last rail down, but they have an earlier rail here at fence 2. Verdi lands and kicks up his heels as he clears the final vertical to finish with just the one jumping penalty. Combined with the first round, they'll finish with an 8-fault total.
12:56 p.m. The crowd at Deodoro Stadium has just erupted! Alvaro Doda de Miranda and Cornetto K produce a clear round to rebound from their first-round rail! They'll finish this individual final on a score of 4.
12:53 p.m. McLain is back with Azur! It's difficult to wrap my head around the fact that Ward is even in this position with a rail from Round 1. Can he move up with a clear? My heart is in my throat.
Annie gives a great effort over the triple bar, settles and springs up to get out of the last double. They come to the last fence clear, and they are over. It's a CLEAR round for McLain and Annie! You couldn't ask for anything more!
12:50 p.m. Next up is another French representative, Kevin Staut and Reveur de Hurtebise. Again, he is seeking a second medal after standing atop the podium after Thursday's team final. Reveur gets rubs at fenecs 2 and 3, but the rails stay put. Staut has to ride to get out of the triple, but Reveur responds. However, both rails come down in the double—the triple bar liverpool and the vertical. They'll have 8 faults here—they do stay within the time—and finish on a two-round total score of 12.
12:47 p.m. Here's the first of two Qatari riders in this final round: Ali Youset Al Rumaihi, who rides Gunder. Gunder navigates the triple beautifully. Things get tight at the combination with the triple bar, but Gunder again gives a great effort to get out of it cleanly. They come to the final fence, and all the jumps stay up, but here it is: another time fault! That will put Al Rumaihi on 5 for the two rounds.
12:44 p.m. Three cheers for the home team! Here's Pedro Veniss and Quabri de L'isle. This is quite a flashy liver chestnut. Wow, Veniss sets it up perfectly for the triple. He is riding very, very exactly and accurately. It pays off over jumps, but he pays for it on the clock: 1 time fault! They'll have a two-round total of 5.
12:42 p.m. Philippe Rozier already has a gold medal from these Games and comes out seeking his second. But he has a rail at fence 2 with the gray Rahotep de Toscane. They have a vertical down as well, three fences from home. They too will have a time fault—time is coming into play yet again! That'll be a two-round total of 13 for this pair.
12:39 p.m. This is a bit ironic! Tiffany Foster of Canada is next with Triple XXX, Maher's team gold medal-winning partner from the London Olympics in 2012. Triple XXX has rails in all three combinations on course as well as the last fence. They also have a time fault. That's 17 faults to this round and a 21-fault total today. This course is really going to shake things up!
12:36 p.m. Ben Maher is going to move up in the order to jump next with Tic Tac, as Harrie Smolders has elected not to return for this round. Tic Tac has consecutive rails at fences 2 and 3. He makes a great effort through the next triple combination, clearly unhappy about hitting the previous rails. He's really kicking his heels up now! But they have the triple bar added to their total. They'll finish with 12 jumping faults in this round, plus a time fault, to finish on 17 for the two rounds.
12:34 p.m. Henrik von Eckermann is back with Yajamila for Sweden. They have rails at the middle oxer of the triple combination, a vertical and the final oxer to finish with 12. Not only is the track very big, but the horses jumping are no doubt going to be tired when coming out for a second time today and a fifth time in 6 days. Their two-round total will be 16.
12:30 p.m. We're back for Round 2! It's time for the individual medals to be decided. You can read more about what the riders had to say after the first round here.
Just as she did on Thursday, Luciana Diniz is going to lead us off. Last time, it resulted in a clear round; can she do that again? She comes in to this round on a 4-fault total from round 1 this morning.
Diniz enters the ring on a loose rein with Fitty and takes in the scene. It's a brand new course that starts over a tall 1.60-meter plank vertical that almost looks like a solid wall. Again, the course requires a lot of adjustability, and boy are there some big fences! There's the open water, a double with a triple bar liverpool and a massive final liverpool oxer. They navigate it all without fault! Diniz shows the way yet again with a clear round!
11:08 a.m. Here is the order of go for the second round: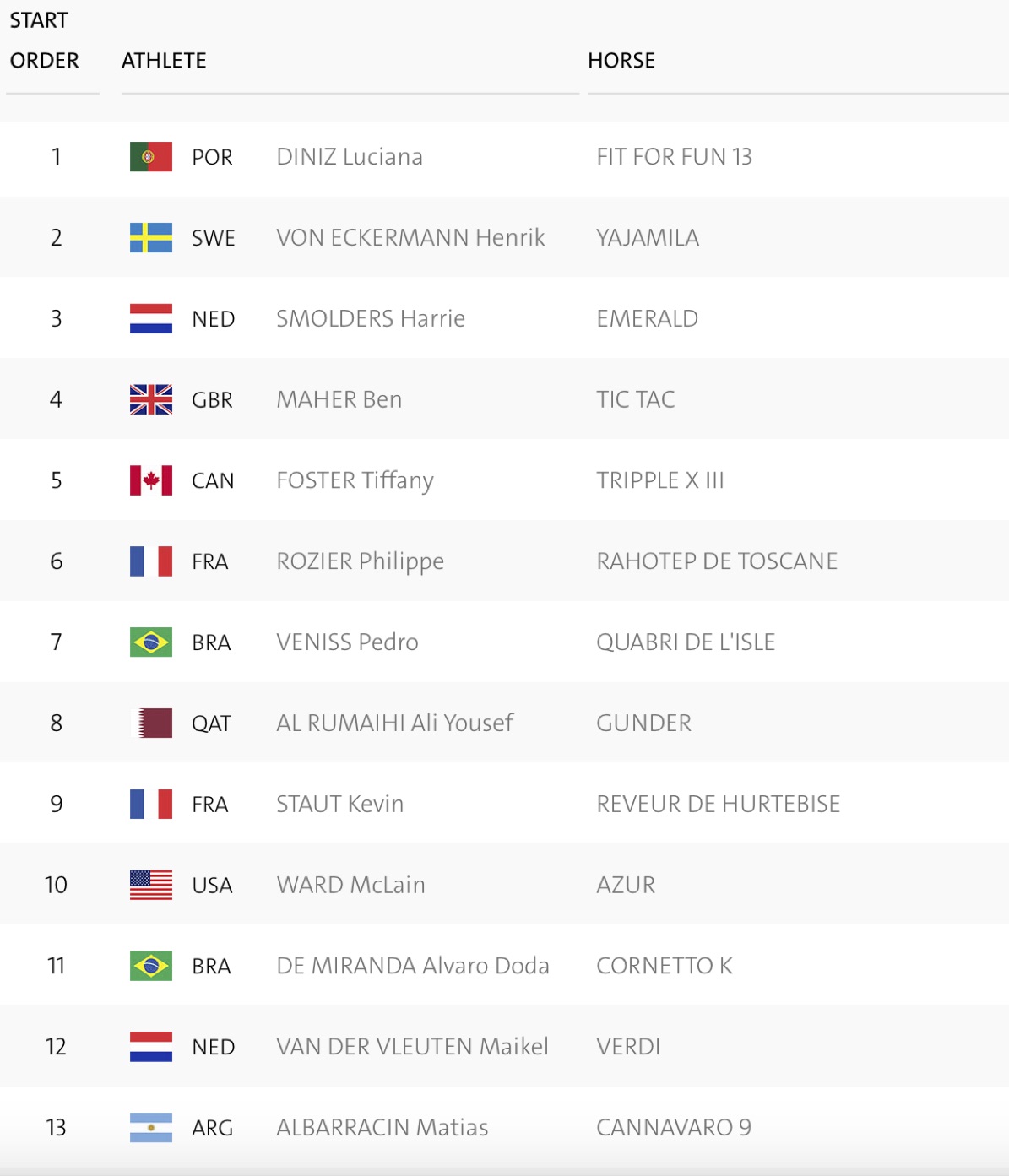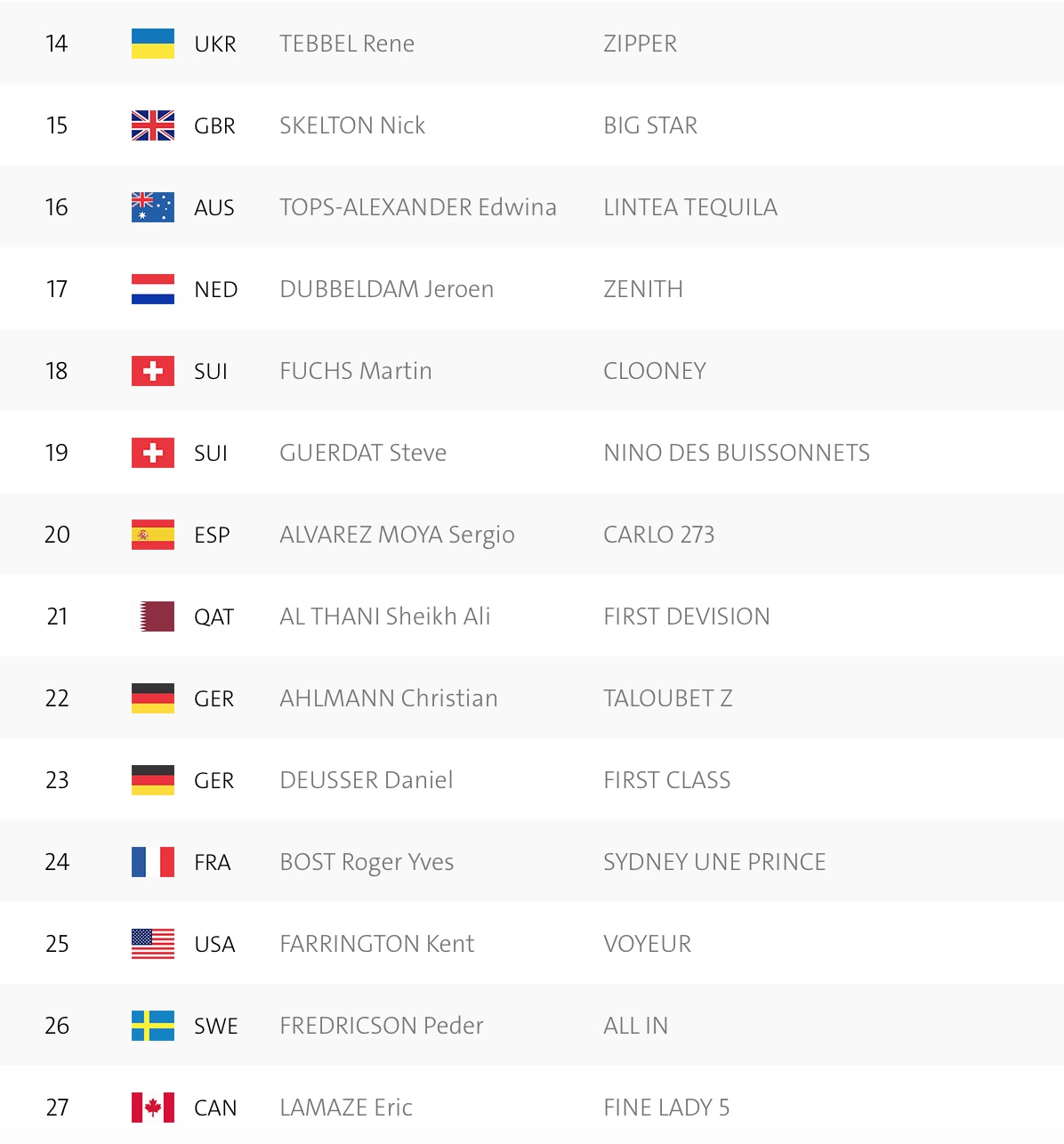 10:50 a.m. That's it for the first round! We will reconvene at 12:30 p.m. EST for the final round and a potential jump-off. We will see 27 riders return, as the top 20 scores qualify, and that will include all the 4-faulters. There are 13 riders on a 0 score. Here they are:
Nick Skelton (Great Britain), Edwina Tops-Alexander (Australia), Joroen Dubbledam (The Netherlands), Martin Fuchs (Switzerland), Steve Guerdat (Switzerland), Sergio Alvarez Moya (Spain), Sheikh Ali Al Thani (Qatar), Christian Ahlmann (Germany), Daniel Deusser (Germany), Roger Yves Bost (France), Kent Farrington (USA), Peder Fredricson (Sweden) and Eric Lamaze (Canada)
10:48 a.m. The final rider of this first round is in the ring: It's Eric Lamaze and Fine Lady 5! Lamaze, of course, already owns one individual gold medal from Beijing in 2008 with the great Hickstead. Can he add another? He will need a clear round here to do it.
This mare has really risen to the occasion. They get in tight to the last line, but they are clear!
10:45 a.m. Maikel van der Vleuten is the penultimate rider of the morning with Verdi; they ride for The Netherlands. Van der Vleuten, 28, will look to replicate his teammate Joroen Dubbeldam's performance from earlier with another clear.
They get a good rub at the C element of the triple, but it stays up. Van der Vleuten then legs Verdi too much to the last vertical, and the stallion kicks down the top rail. What a shame! They'll return for the next round, but they are likely out of conention for a medal with the amount of clear rounds we've seen.
10:43 a.m. Peder Fredricson rides next for Sweden on All In; this pair, like Farrington and Voyeur, have only accumulated 1 time fault all week. They too will continue their streak of keeping the jumps in the cups. We have another clear round!
10:40 a.m. Here's the United States' last chance: Kent Farrington is in with Voyeur! Farrington has been a picture of focus throughout the week, and he and Voyeur haven't had a single rail—just one time fault on Thursday. They get through the first combination, and they are over the water successfully. My blood pressure is rising.
They are through the triple. They get a rub at the next plank, but it stays up! They come to the last line—over, over, "Whoa!" over! They are CLEAR! CLEAR for USA!
10:38 a.m. We're down to the final five riders of the morning, and Roger Yves Bost—"Bosty"—will lead that group off looking to add another gold to his team gold medal on Thursday. Bosty clinched that gold for his team just a few days ago, and he's going to be clutch again today. He's clear!
10:34 a.m. The Ukraine's Rene Tebbel is up next, riding Zipper. Tebbel jumped clear on Thursday but had 2 time faults. The time is not nearly the issue it was earlier in the week, so he shouldn't have to worry about that today if he can replicate that ride. He does—but too much! He has 1 agonizing time fault!
10:31 a.m. It's hard to believe this is Daniel Deusser's Olympic debut. He's ranked in the top 10 in the World and has seemingly been amongst the top group of international riders for several years now. He's riding First Class for Germany—what a fitting name for this horse. The gelding gets some major air over the oxer at fence 10 to jump into the last line, wow! It's clear this horse isn't going to come close to touching a fence. Deusser and First Class are clear!
10:29 a.m. Doda Alvaro de Miranda is next, the final Brazilian representative. He's riding the Hanoverian gelding Cornetto K. They are the third pair to have fence 6 down and finish with 4 faults.
10:25 a.m. Here it goes: McLain Ward and HH Azur are in the ring!! Deep breaths, deep breaths. Ward and Azur delivered a spectacular clear on Thursday to clinch the silver medal for the USA in team competition.
So far, so good as they get over the water. Ward said he intentionally left Annie fresh for this, and she looks like she has plenty of jump left.
Oh no! Ward tells Annie, "Whoa," through the triple, and they have the C element down. That will be their only mistake. They finish with 4 and will get through to the next round, but McLain will likely be upset with the error.
10:23 a.m. The remaining riders are truly a list of "who's who" in the world of show jumping. Kevin Staut is next with Reveur de Hurtebise for France. They have the vertical down at fence 6 to finish with 4.
With that, it has been confirmed that all the 4-faulters will be able to return this afternoon for the second round. So, that will be good enough!
10:21 a.m. We could see another clinic next: Christian Ahlmann is in with Taloubet Z. This pair has had just one rail all week, on Thursday in the team final. Ahlmann wants that rail back, and he gets it: They are clear! Add another one to the list (and watch out for this pair).
10:18 a.m. Qatar's third rider is in—Ali Yousef Al Rumaihi, riding Gunder. Al Rumaihi has quite a partnership with this horse, as he's known "Bobby" since the gelding was 4 years old. They have not had a single rail yet at these Games!
Unfortunately, that streak ends today. They have a heartbreaker at the last fence! We'll see if that's enough to move them into the next round.
10:14 a.m. The second Brazilian rider is in the ring: It's Pedro Veniss and Quabri de L'isle. Again, the crowd gets very, very quiet, until Veniss has a rail at the triple combination, when the crowd collectively groans. They finish with just that penalty, though. It'll be a 4-fault total.
10:13 a.m. Oh gosh! Meredith Michaels-Beerbaum and Fibonacci have entered the ring, and they gallop right through the first vertical! That was a very rare miscue from Michaels-Beerbaum; the mare leaves early and can't get across, and the entire jump comes down. After the second fence, Michaels-Beerbaum elects to retire. That's a shame. They had really jumped well all week, and their clear jump-off round on Thursday helped Germany clinch the bronze medal over Canada.
10:10 a.m. Philippe Rozier is next up aboard Rahotep de Toscane. The is the first pair to ride for France, the team gold medalists from Thursday. They just have a foot in the water to finish with 4 faults. Team France has been the Cinderella story of these games. They rebounded from a withdrawl, colic, and a fall to jump admirably here in Rio.
10:07 a.m. Next up is Qatar's Sheikh Ali Al Thani, who's riding First Devision. The entire Qatari team is based in Valkenswaard, The Netherlands, with trainer Jan Tops, who has brought this group of riders to a new level. It takes voice for Al Thani to get his horse back through the tight triple combination, and "whoa" can be heard audibly again down the last line. But the verbal cues help, and we have another clear!
10:05 a.m. Sergio Alvarez Moya is next in the ring for Spain, and he's riding the Holsteiner gelding Carlo 273. Carlo had a rail and 2 time faults on Thursday, but the gray is on his game today! This pair turns in our 6th clear round of the day!
10:02 a.m. OK, here she is, Lucy Davis for Team USA! Davis had just one rail with Barron at the B element of a very triple combination in the team final on Thursday, helping her nation rally to win the silver medal after Beezie Madden had to withdraw Cortes C at the last minute due to injury. Hopefully, you got to watch Davis go on the Today Show the next morning and chat with Al Roker. Team USA equestrians have been getting a lot of great publicity at these Olympics!
But Davis is back to business now; she has an incredible amount of poise for being just 23 years old. She and Barron are a joy to watch; I just love their partnership. She gives Barron a few nice pats as they make their way down the path to enter the ring. She gathers her reins, and they start up.
Barron's eyes get wide as he comes up the first line, and he has the back rail of the oxer at fence 3. Then they get in much too tight to the water, and Barron doesn't get all the way across. Oh no, another fence comes down in the next combination. It's not Lucy's day today; she and Barron finish with 12 faults.
9:50 a.m. Of course, they are going to have a drag break before the next rider, Team USA's Lucy Davis and Barron. They clearly just want us to wait even longer in anticipation. So far, there have been 5 clears: Nick Skelton, Edwina Tops-Alexander, Joroen Dubbledam, Martin Fuchs and Steve Guerdat.
9:45 a.m. You were hard pressed to find a rider more proud of her horse on Thursday than Tiffany Foster of Canada. She rode Triple XXX to a brilliant clear round in the team final, and Team Canada just missed out on the bronze medal after participating in a jump-off with Germany.
The pair gets off to another great start. You can hear Foster "whoa" through the triple, and Triple XXX listens to his command. They have a very anxious moment at the next oxer, and Triple XXX almost swims through: He brings his leg down but then brings it back up to clear it. What an effort! They come down the the last line, and they are about to go clear, when the very last fence comes down. Another heartbreaker. That'll be a score of 4 faults for this duo.
9:42 a.m. The home team will be represented now, as Eduardo Menezes rides Quintol for Brazil. Boy, the venue just got very quiet!
The pair has the in of the first double, a liverpool. They then just tap fence 6, a 1.60-meter vertical—they are actually the first to have that fence down. Their score is 8.
9:39 a.m. Next up for Switzerland is…just kidding. Team Canada gets a try now: Here's Yann Candele and First Choice 15.
That was SO close! The pair just jumps within the tape of the water, and the red flag goes up. Then they have the A element of the triple. They have an anxious moment at the next plank, but they get over. They add one more rail to their score down the final line and finish with 12 faults.
9:37 a.m. Did I say back-to-back? I meant back-to-back-to-back! Steve Guerdat rides next for Switzerland on Nino des Buissonnets—your reigning Olympic individual Champions! Guerdat had an uncharacteristic two rails on Tuesday but rebounded with just 1 time fault on Thursday to make this individual final. The pair comes down to the last line without fault, and they stay that way! Guerdat will have a chance to repeat!
9:34 a.m. The Swiss riders are going back to back now: Martin Fuchs enters the ring now with Clooney. Wow, the Swiss team's emotions are going to go from low to high; this pair is clear! Fuchs has to wrestle to get his mount back for the final vertical, but the gelding responds and keeps all the jumps up!
9:31 a.m. Romain Duguet rides Quorida de Treho next for Switzerland. The Selle Francais mare is the first to struggle on course. She's big and lanky with a large stride and can't quite fit in to the small spaces required of this track. They have a rail at fence 4—the in of the double—and add two more to their score to finish on 12.
9:28 a.m. Joroen Dubbeldam is the next Dutch rider to tackle the course today; he's on the Dutch Warmblood gelding Zenith. Dubbeldam is truly one of the best riders in the world, and he makes the course look quite easy. We have back-to-back clears!
9:25 a.m. In the ring now is Edwina Tops-Alexander of Australia riding the spicy mare Lintea Tequila. This mare is small and quick and could be very well suited to the tight lines on course.
She is! Tequila jumps her heart out, and they are clear! That's just the second clear round so far. We will definitely see this pair back this afternoon in Round 2.
9:23 a.m. Ben Maher is up next with Tic Tac. Ben rode a great round on Thurday to just have just one time fault after having some trouble earlier in the week. Maher said he watched videos of his rounds and decided to make some adjustments to his riding, and it has really paid off. They have the rail at the in of the triple and finish on 4 faults. A very solid round; we'll see if that's enough to return later this afternoon.
9:20 a.m. Matias Albarracin is in the ring now to represent Argentina. He is on the Westphalian gelding Cannavaro 9. Albarracin has to make some extra room for Cannavaro to get through the C element of the triple, and they make it through. Cannavaro comes back brilliantly to the last vertical, and they are clear! But, oh no: They add today's first time fault. That could be a major difference maker later. They finish with 1 fault.
9:17 a.m. The Dutch will be hungry for individual medals today after getting left off the podium on Thursday. I mentioned that the first fence is not a giveaway, and sure enough, this pair has it down. Not the ideal way to start! Smolders will try not to add to his early total.
Wow, that's unfortunate. Smolders gives a superb ride the rest of the way. The get a rub at the last fence, but the vertical stays up. Smolders will be wishing he had that first fence back. This pair will finish on 4 for the round.
9:15 a.m. Representing Sweden, we now have Henrik von Eckermann riding Yajamila. He doesn't get the distance he wants to the water: He leaves long, and Yajamila can't get all the way across. That will be their only fault, and the finish with a score of 4.
9:12 a.m. This is the first year Qatar has had a show jumping team at an Olympics, and they qualified three riders for the individual final. The first up for them today is Bassem Hassan Mohammed riding Dejavu. They have a rail at the triple combination. Then they come in awkwardly to the last line, and Dejavu gets very strong. Mohammed can't get his mount back, and they have the last vertical down, too. They'll finish with 8 faults.
9:10 a.m. Nick Skelton and Big Star are in the ring! You are making a mistake if you don't consider this pair to be top contenders. Skelton rides the last line SO patiently and accurately. It's tight, but Big Star jumps stupendously. They just put on a clinic, and we have our first clear round!
9:07 a.m. Next up is Luciana Diniz of Portugal with Fit For Fun. They jumped a spectacular clear round on Thursday as pathfinders. It took a long while before someone could duplicate what they did! Fitty is jumping great! They get to the last line without fault, and are almost through it, but they have a heartbreaker at the final fence! They'll have to settle for 4 faults. Diniz waves to the crowd on her way out of the ring as she receives a great reception from the crowd.
9:04 a.m. Here's Australian Matt Williams on Valinski S. They get in tight to the first double, but they get out without problem. It's short getting out of the triple, but Valinski S jumps it well. They have back-to-back rails at fences 9 and 10 to finish with 8 faults. Again, it's a nice start to the course; it looks like the final line is going to be a big test.
9:00 a.m. Jerome Guery is going to be today's pathfinder aboard the Belgian Warmblood Grand Gru van de Roz for Belgium. Guery is the lone rider in this lineup for his nation. He enters the ring and receives a round of applause. The stands are packed!
They naviage the first jump successfully, and it's no giveaway to start: It's a very large oxer. The first line is very forward, but they get through it well. The combinations are quite substantial, but those are done well, too! They have the plank down on the vertical at fence 8, and they add a rail at fence 11 down the last line. They will finish with 8 faults.
8:54 a.m. Good morning! It's hard to believe the Olympics are winding down. The final eqestrian event is about to get underway, and I couldn't possibly think of a better finale than this one, the individual show jumping final. For the United States, Lucy Davis (18th in the order), McLain Ward (27) and Kent Farrington (32) will be looking to add individual medals to the their team silver medal from Thursday. The order of go has been determined by the riders' accumulated faults throughout the first three rounds over the past week, but everyone starts with a clean slate at 0 today, so it truly is anybody's game!