The top 31 riders come back for the Grand Prix Special, which completes the team dressage competition and counts toward the individual final qualification. We'll be commenting on each ride, updating as they go. Rides go from 9 a.m. to 3 p.m. EST. Don't miss a minute of the action!
Want to know when the U.S. riders and other fan favorites like Charlotte Dujardin and Valegro go? Click on our What You Need To Know article.
IMPORTANT LINKS: The complete Grand Prix Special order of go / What You Need To Know / live streaming / live results / Meet The U.S. Dressage Team / All COTH's Olympic dressage coverage
FINAL RESULTS:
Germany gold: 81.936
Great Britain silver: 78.602
USA bronze: 76.667
3:09 p.m. Shocker, Valegro is a horse afterall and not a super dressage robot unicorn! In all seriousness, he laid down a lovely test, but he was clearly a bit unsettled for some reason today, and Great Britain's Charlotte Dujardin had to fight to keep him on his job in the Special. He started off with 10s in his halt but broke to canter in the first half-pass for an average score of 3.7 from the judges. Charlotte got him focused, and then a helicopter flew over the arena during the two-tempis, which may have contributed to the unusual error there, where he threw in a one-tempi at the beginning of the line. But he scored 10s for his passage and finished on a high note, scoring 83.02 percent to place second behind Isabell Werth. That will confirm silver for Great Britain, and the scores go back to zero for freestyle day, so Charlotte won't be at any disadvantage in defending her individual gold medal from the 2012 London Games on Monday.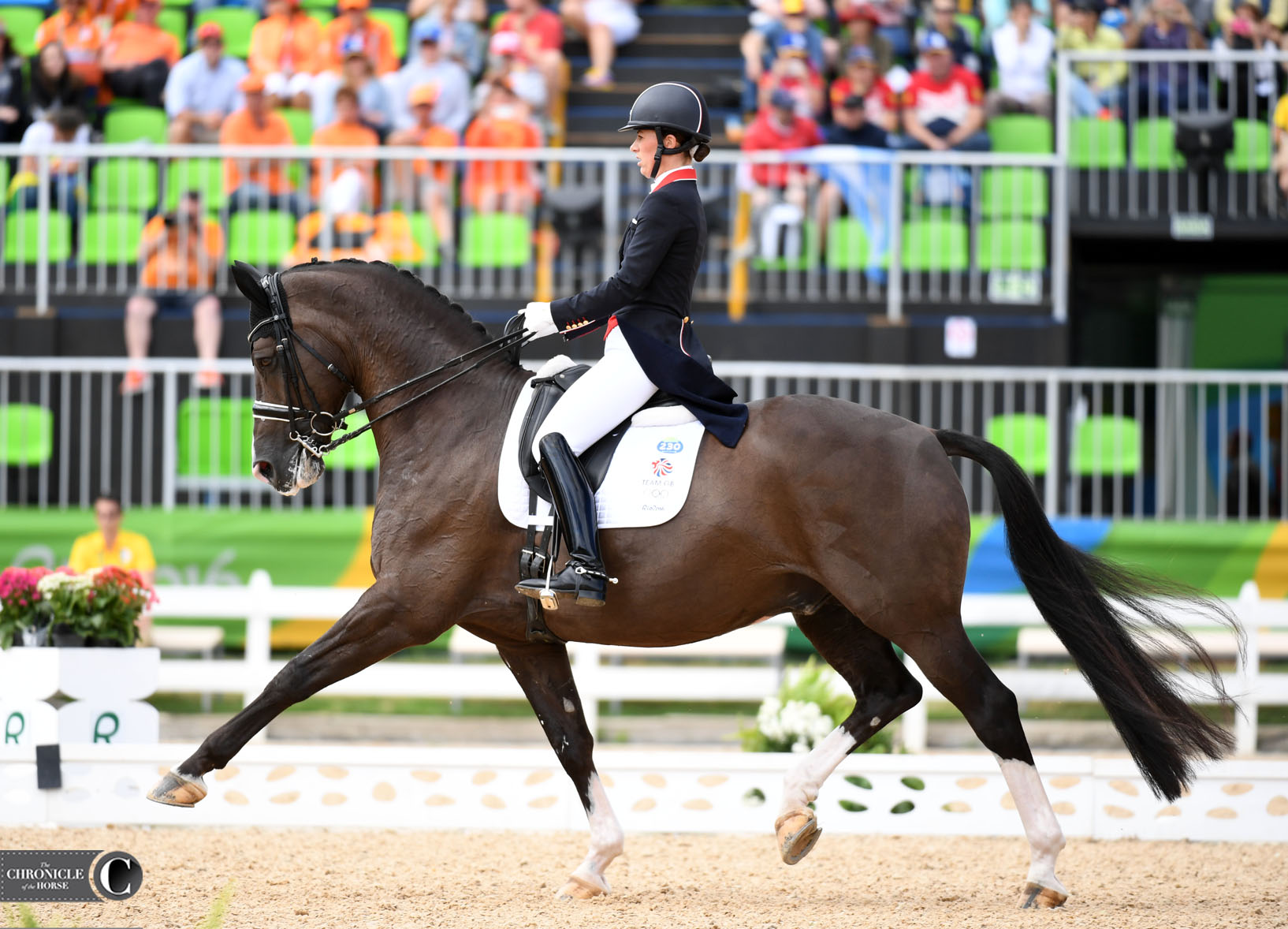 2:59 p.m. Weihegold is just 11, and the Oldenburg mare clearly still has some developing to do, but when Isabell Werth is your rider, magic happens. The mare is a bit old fashioned in her body type, but Isabell harnessed her power for an exquisite test, going into the lead on 83.71 percent. Germany didn't even need that score to win gold, but Isabell is looking for an individual medal now to add to her tally, which will include a record six gold medals at the end of today.
2:50 p.m. Laura Graves is going to be over the moon with that ride aboard her beloved Verdades. This pair has been together since "Diddy" was a weanling, and it shows. He's a powerhouse, and he gave her everything in the Special, going from strength to strength. They have a tiny bobble in the second canter pirouette, but no big deal. They score 80.36 percent, moving the United States into the bronze medal position!!! This was a lovely, harmonious test to watch, and it's the way dressage should be done.
2:41 p.m. Carl Hester knows how to ride a harmonious test on a hot horse, and he puts in a lovely ride on Nip Tuck. "Barney" may not be the most extravagant mover of the class, but he made every effort to listen to his rider and put forth his best effort. You could see his ears flicking back and forth as he concentrated on his job. Carl will be thrilled with his 76.48 percent.
2:31 p.m. Kristina Broring-Sprehe stands No. 1 in the world right now with 15-year-old Desperados, and this German pair shows why with an energetic forward test for 81.26 percent, right behind her teammate Dorothee Schneider. Desperados is almost too eager, anticipating the first piaffe and the transition to canter from the passage, but they nail their canter work and score 8.5s and 9s for the pirouettes, finishing on a high with a near perfect centerline. The Germans don't even need Isabell Werth's score to win!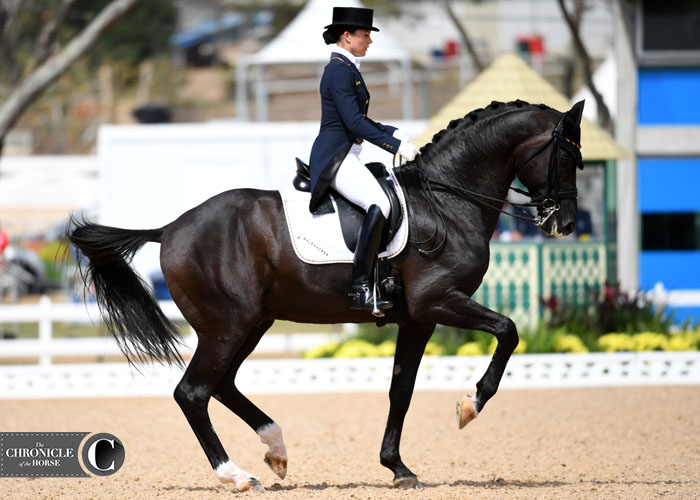 2:22 p.m. Steffen Peters has a frustrating start to his ride with Legolas when he breaks to canter in the trot half-pass. Legolas then questions whether it's really necessary to piaffe out of the walk. Steffen is the ultimate competitor though, and he never misses a beat, clocking off all the canter work with no issues. Their last centerline is a real highlight, showing off the expressive piaffe and passage that is a specialty for Legolas. A 74.62 percent for this U.S. pair.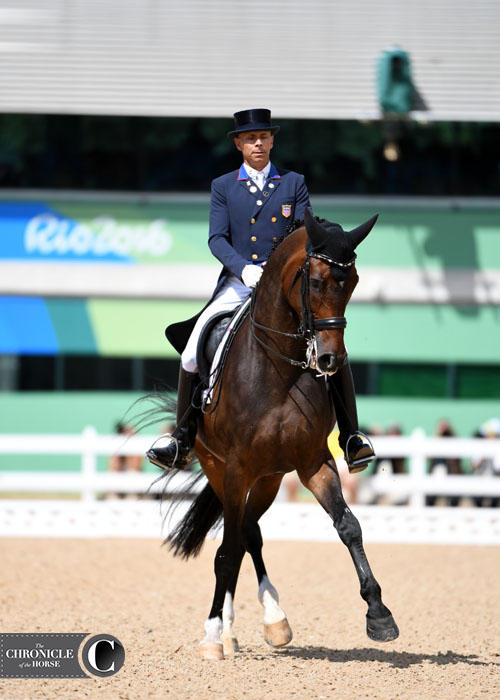 2:13 p.m. Great Britain's Fiona Bigwood is first after the break. She had a riding accident in 2014 that left her with a hairline fracture of her skull and double vision. She was told it might take up to 18 months before her vision returned to normal. She began competing again in 2015 even though she was still experiencing double vision. She still rides in the eye patch and says Atterupgaards Orthilia or "Tilly" is responsible for getting her back in the ring. She has three children, a daughter and two sons. She scores 74.38 percent after dealing with some resistance in the second piaffe.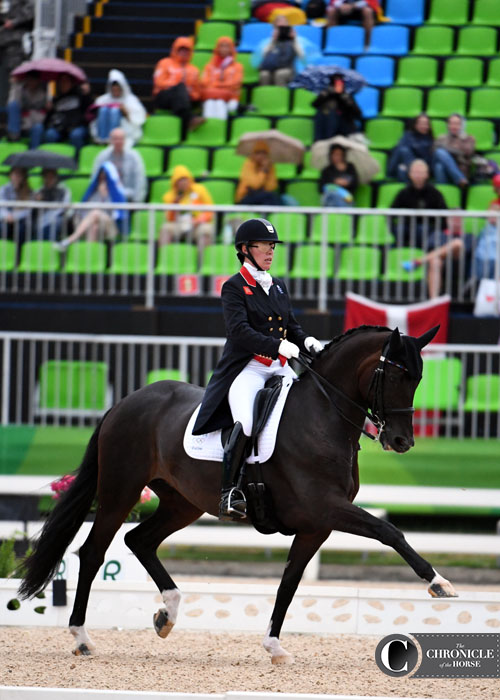 1:50 p.m. The Germans are in the house, and Dorothee Schneider and Showtime FRH just blew past their competition by scoring 10s in every passage. This 10-year-old by Sandro Hit also got 9s in his first pirouette, although he showed his youth by getting a bit stuck in the second one. An 82.78 percent makes Dorothee smile. She said she feels "50 kilos lighter" after putting in a good score for her team! This pair has a very bright future. Fun fact: Dorothee competed in vaulting and gymnastics until she was 16 and decided to focus on dressage.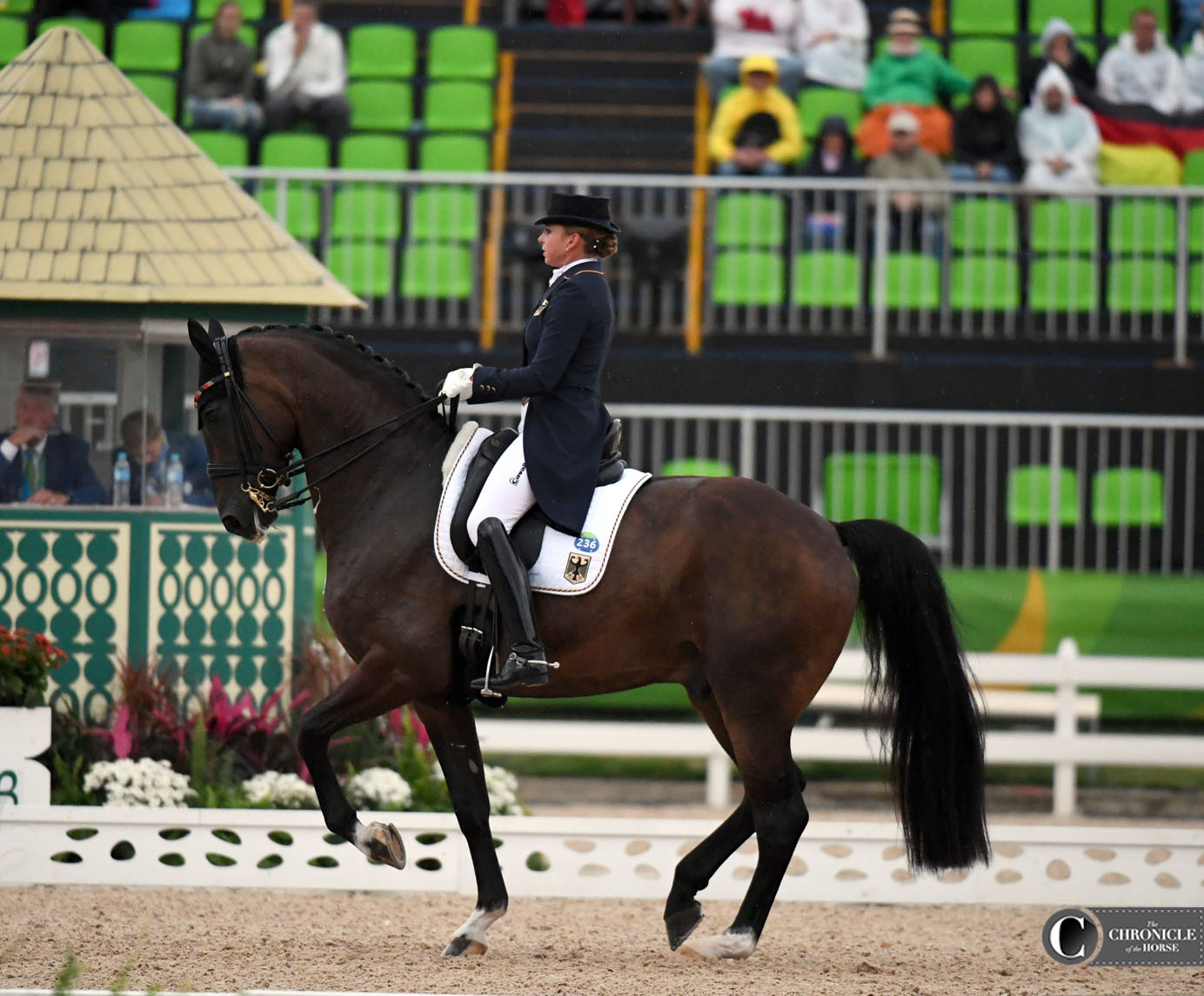 1:38 p.m. Kasey Perry-Glass knew she had to deliver a strong score in the Grand Prix Special at her first Olympic Games, and she got off to a tough start with Dublet when he broke to canter in the extended trot. She recovered like a seasoned professional and rode a lovely test, but the judges didn't seem to bounce back as quickly in their scoring. Perry-Glass showed a lovely piaffe out of the walk and gave Dublet a big pat on his neck after he did the passage to canter transition. The 28-year-old trains with Debbie McDonald, and she was all smiles at the end of her test. 71.84 percent won't be the score she was hoping for, so the pressure is on for her U.S. teammates.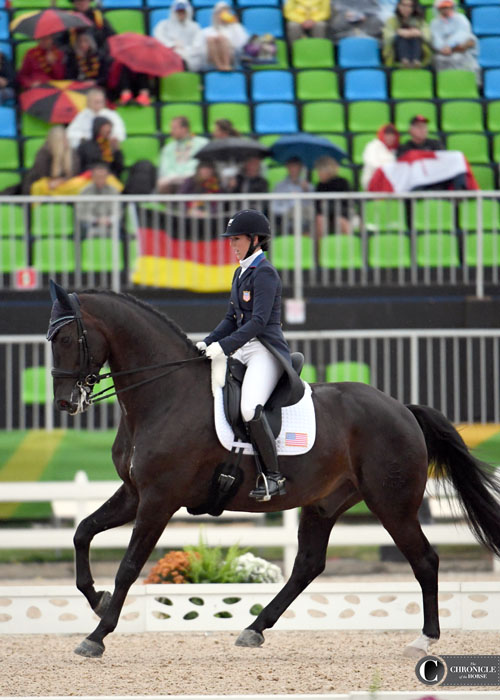 1:29 p.m. Spencer Wilton in the ring with Super Nova, and it's easy to love this uphill British-bred Hanoverian with his giant, honest head. He scored lots of 8s for his passage and his big relaxed walk, but he lost rhythm in the piaffe and had some bobbles in the tempis. The sound crew must also be impressed by Super Nova, as they're playing majestic music to match him like Star Wars and Chariots of Fire. 73.73 percent puts him just behind Ali Brock, whom he beat in the Grand Prix.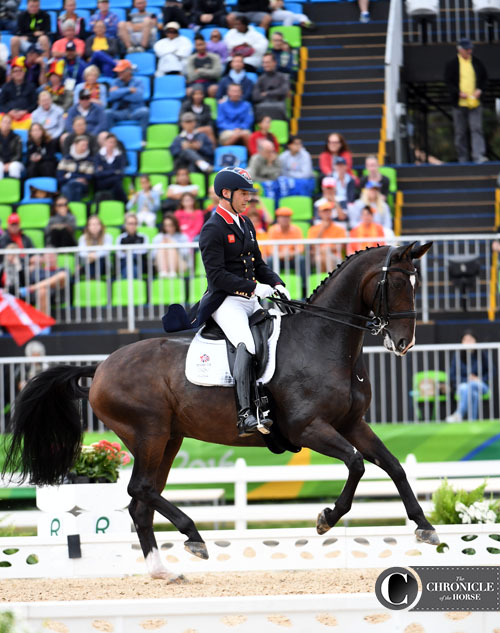 1:19 p.m. At 21 years old, Sonke Rothenberger is the baby of the German team, but you'd never know it from his cool, polished performance. His parents both competed for the Dutch dressage team, and although he rides for Germany, he cheers for the Dutch soccer team instead! His Olympic ride, Cosmo, spent some time working on his jumping skills when he was a young horse, as Sonke also does the jumpers and shows at the 1.50-meter level. This ride wasn't their best with mistakes in the two- and one-tempis and a traveling first piaffe, but it's still a strong score: 76.40 percent. Only three riders from each nation can go through to the freestyle, so that means this is probably Sonke's last Olympic ride for these Games.
1:13 p.m. What an awesome ride for Ali Brock and Rosevelt! Ali rode for every point, and the stallion delivered! He has a big, relaxed extended walk and is very accurate in all his movements. Every now and then "Rosie" gets just a little stuck behind, but Ali will be thrilled with that ride. Her personal coach Michael Barisone and team coach Robert Dover were riding every stride from the sidelines with this pair in their first Olympic Games. A well-deserved 73.79 percent.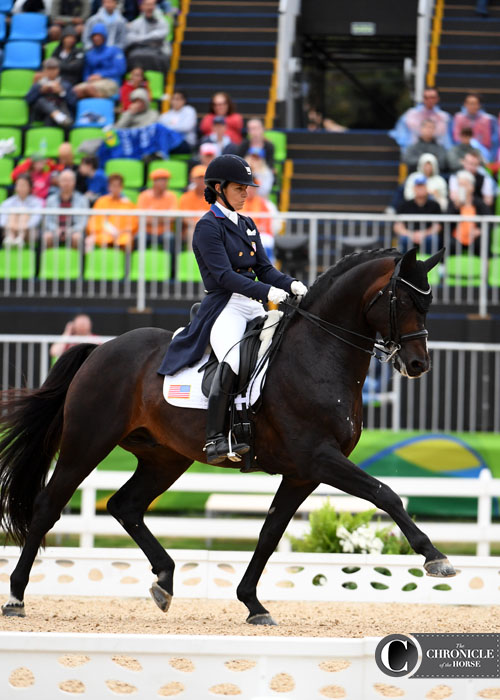 1:05 p.m. French rider Karen Tebar gets off to a rough start when Don Luis breaks in the first extended trot. They also have some issues in the one-tempis, which take away from an otherwise elegant and accurate test. They score 72.94 percent.
12:50 p.m. Mister X is a sensitive soul, and you can tell that he's trying very hard by watching his lower lip flap and wiggle as he focuses on his rider. Russian Inessa Merkulova reads him romance novels before they compete, including 50 Shades Of Grey! They incur an error when Inessa goes into the tempi changes across the diagonal rather than the canter half-pass to start, but she doesn't miss a beat and goes right back to business. She scores a 9 from the Danish judge for her second pirouette. They score 73.12 percent.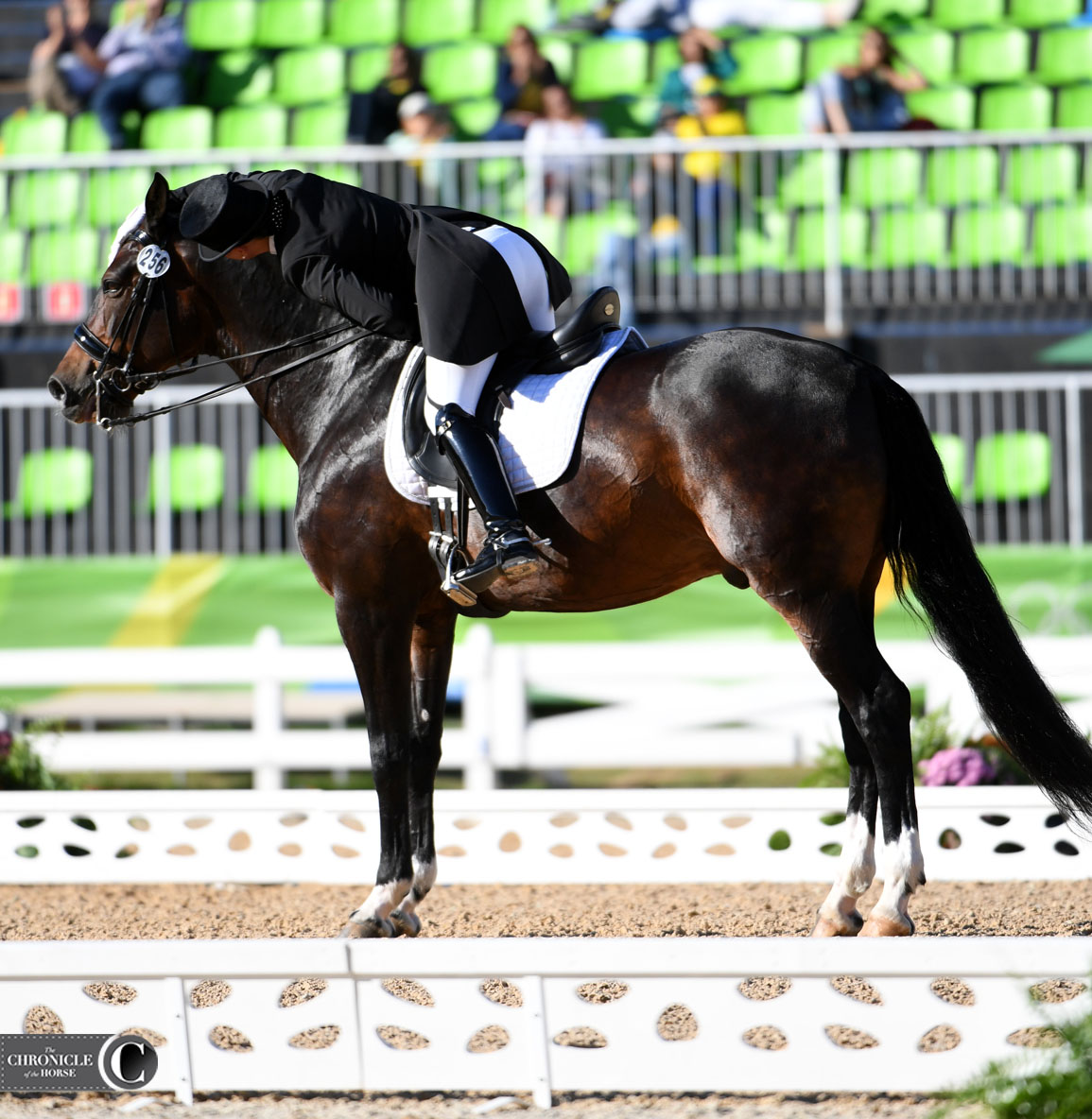 12:43 p.m. Lorenzo is a very cool horse, and he's just 10, by Lord Loxley. Each time out he's gone up with his scores, and he collects plenty of 8s and some 9s for his trot work and passage. Severo Jesus Jurado Lopez is an assistant trainer for Denmark's Andreas Helgstrand. Severo scores 77.60 percent to go into the lead. Can't wait to see this combination's freestyle!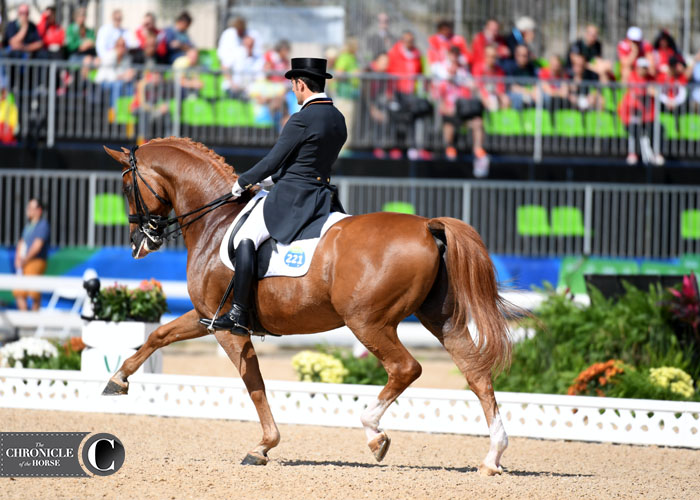 11:50 a.m. We're on a lunch break now. Competition starts up again at 12:35 with Severo Jesus Jurado Lopez and Lorenzo for Spain.
11:40 a.m. Beatriz Ferrer-Salat competes Delgado very lightly, as the lovely chestnut has struggled to stay sound. She rode him just a tad conservatively in this Grand Prix Special, but the pair still scored 76.86 for Spain, which will qualify them for the freestyle.
11:31 a.m. Just 26, Anna Kasprzak has already competed in an Olympic Games for Denmark in 2012. She's riding the 17-year-old Donnperignon, whom Christoph Koschel rode in the 2010 Alltech FEI World Equestrian Games for Germany. Anna has a solid test with a slight issue in the first one-tempis where Donnperignon got a bit stuck behind. They score 74.58 percent. Fun fact: Her mother Hanni Toosbuy is the owner and chairman of the shoe manufacturing company Ecco, which operates in several countries in northern Europe.
11:23 a.m. Sweden's Tinne Vilhelmson Silfven trains in Wellington, Fla., all winter, and she is almost an honorary American after spending several seasons there. She turns in an excellent test with the flashy Don Auriello to go into the lead on 77.19 percent. His extended trots are always a highlight. This is Tinne's seventh Olympic Games.
11:14 a.m. Hans Peter Minderhoud was the last to go for the Dutch team with Johnson. The 14-year-old Dutch stallion by Jazz has a very flashy front leg, although he struggles to stay poll high at times. This pair turned in an electric test with just a couple of minor bobbles such as a big leap into the canter from passage. The 75.50 percent score doesn't beat their Grand Prix score of 76.95 percent, but it certainly puts the pressure on the U.S. team to bring their A game in the afternoon's session. Fun fact: Hans Peter got his start grooming for Anky van Grunsven, and his nickname is "Happy" because of his initials.
"We didn't want to go home without a medal, so we couldn't be too safe," said Hans Peter about his ride. "We did what we could."
The Dutch all had to ride before the lunch break because the competition has been split, with the riders for the top three teams after the Grand Prix riding in the afternoon. This format is quite unpopular with the riders who have had to go early.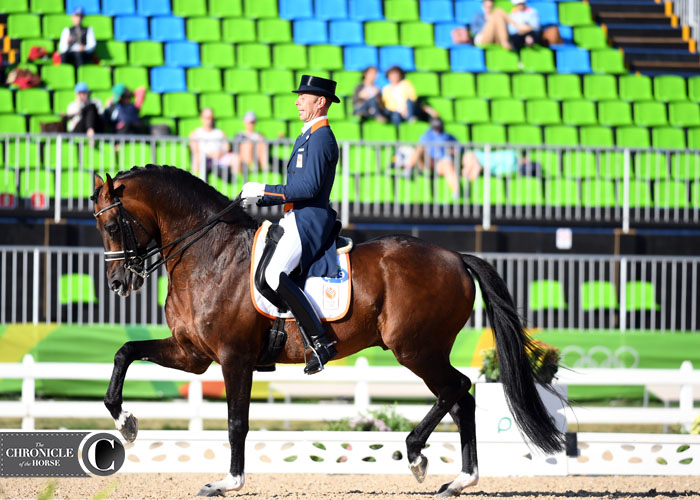 11:04 a.m. Cathrine Dufour is a rising star for the Danish team. Just 24 and in her first senior championship, she scores a whopping 76.05 percent with Cassidy, another Atterupgaard-bred Danish Warmblood. One blip in her second line of one-tempis, but otherwise a very strong test for Denmark!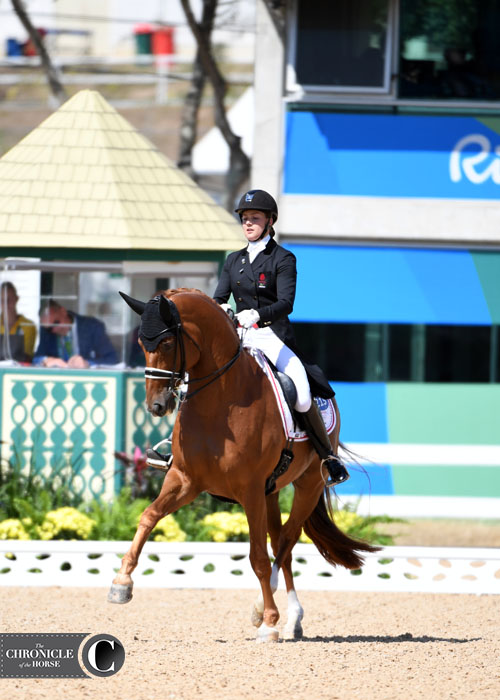 10:56 a.m. Deja is one of three mares competing in the Grand Prix Special. Sweden's Patrik Kittel roder her to 74.06 percent. They scored slightly lower than their Grand Prix score thanks to a break to canter in the second extended trot. Fun fact: Before a competition, Patrik watches an episode of "Friends." He says he likes the characters, and they make him laugh and feel good. "It can become so serious in dressage."
10:47 a.m. The pressure is on for Diederik van Silfhout from the Netherlands, as his team is neck and neck with the USA for bronze, and the Dutch don't have a drop score. But Diederik delivers with a fantastic test that really showed off Arlando's extravagant trot work and lofty piaffe and passage. A 76.09 percent puts him into the lead for the moment. Fun fact: Diederik is almost 6'3″!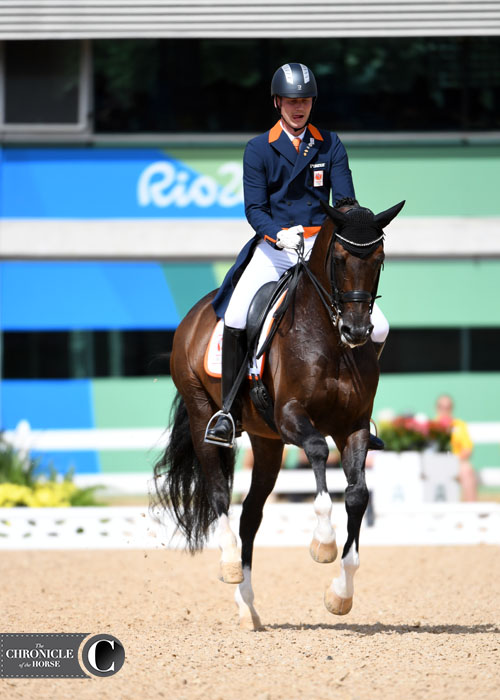 10:37 a.m. Agnete Kirk Thinggaard rides first after the break for Denmark aboard JoJo Az. She scores 8s for her piaffe and passage but does not receive extra credit for throwing in more than 15 one-tempis. Agnete is a trained psychologist, and her father Kjeld Kirk Kristiansen runs TLG & Kirbi A/S, the companies that own the Lego brand. She has three children with husband Claus Thinggaard. She scores 72.61 percent.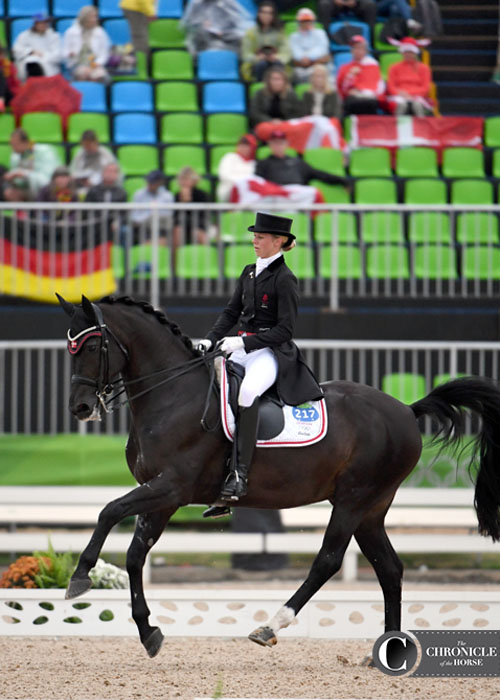 10:15 a.m. The young Swedish combination of Juliette Ramel and Burial K.H. (she's 29 and her horse is 10, and it's their first Olympic Games) show so much promise for the future. Burial is an elegant, uphill creature. They have some trouble in the extended trots and a big mistake in the one-tempis, but the test still scores 72.01 percent. Fun fact: Juliette trains with Nicole Werner, who also helps Edward Gal.
10:10 a.m. Voice might be Dutch rider Edward Gal's second horse, but you'd never know it from watching him! This game Dutch Warmblood stallion doesn't have a perfect test—some tension in the walk, a mistake in the two-tempis, an unsettled final halt—but the piaffe and passage are lovely, and he's a lovely, round uphill animal. Fun fact: Edward wears an orange watch, orange boxer shorts, an orange belt and a gold guardian angel pin for good luck. He's also been known to sport a revolver for a stock pin in honor of his sponsor Glock, but he left it off for the Olympics because he wanted to be sure he didn't break any sponsorship rules. This pair scores 73.76 percent, which is lower than their Grand Prix score of 75.27 percent.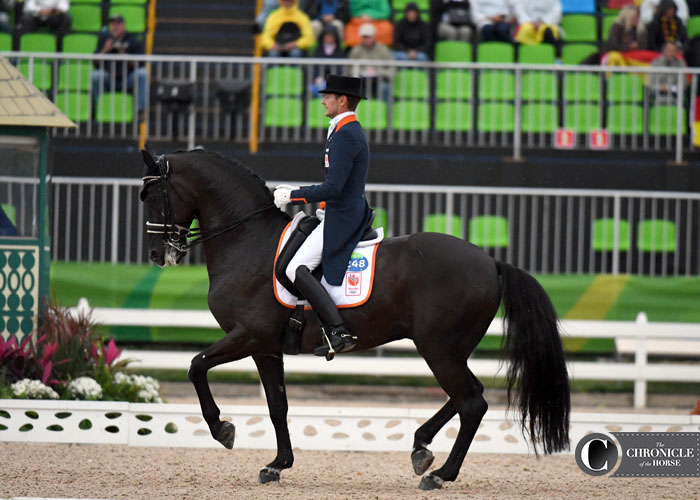 9:56 a.m. The rain is just starting now in Deodoro as Anders Dahl does his test with Selten HW for Denmark. Selten HW was bred in the USA by Irene Hoeflich-Wiederhold and won the national young horse championships with Beth Ball. He doesn't do his best test in the Special, running into some issues in the piaffes for 71.30 percent. Fun fact: Anders showed his Danish pride by painting his toes with the national flag. He's married to British team rider Fiona Bigwood.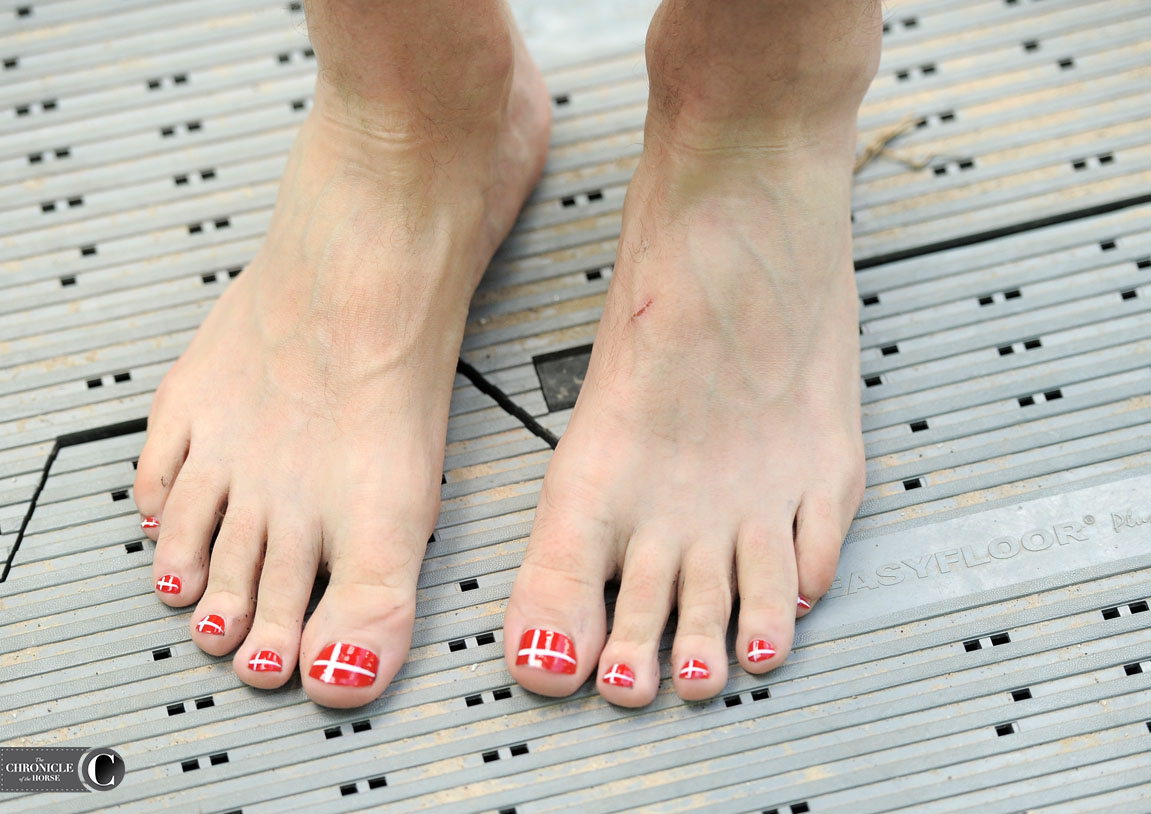 9:47 a.m. Swedish rider Mads Hendeliowitz has an up and down test. The 12-year-old Oldenburg stallion by Sandro Hit is an extravagant and enthusiastic horse, but he lost his rhythm in the extended trot before the walk and ran into trouble on the final centerline in the piaffe. The test scores a 71.70 percent.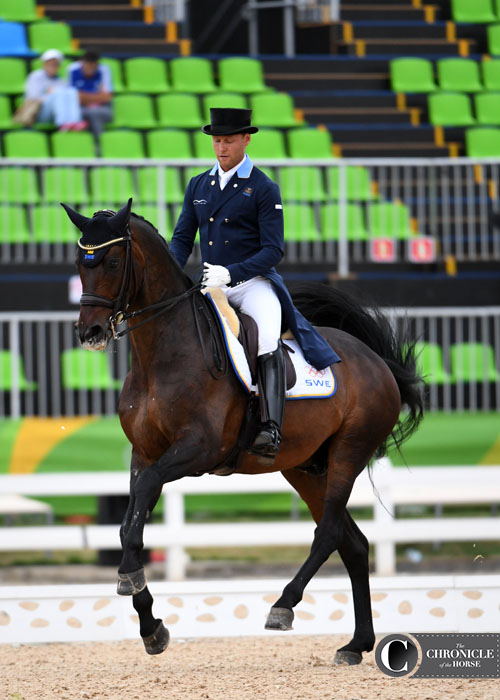 9:39 a.m. French rider Pierre Volla finishes with a smile despite a disappointing test aboard Badinda Altena. The mare ran into trouble in her piaffes, showing quite a bit of resistance, and then she struggled in the first line of one-tempis as well. 65.70 percent won't be the score Pierre was hoping for, but the French national champion clearly adores the chestnut mare regardless.
9:29 a.m. Canadian individual Belinda Trussell just clocked off an elegant and obedient test with her veteran partner Anton. No big mistakes, although they had a slight loss of rhythm in the tricky passage to canter transition. But lots of highlights in the transitions and a nice big extended trot. This pair competed at the 2010 Alltech FEI World Equestrian Games (Ky.), but a bone lesion in 2011 required surgery for Anton, and Trussell wasn't sure he'd return to the top level. They did make a comeback though, and rode at the 2014 WEG in France. They score 72.49 percent.
9:19 a.m. Irish individual Judy Reynolds was the second to go with the 14-year-old Dutch Warmblood Vancouver K. They put in a beautiful test. A tiny bit of creep in the piaffe and slightly large pirouettes, but overall a very strong effort for this pair to score 74.09 percent. Fun facts: Judy has driven oil tankers for her father's petroleum transport business, Reynolds Logistic, during the off season! She rides with a lucky pin, a gift from her parents that's an exact model of her horse, Vancouver K's shoe.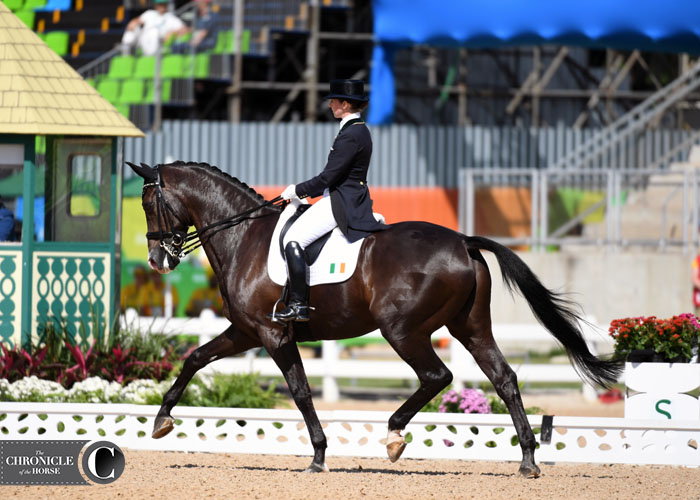 9:10 a.m. Marcela gets the Grand Prix Special off to a fantastic start! She rides a mistake-free test on the lovely bay Molberg, scoring numerous 8s for her passage and changes. Molberg may not be the most extravagant mover in the field, but the 15-year-old Danish Warmblood (one of three in the Olympics bred by Atterupgaard) looks happy in his work and extremely obedient. 72.87 percent.
8:50 a.m. Good morning! We're 10 minutes away from the start of the Grand Prix Special, and Switzerland's Marcela Krinke Susmelj will be first in the arena with Molberg. This horse and rider are competing as individuals and scored 72.70 percent in the Grand Prix test.
Save
Save
Save
Save
Save
Save
Save
Save
Save
Save
Save
Save
Save
Save
Save
Save
Save
Save
Save
Save
Save
Save
Save
Save