This year's U.S. Olympic dressage team is made up of two championship veterans and two championship newcomers. They've spent the last three months competing in Europe and are at the Games hoping to prove that United States can play with the superpowers of the sport.
When Carl Hester handicapped the field in the Aug. 1 & 8 Olympic Preview issue of the Chronicle he expected to see both Laura Graves and Kasey Perry-Glass in the top 10 individually at the end of the competition.
"The exciting thing about Laura and Kasey is that they could be right up there, or they could bomb," he wrote. "I saw Kasey's ride in Compiénge [France]. It was seriously a beautiful ride. It deserved the 80 percent there. They didn't give it, I think, because everybody was sort of like, 'Wow! Where did that come from?' "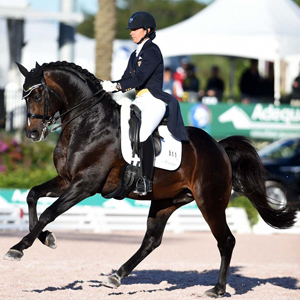 Rosevelt: dk. b. s., 14 years, German-bred Hanoverian (Rotspon—Lore, Lauries Crusador XX), owned by Fritz and Claudine Kundrun.
Barn Name: Rosie
Allison Brock: age 36, Wellington, Fla., and Keswick, Va.
This will be Brock's first major championship, and she's put in a lot of work to get Rosie to this point. Rosie won the 2006 stallion licensing in Sweden, was fifth in the World Championship for Young Dressage Horses (Germany) with Hans Peter Minderhoud as a 5-year-old, and was second at the Falsterbo Horse Show (Sweden) as a 6- and 7-year-old with Jan Brink.
Rosie was imported in 2010 and they had an extremely successful small tour season. Perfecting their craft at Grand Prix took some time, but they found their stride, winning two classes at Dressage At Devon (Pa.). They won three classes this season during the Adequan Global Dressage Festival (Fla.).
The horse's top CDI Grand Prix score is a 74.08 percent, and his highest freestyle is an 73.95 percent.
Did You Know?
• Rosie occupies the "penthouse stall" at the Kundrum's DeerMeadow Farm. The corner stall with two windows was once residence to Sue Blinks' 2000 Olympic mount Flim Flam. Brock groomed for Blinks when the pair rode at the 2002 World Equestrian Games in Jerez, Spain.
• Brock was born in Hawaii and started taking lessons when her grandmother bought her a package of lessons for her seventh birthday. At 17 she left home in order to pursue her dressage career.
• Brock has two cats named Bad Cat and Mama Kitty.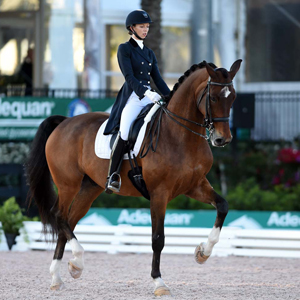 Verdades: b. g., 14 years, Dutch-bred Dutch Warmblood (Florett As—Liwilarda, Goya), bred by P. Crum, owned by the rider.
Barn Name: Diddy
Laura Graves: age 29, Apopka, Fla.
Until 2014, few had ever heard of Graves and Verdades—now they're making headlines wherever they go. Graves bought Diddy as a foal and spent several years trying to get through to the difficult horse. A former hairdresser, Graves decided to move to Florida once they ironed out the kinks with hopes of making it to an international championship.
The pair earned a spot on the team for the 2014 Alltech/FEI World Equestrian Games (France) where they were the top-placed U.S. pair, finishing fifth individually.
Since then they've competed at the 2015 Reem Acra/FEI World Cup Dressage Final (Nev.) where they were fourth and helped the U.S. take team gold at the 2015 Pan American Games before taking silver behind Peters.
They won eight Grand Prix level tests this winter in Wellington, Fla., leading the way for the U.S. team in the Nations Cup to take gold. This summer they won the Grand Prix Special at Rotterdam (the Netherlands) and finished second at Rotterdam, Roosendaal (the Netherlands) and Compiénge (France).
The horse's top CDI Grand Prix score is a 78.29 percent, and his highest freestyle is an 82.80 percent.
Did You Know?
• Graves nearly gave up on Diddy when he was 4 after his unruly ways continued. She even sent him to a trainer to be sold, but when nobody else could get on Diddy, Graves took him back to in the work to make him rideable.
• Diddy broke his jaw in the fall of 2011 after getting his tooth stuck between the bars on his stall door. He had surgery and still has metal in his jaw.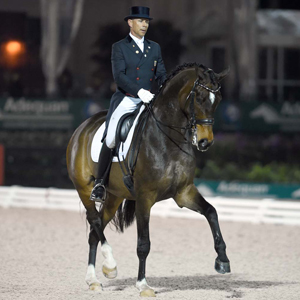 Legolas 92: b. g. 14 years, German-bred Westphalian (Laomedon—Furstin, Florestan II), bred by Johannes Kissing, owned by Four Winds Farm LLC.
Barn Name: Legs
Steffen Peters: age 51, San Diego, Calif.
The most experienced rider on the dressage team, this will be Peters' fourth Olympic Games after competing in 1996, 2008 and 2012. He first paired with Legolas in 2011 and they made their FEI debut in February of 2012.
The pair led the U.S. team to gold at the 2015 Pan American Games (Toronto) before taking home the individual medal. Peters, who holds the record for most U.S. National Grand Prix Championships at 8, rode Legolas to three consecutive championships (2012, 2013, and 2014).
Most recently they won the Grand Prix at the Roosendaal CDI**** (the Netherlands) with a 76.82 percent. The horse's top CDI Grand Prix score is a 79.94 percent, and his highest freestyle is an 84.05 percent.
Peters has put a lot of work into improving Legolas' freestyle, including playing a soundtrack of applause loudly over his barn speakers to help the gelding get used to extra noise during his test.
Did You Know?
• Outside of horses Peters enjoys riding motorcycles and building remote control gliders.
• Growing up Peters worked in his family's clothing store.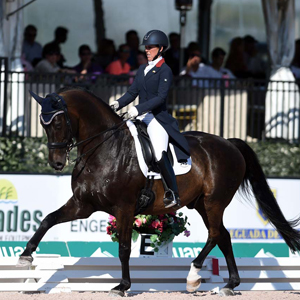 Goerklintgaards Dublet: dk. b. g., 13 years, Danish-bred Danish Warmblood (Diamond Hit—La Costa, Ferro), bred by Joergen Ravn, owned by Diane Perry.
Barn Name: Dublet
Kasey Perry-Glass: age 28, Wellington, Fla.
This will also be Perry-Glass' first international championship. She first paired with Dublet back in November 2012. Prior to traveling to the States, the gelding placed second at the Danish Warmblood Young Horse Championship (Denmark) in 2010.
Originally based in Spokane, Wash., Perry-Glass made the trek to Wellington, Fla., in 2014 and has been training with Debbie McDonald in Idaho. After three successful years on the small tour, they moved up to Grand Prix at the beginning of this season.
They were never out of the top three during the winter season, often finishing second behind teammates Peters and Graves. They were part of of the winning Nations Cup teams in Wellington and Compiénge (France) and the second-placed team in Rotterdam (the Netherlands). They won the Grand Prix at Compiénge on a 77.44 percent which is their highest CDI score in that test to date. Their highest freestyle score is an 82.32 percent.
Perry-Glass' family, including her parents Diane and Bob Perry, her five siblings and her husband Dana Glass, make up Team Believe, the support network behind her and Dublet. Most of her family will be making the trip to Rio and you won't miss them with their Team Believe t-shirts.
Did You Know?
• Perry-Glass originally competed in eventing. It wasn't until she was older that she switched to dressage.
• Perry-Glass has run several half marathons with her sisters and her mom. She also boasts a completion medal in the California International Marathon.
Make sure to follow along with Allison, Laura, Steffen and Kasey as they tackle the Olympic Games in Rio. The Chronicle will be there with coverage at COTH's dedicated Olympic page and the COTH Olympic Dressage page.
Also keep up with COTH's Facebook, Twitter and Instagram.
THE DRESSAGE SCHEDULE, WITH LIVE STREAMING LINKS
Aug. 8 – Dressage – first horse inspection 3:45 p.m. – 4:55 p.m. (2:45 p.m. – 3:55 p.m. EST)
Aug. 10 – Dressage – Grand Prix 10:00 a.m. – 4:00 p.m. (9:00 a.m. – 3:00 p.m. EST)
LIVE STREAM AM session; LIVE STREAM PM session
Aug. 11 – Dressage – Grand Prix (10:00 a.m. – 4:00 p.m.) 9:00 a.m. – 3:00 p.m. EST)
LIVE STREAM AM session; LIVE STREAM PM session On TV: MSNBC (3:45 p.m. – 4:30 p.m. EST)
Aug. 12 – Dressage – Grand Prix Special (team medals) 10:00 a.m. – 4:30 p.m. (9:00 a.m. – 3:30 p.m. EST)
LIVE STREAM AM session; LIVE STREAM PM session
Aug. 15 – Dressage – Grand Prix freestyle (individual medals) 10:00 a.m. – 2:00 p.m. (9:00 a.m. – 1:00 p.m. EST)
LIVE STREAM On TV: USA (live broadcast) (10:30 – 12:30 EST)