Clark Montgomery and Loughan Glen traveled from their base in England to The Plains, Va., in early July to compete at the Land Rover U.S. eventing team's final preparatory outing at the Land Rover Great Meadow International CICO***. They won the division and led the U.S. team to a Nations Cup victory.
Now they're in Ocala, Fla., for a week of team training before flying to Rio de Janiero for the Olympic Games. Montgomery reflects on his journey with Glen this season and how he's feeling heading to his first Olympic Games.
[At Great Meadow] I was quite nervous, actually, because I felt a lot of pressure and expectations. Almost everybody, besides the selectors and [Chef d'Equipe David O'Connor], haven't seen Glen in person in years. I didn't think I'd feel so nervous to perform for them, but I was. But it was nice. It wasn't nerves in a bad way—it was just that I really wanted them to see him perform well.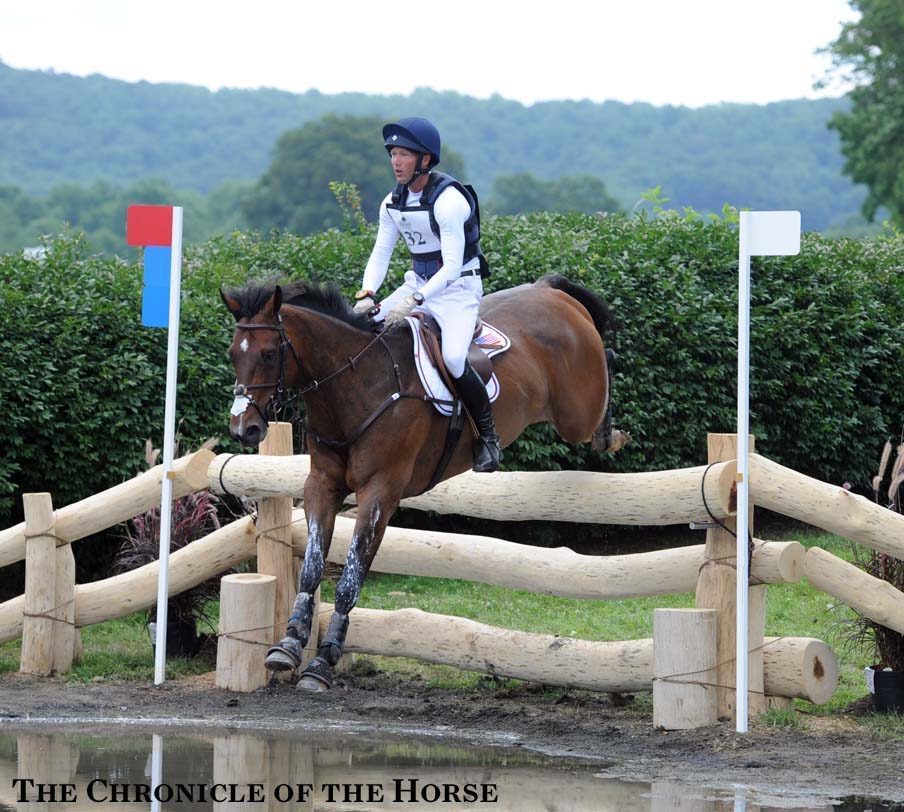 Clark Montgomery and Loughan Glen at the Great Meadow International CIC***, their last run before Rio. Photo by Lindsay Berreth
Additionally you have the pressure that it's the last preparatory event before Rio, and you sure as hell don't want anything to go wrong because then it gives you a lack of confidence going in. You have nerves to make sure it all goes to plan in that regard as well.
After last year, really increasing his fitness, he gets to the events now and just wants to go run and jump on the cross-country. He jigs to the start box and gets a little bit silly, and he's never been like that. We've nicknamed him "Beastie" this year.
To prove to the selectors that he's good and fast, I've run fast at all my events, so he came out at Great Meadow on that hard ground with not much terrain and really took off with me a little bit too strong, so we had to rein that in a little bit. It's fantastic to feel that he wants to play the game like that.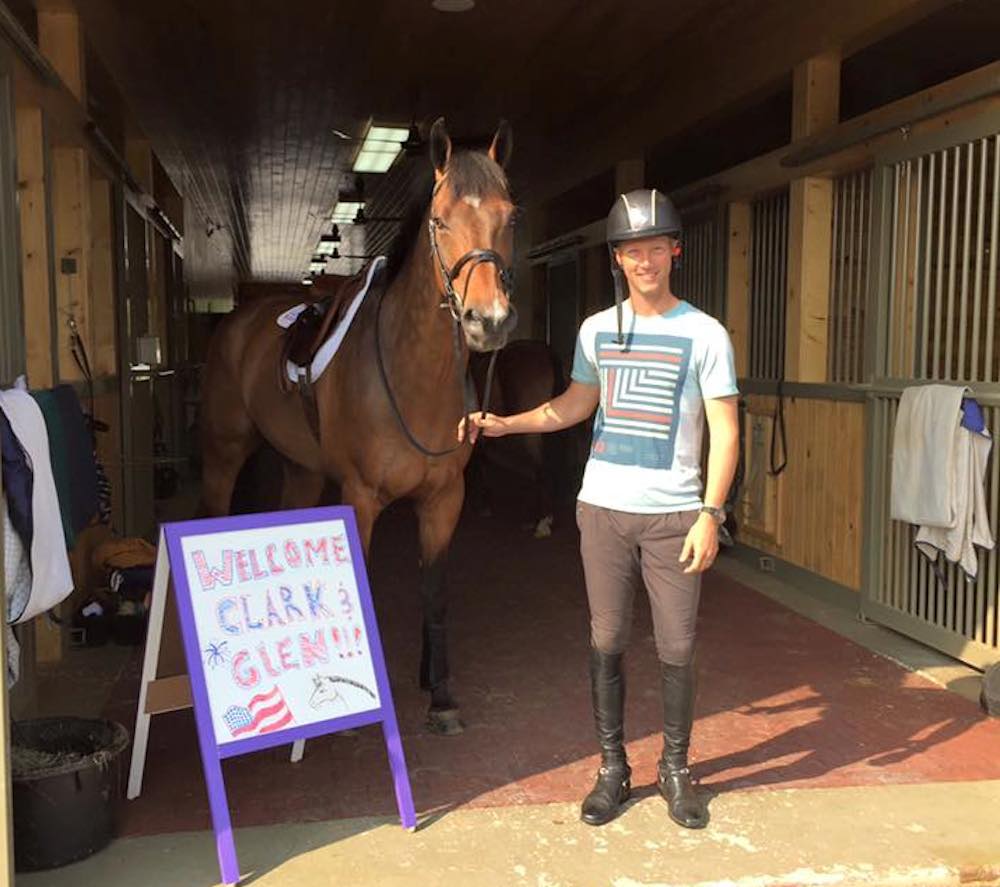 Clark and Glen got a warm welcome in Virginia. Photo courtesy of Clark Montgomery
It's hard to [not over-train]. I think it's more that for Glen's routine for a CCI we don't over-train him anyway. I haven't really had to change anything. It's more reminding myself exactly what to do to prepare him and just stick to that.
We had this experience in London [in 2012 when I was long-listed]. They sent us all over to England for about six weeks. I had a really hard time with that one, and did over-train him. I'm kind of in the same boat, funnily enough, coming back to the United States for about six weeks before Rio, but because of the experience in London I knew not to do that.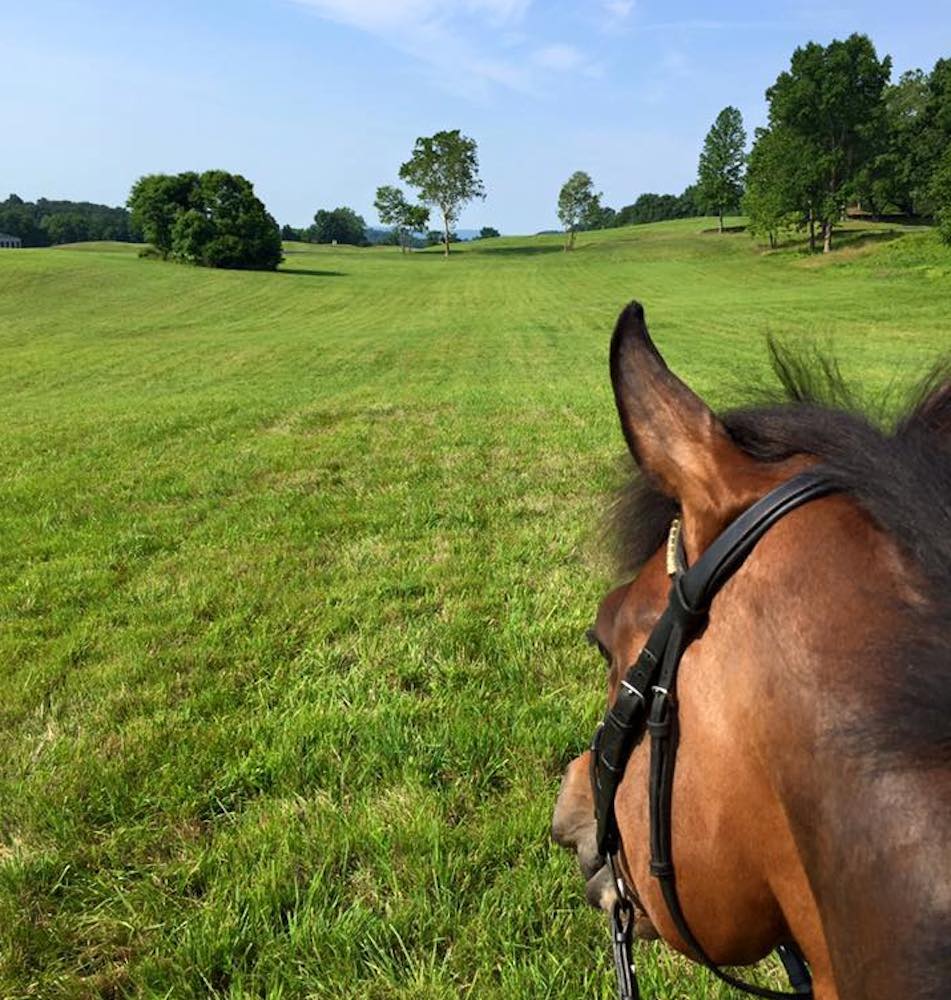 I've been trying to teach a lot of lessons, and that's been helping to keep me busy and keeping my mind occupied and off of over-training.
I really can't wait to be in Rio, then I think it will really hit me.
About Clark Montgomery And
Loughan Glen
Home Base: Aston Farm in Tetbury, England
"Glen's" Stats: 13-year-old Irish Sport Horse (Limerick—Tattymacall Mustard, Cut The Mustard)
Glen's Owners: Jessica Montgomery, Kathryn Kraft, Holly and William Becker
Big Performances In 2016:
1st—Great Meadow CIC*** (Va.) in July
2nd—Bramham CIC*** (England) in June
9th—Chatsworth CIC*** (England) in May
In 2015:
1st—Blenheim CCI*** (England) in Sept.
The initial getting selected was a huge feeling of accomplishment with all the ups and downs that this sport gives us. Everybody knows now that Glen had a year-ish of a bad patch, so to fix that and for him to come back as strong as he did and good timing to make the selection for Rio is just an overwhelming feeling of accomplishment and satisfaction for me and his owners—for [my wife] Jess and Holly and Bill [Becker] and Kathryn [Kraft]—we've all been down this road together.
From now and from Great Meadow on, it's just an unbelievable feeling of nerves to try to get there. Any little thing can go wrong at this point, and you just want the waiting bit to be over and to finally get down there and do the competition.
I can't wait to feel that feeling of being there and that feeling of when it's all over!
It's sad in a way because you desperately want to enjoy this process, because you never know if you're going to get to do it again, but it's been really difficult to do! I really do hope that once we're down in Rio that there's some quiet moments that you can remind yourself that you're at the Olympics and to take the chance to look around and enjoy it a little bit.
In this series, the Chronicle followed six riders as they sought to fulfill their Olympic dreams in Rio de Janeiro in 2016. We checked in with them every few weeks as they pursued a team spot, seeing how they got their horses ready and prepared mentally.
Read all of Clark Mongomery's Road To The Olympics entries.
We also followed:
Eventer Phillip Dutton and his groom Emma Ford
Dressage rider Kasey Perry-Glass