Clark Montgomery and Loughan Glen had one last chance to prove to the U.S. selectors that they were consistent, and they did, competing at the Equi-Trek Bramham Horse Trials (England) on June 8-11, and finishing a very close second in the Event Rider Masters CIC***.
As a result, he and Glen were named to the Olympic team on June 20, along with Phillip Dutton, Lauren Kieffer and Boyd Martin.
The first thing that went through my mind was, "Thank God!" It was more relief than anything. Then of course excitement comes in.
You work really hard for it, you want it so much, so it's a big relief to see that everything that we've been doing has paid off, and we're going to go. It's a real acknowledgement that it was all worth it in the end.
We fly home on early morning Tuesday [June 28] then Glen's got a few days of quarantine. We should be able to get to Virginia at the end of next week and just get him settled [at Hannah Sue Burnett's farm in Middleburg], get him nice and loose and supple and make sure he feels good after his travel, then the [Land Rover Great Meadow International on July 8-10].
I haven't been able to spend the fourth of July at home in a long time, so I'm excited about it. I've heard there's a bunch of hype around Great Meadow with the team being there and being our last prep run. I'm real excited to come back and see people I haven't seen in a long time and feel that energy that will be created with having all the team members there at Great Meadow.

Clark's daughter Vivian watching as Loughan Glen goes for a stroll. Photo courtesy of Clark Montgomery
Before Clark was named to the team, we chatted about his final competition at Bramham. They finished a very close second (40.5) to China's Alex Hua Tian (40.1).
The dressage was better than the last two competitions, which is what we were hoping for. He was a back to his relaxed self. I had a little mistake in my walk. I was supposed to walk from H to S and then over to P, but I went from H to S, so unfortunately I got those 2 points for the error.
I probably would have won if I hadn't done that, but, oh well. What can you do? I was still really happy with his performance in the dressage and all weekend.
I went to one dressage show [between Chatsworth and Bramham], but to be honest, I thought, 'I'm going to cook him. I'm going to make this worse doing this.' So I did one [test] then said, no, I'm not going to do that anymore.
I decided to take the pressure off and make sure he was nice and supple, so we did a lot of work in the jump saddle instead of the dressage saddle.
David [O'Connor] came to Bramham, and he's a huge help for me on the flat with getting prepared for a test. We just had to tweak a couple of things, and it really paid off.
We got up there a day earlier, and I treated it like a CCI instead of a CIC. We went up on Wednesday morning and he had a hack on Wednesday afternoon. I think that really helped him have a chance to get settled in before he had to go and do the test.
Show jumping was Saturday morning. I don't think he jumped quite as well as he did at Chatsworth, but he really doesn't love the slippery ground. The ground was a little slippery on Saturday morning and maybe that was it.
The course was also a little bit twisty, and the time was tight. After number 7 you had to make a quick turn, almost a rollback, to number 8 and it just kind of took me off my rhythm, and I was a bit worried and got a little chasey into the triple after that, which is why he had that one down.
The cross-country was typical Ian [Stark], big enough and technical enough, but the ground was fantastic. It was a really good track and the distances were quite open for the most part, so it was good to be able to ride really forward around and just attack in a way instead of ride conservatively.
I needed the quick run, so it was set up in order for me to be able to do that. We decided to be competitive and to have a nice quick run for his fitness and to show the selectors he is on form and is doing fine going quick as well.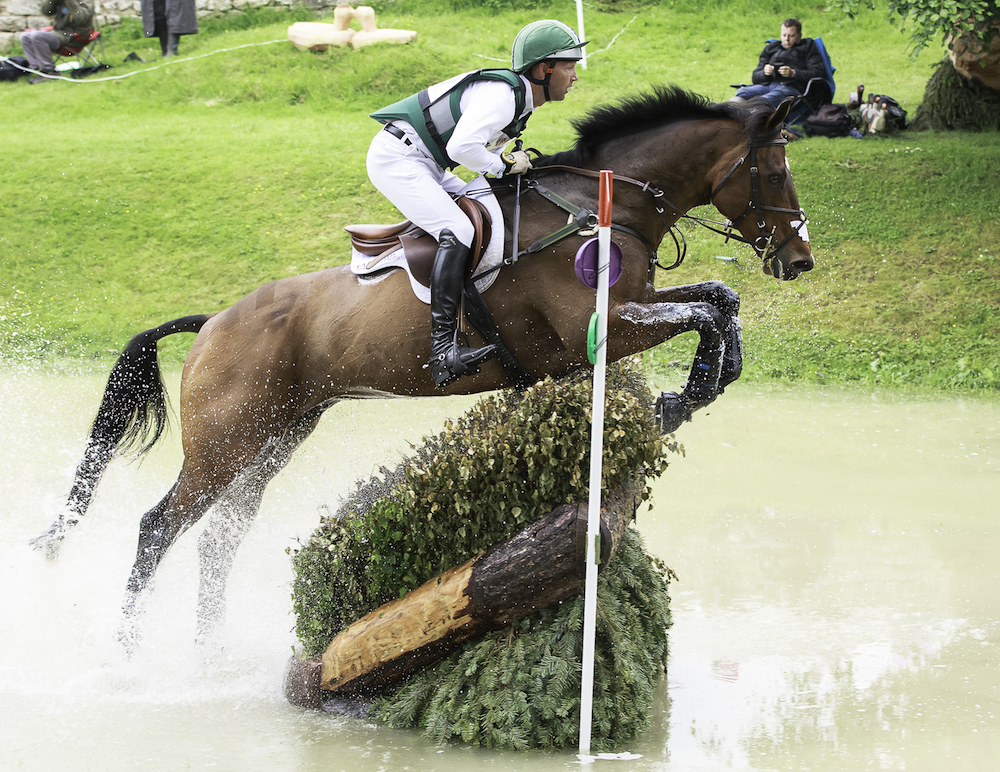 Clark and Glen storming around the Bramham CIC*** cross-coountry. Photo by Libby Law Photography
I was nervous as hell [after Bramham] to be honest. I hoped I made my case. You question everything, don't you, at that point? Should I have done a CCI instead of these CICs? Have I done enough?
About Clark Montgomery And
Loughan Glen
Home Base: Aston Farm in Tetbury, England
"Glen's" Stats: 13-year-old Irish Sport Horse (Limerick—Tattymacall Mustard, Cut The Mustard)
Glen's Owners: Jessica Montgomery, Kathryn Kraft, Holly and William Becker
Big Performances In 2016:
2nd—Bramham CIC*** (England) in June
9th—Chatsworth CIC*** (England) in May
In 2015:
1st: Blenheim CCI*** (England) in Sept.
I still think I did a great preparation for Glen for Rio. These competitions have all been pressurized with the competitiveness in each one, and the last two being the Event Rider Masters classes—there's a lot of money on the line, and it's even more competitive with the riders involved in it. It's live-streamed so everybody can see what you're doing. That puts a lot of pressure on you. I think that's quite good to do more than just the one time at the CCI.
We've always known he can do this, and I think the selectors would admit that too, they just wanted the consistency with the other phases so they knew he would be a good team horse along with having a good individual chance.
That's what I really wanted to do—to show that he's now consistent in his cross-country like he was a few years ago.
In this series, the Chronicle follows six riders as they seek to fulfill their Olympic dreams in Rio de Janeiro in 2016. We'll check in with them every few weeks as they pursue a team spot, seeing how they're getting their horses ready and preparing mentally.
Read all of Clark Mongomery's Road To The Olympics entries.
We're also following:
Eventer Phillip Dutton and his groom Emma Ford
Dressage rider Kasey Perry-Glass