After a disappointing observation event at the Rome CSIO, Solem went home for a few days then back to Europe to prepare for their second and final observation event at the Rotterdam CSIO (the Netherlands). There she and VDL Wizard logged two 8-fault rounds in the Furusiyya FEI Nations Cup, and the U.S. team finished in overall fifth.
When the U.S. show jumping team for the Rio Olympic Games was named, Solem's name wasn't on the list.
After Rome Wizard went to VDL Stud which was amazing. They were so nice, and gave us everything that we needed. I got to ride some horses there, so I could stay in practice. I got to meet with his breeders, and had a really good time.
Obviously I was very disappointed with the overall result at Rotterdam. I think the No. 1 takeaway is that it was very difficult to peak him again so quickly after peaking him for the [Longines FEI] World Cup Finals [Sweden, in April].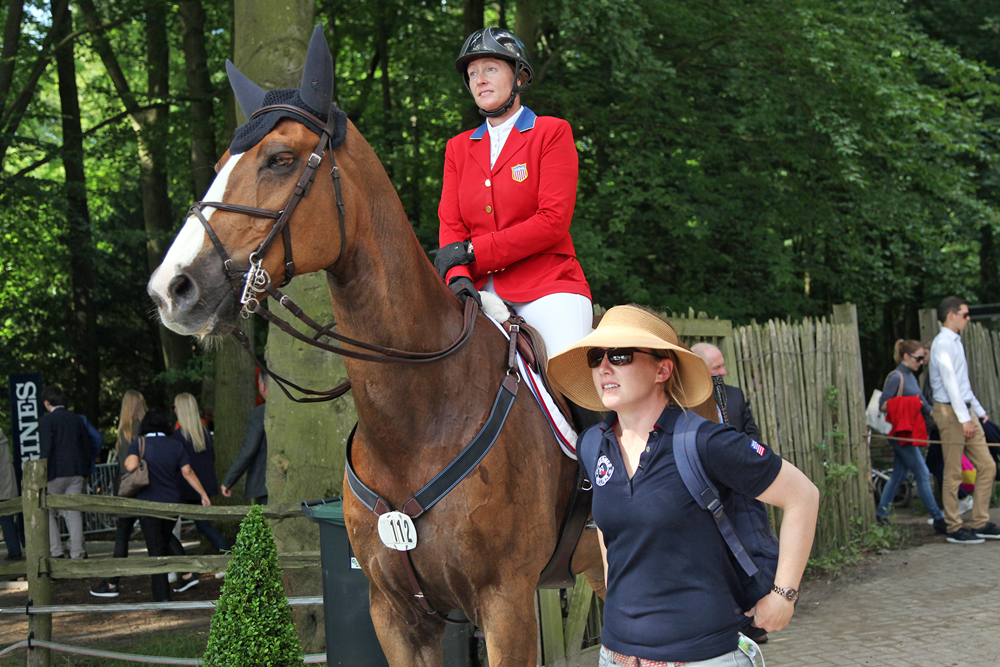 Callan Solem and VDL Wizard on their way to the ring with groom Holly Osman. Photo by Sharon Vandeput
McLain [Ward], Beezie [Madden], Laura [Kraut] and Kent [Farrington] all qualified for the World Cup Finals and didn't go. Wizard was the only one who had jumped a championship this year—but for me to get on that list I had to do the Final. [The USEF Show Jumping long list was compiled mostly from the Rolex USEF Computer List, and awarded a wildcard spot given to the highest-placed U.S. rider at the World Cup Final, which is how Solem made the cut.] Just having one top horse made it too tough to do well on the computer list.
I don't think it's more complicated than it was difficult to have a rest and rise back up again in such close proximity. Granted, Harrie Smolders [had a horse perform well at World Cup Finals and at Rotterdam] with Emerald NOP but that horse is a little bit of a different type, and obviously didn't have to do all the travel.
There's such an art to peaking the horses—at this level it's way beyond just keeping your heels down.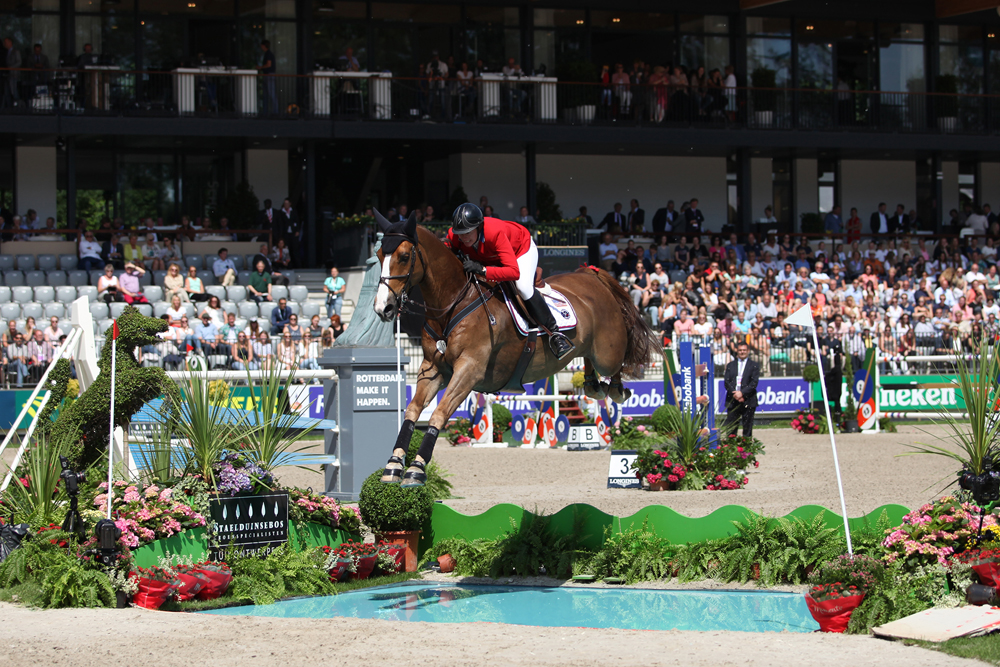 Callan Solem and VDL Wizard jumping in the Furusiyya FEI Nations Cup at Rotterdam. Photo by Sharon Vandeput
I was proud I did that well for World Cup Finals. He had shown an appropriate amount before that. But then he had a lot of travel—he flew to Florida then had a 20-hour ship back to Pennsylvania, then he had to get ready for Rome, which was a six-day traveling extravaganza.
All of the horses are in constant evolution. He's fitter and stronger than this time last year, even though I did things in a similar way to doing them as I did last year. When he was so good in the Nations Cup in Mexico [in 2015] though he'd gotten sick shipping, so he wasn't too fresh. So to keep him healthy in Europe I did all the supportive care, even though he wasn't sick, and he just ended up a little bit fresher than would have been ideal.
It's easy to question it after the fact, and I think that's important. But I would have ben a lot more disappointed if he'd gone and had two amazing shows then was physically unsound or wasted. I tried as best I could to have his wellbeing stay paramount.
"Just Another Sunday At Saugerties"
I took him to a training place to jump once the week before Rotterdam, and he was fantastic. But he's not a stupid guy: There was no atmosphere, no people. He wasn't tricked at all. I'm sure he was just thinking, "I remember doing this as a 6-year-old."
McLain was super helpful. He didn't do the Nations Cup on Friday. I went over the plan with him and he said "You've got to do this just like it's a Sunday at Saugerties, not like it's your life's dream." I do think I did that the best I could, really paying attention to my work. The reality is: it wasn't quite enough.
I really thought that I did a good job sticking to my work and paying attention. I think success is in the details, and I'm a detail-oriented person. I stayed focused on those things, to do the best I could to have him prepared the best way I could.
I stand behind the choices that I made, which were for his overall health and longevity. Unfortunately those didn't coincide with an optimum performance at Rotterdam.
I'm incredibly fortunate to do what I do every day, and so incredibly fortunate to have a horse like Wizard to ride. He's sound and came out of it well. It certainly wasn't a tragedy, but on Friday the 24th it felt like one! To peak him again, especially with all that travel included, it would have been better to have a couple more shows.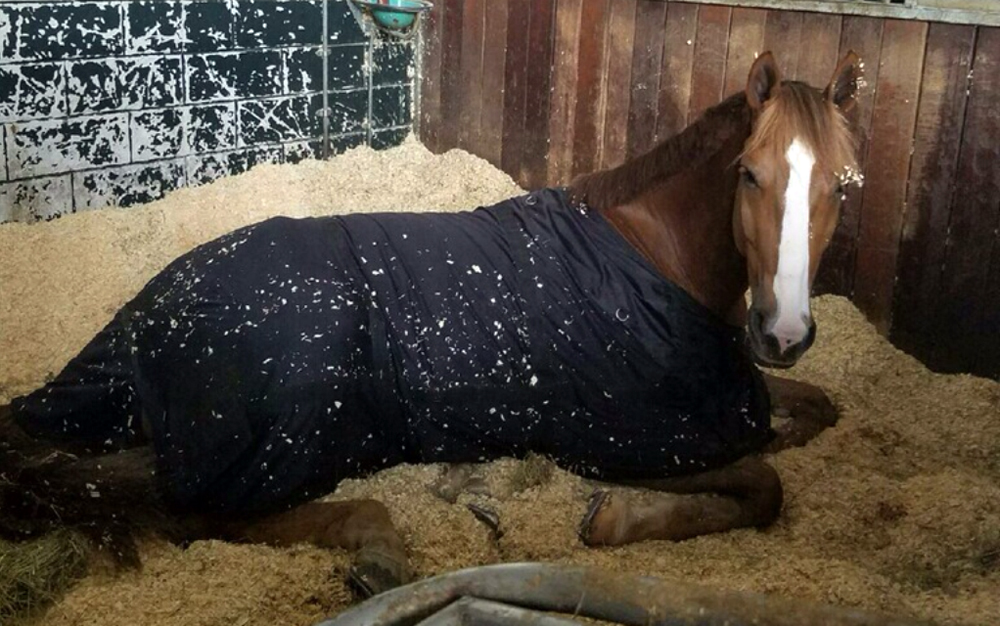 VDL Wizard happy and healthy during his European travels.
Looking Ahead
I am so grateful for the opportunity to have gone on this tour with Wizard—but that didn't cushion the blow on that Nations Cup Friday.
Once I had a little time to get a hold of myself I was so grateful to everyone that made the journey possible, from Wizard's team of vets and farriers, to the managers at home who made it possible for me to be gone, to the McNeils [Wizard's owners], everyone has been so supportive. I really appreciated all the calls and texts and emails and notes.
About Callan Solem And VDL Wizard
Home Base: Callan Solem Show Stables in Chester Springs, Pa.
"Wizard's" stats: 13-year-old Dutch Warmblood (Gentleman—Pretty, Ahorn)
Wizard's owners: Collin and Virginia McNeil
Big performances in 2015 and 2016:
7th—Longines FEI World Cup Finals (France), March 2016
2nd—Washington International CSI-W (D.C.), Oct. 2015
2nd—Pennsylvania Big Jump, Oct. 2015
6th—Team Falsterbo CSIO Nations Cup (Sweden), July 2015
1st—Team Coapexpan CSIO Nations Cup (Mexico), April 2015
3rd—Great American $1 Million Grand Prix (Fla.), March 2015
1st—HITS Grand Prix (Fla.), Jan. 2015
I'm so sorry to disappoint everyone; I just want to promise I'll do better next time. Luckily this isn't like gymnastics, this is a lifetime sport.
But also, Wizard is fine, and he's going to be totally fine to do whatever's next for us. Hopefully he'll be able to qualify for the 2017 World Cup Finals in Omaha [Neb.]—I'd like to have that as an option for him. Hopefully he'll still be in good shape for the 2018 World Equestrian Games when that comes around.
After Wizard is out of quarantine, first and foremost we'll evaluate how everything is for him, see if there's anything he needs. If everything is good, we'll probably go to the Bromont (Ontario) for the first World Cup Finals qualifier. If not, then I'll go to HITS Saugerties with the younger horses.
I have an exciting new young horse, Davidson, that I'd like to get going, and another 8-year-old that I think has a great future. They've been on the back burner while I've been on this journey.
Growth is not comfortable. When you're on this journey you have to be comfortable being uncomfortable—that includes all the parts. No one could have been nicer or more supportive, but it's still uncomfortable. You're still spending a huge amount of time in Europe where you don't know where to get a drink of water, or end up at the toilet without a 50-Euro cent piece.
Even though I'd watched a million videos on YouTube about Rome you still don't know where you're going, which part of the show grounds has the best footing, how to find different offices. Places like Harrisburg, Saugerties, Devon, we know, we've been doing it for 20 years.
I think so much of the experiences are what you make of them. As disappointed as I am, I do try not to spend too long in that place. I'm taking more information and moving forward to see how I can do things differently next time. There are lots of little things, like we bought a forge in Europe for our farrier and now I know we could have just borrowed one. I'm so grateful for this chance to have the learning experience.
I have a Michael Jordan poster in my closet—because that's the only appropriate place for a 39-year-old to have that. It says something like "I've missed more than 9,000 shots in my career. I've lost almost 300 games. 26 times, I've been entrusted to take the game winning shot and missed. I've failed over and over and over again in my life and that is why I succeed."
It really is what you do with it, and I don't intend for this experience to be a waste of time. These horses are so important, especially for someone like me who has been doing this for a long time without a partner like Wizard. I have to do what's right for him, and the successes hopefully follow when they can. I don't know another way to do it.
In this series, the Chronicle follows six riders as they seek to fulfill their Olympic dreams in Rio de Janeiro in 2016. We'll check in with them every few weeks as they pursue a team spot, seeing how they're getting their horses ready and preparing mentally. You can learn more about Solem and VDL Wizard's challenge-filled path to the top of the sport in our One To Watch article about her.
Read all of the Road To The Olympics with Callan Solem
We're also following:
Eventer Phillip Dutton and his groom Emma Ford
Dressage rider Kasey Perry-Glass