Rotterdam, the Netherlands—June 26
When 17 of the world's best horses and riders qualified for the jump-off of the Longines Grand Prix of Rotterdam, everyone knew it was going to be a fast and furious race for the top check.
And when the dust cleared, it was the charismatic Luciana Diniz from Portugal who ended up on top with her athletic Fit For Fun. Diniz made a particularly daring turn in the jump-off to take the win—a turn that got the best of some.
"I am very happy with this victory and I am truly proud of my horse. The whole course felt like a flow—words cannot explain it. It just happened!" Diniz said. The Portuguese rider is hoping to represent her country in the Rio Olympic Games as an individual.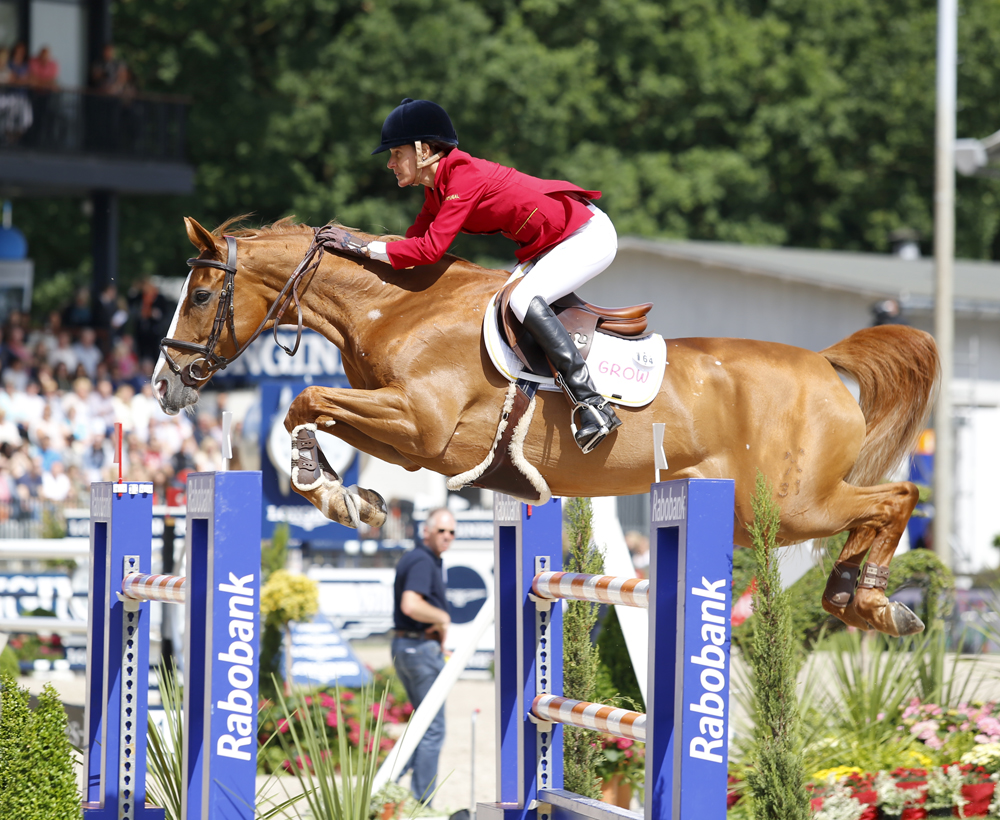 Luciana Diniz and Fit For Fun on the way to the top of the Longines Grand Prix of Rotterdam. Photo by Tiffany van Halle
Diniz always wears a huge smile when her horses jump well, and she's known for her enthusiastic appreciation for their efforts. So after her round, she hugged, patted and kissed Fit For Fun with great emotion.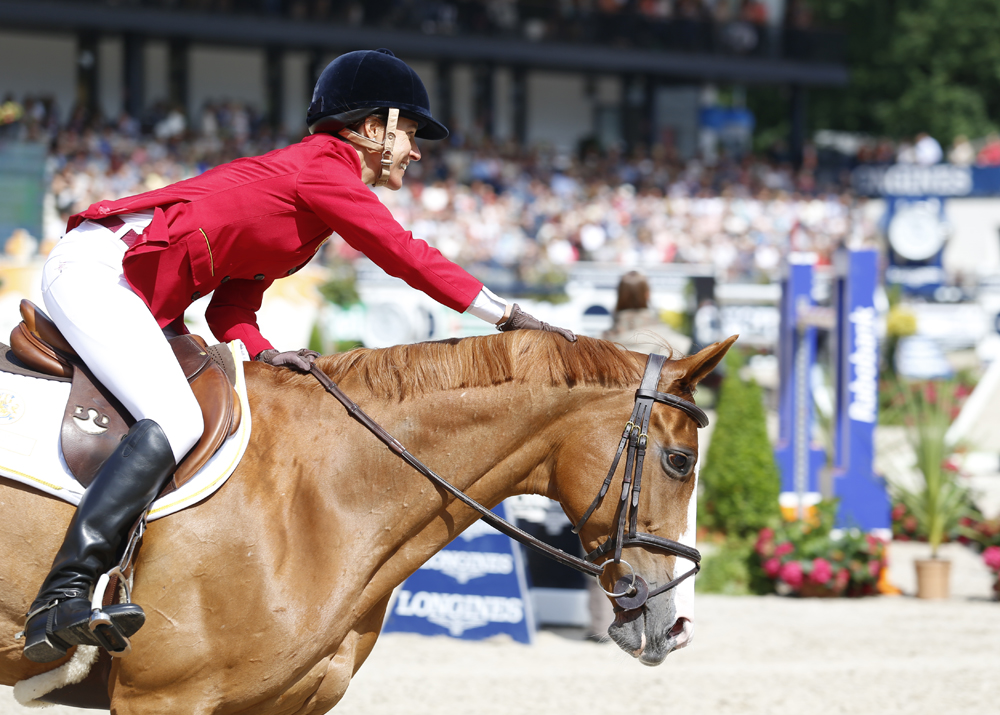 Luciana Diniz giving Fit For Fun plenty of love. Photo by Tiffany van Halle
U.S. rider Kent Farrington also conquered that turn on Creedance, but was just fractions of a second slower than Diniz to take second place.
"I never like it when I don't win, but I have to say, Luciana is a very worthy winner today!" Farrington said.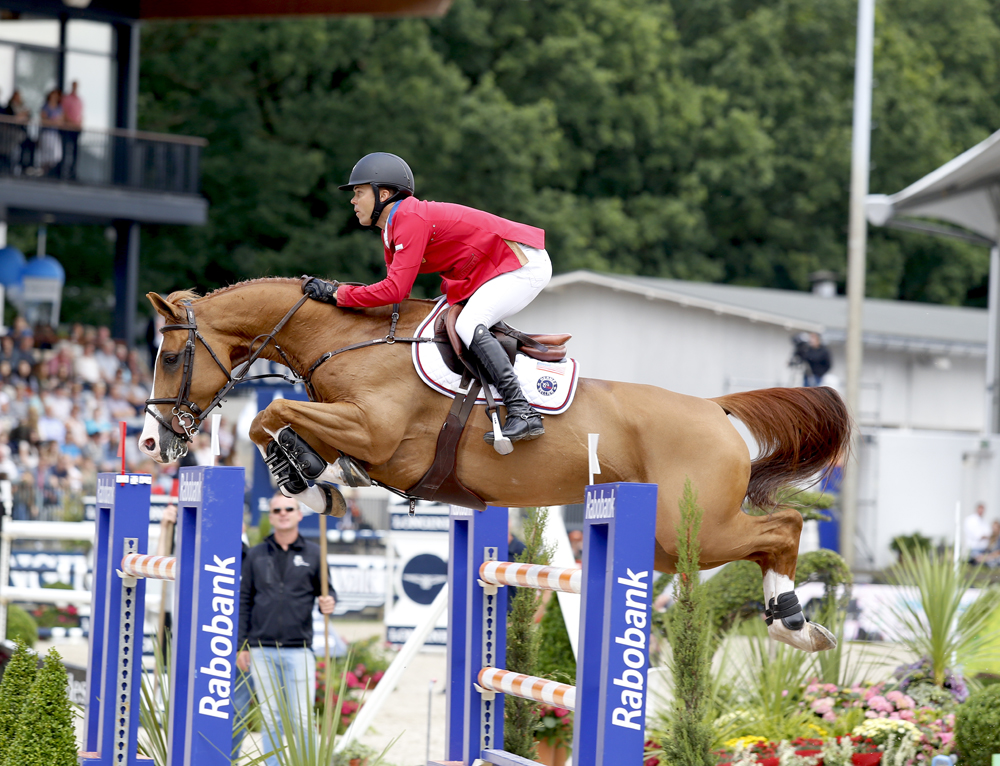 Kent Farrington on Creedance. Photo by Tiffany van Halle
Fellow U.S. rider McLain Ward didn't see the need to risk the drastic turn on the big mare HH Azur, but even in going to the outside he crossed the timers fast enough to tie for second with Harrie Smolders and Emerald NOP—they had exactly the same time (42.89 seconds) but were more than a second off Diniz's pace.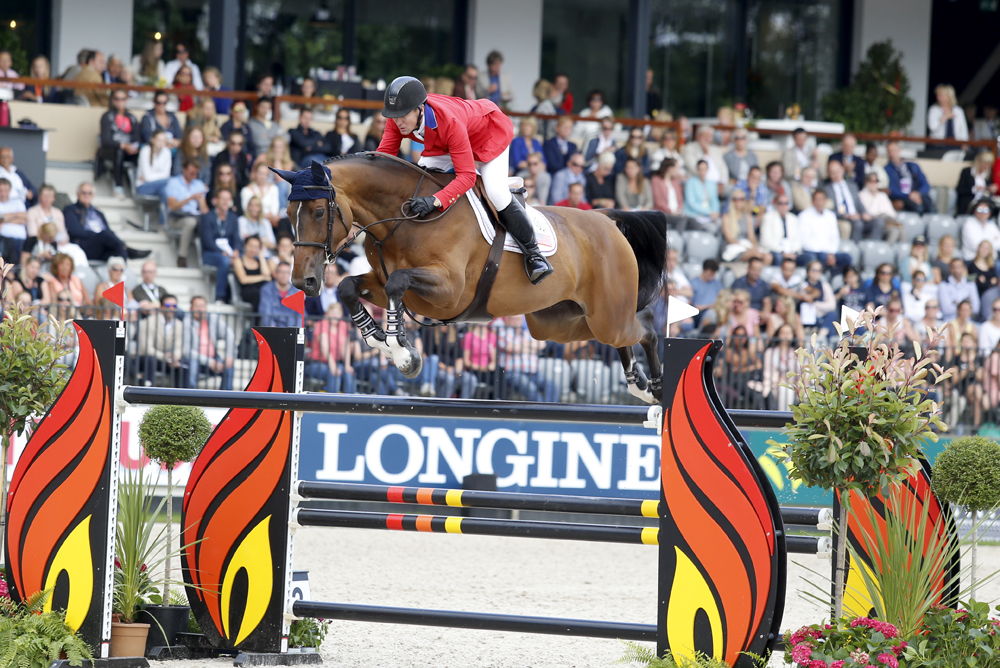 McLain Ward on HH Azur, whose outside turn but quick pace helped them to a tie for third place. Photo by Tiffany van Halle
When riders walked the course, they saw an inside turn early in the jump-off—cutting inside the water jump, which was in the first round course but not the jump-off. It was a dastardly tight rollback turn, though, requiring horses to spin around within a stride or two from landing off a big oxer.
Gerco Schröder was the first to jump off and he made a statement by taking the turn inside the water jump on Glock's Cognac Champblanc NOP. He made the turn work and went clear, but his time (48.57 seconds) wouldn't hold up.
Jeroen Dubbeldam ran into trouble when he attempted the turn—he landed off the oxer, pulled on the right rein to make the rollback, and the rein broke. Dubbeldam waved to the judges and retired with Carusso LS La Silla.
Beezie Madden made a huge effort and got the inside turn done on Cortes 'C', but things unraveled after that and two rails fell in their jump-off trip to put them into 13th place at the end of the day.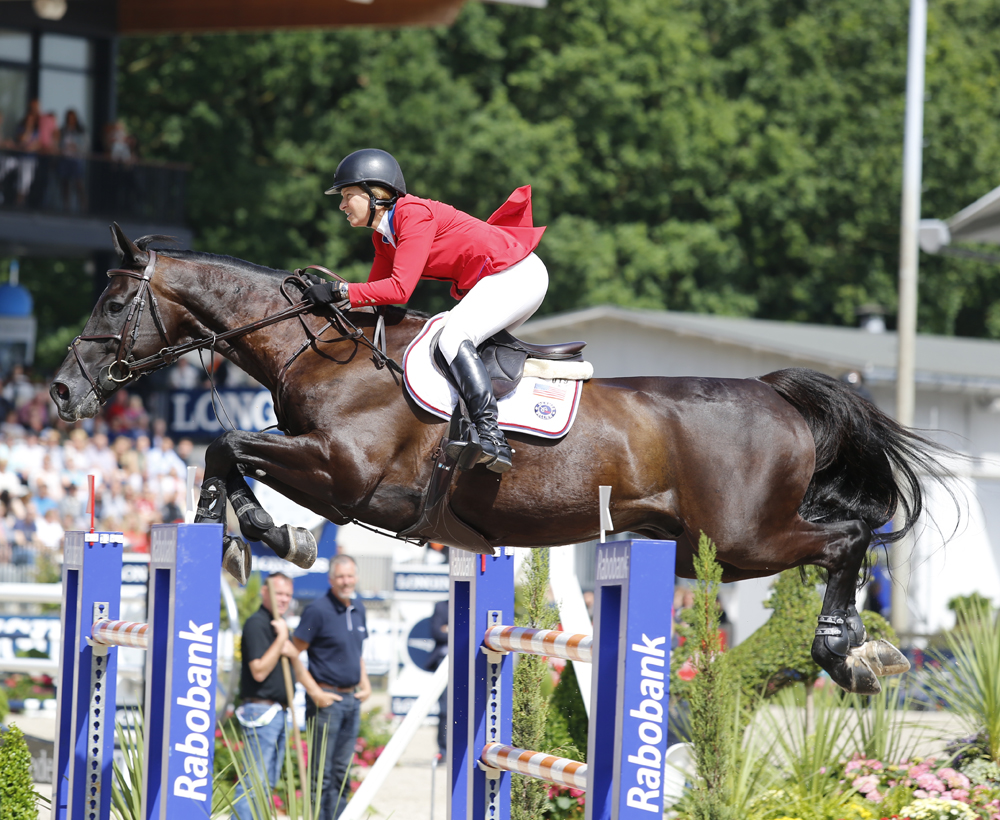 Beezie Madden and Cortes 'C'. Photo by Tiffany van Halle
Laura Kraut and Zeremonie didn't qualify for the jump-off after picking up 5 faults in Round 1. Callan Solem, who was also on the U.S. team that took fifth in the Furusiyya FEI Nations Cup on Friday, chose not to start VDL Wizard in the grand prix.
See full results of the Longines Grand Prix of Rotterdam.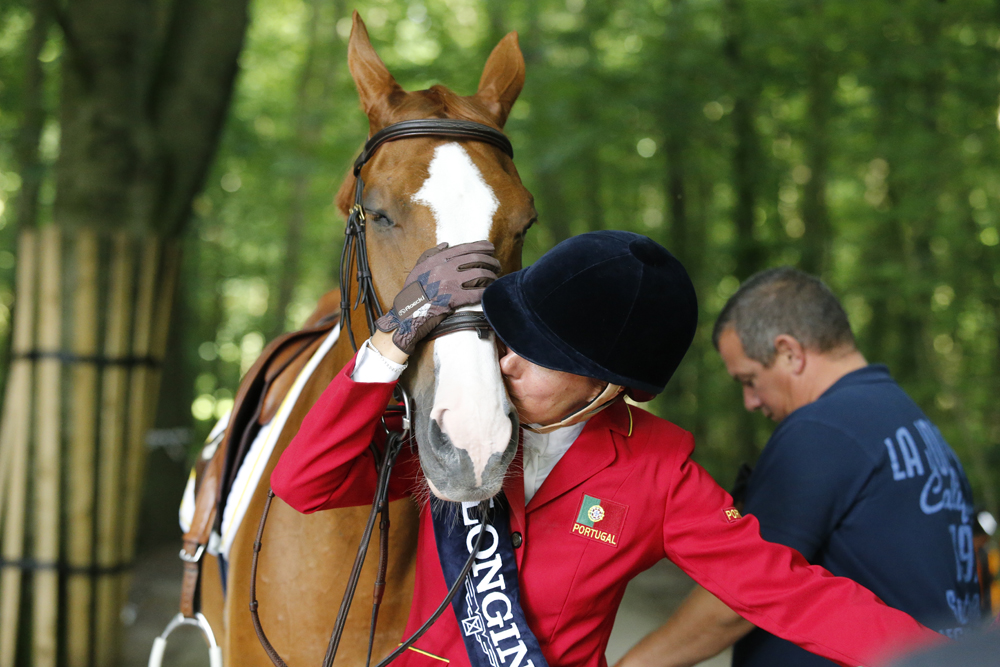 Luciana Diniz given Fit For Fun some love as they wait for the awards ceremony. Photo by Tiffany van Halle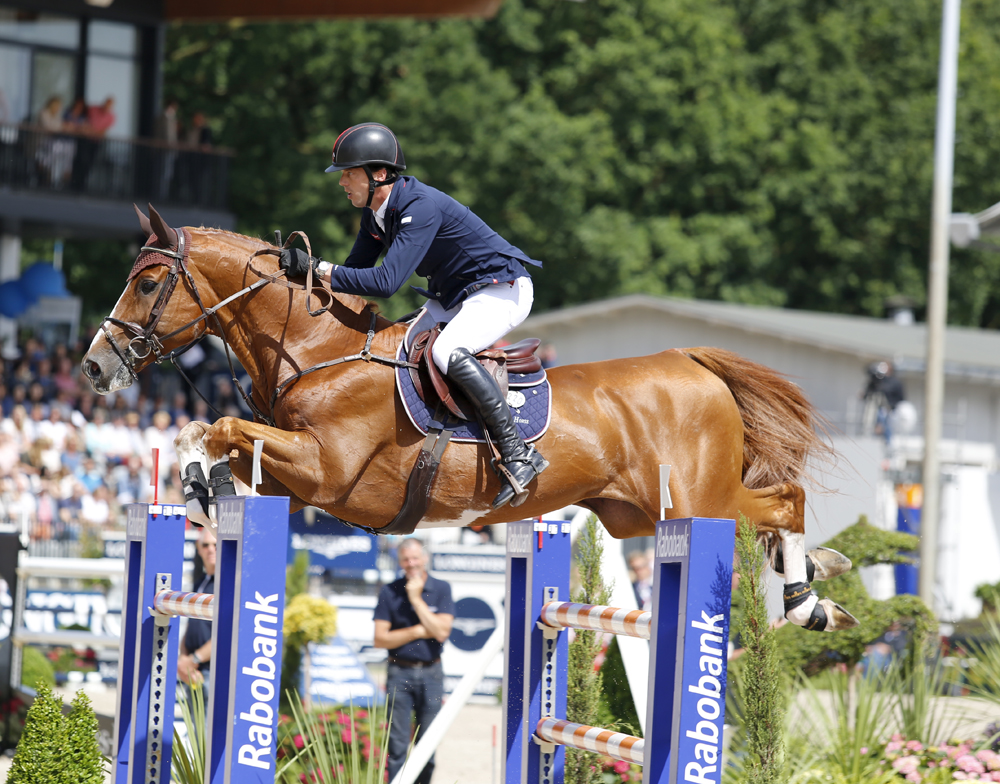 Harrie Smolders and Emerald NOP not only jumped two clean rounds to help the Dutch team claim victory in the Furusiyya FEI Nations Cup on Friday, but they also jumped to a tie for third place in the Longines Grand Prix of Rotterdam. Photo by Tiffany van Halle